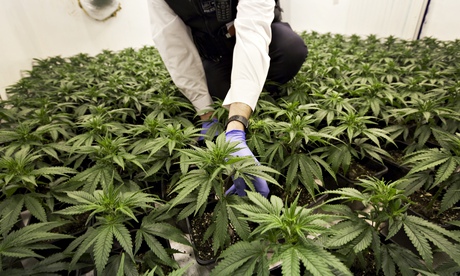 Police discover a cannabis factory after a raid. Photograph: David Levene
Cannabis smelling "scratch and sniff" cards are being distributed by Police in Northern Ireland to help shut down the increasing number of factories making the drug across the region.
The PSNI said the cards will help educate the public to detect where cannabis production plans are located.
The scratch card contains an element that replicates the smell of cannabis in its growing state, which is a different smell to when it is being smoked.
Police are distributing the cards after crime figures revealed there was a 44% increase in cannabis factories across Northern Ireland in 2013-14.
The PSNI discovered a total of 130 cannabis factories last year, and so far this year 49 factories have been found in the region. It has also produced a video available online that advises the public on how to recognise the telltale signs of cannabis factories in an area.
The telltale signs on the "scratch and sniff" cards for cannabis factories include:
• A strong sickly sweet smell
• Covered or blacked out windows around a property
• Constant lighting day and night
• High levels of heat and condensation
• Constant buzz of ventilation
• Excessive amount of cables
Beside the circle on the card where the public can "scratch and sniff" the cannabis odour is an assurance from the PSNI that "it's completely safe; there are no drugs in the card, it's just the smell of the plant".