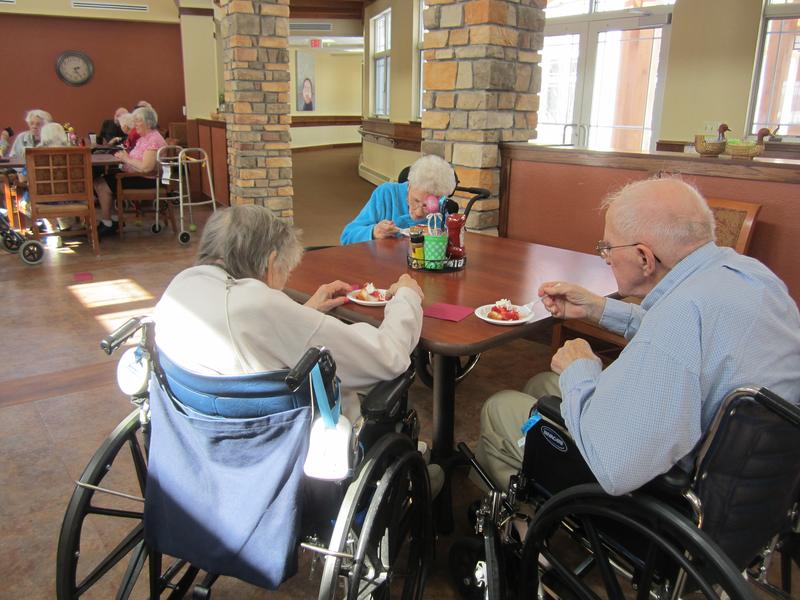 Of the 20 percent reporting verbal or physical abuse, about 65 percent said it occurred in dining rooms and other public spaces.
(Ann
/ Flickr)
Assaults on elderly nursing home residents by abusive caregivers can make big headlines.
A new report suggests that as egregious as those assaults are, and as necessary as it is to prevent and detect them, nursing homes should be focusing attention on a lesser, but more common form of abuse: mistreatment of residents at the hands of fellow residents.
Residents and their families have long known that other residents, including those with dementia, can be abusive, but the study in the Annals of Internal Medicine by Dr. Mark Lachs is the first to quantify how frequently it occurs.
Lachs, the head of Weill Cornell Medicine's Center for Aging Research and Clinical Care, and his co-authors looked at five urban and five suburban nursing homes in New York. Surveying both caregivers and residents, they found that about one in five residents was the victim of disturbing confrontations.
"The majority of these — three quarters — were verbal," he said. "The other quarter were physical aggression, and those could be threatening gestures, throwing an object, a menacing gesture with a cane, or coming at someone with a wheelchair."
Lachs said the real prevalence of abuse his team found is likely to be conservative, since the unnamed nursing homes that allowed them in were more open to self-examination than average and therefore more likely to be well-managed.
"The takeaway should not be that the rates are especially high in these 10 institutions or in New York," he said. "These places should be seen as heroic for letting us in."
Richard Mollot, from the Long Term Care Community Coalition, said much about the findings is disturbing, especially the inability of state regulators to detect this form of abuse. Only three of 407 incidents showed up in nursing homes' official reports.
"So much of what they identify, and the fact that is not recorded to any meaningful extent, is indicative that this is something that's just accepted as part of a typical nursing home's culture," Mollot said. "And that's very alarming."
Mollot notes that New York has an especially weak track record at finding abuse and sanctioning nursing homes. He said that in over a recent three-year period, New York's Health Department reported only 15 citations to the federal government for failure to "protect each resident from all abuse, physical punishment, and involuntary separation from others."
New Jersey, with roughly half the nursing home population, reported 13 citations. And California, with a similar but slightly smaller population than New York, reported 252 citations.
The New York Health Department did not return WNYC's request for comment.