The man who killed 49 people in an Orlando nightclub in the worst gun rampage in US history, was strongly radicalized using the internet, Barack Obama and the head of the FBI have confirmed.
The US president told reporters at the White House following a meeting of security officials that Omar Mateen, the American-born gunman who brought terror to Pulse gay club, had been "inspired by various extremist information that was disseminated over the internet".
The president's words were echoed shortly afterwards by James Comey, director of the FBI, which is leading the investigation into the Florida attack, who said there were "strong indications of radicalization by this killer, and of potential inspiration by foreign terrorist organizations".
Related: Trump insinuates Obama is harboring secret agenda linked to Orlando attack
Comey added that he was "highly confident" that Mateen had been radicalized at least in part online. In chorus with Obama he emphasized that there continued to be no evidence, however, of any direct plot, or direction of the shooter, by any foreign group or network.
"There is no clear evidence that he was directed externally," Obama said.
The mounting evidence of the killer's online radicalization, together with the absence of links to organized terrorism and his potent hatred towards the gay community provide a toxic soup that is already permeating the debate around this year's presidential election.
The potent emotions generated by such a bloody outrage, combined with Florida's lax gun laws and the shooter's embrace of Isis in calls made during the rampage, have the potential to send the race for the White House in unpredictable directions.
Obama sought to keep a level head in the fallout from the attack by refusing to identify the massacre as either merely a terrorism issue or a question of gun control. It was both, he said.
The president warned against "getting into an either or debate", saying that both access to weapons and terrorism were factors that equally needed to be addressed.
"If we have self-radicalized individuals in this country, then they are going to be very difficult to find ahead of time, and, how easy it is for them to find weapons is, in some cases, going to make a difference as to whether they are going to be able to carry out attacks like this," he said.
Earlier on Monday, Hillary Clinton made a pointed intervention in the post-Orlando discussions by calling for the reinstatement of the assault weapons ban that had been a cornerstone of her husband Bill Clinton's administration in the 1990s. The legislation that banned AR-15-style assault weapons of the sort used in many of the most bloody and notorious recent mass shootings - including the 2012 Sandy Hook killing of 20 children and their teachers in Connecticut - was allowed to lapse after 10 years in 2004.
A similar firearm was deployed by Mateen at Pulse, along with a semi-automatic Glock handgun.
Clinton said that Mateen had used a "weapon of war" - legally purchased in Florida some time last week despite the fact that the shooter had been on the FBI's anti-terrorist radar - "to shoot down at least 50 innocent Americans". She criticised the gun lobby and said: "I believe strongly that commonsense gun safety reform across our country would make a difference."
As if to underline the vast gulf that now lies between the two main candidates to replace Obama in the White House next January, the presumptive Republican nominee Donald Trump unleashed his opposite, and highly polarizing, take on the Pulse tragedy. Following his tweet on Sunday in which he had congratulated himself hours after the disaster for having proposed a ban on all Muslims entering the US, he berated the Muslim community in this country for failing to report potential terrorists such as Mateen, who he called a "whack job".
"They knew that this guy had a potential for blow-up. They don't report them. For some reason the Muslim community don't report people like this," Trump told CNN.
Donald Trump used a speech yesterday in New Hampshire to make the election a referendum on "radical Islam". The presumptive nominee said "this is not just a national security issue, it's a quality of life issue" and argued: "We need to tell the truth about how radical Islam is coming to our shores, and it's coming with these people, folks, it's coming."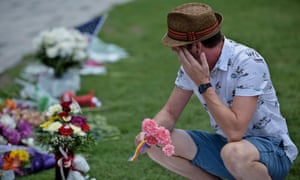 Jonathan Dalton, who lost friends in the attack, visits a makeshift memorial in Orlando, Florida, on Monday. Photograph: Brendan Smialowski/AFP/Getty Images
One account of events inside the club suggested the gunman had laughed as he killed a bathroom stall full of victims.
Deyni Ventura, a pastor in nearby Sanford and a friend of the mother of a clubgoer described what she had been told. "He was laughing frantically, 'ha ha ha ha ha', as he was spraying people with his gun," she said.
Ventura, said her friend Vanessa's son Norman, who she would identify only by their first names, had received four gunshot wounds to his back but was expected to be released from hospital by Tuesday.
Speaking to reporters outside the family assistance center close to Pulse nightclub, she said: "He was in a bathroom stall with 30 other people, and those 30 other people are deceased. He is the only one that lived," she added.
"When he laughed he took his gun and sprayed under the bathroom stall and on top of the bathroom stall, so then the bodies started collapsing and blood was going everywhere in the handicapped stall, 30 people squished in there getting shot. He was laughing like he was making fun of the victims."
In his briefing in Washington, Comey, the FBI director, gave further details of the shooter's declaration of allegiance to Isis that he made over the course of his three-hour rampage at the club. At about 2.30am on Sunday morning - half an hour into the attack - Mateen spoke three times to a 911 dispatcher, declaring that he was acting on behalf of the leader of Isis.
Related: Hole in wall helped free dozens held hostage during Pulse nightclub shooting
The gunman also declared his solidarity with the Tsarnaev brothers, who carried out the Boston Marathon bombing in 2013, as well as to Moner Mohammad Abu-Salha, a Palestinian American who worshipped in the same mosque as Mateen in Fort Pierre, Florida, and who carried out a suicide attack in Syria in May 2014.
Comey said these various allegiances were puzzling as the Tsarnaevs were not linked to Isis and Abu-Salha was working for the al-Nusra front which was actively in conflict with the terrorist group. "That adds a bit to the confusion around his motives," the FBI director said.
The FBI itself is facing heat over the fact that it had Mateen in its sights, interviewing him three times in 2013 and 2014 for suspected extremism and connections with Abu-Salha. On both occasions, the information gleaned was considered too thin to merit further action.
Comey said agents had used informants, and recorded conversations and surveillance, as well as an extensive search of government databases. But Mateen had convinced them that his outspoken comments in 2013 were made because he was angry towards co-workers who had teased him for being Muslim.
The FBI chief said the bureau was looking into whether it had made any mistakes, but added: "So far I don't think so. We are looking for needles in a nationwide haystack, and that's hard."
As the political storm raged across the country, in Orlando the sombre job of informing families of those who had died continued. In latest figures, authorities confirmed that 49 people had died, of whom all but one had been identified, plus the shooter.
A further 53 people were injured, six of whom have been discharged from hospital. Among those remaining in hospital, five were said to be in "grave condition".
Of the dead, the families of 36 had been notified and their names listed on an official website. They ranged form the youngest, Luis Omar Ocasio-Capo, aged 20, to the oldest, 40-year-old Javier Jorge-Reyes.
Four of the 36 were women. The victims came from diverse employment backgrounds, including a travel agent, technician and brand manager, but they shared a common embrace of the LGBT culture and a love of dancing that brought them to Latin dance night at Pulse.
Reflecting that Hispanic accent of the night, most of the deceased were Latino, many from Orlando's large and growing Puerto Rican population. Last names such as Sotomayor, Almodovar, Ortiz-Rivera and Perez abound.
Obama said that amid the febrile focus on the shooter's terrorist radicalization, the fact should not be forgotten that he had targeted a gay nightclub. Groups such as Isis and al-Qaida used their "perverted Islam" to "target gays and lesbians because they believe that they do not abide by their attitudes towards sexuality".
Obama added that there are "clearly connections between and attitudes of organizations like this and attitudes toward tolerance and whether all people are to be treated equally regardless of their sexual orientation".