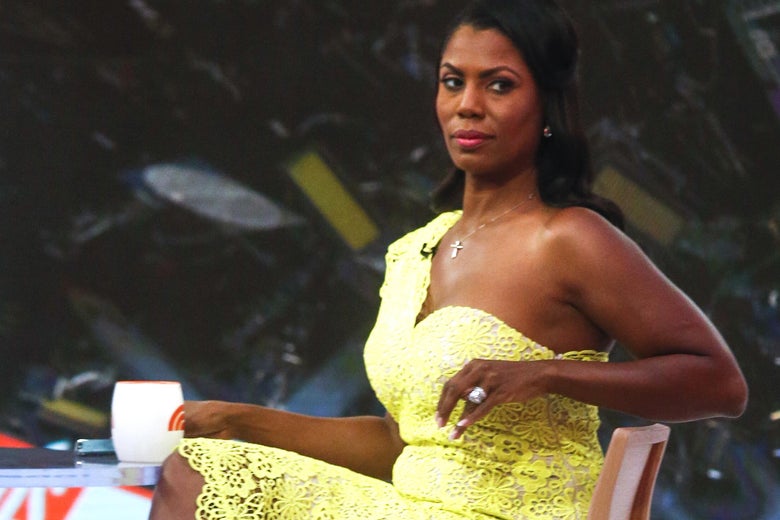 Omarosa Manigualt-Newman has tapes.
Eduardo Munoz Alvarez/Getty Images
Last month, jilted former reality White House staffer Omarosa Manigault-Newman said she had tapes of her time in the Trump administration. With a tell-all(-ish) book scheduled to come out, it wasn't totally clear how much material Omarosa had amassed during her tenure, or how juicy the recordings might be, or if maybe, just maybe, it was all a publicity stunt to drum up interest in her book, Unhinged. The former communications staffer, however, quickly dropped a recording of a conversation about her dismissal with chief of staff John Kelly taped in the situation room, followed by a taped conversation with Trump himself, and it was clear that Omarosa had at least something.
No matter what the former Apprentice star has on her old boss it may never truly wound Trump politically given the blinkered nature of Trump's most ardent supporters, but that assumes Omarosa doesn't have reams and reams of damaging Trump content in her back pocket. It seems safe to assume if she had something nuclear, something stratospherically bad, we would have heard it already, because books don't sell themselves, but sometimes it's smaller stories that can wound beyond expectation. See: Stormy Daniels impact on the Trump White House. So what exactly does she have? From the sounds of it, a lot. According to Axios, "Omarosa taped nearly every conversation she had while working in the White House, including ones with 'all of the Trumps...'" Omarosa worked at the White House for just under a year, so that's a lot of conversations and a lot of potential tapes about... something.
According to Axios' reporting, which cites a source "who watched her make many of the tapes," Omarosa concocted an elaborate scheme that involved hitting record on her cell phone before going into meetings, such that her personal phone was "almost always on record mode." From Axios:
She carried two phones, her personal phone and her government-issued one. She would often put conversations she had on her work phone on speaker, then record those with her personal phone. Before heading into meetings, she would often press "record" on her personal phone — which she carried in her pocket or in a small purse.
Genius.