On 18 April 2014, a 14,000-tonne block of ice slid down the southern face of Mount Everest, killing 16 people. It was the mountain's deadliest day, until just over a year later, when 22 died in the aftermath of the Nepalese earthquake.
Thirteen of the men who died in 2014 were Sherpa, an indigenous ethnic group famed for their ability to withstand high altitudes. They had been finding their way through the Khumbu Icefall, one of Everest's most dangerous passes. When the avalanche hit they were fixing a route so that tourists – some paying up to $75,000 to climb the world's highest peak – could fulfil a dream.
Not long before that, Jennifer Peedom had arrived to make a film about the Sherpas. She had been on three Everest expeditions; over the course of those visits, she had seen how the Sherpas' role in getting tourists to the top had been played down, and she knew that there was a story to tell. But she couldn't have known that she would be there as news of the disaster rolled in. She couldn't have known that she would film as the Sherpas' bodies were airlifted off the icefall, and watch as the locals channelled their shock and anger into something unheard of: a strike. Now, with her film, Sherpa, about to be released in cinemas, she acknowledges that it is not the film she intended to make – but argues that the story she emerged with is an essential one.
"They are a people moving towards self-determination, which is a very natural thing," says Peedom. "Sherpas are becoming better educated and going overseas. They're getting climbing credentials and coming back [to the western expedition leaders] and saying: 'I'm as good as you.' That puts pressure on the status quo".
The disaster prompted the Sherpas to demand better insurance, a rescue fund and eventually, the cancellation of the 2014 climbing season. Even before then, they were starting to chip away at the stereotypes that had plagued them since legendary climber Tenzing Norgay became one of the first people, along with Sir Edmund Hillary, to summit Everest in 1953. Norgay – genial, hard-working, always smiling – was portrayed by the press as Hillary's loyal accomplice. The image of the happy assistant to the mountain-conquering Westerner stuck.
Sherpa follows veteran guide Phurba Tashi, a Nepalese mountaineer with 21 ascents of Everest to his name, as he comes to the decision not to return to work in the wake of the tragedy. It was not an easy choice. His family didn't want him to climb, but it is a lucrative job and he was loyal to his boss. Russell Brice is a celebrated New Zealand mountaineer and the owner-manager of the expedition company Himalayan Experience Ltd (Himex). In the film, Brice is feverishly trying to keep his business together, while facing a dilemma: how does he respect the Sherpas' grief and keep them working to satisfy his clients?
"They say that there are two kinds of people that climb Everest: egomaniacs and dreamers," says Peedom. "Some people can get caught up in the mystery and mystique of Everest. And other people just have it on their bucket list. These guys are busy people, ambitious people. They're often wealthy people. I don't judge them for that, but they do possibly avoid looking too deeply at the ethical issues, because it makes it more difficult."
Though the tourists she speaks to are generally sympathetic to the Sherpas, there are a few moments when their frustration reveals attitudes that are a little discomforting. During an emotional exchange one client pleads with Brice: "Can you not talk to their owners?"
"The generous side of me would say perhaps he meant the expedition owners," says Peedom. "But it did represent an attitude".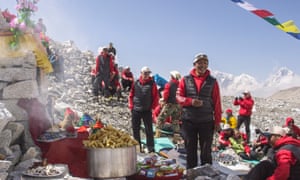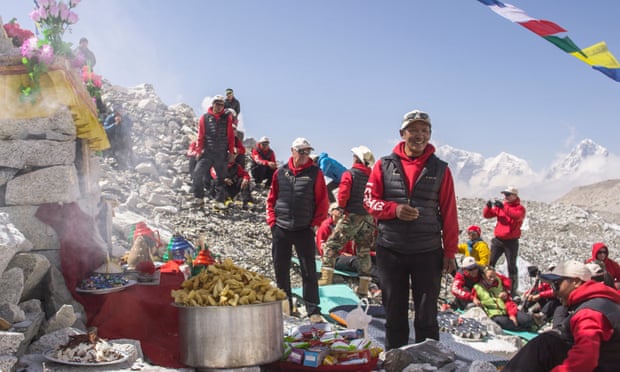 Everest is a valuable asset to the Nepalese government. Permits cost $11,000 per person. Before the 2014 disaster there was little incentive to be too stringent over who got to climb (Peedom's film shows queues lining up to summit the mountain).
Meanwhile, the wealthier thrill-seekers expect a luxury service. Brice's company are shown waking clients at base camp with hot towels and warm tea. In the evening they sit around on fur-lined camp chairs drinking lager and watching TV. All of this is hauled up the slopes by the Sherpas.
Then there are the camera crews. With an expensive climb comes sponsorship and the need to record the ascent and publicise the backers.
"There were three film teams on my expedition," says Peedom. "Getting shots without camera people in them was a challenge. There were cameras everywhere. It feels like most people who are climbing Everest are having a film crew follow them."
Since April's earthquake, the Nepalese government have limited access to permits to experienced climbers, hoping that will address concerns about safety and overcrowding. But the Sherpas still face an uphill battle when it comes to changing outsiders' perception of them. The recent Hollywood blockbuster Everest, which was filming while Peedom was on the mountain, has angered the community. Based on the 1996 disaster in which eight climbers died, the Sherpas say the film downplays their importance.
"The Sherpas are really upset about it," says Peedom. "Their role was a particularly big one in that year and that disaster. They were boiled down into one slightly weird character who wasn't really representative of them. A lot of people were saying to me on Facebook: 'Everest doesn't show our side of the story.'"
On returning from her shoot, Peedom had to re-pitch her film to her investors. They had been promised a documentary about a legendary Sherpa guide summiting Everest for a record-breaking 22ndtime. What she could deliver was what the Guardian's initial review called "a workers' rights film".
"The strike was unprecedented," says Peedom. "That was a real line in the sand, and it will affect the future. The dynamic has shifted on Everest."
• Sherpa is on release in UK cinemas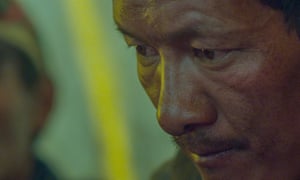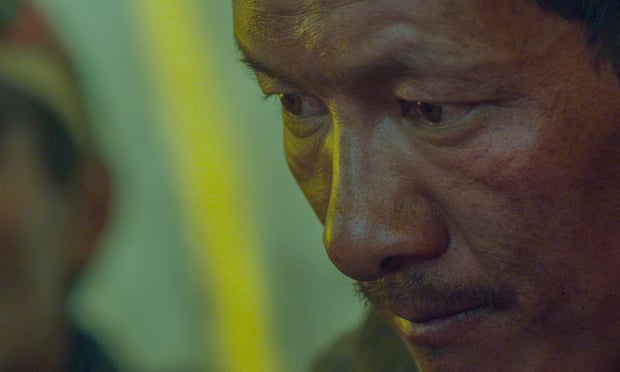 A mountain of trouble: the roots of the Sherpas' grievances
1920s: Sherpas accompanied the first British expeditions, led by George Mallory. Unclear of the climbers' motives, some of the Sherpas apparently thought them treasure hunters. In 1922, when an avalanche struck and seven Sherpas died, the message that went down the mountain was "all whites are safe". By the late 1920s Sherpas were already agitating for better conditions.
1930s: Tensions rose as Austrian expeditions saw the deaths of many more Sherpas on Nanga Parbat, another Himalayan mountain.
1953: The famous expedition by Tenzing Norgay and Edmund Hillary was led by a British army officer, John Hunt, who was a firm believer in hierarchy. Relations started acrimoniously when the Sherpas were not allowed beds at the British Embassy in Kathmandu, instead being forced to sleep on the floor. The Sherpas urinated in the road outside in protest.
Once the team had scaled Everest – seen by some as a last crowning moment of the age of empire – controversy continued to surround the feat. In the international press, Norgay was painted as a noble servant, a smiling sidekick to the heroic Hillary. Accounts that had reported Hillary reaching the summit first were met with outrage by some in the Sherpa community. However, in an autobiography published in 1955, Norgay confirmed that he "stepped up after him", but that the kerfuffle over who had scaled Everest first had tainted the memory.
The dispute did not stop with the ascent – while Hillary received a knighthood, Norgay only got a medal. At the expedition's 50th anniversary celebration, Norgay's grandson accused the British establishment of unfairly treating his grandfather.
1950s and 1960s: Bids to make relations more egalitarian in the late 40s and early 50s, largely by Swiss and Indian climbing teams, in some ways intensified Sherpa reactions to being treated as inferiors. Many of the major expeditions of the period were marked by disruptive strikes.
1963: During an American Everest expedition, arguments about sleeping bags and oxygen broke out. One report says that base camp became a sort of "alfresco courtroom".
1972: Expedition leader Karl Herrligkoffer reportedly did not bring enough equipment for the Sherpas, who went on strike at base camp. He was forced to return to Germany for additional equipment.
2013: Arguments broke out between three Europeans and a group of Sherpas. The Europeans fled, saying they feared for their lives as an angry "mob" threatened to stone them. The Europeans had apparently dislodged some ice, which hit a Sherpa in the face. The situation became violent when one of the climbers allegedly called a Sherpa a "motherfucker".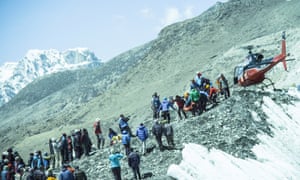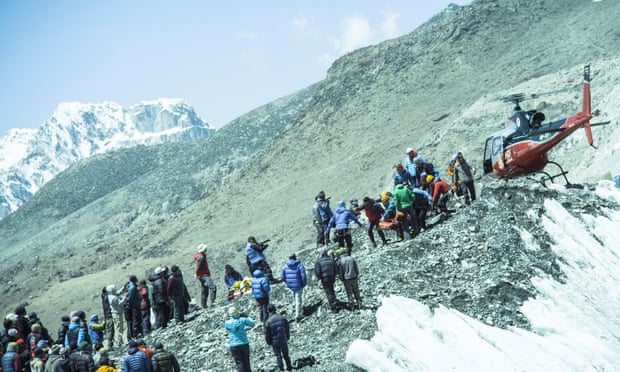 2014: In April an avalanche hit the Khumbu Icefall (a treacherous stretch that Sherpas often pass through 30 to 40 times per expedition, compared to a tourist climber's two to four times) killing 16 people, 13 of them Sherpas.
Afterwards many Sherpas refused to climb, calling for a strike. Struck afresh by the dangers of the job – the death rate for Sherpas on Everest between 2004 and 2014 was 12 times higher than for US military personnel in Iraq between 2003 and 2007 – this time they directed their anger not at climbers but at the Nepalese government.
2015: Sherpas were angered by the fact that the Hollywood blockbuster, Everest, a re-telling of Jon Krakauer's Into Thin Air, massively played down the role they played in the 1996 disaster depicted. Ellie Violet Bramley