A bill in the New York State Assembly would require search engines and online publishers to remove "'inaccurate', 'irrelevant', 'inadequate', or 'excessive'" content on individuals within 30 days of a removal request.
Recall, Europe's highest court ruled in favor of the "right to be forgotten" in 2014. It aimed to alleviate privacy concerns of an individual whose past financial troubles had been represented poorly online. The court ruled that search engines should place rights to privacy above the right of the public to find information.
Why this matters: The loser in the U.S., according to The Washington Post's Eugene Volokh, is freedom of speech under the First Amendment:
…the deeper problem with the bill is simply that it aims to censor what people say, under a broad, vague test based on what the government thinks the public should or shouldn't be discussing.
To put it in context, Volokh writes, "the bill contains no exception even for material of genuine historical interest; after all, such speech would have to be removed if it was 'no longer material to current public debate.'"
Plus, as Google's CEO Larry Page put it, this forces search engines like Google to arbitrarily decide what counts as private information and what doesn't.
Snapchat's parent company saw its share price dip below $20 for the first time on Thursday, two weeks after it made its public debut. At around 2:00pm Eastern, the stock hit $19.23 and after, a brief bump, slumped back down below the double-decade mark.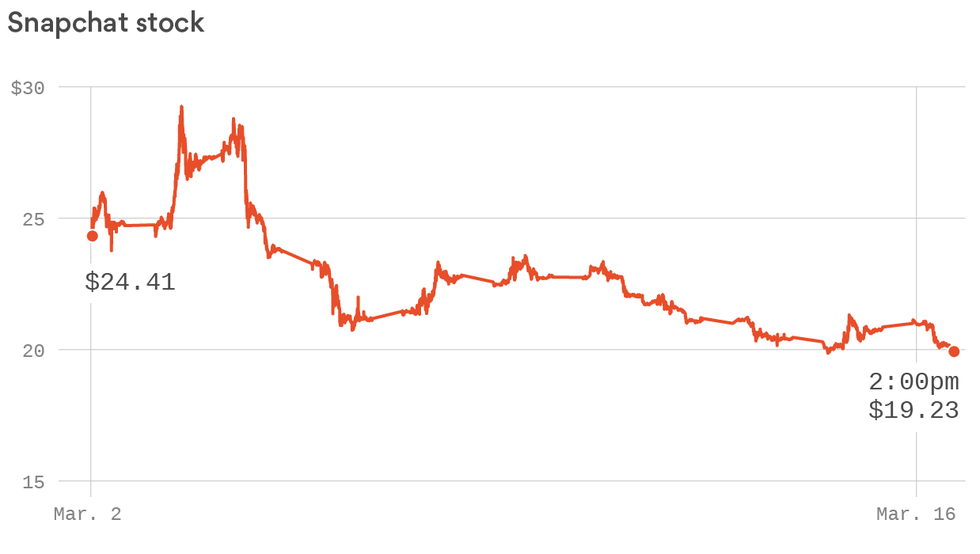 Data: Money.net; Chart: Andrew Witherspoon / Axios
The company priced its IPO at $17, then opened at $24, a 41% premium. However, on Friday, after its first full week of trading, it closed the day at $22.07 per share and has continued to slide.
Luxury winter jacket maker Canada Goose raised around $255 million in its IPO today, and has begun trading on stock exchanges in both New York and Toronto. The most obvious winner here is Bain Capital, the private equity firm that acquired Canada Goose in April 2013, and has watched revenue and profit continue to climb.
But a less noticeable beneficiary are a pair of charities that were gifted Canada Goose shares from Bain Capital partners and employees: Fidelity Investments Charitable Gift Fund (1.9m shares) and the Combined Jewish Philanthropies of Greater Boston (454,000 shares).
The nonprofits each sold all of their stock at the IPO price, netting more than $30 million in total.
The House Oversight Committee has obtained new documents showing that former national security advisor Mike Flynn received thousands of dollars from Russian companies in late 2015, per the WSJ. The payments came just before he became an official for the Trump campaign and while he still held top-secret clearance.
The payments: $11,250 from a Russian charter cargo airline and $11,250 from a Russian cybersecurity company — that's in addition to the more than $45,000 he received from Russian state news network RT for speaking at a gala attended by Vladimir Putin.
The response from Elijah Cummings, ranking member of the Oversight Committee, "I cannot recall any time in our nation's history when the President selected as his National Security Advisor someone who violated the Constitution by accepting tens of thousands of dollars from an agent of a global adversary that attacked our democracy."
A federal judge in San Jose has rejected Google's proposed settlement with non-Gmail users who claim Google illegally scanned their emails to Gmail users to target them with advertising, Reuters reports.
In a decision released Wednesday night, District Judge Lucy Koh said the disclosure requirements were inadequate and the settlement did not include technical changes Google would make to comply with privacy laws.
Background: Google tentatively agreed to change the way it collects data from Gmail in December, agreeing to stop collecting advertising-specific data before an email is accessible in a user's inbox, according the The Verge. The voluntary settlement came after non-Gmail users, who haven't agreed to have their emails scanned under Google's Terms of Service, brought a class-action lawsuit against Google for violating privacy laws.
Yahoo settled a similar lawsuit last year and agreed to delay ad-scanning. Koh noted that Yahoo's settlement required more disclosures than Google's proposed settlement.
What's next: The issue is a growing one for companies who run ad-supported email services. The plaintiffs plan to push on with the litigation against Google.
Chairman Richard Burr and Vice Chairman Mark Warner released a joint statement saying Trump was not wiretapped by Obama:
Based on the information available to us, we see no indications that Trump Tower was the subject of surveillance by any element of the United States government either before or after Election Day 2016.
Yesterday from President Trump: "I have a lot of confidence in the committee."
Yesterday from House Intel Chair Devin Nunes: "We don't have any evidence…"
Variety reports that, starting April 15, Saturday Night Live will air live coast-to-coast for its last 4 episodes of the season. It's the first time in the show's 42-season history that it'll be live in the Mountain and Pacific Time Zones.
It's the Trump effect at work again with many Americans tuning in each week knowing that the president is very likely doing the same.
Note to POTUS: You won't want to miss the May 13 episode — master Sean Spicer impressionist Melissa McCarthy is hosting.
The S&P 500 has now risen by 36.7% while Janet Yellen has been chair of the Federal Reserve, besting the 36.1% performance under predecessor Ben Bernanke. But both are well short of either Paul Volcker or Alan Greenspan. None of these folks has responsibility for public equities performance, but they do lead American monetary policy that impacts the global economy.
Data: S&P Global Intelligence, Yahoo Finance; Chart: Andrew Witherspoon / Axios
eGenesis, a Cambridge, Mass.-based xenotransplantation startup, today announced that it has raised $38 million in Series A funding. Biomatics Capital and ARCH Venture Partners co-led the round, and were joined by Khosla Ventures, Alta Partners, Alexandria Venture Investments, Heritage Provider Network, Berggruen Holdings North America, Uprising and Fan Ventures.
Why it's a big deal: Because "xenotransplantation" is a process by which you take the organs of one species (i.e. pigs) and putting them in another species (i.e. humans). Obviously this isn't just a cut-and-paste job, which is why eGenesis is using CRISPR gene editing tools to modify the pig organs. It's also worth noting that eGenesis isn't the only company working in this space.
Bottom line: "This pig may save your bacon." — slogan on eGenesis t-shirts