A day after the deadliest mass shooting in US history, questions are mounting over why the shooter Omar Mateen was legally able to buy an assault rifle and handgun despite having been investigated twice by the FBI for suspected terrorist sympathies.
Mateen, 29, launched his attack on Pulse club, an LGBT venue in downtown Orlando celebrating its popular Latin dance night, at 2.02am on Sunday morning.
Twenty minutes into the spree he took the bizarre step of making a 911 call in which he reportedly referred both to Islamic State and the Tsarnaevs, the brothers who carried out the Boston Marathon bombings in April 2013.
Sunday's attack – which left 50 people dead and 53 inured - was launched by Mateen using a .223-caliber assault rifle and 9mm semi-automatic pistol with multiple rounds of ammunition that had been purchased quite lawfully in the week before the rampage using Mateen's firearms license.
He also held a permit to work as a security guard, which he did at a courthouse in Port St Lucie, Florida, even though he was interviewed three times by the FBI in 2013 and 2014 following separate reports of extremist behavior and connections to terrorism that were in the end deemed insubstantial.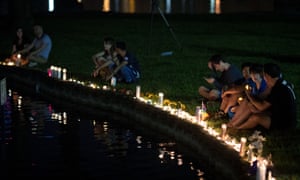 People sit on the edge of Lake Eola, Orlando, where candles were placed for the victims of the nightclub shooting. Photograph: Drew Angerer/Getty Images
The revelation that the bloodiest mass shooting in history had been carried out by an American-born individual on the FBI's radar is likely to reignite the debate over the country's lax gun laws with regard to people under investigation for terrorism.
New York City's police commissioner, Bill Bratton, fiercely criticized the National Rifle Association, the most powerful gun lobby in the country, that has campaigned to prevent people named on the US government no-fly list from being barred from purchasing guns.
Related: 'Everyone get out and keep running': how the Orlando attack unfolded
"The idea we have a terror-watch list, a no-fly list, and someone on that list can buy a gun - that's the highest level of insanity," Bratton told CNN. He added that the probe into the Orlando shooter would have to take in whether "there was anything from the FBI investigations that might have stopped him being able to acquire a firearm. I don't hold out much hope for that: obviously the United States is too afraid of the NRA at this time."
Within hours of the shooting a fuller picture of Mateen and his life began to emerge.
His former wife spoke in Colorado on Sunday afternoon revealing the shooter's history of domestic violence and suspected mental health issues.
"A few months after we were married I saw his instability, I saw his bipolar, and he would get mad out of nowhere, and that's when I started worrying about my safety," Sitora Yusifiy said.
"Then after a few months he started abusing me physically, very often, and not allowing me to speak to my family, and keeping me hostage from them."
Sorry, your browser is unable to play this video.
Ex-wife of Florida gunman Omar Mateen says he was 'mentally unstable'
Her family "literally rescued" her from the marriage after four months, she said, recalling Mateen's "emotional instability, sickness ... He was mentally unstable and mentally ill [and] obviously disturbed, deeply, and traumatised".
Yusifiy said her former husband - whom she "cut off" in 2009 and formally divorced two years later - had aspired to be a police officer and "did follow religion", but had shown no radical inclinations.
As night settled over Orlando, bringing a semblance of calm to the rattled city, the extent of the trauma inflicted on it had only begun to emerge. Vigils were held in various locations across the city on Sunday night, but with a single theme: the defiant belief that love would in the end conquer hate.
Barbara Poma, who founded the Pulse Club in honour of her brother John who died in 1991 of Aids, said in a statement: "From the beginning, Pulse has served as a place of love and acceptance for the LGBTQ community."
Orlando-area blood donation centers were so overwhelmed by donations on Sunday that some would-be donors were turned away and asked to return in the next few days. However, there was one group particularly keen to donate who were unable to.
Congressman Jared Polis, a Democrat from Colorado, condemned the national regulation prohibiting sexually active gay men from donating blood. Polis is one of the only openly gay men in Congress.
"I'm ... hopeful that we can remove the ban that the FDA has on gay people donating blood, because guess what? Many of the spouses and loved ones of the victims who need blood can't even donate blood right now," Polis told Denver news channel 9News. "It's just a double tragedy that so many are facing the shortage of blood."
One of the survivors of the Pulse rampage was invited to speak at a vigil held in memory of the dead at the Joy Metropolitan Community Church, part of the historic network of LGBT places of worship set up in the wake of the 1969 Stonewall riots.
Only his first name was given - fittingly it was Orlando - as he addressed the congregation from the front pew of the tiny Joy MCC church, his shoulders slumped and medical plasters still visible on both arms from the hospital treatment he had received.
Sorry, your browser is unable to play this video.
Gay Orlando official gives emotional statement after nightclub shooting
Orlando could barely speak for shaking. He described having been held hostage in the bathroom of the Pulse for almost three hours, from soon after the shooting began until at 5am a police Swat team let off diversionary controlled bombs and burst through a wall of the club using an armored vehicle.
In the ensuing firefight, Mateen was killed while 30 club goers, Orlando included, were brought to safety.
He said that he had gone to the club that night just to have a good time. "We were all there, everyone, to have a good time, to respect each other in joy."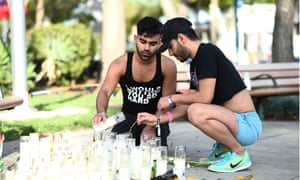 Jose Alves and Tony Bracamonte at a Vigil for victims of the Orlando shooting LA Pride parade, Los Angeles, 12 June 2016. Photograph: REX/Shutterstock
When he heard a loud noise he thought it was the thud, thud of the dance music. "Then I realized it was shooting."
Other survivors from the carnage owed their lives to having crawled out of the club through an air-conditioning vent, while one woman was reported to have hidden under dead bodies.
As families of victims wake up on Monday morning, several will still be in the dark about the fate of their loved ones. With 53 injured and in hospital, on top of the 50 dead, the job of identifying those deceased and those still clinging to life has been difficult and painfully slow.
Related: 'He's coming. I'm gonna die': Orlando shooting terror revealed in son's text to mother
Dozens of friends and relatives of those wounded or missing are expected to spend a second day waiting for the news. On Sunday, family members, some wrapped in blankets and many of them in tears, were guided into an emergency reception centre set up at a Hampton Inn one block south of the Orlando Regional Medical Centre.
Pastor Kelvin Cobaris was one of several religious leaders who offered counseling to families as they waited to news of their relatives. He told the Guardian that he sat for hours as families waited hours patiently in the hope of being brought good news, but then watched in dismay when the news they dreaded was delivered.
"When they heard that their loved one had gone some people screamed. Others were angry, because they wanted answers."
Sorry, your browser is unable to play this video.
Witnesses describe Pulse nightclub terror shooting
Brian Vieoma spent much of Sunday texting and calling his brother Luis's mobile phone. For hours he had no news, and a sense of dread descended on him.
"He came over for Latin Night, Venezuelans love to go dancing," Vieoma told the Guardian about his brother Luis, 22, a worker at Universal Studio's Harry Potter theme park who had been visiting the Pulse club from Sanford, a city north of Orlando.
Late on Sunday, Luis Vieoma was added to the official list of the dead. Police have so far named 21 victims. They are: Amanda Alvear, 25; Martin Benitez Torres, 33; Luis Daniel Wilson-Leon, 37; Mercedez Marisol Flores, 26; Xavier Emmanuel Serrano Rosado, 35; Gilberto Ramon Silva Menendez, 25; Edward Sotomayor Jr, 34; Stanley Almodovar III, 23; Luis Omar Ocasio-Capo, 20; Juan Ramon Guerrero, 22; Eric Ivan Ortiz-Rivera, 36; Peter O. Gonzalez-Cruz, 22; Luis S. Vielma, 22; Kimberly Morris, 37; Eddie Jamoldroy Justice, 30; Darryl Roman Burt II, 29; Deonka Deidra Drayton, 32; Alejandro Barrios Martinez, 21; Anthony Luis Laureanodisla, 25; Jean Carlos Mendez Perez, 35; and Franky Jimmy Dejesus Velazquez, 50.
As the human tragedy continues to unfold in Orlando, its political fallout will also deepen in Washington and across the nation. In his carefully-calibrated address to the nation on Sunday, President Obama placed the Pulse massacre politically at the intersection between the battle against terrorism and the fight for civil rights: he called it an "act of terror and an act of hate".
Donald Trump, the presumptive Republican presidential nominee, used the tragedy to prop up his controversial call for a ban on all Muslims entering the US, in a tweet in which he said: "What has happened in Orlando is just the beginning. Our leadership is weak and ineffective. I called it and asked for the ban. Must be tough."
Trump's Democratic rival, Hillary Clinton, emphasised Pulse as a hate attack on the LGBT community, but also applied the label terrorism and said "we need to redouble our efforts to defend our country from threats at home and abroad."
How the already febrile debate develops in coming days, intertwining with the equally feverish presidential debate, may have much to do with what information emerges about the shooter. He remains for now a classic so-called "lone wolf" - a self-radicalised, angry individual of the sort that is very difficult to pinpoint and pre-empt.
But the FBI will now be looking to see whether the links that they investigated in 2013 and 2014, only to dismiss, were more concrete than they originally thought.