Tristan da Cunha is frequently called the most remote settlement on earth—even on the island, where a sign declares the fact and welcomes visitors, which tend to be few and far between. Tristan sits on an active volcano in the Atlantic, more than a thousand miles from land in any direction ("far from the maddening crowd," as its official website explains). Its population has fluctuated between 3 and 300 over the centuries. Only eight boats visit every year, and the main industry is lobster farming.
It's a model for radical self-sufficiency, a village built only on what is available on the island, a community that has fervently maintained its culture and livelihood for generations. "It took an extraordinary breed of people, ready to live at the margins of life, to settle and eventually thrive in the world's most isolated community," reads Tristan's history page. At the same time, its economy is fragile, and its aging infrastructure and architecture have been battered by extreme weather and storms, like the one that badly damaged the island in 2001. To survive, the island must strengthen its renewable energy sources, diversify its economy, and overhaul its aging buildings.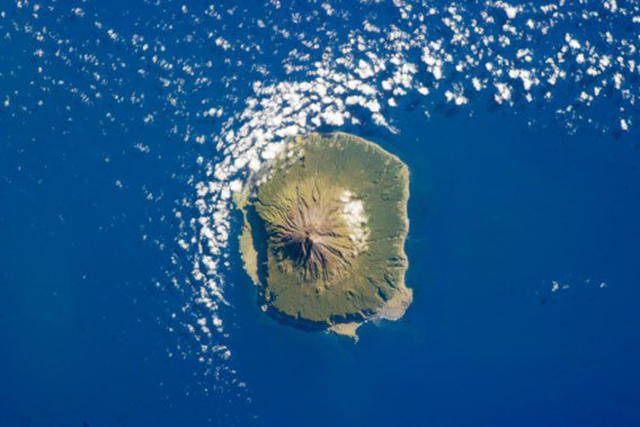 But how do you design such a tiny, isolated community? After all, the nearest architecture or planning firm is many thousands of miles and more than week's boat ride away. The same goes for any new construction materials or tools. Last year, the Royal Institute for British Architects staged a competition asking architects—who had never visited the island—to rethink life there from afar. In truth, it sounded a lot like an architect's version of Apollo 13.
Now, after a long consideration process, Tristan's own Island Council has chosen a winner: Brock Carmichael Architects, a studio based in Liverpool. And the proposal itself is less of a complete design than a roadmap that could extent decades into the future.
Brock Carmichael's proposal is founded on a very simple, seemingly obvious idea: that Tristan can fix itself. What it needs are tools—the literal technological kind, but also the more abstract kind. "What we didn't want to do was lose what we were trying to protect," says the architect behind the proposal, partner Martin Watson. "Which is the culture of the community."
Watson has been studying and writing about communities and construction for years, drawing on environmental psychology and building information management. His ideas center on giving communities the tools to literally rebuild themselves by teaching citizens the basics of construction and giving them agency to participate. Watson has described construction as "a social process," that can strengthen communities. "By building something together we find ourselves in a process that is embedded into our psyche and rooted in our early existence as civilized people and communities," he wrote last year.
Take Tristan's housing—a major problem on the island. Right now, it's made out of uninsulated concrete blocks. But Watson's team didn't propose a new type of building or material as some architects did, which would be expensive to ship to Tristan and, even more importantly, untested against the brutal weather. Instead, they proposed that Tristan keep building new houses the way they know how—but with a new "enveloping insulation" layer that would be added after construction.
All land on Tristan is communally owned, and "all Tristan families are farmers," the island explains on its website. The firm also proposed improving its renewable energy sources, like a wind farm and waste-to-energy incinerator, and better prefabricated greenhouses for increasing food security and a communal kitchen garden. But the key to all of it will be consulting with Tristanians and seeing whether they find any new technology workable.
"What we can't do is introduce something they're not familiar with or comfortable to adapt or maintain, because as soon as everybody leaves the island, and something goes wrong, you can't get on the phone and ask the repairman to come around the following day," Watson says. "Instead of introducing an alien technology, we would take their existing technology and gradually improve it with them."
Communal life is rooted in Tristan's history, tracing back to the early 1800s. According to the island's history, its official founder—a British corporal named William Glass—created a settlement that was called "the firm," where profits were shared equally and participants lived communally. To this day, "no 'outsiders' are allowed to buy land or settle on Tristan," the island's website explains, "despite many applications to join a society referred to as 'Utopia.'"
Brock Carmichael's plan fits nicely into those entrenched ideas. For example, the firm proposes turning some buildings into "social enterprise units." These would be places for Tristanians to experiment with new techniques and materials, and learn new buildings skills required to assemble flat-packed prefabricated parts for the larger, public buildings that Tristan needs to replace.
"The idea is that this facility will also act as a prototype and testing area for other types of materials and systems that we could use on the island," Watson explains, "so the community can get familiar with them, and be confident they're going to work for them before they're implemented."
By learning, struggling, and creating as a team, the thinking goes, a community forges a stronger sense of place and identity—something that's largely lost in the way most of our homes, schools, and government buildings are built today.
"In the process of designing from top down, we bypass the people. We control and sanitize human activity, and we miss the opportunity to foster people's capabilities and sense of belonging as we design and build," Watson wrote in an essay last year. "Most of all we take away the opportunity for people to forge their own environments and root themselves to a place of significance through struggle and endeavor."
He ends with a quote from urban writer and activist Jane Jacobs: "There is no logic that can be imposed on the city; people make it, and it is them, not buildings, that we must fit our plans."
A Jacobs quote might seem odd in the context of the most isolated village on earth. But Jacobs probably would have been fascinated by Tristan. She was trying to quantify the things that make a community strong and vital, and how space and design can either bolster or destroy it. Funnily enough, this tiny community's search for a plan distills the role of design itself in the broader world. What role can—or should—a designer play in changing a community? What is "placehood," or that intangible feeling of home that is so hard for design alone to conjure, yet so easy for it to destroy? Is a designer's role to impose a vision on a community, or to give that community the tools to unite around a shared vision?
For now, Watson and his team are starting to plan their first visit to Tristan in mid-2017. "We have to go with an open mind," Watson says. "We might have to redesign big areas of it because we made certain assumptions." Then, the real work will begin.
[All Photos (unless otherwise noted): Flickr user Brian Gratwicke]
Slideshow Credits: 01 / Photo: Brock Carmichael Architects; 02 / Photo: Brock Carmichael Architects; 07 / Image: Brock Carmichael Architects; 08 / Image: Brock Carmichael Architects; 09 / Image: Brock Carmichael Architects;