A new video purporting to show some footage of the nearly 300 missing Nigerian schoolgirls emerged Monday, according to the Agence France-Press news agency, which has obtained the video.
In the video, Abubakar Shekau, the leader of the Boko Haram terrorist group, who wants to impose Islamic Shariah law on Nigeria, says he is prepared to exchange the girls for prisoners.
The video's authenticity has not been confirmed, and it is not clear when the footage was taken.
Shekau says the girls have been converted to Islam. In the video about 100 or so girls are shown to be wearing full-length hijabs. Three of the missing girls are shown speaking on camera.
Shekau says the girls will be held until jailed Boko Haram militants are released.
"These girls, these girls you occupy yourselves with," Shekau says in the video. "We have indeed liberated them. These girls have become Muslims."
In mid-April, Boko Haram militants stormed a school in the village of Chibok and seized the girls, who were taking exams. Some escaped but around 200 remain missing.
Boko Haram has killed thousands since 2009 and destabilized parts of Nigeria, Africa's largest country by population as well as its biggest economy.
The mass kidnapping has put Nigeria under the international spotlight but critics say the government there has been far too slow to respond to the incident and that foreign interest in the case has also been slow in materializing.
"Like millions of people across the globe, my husband and I are outraged and heartbroken," First lady Michelle Obama said Saturday, using the president's weekly address to draw further attention to the plight of the girls.
FIRST LADY: 'Outraged' at Nigeria girls' abduction
However, the profile of that plight has risen markedly in recent days as the #BringBackOurGirls hash tag has gathered momentum on social media.
Over the weekend, Nigerian President Jonathan Goodluck said he was optimistic that the girls would be found.
On Monday, the European Union threw its weight behind a possible intervention from the United Nations Security Council that isis weighing taking measures against Boko Haram.
"The EU will work to end the culture of impunity for the use of sexual violence both as a tool and a side effect of conflict worldwide," an EU foreign affairs council statement said.
U.S. and British security experts have joined the Nigerian army in the search.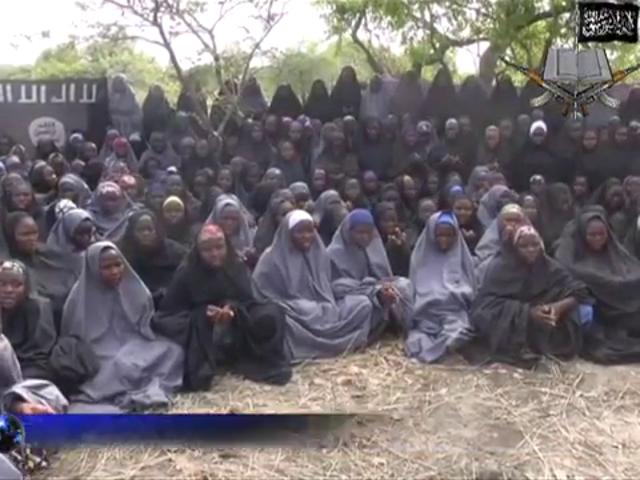 Boko Haram released a new video on Monday claiming to show the missing Nigerian schoolgirls, alleging they had converted to Islam and would not be released until all militant prisoners were freed. Video provided by AFP Newslook