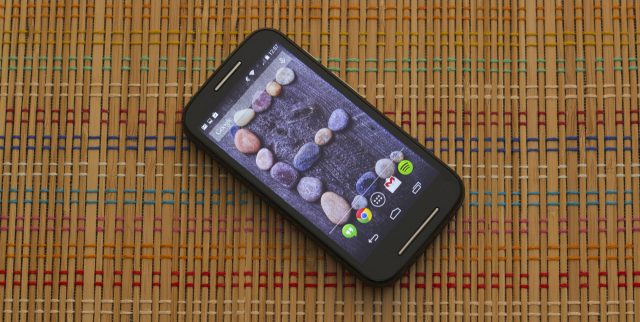 We've said it before, but it bears repeating: budget smartphones have become much more interesting than their high-end counterparts in the last year or so. While $600 flagships continue to get slightly larger and slightly faster and slightly better at a predictable rate, the amount of phone you can get for $200 or even $100 has increased by leaps and bounds. OEMs are looking to sell smartphones to people who don't have smartphones yet, and making things cheaper is the easiest way to do that.
Many of the smartphone OEMs offer budget models, but they're mostly either ancient or terrible. They have slow, no-name processors; not enough RAM or storage; old versions of Android that time has forgotten. You can buy these and use them, but why on Earth would you ever want to?
Motorola (currently owned by Google but awaiting purchase by Lenovo) is taking things in another direction. We already looked at the Moto G, which was an incredibly impressive phone given its $179 starting price. Now we're looking at the Moto E, a $129 follow-up that tries to strike the same balance between quality and price. We've put the phone through its paces and we're here to tell you where it succeeds and, more importantly, where Motorola found that $50 in savings.
Look, feel, and screen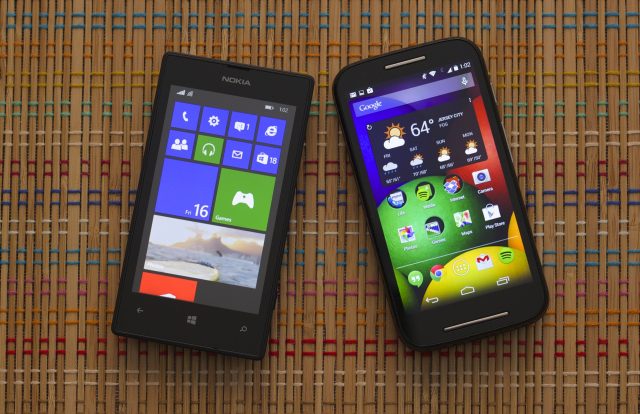 Specs at a glance: Motorola Moto E
Screen
960×540 4.3-inch IPS (256 PPI)
OS
Android 4.4.2
CPU
1.2GHz Qualcomm Snapdragon 200 (dual-core Cortex A7)
RAM
1GB
GPU
Qualcomm Adreno 302
Storage
4 GB NAND flash, expandable by up to 32GB via Micro SD
Networking
802.11b/g/n, Bluetooth 4.0. UMTS 850/900/1900/2100, AWS 850/1700/1900 (2100) + QGSM 850/900/1800/19000, GSM 850/900/1800/1900, CDMA 800/850/1900
Ports
Micro-USB, headphones, Micro SD slot
Camera
5MP rear camera
Size
4.91″ × 2.55″ × 0.24-0.48″ (124.8 × 64.8 × 6.2-12.3 mm)
Weight
5.01 oz. (142 g)
Battery
1980mAh
Starting price
$129 off-contract
Though the phone is $50 cheaper than the Moto G, you can't really feel that difference when it's in your hand. Both have solid, substantial-feeling plastic backs and sides with Gorilla Glass up front, and the two share a curved body that feels nice in your hand. The Lumia 520 (the current Windows Phone budget model that retails for $99 unlocked but can be found even cheaper if you're OK with being locked to a specific carrier) is definitely lighter and cheaper-feeling by comparison.
The Moto E comes with a black rear shell that can be pried off to reveal a (non-user-serviceable) battery, as well as micro SIM and micro SD card slots. The shell is a rigid plastic with a rubberized feel to it, and it can be replaced with one of eight different colorful shells to give the phone a little more personality. The shells are all sold separately and add $15 apiece to the bill, and as of this writing Motorola doesn't offer a version with a flip cover. Moto G and Moto E shells aren't interchangeable, since the G is a larger phone and it has speaker and LED flash cutouts that the E doesn't need.
The 4.3-inch, 960×540 display is probably the Moto E's most pleasant surprise. Most budget smartphones come with display panels that are serviceable but obviously inferior to those in higher-end phones. The Lumia 520 includes such a display—its 800×480 resolution isn't a terrible fit for the size, but its poor contrast and viewing angles give it away as the budget smartphone that it is.
The Moto E's panel, on the other hand, isn't half bad. It's not an AMOLED display like the Moto X, but it's got reasonably good black levels and vibrant but not oversaturated colors. It gets pretty bright, and there's very little color shift even if you're looking at it from different angles. It's also got Corning's scratch-resistant Gorilla Glass on the front of it, and I put it in a pocket with my keys and walked around for a while with no ill effects. Our review unit had a little backlight bleed at the top of the screen (Moto G and Lumia 520 have the same problem—it seems common in lower-end phones) and its bezels are a little thick-looking compared to most modern flagships, but that's the worst that can be said of it.
At 256 PPI, the Moto E's screen shows reasonably crisp text and images, but especially when things get small you can tell it's not a 720p or 1080p screen—for reference, the Moto G has a 329 PPI display, all current iPhones have 326 PPI displays, and the Nexus 5 has a 445 PPI display. The low PPI isn't a problem if you're browsing a mobile site or reading something in the Kindle app, but you can spot a difference if you're looking at small text and fine details. Here are a couple of Android UI elements rendered on the Moto E and the Moto G—the denser screen on the Moto G allows for larger images that retain more fine detail.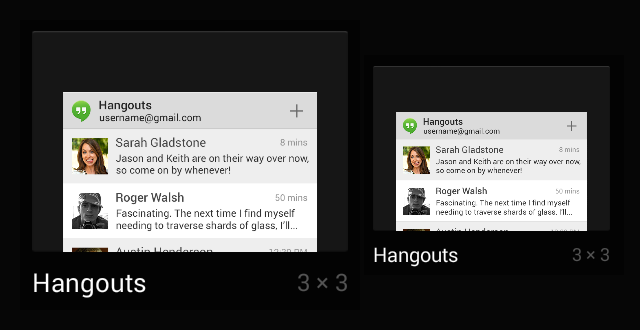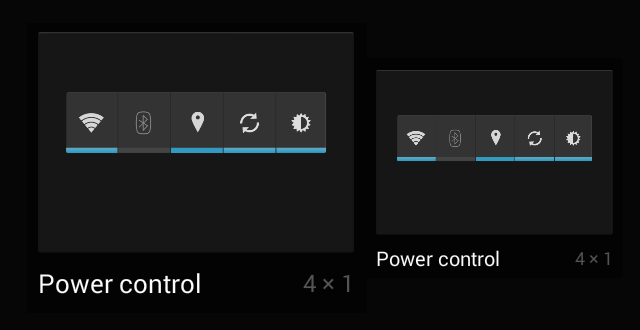 You get a noticeably sharper display for $50 more when you go with a Moto G, but Motorola should really be commended for how good the Moto E's display is in a phone this cheap. Whether it's a phone, a tablet, or a laptop, display quality is one of the first corners to get cut if you're looking at budget models. The impressive screen in the Moto E is a sign of the care that latter-day Motorola puts into its phones, and we really hope that the company maintains this approach once the sale to Lenovo is completed.
The rest of the Moto E checks all of the most basic boxes. There's an ambient light sensor, a front-facing speaker that will be OK for quick YouTube videos but not much else, and a small white notification light. It even supports screencasting via Miracast if you should happen to have a compatible display, though the GPU will limit you to 720p video playback.
Software
The Moto E's Android build is essentially identical to the Moto G's (and both are similar to the Moto X, though without hardware-enabled features like Active Notifications). It's a mostly-stock version of Android 4.4.2 with a handful of added Motorola apps that are easily ignored at worst and actually useful at best. Motorola Assist will offer to silence your phone if you're driving, sleeping, or in a meeting; Motorola Migrate can import your data over from an older Android or iOS device if you're moving from one; it uses the gesture-heavy Motorola camera app instead of the AOSP camera or the new (incompatible) Google Camera app; and an FM Radio app does exactly what it says it does.
The Moto E uses the basic AOSP Android launcher instead of the fancy new Google Now Launcher, but otherwise Motorola is shipping the closest thing to "stock" Google-style Android you'll find this side of a Nexus or Google Play edition phone. Motorola has committed to shipping "at least one" Android update for the device, too, which means Moto E buyers will be entitled to any Android update that happens to be announced at or near Google I/O at the end of next month. Future updates are possible, but Motorola isn't committing to anything past the next version—it may be that the company doesn't want to tie its hands if the Moto E is a commercial flop, or that the pending Lenovo acquisition is keeping Motorola from making long-term commitments that new management will break. In any case, you're running a newer, cleaner version of Android than you'll find on any phone in this price bracket, even if the phone never sees a single update. That's a great thing.