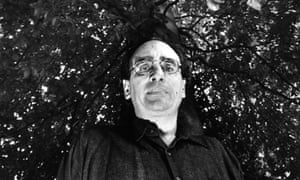 I know what you did last summer: RL Stine in 1996
Photograph: Andy Hall/Andy Hall
As a pre-teen of the 1990s, my bookshelves were stuffed with mass market paperbacks. The titles came in embossed fluorescent lettering and the content was stuffed with the heady, addictive pulp of young adult horror, or more precisely Point Horror.
I was usually too busy devouring their contents to pause and picture the writer. But I'm sure if I had, in RL Stine in particular I would have pictured a man in an attic somewhere, isolated and gnarled and cutting newspaper clippings about killers for leaning towers of scrapbooks.
Related: Why you can't behead the protagonist's mother when writing horror for teens
Yet the voice on the phone when I called Stine this week to chat about his new book for even smaller children - The Little Shop of Monsters, a collaboration with Arthur creator Marc Brown - is mild as midwestern cheddar. "I'm a grandpa," he says by way of explaining this latest of his projects, which he wrote for his 18-month-old grandson. "He enjoyed it," Stine says proudly.
He can't stop praising his co-author Brown, who Stine credits with the idea for the book. "I said, 'you have such a good reputation, why would you want to do a book with me?'" Stine says, before going on to rhapsodize about the illustrations Brown drew for the book, drafting the first of them directly on to the manuscript. "I think all the time," he adds, with the unmistakable tone of a man who knows how to tell a dad joke, "that Mark had this inner monster."
In fact, Stine starts to seem so unrelentingly nice, so utterly gentle, that a cynic might think it's an act. I mention that Jack Black, who will play Stine in a film adaptation of his mega-selling Goosebumps series this fall, had said that he found Stine not very scary in person and if anything too nice. Stine laughs: "My whole life that's been my problem."
Fright night: Goosebumps
His books became ubiquitous - at certain points in his career his books sold 4 million copies a month - and because of that success many people associate Stine only with the light, always-resolved-in-time-for-bed horror of the Goosebumps books, Point Horror and the Fear Street series. But in fact, when he came to New York from Columbus, Ohio, he really wanted to be a humorist. He had spent his childhood immersed in comics, reading the work of Ray Bradbury, Asimov, Ray Sheckley and watching the Twilight Zone.
But his real dream as a young man, he says, was to have a humor magazine of his own like the storied Mad Magazine. At 28, he achieved this goal when he became the editor of Bananas, a magazine scholastic once distributed in schools. "When the magazine ended ten years later, I figured I'd coast the rest of my life," he said. He wrote a lot of humor books but few sold ("I wrote for 20 years before anyone noticed I was around").
One fateful day in the mid-80s changed his life. "It was the point in my career where I would say yes to anything," he says. And he went to lunch with a scholastic editor who told him she needed a teen horror novel written.
"It's an embarassing story," he says, "because it wasn't even my idea." She gave him a title - Blind Date - and told him to go home and write it. He did and it became a bestseller - in Stine's account - without the least bit of marketing to go along with it. "No one really knew me, and there was no hype, and there was no advertising for it," he said. "It was just kids telling kids. It was a secret kids network."
He writes in a room with a human skeleton, a dummy of himself, and a three-foot fake cockroach
It was the beginning of a kind of industry. Stine's sales are still very high. Goosebumps sales, in particular, were in the stratosphere in their heyday, in the tens of millions, before a slump hit in 1997. Stine became a highly disciplined machine - he still writes about six days a week, trying to crank out about two thousand words a day. His favourite place to write is in his Manhattan apartment, in a room that contains, he tells me, a human skeleton, a dummy of himself, and a three-foot fake cockroach. His wife, Jane Waldhorn, edits his work. ("Can you imagine being married to your editor?" Stine asked me. "Nothing gets by her!")
Returning to Stine's books as an adult, it is a bit hard to say exactly what it was that sucked me in so completely as an adolescent. The plots are pretty simple; children encounter something they don't understand, and without the least bit of help from any parents manage to get themselves back out of the jam again. I asked Stine why he thought. "They tell me they like to be scared," he said simply. But he recognizes that the scare has to be contained, cushioned, in order to retain such broad appeal. "We know we're having this horrifying adventure," Stine said of the appeal of horror more generally, "but we [also] know we're safe."
He learned this from personal experience when he once wrote a Fear Street book with an unhappy ending. "I wrote it just for fun, for me," he says of this time he strayed from the formula. After the book was published, Stine was inundated with angry letters from fans demanding that he resolve the ending. "They turned on me immediately," he said, "And I got all this mail. 'Dear RL Stine, you moron. How could you do that?'" He eventually wrote a sequel to answer the complaints.
He has had critics in other quarters too. In the 1990s, his books frequently generated controversy in school libraries; parents often tried to ban them. It all seems rather tempest-in-a-teapot to think about now, given that the content of Goosebumps and Fear Street is not nearly as dark as that of, say, Twilight, let alone the "creepypasta" memes that float around the internet. "There were a lot fewer protests that I'd imagined," Stine said, actually. "But no one had ever done horror for kids."
And over time it's been clear that really the only lasting effect of his books is a lingering warmth towards the author. When I confessed to Stine I'd been one of his more voracious readers, he said: "And you didn't turn out too twisted, right?"