Twenty years ago, when Roxane Gay was 19, she disappeared. She was studying at Yale, at the start of a new term, and instead boarded a plane to San Francisco, where she had arranged to meet a man she had befriended online. On the face of it, her life was good. She had a well-off, supportive family, a strong academic record, a potentially sunny future. But she had spent seven years struggling with the unmanageable secret of a childhood sexual assault, and her life was unravelling. When this online friend, a 44-year-old man, suggested they travel to Arizona, she said yes.
She spent a year there, telling no one where she was; even now, she won't tell me the job she did, just that it was "nothing illegal". She laughs uproariously. "I could have met a serial killer. I could have been murdered in my sleep. But I met legions of kind, warm people."
Her parents eventually tracked her down – thanks, she suspects, to a private investigator – and she moved back to Nebraska to be near them, enrolling at another university to finish her studies. The year had been an adventure – a liberation, but not a resolution.
Gay is 39 now, and over the last 18 years she has published countless pieces of fiction and non-fiction, only to find herself described in recent months as an overnight sensation. This tickles her; she thinks of herself as a shy person, and when you praise her work, a self-conscious hand rises to cover her eyes and smile. She is publishing two books this year – a collection of essays, Bad Feminist, and her first novel, An Untamed State, which the Washington Post described as smart and searing; the Miami Herald praised her "flawless pacing". "Let this be the year of Roxane Gay," Time magazine declared, and so far it is, which appears to be both an exhilarating and exhausting experience.
When I meet Gay at her home in Charleston, Illinois, an apartment furnished primarily with books, she is finishing an essay for the New York Times, engaging a speakers' agency to manage her schedule and struggling with mild insomnia. The culprit is her second book tour in the space of a few months, which will take her from Milwaukee to New York to San Francisco.
Her success is unexpected and delicious – and not only because we rarely see a woman in her late 30s, based in a tiny midwestern town, hailed as the hot new literary darling. The essays in Bad Feminist were first published in magazines including the American Prospect and on websites such as Salon, Jezebel and the Rumpus, and Gay has gradually built a following and a reputation. While online discourse is often characterised by extreme, polarised opinions, her writing is distinct for being subtle and discursive, with an ability to see around corners, to recognise other points of view while carefully advancing her own. In print, on Twitter and in person, Gay has the voice of the friend you call first for advice, calm and sane as well as funny, someone who has seen a lot and takes no prisoners.
In the introduction to the essays, she writes that she openly embraces the label bad feminist, and does so "because I am flawed and human". For years she felt that as a black woman – particularly one who has, at times, identified as queer – feminism wasn't for her, because the movement "has, historically, been far more invested in improving the lives of heterosexual white women to the detriment of all others". She also worried that feminism didn't allow for natural human messiness. But she supports feminism's aims, wants equal opportunities for men and women, reproductive freedom and affordable healthcare for all, so she came up with the label Bad Feminist, which punctures the need for perfection. Her Bad Feminist essay is a clarion call to bad feminists everywhere – for pluralism, collective effort and mutual respect – and the most persuasive feminist recruitment drive in recent memory.
As well as sexual politics, the book looks at race, friendship, body image, Orange Is The New Black and competitive Scrabble (Gay is a keen player and writes that she approaches this as she does her work, "with a dangerous level of confidence to balance my generally low self-esteem").
Over the past few years, Gay has worked hard to raise the profile of writers of colour, conducting a count, for instance, of the books reviewed by leading publications. In 2012, she found that 90% of the books reviewed by the New York Times were by white writers – according to the 2010 census, 72% of the US population is white, so, as she noted, the figures are grim. She has also published lists of brilliant writers of colour on the Rumpus, and in Bad Feminist writes about the representation of black lives on screen and on the page. This includes a critique of two films that tell stories of slavery, Django Unchained, which she hated, and 12 Years A Slave, which she thought was brilliant. But she's at the stage now, she says, where she can't watch "any more slavery movies. It happened. It was bad. It's still bad. The repercussions linger." She'd like to see more films that take on those repercussions, but also more like the romantic comedy The Best Man, "which just show people living their lives. Just once in a while, we'd like to be carefree, too."
Much of Gay's writing is personal, but she often jumps off into wider themes. In the essay Not Here To Make Friends, she moves from a note a girl wrote to her in high school, "I like you even though you are very mean" (she was "super-defensive and super-scared" in that period, she says), to a much broader discussion of whether female characters, in books and on film, need to be likable. She clearly isn't a narcissist, and has definite views about the ways personal writing should be used. "I think, especially in non-fiction writing, it's demanded that women unburden ourselves, that we splay ourselves open and let you see our bloody guts. But to what end? I'll show you some of my bloody guts, but there's going to be, hopefully, when I'm at my best, a larger sense of purpose to the writing. You have to look both inward and outward."
Gay was born in Nebraska to Haitian parents who had moved to the US when they were both 19, building a successful life for themselves and their children. She is the oldest of three, and is close to her two younger brothers; her parents were loving but strict, forbidding sleepovers, and the siblings bonded as a result.
Her father worked as a civil engineer, constructing tunnels, and his job took the family across the country, to Colorado, Illinois, Virginia and New Jersey. Shifting from state to state, Gay found solace in books, reading and rereading voraciously. She started writing when she was four. "I was a loner, shy and awkward," she says, "and I wasn't good at making friends, so in some ways the moving didn't matter." She travelled instead with the characters and writers of her favourite books: Laura Ingalls Wilder, Nancy Drew and Elizabeth and Jessica Wakefield, the twins in the 1990s television series Sweet Valley High. In her 2011 essay I Once Was Miss America, Gay writes of this series that, "to pre-teen and teenage girls, the books were the most familiar and resonant expressions of our angst and our fondest wishes for ourselves, the girls we wanted to become", capturing the essence of what were schlocky, yet somehow wildly captivating, tales of high-school drama.
For the last four years, Gay has worked as an assistant professor of English, teaching creative and professional writing at Eastern Illinois University, but for all her academic qualifications, she is much more focused on pop culture than on what might be considered high art. She thinks teaching media literacy to kids is essential; having always been a fan of pop culture, it's only in the last five years that she's developed "a better mental framework for thinking about it. I can enjoy [reality show] The Bachelor, but also tell you: here are the 5,000 reasons this show is very, very damaging."
Gay's early childhood was happy and ordinary, and then, when she was 12, there was a bike ride in the woods with the boy she thought was her boyfriend. She writes about this in an essay called What We Hunger For, beginning with her passion for The Hunger Games, before moving on to describe the day that changed her life. There was an abandoned hunting cabin, the boy's friends had gathered, they were about a mile into the woods and what happened next "was as bad as you might expect", she writes. "I came home a completely different person." The violence was very hard to write about, she says, "because it's definitely something I kept inside for quite a long time". She didn't tell her family or friends. Her life since then has been divided into before and after, "which I hate, because I hate that it marks my life. It's just like there's before – and I was normal and happy – and there's after, and the after continues. The repercussions continue."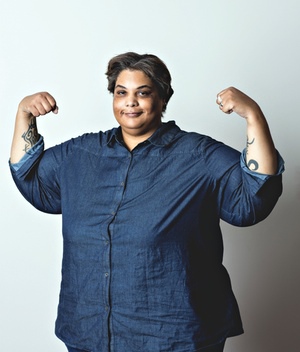 'The bigger you become, the less you're seen.' Photograph: Jennifer Silverberg for the Guardian
She began to put on weight quickly, gaining 40lb, and her parents sent her to fat camp, where she lost the weight, and then regained it. Putting on weight was "an intense form of control", Gay says. The boys in the woods had taken her body, "and they broke it. I will never get that body back, and I hate that, because it was a good body. But they took it; they ruined it. And so, when I ate, I got to make my body into what I wanted it to be, which is a fortress."
In her mid-teens, she went to an exclusive boarding school, Exeter in New Hampshire. "Socially, it was miserable. I had just come off this really traumatic experience, I was a fucked-up mess, and nobody knew how to help me." She wrote dramatic, repetitive stories, full of sexual violence, and a teacher called Rex McGuinn saw something promising in them – and something deeply troubling. They met one day and he said, "I'd like you to go to the counselling centre. I think they can help you, and I'll walk you over."
This was a huge relief, she says; someone had finally noticed that she had a problem. "I like to joke about it, but I do think that helped me not to end up dead, one way or another. I don't have suicidal instincts, but I do think I was putting myself in dangerous situations, just because I had a lack of self-regard. I was going to Boston on the weekends, going to bad parts of town, and not telling anybody where I was, because I just thought, 'Whatever happens, happens.' It had already happened."
McGuinn encouraged her as a writer, showing her ways "to make these stories not just this purging of whatever the fuck. He taught me craft, and he also taught me discipline. He told me to write every day. I was very impressionable, and so I write every day." This led to her publishing erotica in her early 20s, before moving on to literary fiction and non-fiction as she completed a master's degree and a PhD. Although she obviously wishes the rape had never happened, she knows it has shaped her as a writer. "I don't think I would have a fraction of the fierceness in my writing if I hadn't had to endure that, and the aftermath," she says.
In her essays, Gay considers the ways in which sexual violence is treated as entertainment, central to countless TV detective dramas, fetishised and titillating. "Most of the time," she says, "the victims are stylised, beautiful women, or very rugged, handsome men… We love the dead girl, beautifully draped and tints of blue, but still, so pretty!" She also grapples with the specific ways rape is written about. In the essay The Careless Language Of Sexual Violence, she considers a New York Times article about the gang-rape of an 11-year-old girl by 18 men and boys in Cleveland, Texas. "Little word space was spent on the girl, the child," she writes. Instead, the focus was on how the men's lives would be changed, the impact on the town, whether the boys would be able to return to school, where the girl's mother was at the time of the attack. "As a writer who is also a woman, I increasingly feel that writing is a political act whether I intend it to be or not," she writes, because we live in a culture in which this article "is permissible and publishable. I am troubled by how we have allowed such intellectual distance between violence and the representation of violence. We talk about rape, but we don't carefully talk about rape."
Gay was determined that there would be no titillation in her novel, which she wrote over four months in 2010. "I always knew that I was going to write the violence explicitly, without stylising it," she says. "I wanted to treat violence as information, and so how do I give that information to the reader without being gratuitous?" An Untamed State is the story of Mireille Duval Jameson, a Miami-based lawyer who travels to Haiti, with her husband Michael and their son Christophe, to visit her wealthy parents, before being kidnapped for 13 days and brutalised by a group of men. "There were some days where I would write scenes, particularly the first scene where Mireille is raped," Gay says, "and it was just like, 'Something is wrong with you to come up with some nonsense like this!' It was hard, but it felt necessary." She has been stunned by the response, which includes those warm reviews, its placing on "best of" lists and the praise of other authors, among them Sheila Heti and Ayelet Waldman.
For Gay, writing is a way "to think through what it means to be in this world. I definitely write to reach other people, but I write for myself first. I don't mean that in an arrogant way. It's just that this is me trying to make sense of my place, and how did I get here, and why am I so lucky in some ways, and so unlucky in others? So it starts with me, and then I move beyond the self, as much as I can."
There have been times in her life, she says, when she has wanted to be invisible. There was that lost year in Arizona, and then in her 20s when she was gaining more weight and consciously exploring what it would take to escape the male gaze completely. "It's interesting," she says, "because the bigger you become, the less you're seen. You still deal with the shit, but it's nowhere near as much. When I'm with my hot friends, the amount of catcalling they deal with, well, I deal with a tenth of that. But it's weird that I even have to deal with it at all. I kept thinking, during my crazier years, 'Where is the point where I will no longer be catcalled?' Because that's what I was looking for. And that's not healthy, and I've changed. But I definitely was looking for that point, and I haven't found it."
In happy contrast, and as a result of a lot of work, her 30s have been great. "I didn't think it could be this good, and I'm looking forward to my 40s. I know I have a long way to go in terms of happiness, but there's just no comparison."
Her writing is still developing, she's 30,000 words into her second novel and is working on another collection of essays. After years of wanting to disappear, Roxane Gay is where she deserves to be – in the spotlight, on her own terms.
• Bad Feminist: Essays, by Roxane Gay, is published by Constable & Robinson at £12.99. To order a copy for £10.39, with free UK mainland p&p, go to theguardian.com/bookshop or call 0330 333 6846.