I just knew Jim Harbaugh would end up where he is now, 10 yards downfield from me on a fall Thursday afternoon, playing catch. No way could he resist.
He's wearing his usual outfit — black 49ers sweatshirt over a black 49ers T-shirt, black 49ers hat and cheap khakis with a can of dip protruding from the back pocket – and not showing signs of the tension I'm here to explore: why, exactly, his methods seem to have a shelf life.
[+] Enlarge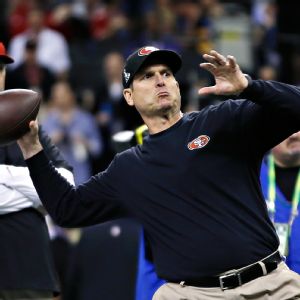 AP Photo/Matt SlocumSan Francisco coach Jim Harbaugh is known to be competitive even when just playing catch.
His talent at turning losers into winners is matched only by his propensity to piss off people in the process. He's in his fourth year with the 49ers, a team that before he arrived was in a decade-long morass. But after three NFC Championship Game appearances and a close loss in Super Bowl XLVII, the team seems to have all but concluded that unless this season ends with a championship, Harbaugh's way of winning is probably unsustainable.
Many successful coaches can be jerks, of course. But in San Francisco, it's gotten strangely personal.
I had happened upon a video of Harbaugh instructing high school quarterbacks, and when he picked up a ball, he seemed to come alive, energized by the power and possibilities at his command. It made me want to throw with him. You can learn a lot about someone playing catch, including why they grate on people. There's a late-night bar story told in NFL circles about Peyton Manning's free-agent visit with the 49ers in 2012. Harbaugh and Manning were throwing the ball, so it goes, when the coach couldn't help but remark that his passes had more mustard on them than the still-rehabbing future Hall of Famer's did. You can guess how that went over.
Harbaugh tried to steer me toward profiling one of his assistant coaches or players. But it was catch and he is, at heart, a quarterback. "I'll throw with you," he said. "But I'm not sure I'll answer questions."
---
Two days in July served as a harbinger for the strange season that's unfolded for the 49ers, a first month of blown leads and chronically undisciplined play and reports surfacing every few days that years of strain between Harbaugh and seemingly everyone in the building is finally spilling over.
The first day was the ribbon cutting to christen Levi's Stadium, a building decades in the making. It was not only a big deal: It was a chance for everyone to celebrate after a tense offseason.
At the time, few knew the barely functional relationship between Harbaugh and 49ers general manager Trent Baalke — two men who can talk football but at the NFL combine didn't look at each other on a shared elevator ride — had started to spread to the front office and the locker room. Team CEO Jed York says there was a "rawness" that festered after coming up short three straight seasons. Harbaugh worked the players hard, tightening his grip, which prompted a few of them to voice concern to management. He had twice turned down contract extensions, and now, with two years left on the five-year, $25 million deal he signed in 2011, nobody knew whether he wanted to coach the 49ers next year and beyond, or even whether the 49ers wanted him.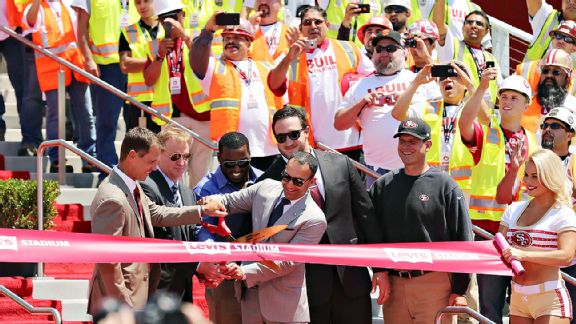 Kelley L Cox/USA TODAY Sports
Harbaugh attended the Levi's Stadium ribbon cutting in his usual practice clothes and didn't stay long.
So when Harbaugh scheduled a rookie practice during the ribbon cutting, meaning that assistants and their wives couldn't attend, team officials were irritated. With everyone in suits and NFL commissioner Roger Goodell in attendance, Harbaugh showed up in his usual practice getup and left shortly after the ceremony ended.
A cold war was heating up. A speech Harbaugh delivered to the team a few days later, entitled "2014 1st Team Meeting," explained his approach to battle. He usually writes in a spiral notebook, but this was typed and eight pages long. "I will be your alarm clock and wake you early," he said. "It can be a great temptation to rest on the field and let the opponent have a play without making him pay for every inch. I must hold his pain where it is. Mine does not matter. … The punishment I inflict, his fatigue, and that he is up against something that he does not comprehend is everything."
It was vintage Harbaugh, sincere and obsessive, inspiring and crazed. And its decisive moment, as Harbaugh described how he fights in the trenches, contained a clue as to why a coach who has won 74.5 percent of his games might just be expendable: "My opponent is going to have to die. But does he have to kill me too? He is killing me. But he has a right to. I have never seen a greater opponent than him.
"I do not care who kills who now."
---
When I first read the line, I didn't buy it. If anything, Harbaugh cares too much. "Jim can't have an interaction without a winner or loser," one 49ers staffer says. But as we're playing catch, an old Harbaugh story makes me reconsider.
As a rookie benchwarmer in 1987, he begged the Bears to let him play special teams. He throws me the ball — even at 50, his passes produce the hiss exclusive to pro quarterbacks — and recalls the moment. He was on kickoff duty, charged with keeping contain. He was sprinting, battling a blocker, when a second one drilled him under the arm, knocking him off his feet, out of bounds and into excruciating pain. "It was embarrassing," he says.
It's strange to watch a proud man relive a story about getting his ass kicked. But as I throw back to him, I remember another line from his preseason speech — "Keep your head clear and suffer like a man" — and think maybe it isn't so strange after all.
---
He is a vessel of pain. He inflicts it and welcomes it. Practice is supposed to suck. Games are supposed to hurt. Most coaches arrive with a calculated, five-year plan. Harbaugh's plan is kick ass.
At the University of San Diego, where in three years he turned a joke of a program into a two-time Pioneer League champion, he ran hills with the players, sometimes pushing through his own vomit. At Stanford, where he engineered a once-in-a-generation turnaround, he renamed the Oklahoma drill the Stanford drill to signify the toughness he wanted to instill. At San Francisco he makes the winning side run gassers after two-minute practice. "He's really good at making it suck," says Vernon Davis, who loves him. Harbaugh doesn't want a happy team. He wants the "least unhappy" team. "In the workplace, I don't look for friends. I look for allies," he said in the preseason speech, cribbing a line from TV's "Blue Bloods."
Who's tough enough? Who can hang? Harbaugh creates tests the way a workaholic creates work. His battles with the Stanford administrators, mostly over admitting qualified recruits, are legendary, and not missed, in Palo Alto, California. He'll burst into York's office at the crack of dawn with a problem that needs to be solved now. He sometimes uses his news conferences to back players in contract disputes, pitting them against the suits. Then he puts those players through miserable practices, leaving some of them to wonder whether, despite his mantra, others do have it better than they do. It's exhausting. According to someone who knows him well, Harbaugh has "figured out how to not be liked and how to function. It's been a strength his entire life. If he's going against you, he hates you."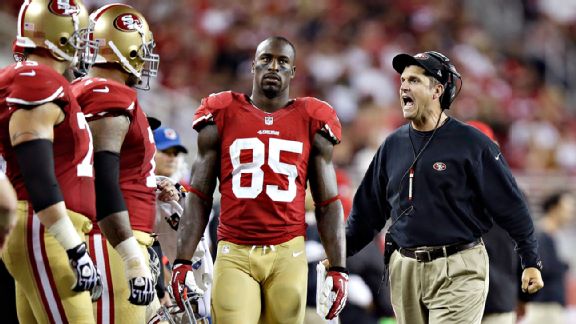 Ezra Shaw/Getty Images
Harbaugh doesn't want to be liked. He just wants to win.
That explains why Harbaugh, after taking over at Stanford, took dead aim at Pete Carroll and USC. But a few 49ers staffers think the absence of that hate may have played a part in why the 49ers lost the Super Bowl to the Ravens and his older brother, John, in 2013. The one moment when Harbaugh couldn't hate his opponent coincided with the biggest game of his life. Before kickoff, the brothers chatted at midfield. As they shook hands to part ways, Jim pivoted away, his warrior instincts kicking in. But John, realizing the gravity of the moment, grabbed his younger brother's wrist and literally pulled him in for a hug. "I love you," John said. "Be good today."
"OK," Jim said, giving a one-armed pat. He left and didn't look back.
Not a week passes in the 49ers facility without someone reliving the strange play calling in the fourth quarter of that game. Some on the team later wondered if Jim was thrown off his game because John had confronted his younger brother with something he had no defense for: an act of love.
---
Many Harbaugh interactions are uncomfortable. He has habits that mask his discomfort and any true introspection. He almost pathologically cloaks himself in catch phrases and quotes. Lincoln, Hemingway, Johnny Cash, Shakespeare, God, Nelson Mandela, Judge Judy, Bo Schembechler and even Calvin Coolidge, make appearances in Harbaugh news conferences, speeches and conversations. And he doesn't just quote outside sources to inspire players. He uses them to speak for himself, often when he's demoralized. "A man can be destroyed," he said after the loss to Seattle in last year's NFC Championship Game, nodding to Hemingway. "But he can't be defeated."
[+] Enlarge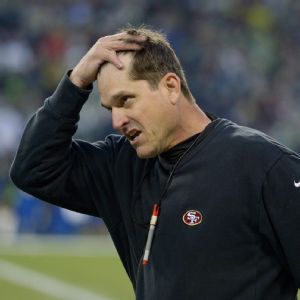 Kirby Lee/USA TODAY SportsWhen he has nothing to say, Harbaugh can get his point across with a stare.
And when he's thinking about football, he detaches from the known world. You can ask him a question and he basically doesn't hear it. Brad Seely, the 49ers special teams coach, tried to make small talk with Harbaugh before a recent game. Harbaugh is famous for wearing one-inch cleats, and this game was on turf, so Seely asked, "You got turf shoes?"
Harbaugh stared at Seely with that familiar open-mouthed gaze. He stared, and stared, and stared. Seely wanted to disappear. Others know better than to talk to him. Tim Drevno, one of Harbaugh's former assistants at Stanford and San Francisco, used to carpool with him in silence — except when they'd stop at the gas station for a can of dip, and Harbaugh would realize that, as usual, he didn't have any cash on him.
It can make Harbaugh seem spacy or rude, but everything that isn't coaching football is a distraction. It's why he "cuts the drag" and wears the same clothes every day. It's why some are put off by his curt and gruff style. And it's why, after seconds of staring, Harbaugh told Seely, "No, I got my one-inchers on," and turned away.
---
He's going to flip on me. He flips on everyone. One of his former employees has told me, "He's not really a d—, but he does d— things."
At Stanford, Harbaugh stripped current Cardinal head coach David Shaw of responsibility for the offense, parted ways with a friend and former player who had attended his wedding and even fired some of the defensive staff after Stanford's first winning season in eight years — cruel moves or necessary but unpopular decisions, depending on how you look at it. "I don't think he has any empathy," the ex-employee says. "He has no way of putting himself in someone else's shoes. It's a strength and weakness. He just says, 'I've gotta move on with my life.'"
I had prepared for him to flip a few days earlier when he called me and didn't leave a message. I figured he was canceling catch, but later, he texted: "Sorry … Infamous rear end call. Haha."
Still, as we throw, my defenses are up. He scoots back, stretching our passes to 20 yards, and I just know his ex-NFL arm is going to slay my everyman one, and he's going to rub it in …
But then, something strange happens.
He's not "a d—."
He's cool.
He compliments my release, which, as a lousy former high school quarterback — from Alaska, no less — makes me feel confident I won't end up like Uncle Rico. When my first 20-yarder hits him in the chest, he says, "That's your best one."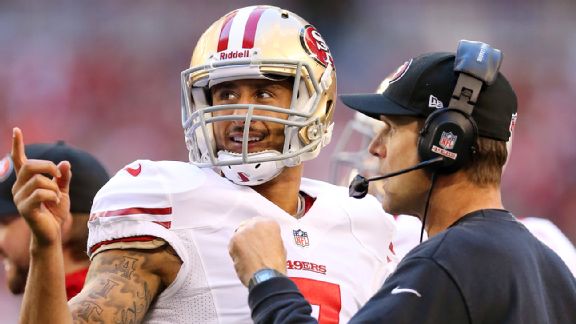 Christian Petersen/Getty Images
Harbaugh, a former quarterback, has a reputation for getting the most out of his signal-callers.
Harbaugh's gift for getting the best out of quarterbacks always seemed to be, like everything else, born out of his uncompromising combativeness. All of his stars — beginning with Josh Johnson at USD, continuing with Andrew Luck at Stanford and culminating with Alex Smith and Colin Kaepernick in San Francisco — knew that, deep inside, Harbaugh would be hell-bent to prove he could still play. But the truth is, Harbaugh also showers quarterbacks with the greatest gift they could receive: unfailing belief. He learned how to throw by aiming newspapers at doorsteps, so he celebrates different styles while other coaches might nitpick and overanalyze. Watch how Harbaugh pats Kaepernick's shoulder pads after an interception or takes the bullets at a presser after the young quarterback is unconscionably slow getting off a play.
In his office, Harbaugh has a framed note from Mike Ditka. They famously exploded in 1992 after Harbaugh defied Ditka's orders and audibled to a pass play that was intercepted and returned for a touchdown. One writer wrote that on the sideline, "Ditka grabbed Harbaugh and shook the confidence out of him." Harbaugh later admitted that the ordeal left him gun-shy, unthinkable for a man so cocky he once circled a picture of a model in a magazine, handed it to a Bears staffer and asked him to track down her number. Harbaugh's career in Chicago ended a year after that blowup. He had to start over. The will that produced Captain Comeback with the Colts in 1995 wasn't solidified in last-minute wins. It was the natural output of a healed scar.
The note, which Ditka sent after Harbaugh retired, reads, "I am still — believe it or not — your greatest fan."
"Meant a lot to me," Harbaugh says simply.
---
It's hard to win in the NFL, and Harbaugh wins so much that some 49ers seem to take for granted what a few coaches privately argue: Harbaugh, for all his faults, has done a damn good job of guiding a roster that isn't as loaded with as many blue-collar guys as the front office would like to believe. Edgy personalities need to be kept on edge, the theory goes. Some players complain that Harbaugh, who banned music and card games on flights, is too controlling, but as one staffer says, "They have no idea what controlling is."
[+] Enlarge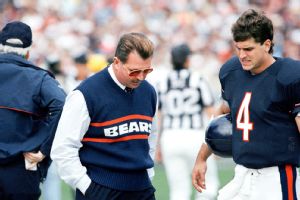 AP Photo/Fred JewellHarbaugh didn't get along with Mike Ditka, but he was toughened up by his coach with the Bears.
The 49ers front office, though, privately talks about trying to keep Harbaugh's chaos contained. And they have wondered whether someone like defensive line coach Jim Tomsula could replicate Harbaugh's intensity without alienating so many people. They ask: Is Harbaugh a great coach or does he just have a great record?
They aren't alone. Many who know Harbaugh well are surprised he's turned out to be so successful. As a quarterback, he was not known as a technician; he was a scrambler and a grinder who, as one of his former coaches, Mike Riley, says, "willed" teams to wins. Coaching, of course, is about the will to spend long hours in dark rooms. Few thought Harbaugh possessed the focus to do it. At Stanford he was known for taking many bathroom breaks. But he is also known for hiring well and for having successfully lobbied for his staff to be the NFL's highest paid. He both credits them unfailingly and occasionally passes off their ideas as his own. The old quarterback seems to know he still needs a great supporting cast, a sign of the self-awareness some say he lacks. As he always tells offensive coordinator Greg Roman, "You can't afford to have one bad coach on your staff."
His rise is always compared to his brother's the way Eli Manning is always compared to Peyton, but the fact is that no NFL coach is quite like him. That makes the task of defining him — and, for York, defining his worth — so complicated. Harbaugh has defied the stereotype that a former player has to sever ties with his dream of throwing the game-winning pass in the Super Bowl to be successful. And except for two years as a grunt with the Raiders, he's only been a head coach, defying the stereotype that only great coordinators become great head coaches. Says 49ers quarterbacks coach Geep Chryst: "Jim's had the great luxury of just being himself" and "tilting the axis so that everyone else adjusts to his vision."
Harbaugh's vision as a coach is unchanged from his vision as a quarterback: He trusts his instincts. That frustrates the 49ers' more buttoned-up staffers, who worry that his team's habit of botching situational football — last year, some believed the coaches weren't emphasizing two-minute situations in practice, and sure enough, the season ended on a failed two-minute drive against Seattle — is rooted in Harbaugh's disorganization. While the NFL is slowly trending toward a corporate and scientific style of football, a 49ers staffer says that, for better and worse, "We're the Scranton Bureau."
Seriously. Harbaugh sometimes brings glasses of whole milk to coaches meetings, believing it builds strength. While other staffs slave past midnight, he lets his coaches leave early a few nights a week so they can have dinner with their families; he even once babysat the toddler of one of his assistants so the coach and his wife could have a date. He eats lunch with a different group of players each day to get to know them. He buys cakes on birthdays and has a Will Hunting ability to calculate quickly how many days someone has been alive. Harbaugh's methods, haphazard as they are heartfelt, are as true as his record, but they still leave staffers, as a former one says, "with the constant feeling like they're going to get exposed."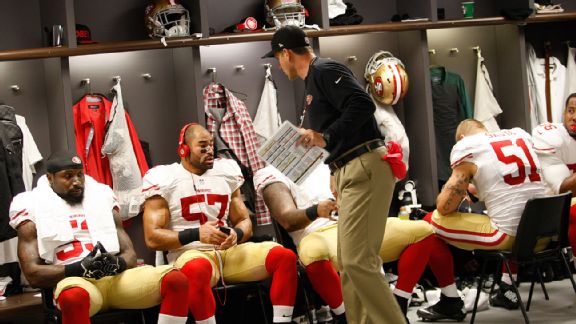 Michael Zagaris/San Francisco 49ers/Getty Images
Harbaugh gets to know his players by eating lunch with a different group of them each day.
That feeling is validated when the 49ers blew leads against the Bears and Cardinals and nearly lost to the Eagles despite their defense not allowing a point. The camera always seems to pan to a pained Harbaugh, shaking his head and spitting, in a bind and powerless to stop the clock. But style points don't count in a league geared toward regressing to the mean, and many successful coaches — from Tom Coughlin to Bill Belichick — are also willing to risk locker room revolts for making unpopular decisions. And in a league full of phonies and frauds, Harbaugh is neither. "He treats the profession right," Riley says.
His instincts also cause trouble for opponents who know Harbaugh has just enough screws loose to dare to win. It's still amazing to think that in 2012, when the 49ers trailed the Saints late in the fourth quarter of San Francisco's first playoff game in nine years, Harbaugh had the stones to call a quarterback sweep with Alex Freaking Smith. Smith ran 28 yards untouched for a touchdown, and the call was pure Harbaugh: absurd, brilliant and even lucky. As he said in his preseason speech, "It is better to be lucky. But … luck comes when you are ready."
---
Catch is so much fun — I feel like I'm spinning it like Brady in 2007 — that I forget to ask Harbaugh about a book that has influenced him. It's called "Only the Paranoid Survive: How To Exploit the Crisis Points That Challenge Every Company" by Andy Grove, the former CEO of Intel. I'm not sure it matters — Harbaugh is hard to hear from 20 yards away, and the only time he was ever asked about the book, he punted, as usual. But the title implies that what seems like an unstructured program actually might be rooted in a larger blueprint, executed in extremis, because Harbaugh creates the crises as much as he exploits them — creates to exploit. Some 49ers staffers, for example, think he intentionally loses preseason games to manufacture an us-against-the-world mentality, a theory that the record doesn't support.
When Harbaugh arrived in San Francisco, the word on the street was that his ego was out of control, that he was trying to take over the building. Turns out, it wasn't true. Harbaugh's ongoing tension with management proves just how narrow his power truly is. He doesn't pick players or manage the salary cap. He coaches. It's easy to see how someone who, as his friend Willie Taggart, the head coach at the University of South Florida, says, "always believes he's right," would chafe at staying in his lane — and anyone who has witnessed his sideline tantrums can imagine how he handles not getting his way. But there are a lot of agendas in the building and a lot of jealousies over who should receive credit for the wins and who should be to blame for having not yet won a Super Bowl. More than the "disease of me," the franchise suffers from the "disease of almost."
York, in the vein of his uncle, Eddie DeBartolo, will only say he wants to instill a Super Bowl or bust mentality. He's fine if there's tension between his coach and GM but has also made it clear he will pick Baalke if forced to choose between them. There's also a sense that, for all the reports that surface that Harbaugh wants out or that his players want him gone, the coach doesn't want to leave. Pride would prevent him from returning to college ringless, having waved the white flag at the bigs. And neither the Raiders nor the Dolphins, the teams most often mentioned as trade partners, have a franchise quarterback, a new stadium or, for that matter, a personnel department led by Baalke, whom Harbaugh appreciates despite their discord. One person who knows Harbaugh well thinks he's just "awesome and crazy enough" to sign a long-term extension out of spite. But for all the unrest, it's strange how many people, in management and on the field, say they remain loyal to Harbaugh. "We want him to do well," safety Eric Reid says. "If he does well, we do well."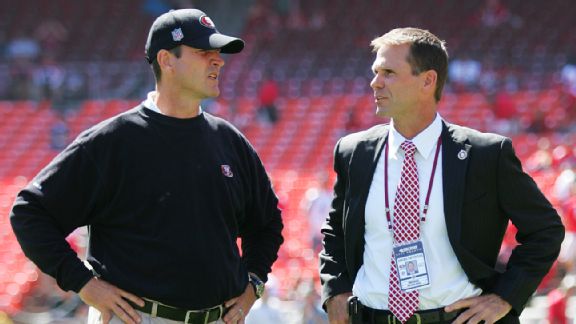 Michael Zagaris/Getty Images
So far, Jim Harbaugh and 49ers GM Trent Baalke have been able to work through their differences.
Harbaugh won't discuss his contract publicly, but he has said in the past he doesn't want more authority. Few buy it. But look at what happened right before the team left for its preseason game at Houston in August. Niners executives are defensive about the fact that they claim to want to win with class and have had a league-high 10 players arrested since 2012. They wanted to project a cleaner image. Shortly before the 49ers left for Houston, Harbaugh told the players: "Oh, management doesn't think you're dressed up enough, so try to dress nicer."
Nobody knew what that meant or had time to comply. Management, again, was frustrated. Maybe Harbaugh simply forgot to mention it earlier. Maybe he was returning to one of his go-to foils, playing the suits off the players, creating crises. Or maybe this is how someone who thrives being under siege acts when the chaos might be slipping slightly beyond his control.
Harbaugh ended his training camp speech with a story, words for the players to live by this season, almost a premonition of what has transpired since. The story began, as many do, in his childhood. John was 10; Jim was 8. John had always stuck up for Jim in fights, but one day in their yard, John pushed Jim. So Jim punched John in the stomach. John welled up, and their dad came outside.
What happened?
Jim punched me.
Why did you punch him?
'Cause he pushed me!
Dad said to John, "If you push someone, then they might punch you back. You understand?'"
Dad said to me, "Jim, do you have something you want to say to your brother?"
I said, "Good, now he knows."
"I learned that day that you can't count on anyone fighting for you except for you," Harbaugh told the team. "You have to be prepared to fight and finish your own battles. We have 16 fights and finishes scheduled — playoffs and Super Bowl to be determined. That wouldn't make a bad T-shirt!"
---
Catch is finished. We're walking toward the 49ers building. Harbaugh is relaxed. I'm anxious, because I'm about to pose the question I've posed to everyone else.
"What is it about you that people find so difficult?"
"Oh, I don't know," Harbaugh says.
He leans back slightly, kicks his one-inch cleats in the grass. He suddenly seems tired, as if he thinks he gets a bum rap but doesn't want to admit it. I worry he's going to take the ball and fire it at my nose.
He stares at me, not with the look he gave Seely, but one gentler, wiser, more weathered, the sun highlighting the gray in his short hair and deepening the creases around his eyes. He grins and, of course, enlists a little help.
"There's a saying by Ralph Waldo Emerson," he says. "'As long as all that's written is said against me, then I feel a certain assurance of success. If people are heaping flowery words of praise upon me, then I feel exposed to my enemies.'"
Now I'm the one staring blankly. Seconds pass.
He says it again: "As long as all that's written is said against me, then I feel a certain assurance of success."
Then, he hands me the ball as a souvenir and says, "I prefer that."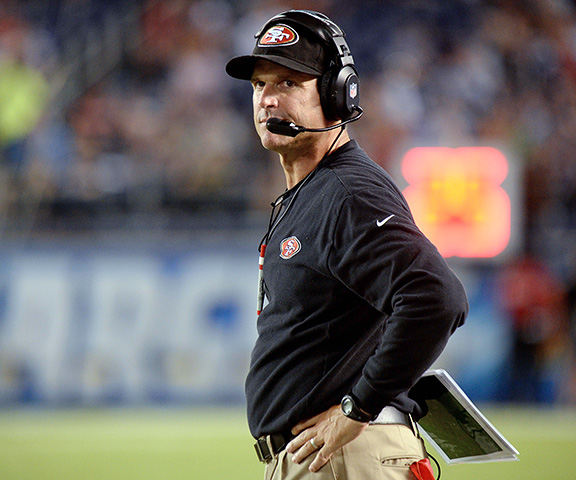 Robert Hanashiro/USA TODAY Sports
Some players might think Harbaugh is too controlling, but it's hard to argue with his success.