In 1942, a secret city was born. Nestled in a valley in eastern Tennessee, the city-today known as Oak Ridge-would become the birthplace of the most dangerous weapon humanity ever created. But Oak Ridge isn't just a glorified military base, built in the midst of World War II to prepare the U.S. to defend its interest. It was also a marvel of architecture, urban design, and planning, a community built to attract the greatest scientific minds of the generation to rural Tennessee to work for the government.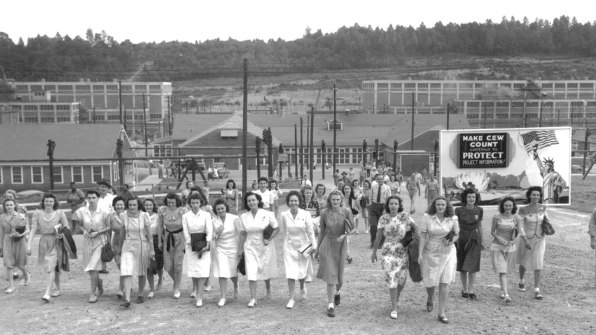 Shift change at the Y-12 plant, Oak Ridge, 1945. [Photo: U.S. Department of Energy and the Oak Ridge Public Library/courtesy National Building Museum]
A new exhibition at the National Building Museum in Washington, D.C., explores the history of Oak Ridge and its sister "secret cities," Los Alamos in New Mexico and Richland in Washington State. Each classified city had its own role to play in the formation of the atomic bomb. While Oak Ridge was the headquarters of the operation and was dedicated to the enrichment of uranium, Los Alamos focused on the mechanisms of the bomb, and Richland's neighboring research facility, Hanford, was responsible for the production of plutonium.
But of the three, Oak Ridge is the most significant-at least partially because its design, planning, and construction were undertaken by the architecture firm Skidmore, Owings, and Merrill starting in late 1942. At the time, thousands of workers and scientists poured into the area to man the giant industrial buildings that were put up seemingly overnight. Housing had to be built quickly to accommodate the people who would over the next two and a half years build atomic weapons. But while the primary goal was to build cities from scratch in a remarkably short period of time, the architects had another conflicting task: The Manhattan Project's leader, J. Robert Oppenheimer, wanted SOM to make the houses livable enough to convince academics who wanted a cushy, suburban lifestyle that they should come work for the government.
"In order to build these cities and create places that would be most conducive to this intricate scientific work-and bring people in from around the world, many from cushy academic assignments-they couldn't just plop them in military barracks," says Martin Moeller, the exhibition's curator. "Oppenheimer wanted housing that felt homey."
SOM's resulting design consisted of a plethora of single-family houses surrounded by plentiful green space. While the entire community was car-centric, houses were arranged into neighborhood clusters, each of which had their own small commercial center, with barber shops and grocery stores and schools. It's a design that sounds familiar to anyone who's been to an American suburb, but Oak Ridge was one of the first of its kind-and a substantial risk for the government to undertake, considering the urgency of the Manhattan Project. Today, it's mind-boggling to imagine that SOM managed to create an idyllic suburban community despite immense wartime pressure to ramp up work as quickly as possible. Just two and a half years after construction on Oak Ridge, Los Alamos, and Richland began, the U.S. government would detonate nuclear weapons in Japan.
"Oak Ridge was heavily influenced by the planned community movement or garden city movement-an effort to make a connection between people and nature, to really try to undo the ills and problems of urban life in that day and age, and create places with green space-things that now don't seem that strange, Moeller says. "The fact that they set out to try to create single-family houses, separated by green space for all these people in an emergency situation is extraordinary."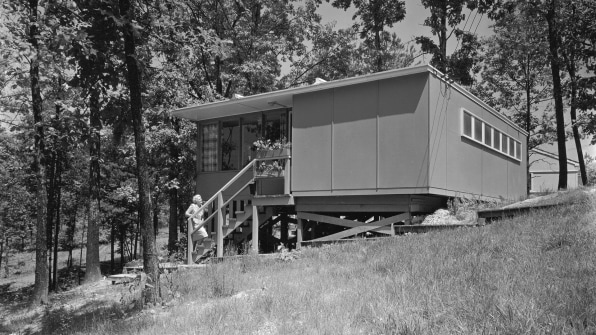 "Flat Top" house, Oak Ridge, 1944. [Photo: National Archives and Records Administration/courtesy National Building Museum]
Oak Ridge's design would go on to influence other planned communities across the country, including in Reston, Virginia, and Columbia, Massachusetts, which both cite Oak Ridge as an influence. The real estate developer William Levitt-famed for his mass-produced housing-was inspired by the assembly line building system SOM created to bring Oak Ridge into existence so quickly. Many of the single-family homes were made of a mixture of cement and asbestos called "cemesto," which Moeller assures me is not dangerous to use as a building material. SOM had created cemesto buildings-nicknamed "cemestos"-for an earlier company town for the Glenn L. Martin Aircraft Company-a project that caught the attention of the Army Corps of Engineers and helped the firm land the Oak Ridge commission.
Not everyone living in Oak Ridge received their own single-family home, and the community was plagued by the social and racial inequity found in many suburbs. Many lower-level workers, and most of the African Americans who worked on the site, lived in hastily constructed plywood shacks. Moeller notes that despite the substandard housing provided by the government, many residents found a way to make it feel like home, adding their own small porches or little white picket fences.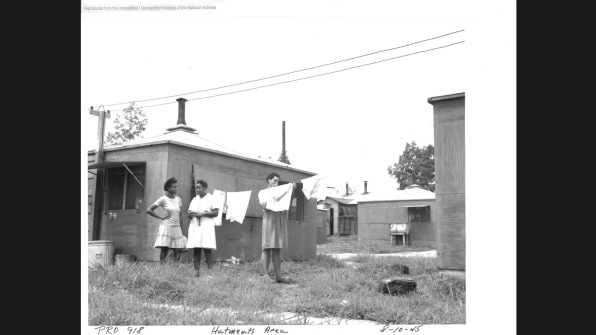 African-American women hanging laundry in a hutment area, Oak Ridge, 1945. [Photo: by Edward Westcott/National Archives and Records Administration/courtesy National Building Museum]
Today, Oak Ridge remains the home of the Oak Ridge National Laboratory-and SOM is working with the lab yet again. In 2015, SOM partnered with the lab and the University of Tennessee Knoxville to create AMIE, a 3D-printed mobile housing concept that is powered by an electric automobile. On view in the National Building Museum's exhibition, AMIE is a modern-day reimagination of the prefab "cemesto" housing that the firm created for Oak Ridge, way back in the day. And now, SOM consulting partner Philip Enquist is working with the city of Oak Ridge to rethink an urban plan that, while cutting edge for the '40s, feels dated. "We've been looking at how to develop a strategy with the city to move into the next 75 years," Enquist says. "[I] would advocate for a more cohesive walkable city center."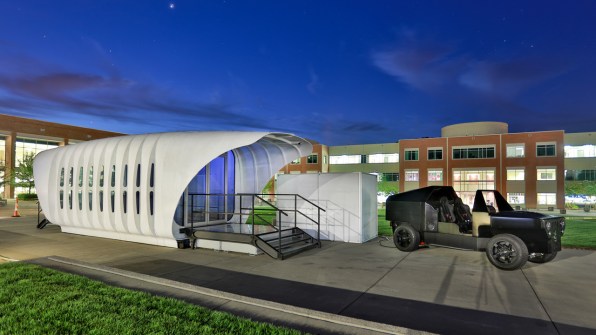 Additive Manufacturing Integrated Energy (AMIE) prototype, 2015. [Photo: Jason Richards/Oak Ridge National Laboratory/U.S. Dept. of Energy/courtesy National Building Museum]
Oak Ridge still has small commercial centers in every neighborhood but lacks a single, mixed-use downtown-a feature Oak Ridge city officials told Enquist is because the U.S. government wanted to keep the scientists who worked there from gathering in a single place. Oak Ridge was essentially a military base outfitted with contemporary architecture, and the design did double duty as a way of keeping scientists and their families from speaking to each other about the top-secret work they were doing. Moeller told me that security was so strict that even Louis Skidmore himself was shadowed when he left the compound, and when the architect mentioned the Manhattan Project over lunch with Nathaniel Owings in New York, he was soon visited by an army official who told him never to do it again. Thus Oak Ridge's suburban architecture not only convinced the nation's brilliant minds to gather in Tennessee but also helped to keep them focused on their work-not accidentally leaking any state secrets to unauthorized people.
Still, for Enquist, the very fact of Oak Ridge's existence is a bit of a miracle. "If you just went to Oak Ridge cold and drove around, you'd think it looks like a fairly recent, suburban, auto-based community," he says. "But when you look at the history, you have to be impressed at the risks, the speed, and the commitment to be innovative."