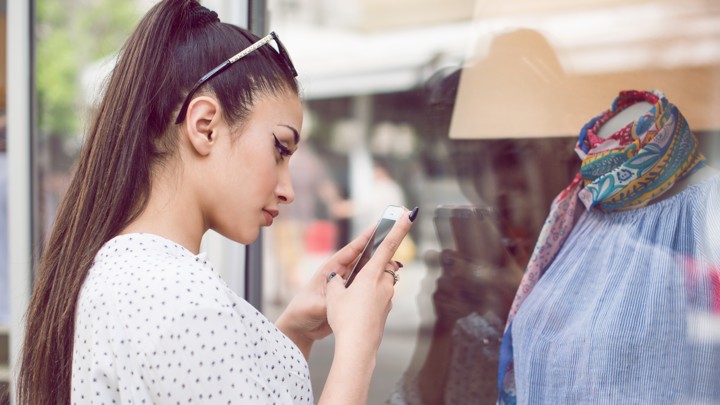 Emilija Manevska / Getty
In the year 2000 at Easton Town Center in Columbus, Ohio, Abercrombie and Fitch opened the first location of its new shop, Hollister, and set Midwestern high schoolers like myself California dreaming. Designed with a "Dude" or a "Betty" in mind, Hollister had a West Coast-meets-That '70s Show vibe. There was a dimly lit "lounge" where you could sink into vintage velvet chairs with funky rope fringe and flip through the latest surfer or skateboard magazine. Or you could select the store soundtrack through a special touch screen, which offered a curated list of rad music. My favorite feature was a giant, wall-size screen that streamed a live feed of sunny Huntington Beach, California, into the mall on dreary Ohio afternoons. Even if I never purchased Hollister's clothing, I always stopped in the store to watch surfers in real time and transport myself into a new lifestyle. Sometimes—a decade before Instagram selfies—my friends and I would sneak photos of ourselves in front of the screen, as if we were on the beach.
Years later, I found myself working as a store designer for Abercrombie and Fitch. I once helped facilitate the municipal approval of upgrades to the cameras on the Huntington Beach pier for Hollister's live-feed system, which now streamed California to suburbs all across the country. I knew then what I hadn't as a teenager in Ohio: Retail stores have become a host for experiences first, and buying things second—if at all.
In retail spaces, consumer attention has shifted away from goods on racks and shelves, and toward smartphones and apps instead. In response, retailers face a growing need for elevated in-store experiences that seamlessly mesh with online platforms and web stores. The resulting retail model looks a lot less like previous notions of conspicuous consumption and a lot more like visual culture. Customers no longer kick the tires or shop till they drop. Instead they cultivate virtual feeds and inspiration boards.
Thanks to smartphones, apps, and social-media platforms like Instagram, a broader public has developed a visual vocabulary and aesthetic sensibility. Retailers, particularly in fashion, have overhauled marketing and branding strategies to promote their individual labels among broader audiences. But they also face a new challenge: how to adapt retail design to sell pictures on social-media profiles as much as, or more than, they sell garments for real bodies.
To bridge the gap between virtual and physical retail operations, behind-the-scenes organizational shifts have occurred. The professionals who actually select the merchandise for sale in retail stores once had stiff, corporate job titles like global procurement manager or internal buyer. They have since transformed into tech-savvy art directors and independent-minded brand ambassadors. These individuals focus on marketing more than goods, telling customers which brands and products are worthy of hashtags, geotags, and reposts. Likewise, the antiquated roles of store clerk and retail customer have also evolved: Shopworkers now have titles like brand specialist, and buyers have given way to "influencers" who remix shopping into a new kind of job.
Two categories of retailers have emerged from this shift. The first consists of existing companies that have overhauled their retail stores to incorporate physical and technological experiences. Nordstrom is one such example, with their Pop-In series by Olivia Kim, the company's vice president of creative projects. The second includes web-based start-ups that are nimble with apps and social-media platforms, such as Glossier, a "people-powered beauty ecosystem" founded by Emily Weiss. Both types of retailers focus on building strong marketing narratives and immersive online experiences. Among those are "pop-up" stores, displays, or events—nomadic retail spaces that arrive and depart again within weeks or days.
You may have experienced one of these pop-ups yourself, perhaps at a smaller scale while cutting through a department store to enter a mall. Comprised of only a few racks, the display is like a store within a store. Inside, a pulsing soundtrack might drown out the surrounding Muzak, while customized lighting illuminates the specialty mannequins and displays. At a larger scale, pop-ups can become huge undertakings. The Nike+ Run Club pop-up events allow you to test-run a 5K in their newest, knit shoes—while sipping pressed juice during a live DJ set before customizing your own pair on an iPad, next to an irresistibly Instagrammable neon-light Nike swoosh. In cases like this, retailers foreground experiences worthy of capturing on a smartphone, pressing customers to share them on social media. That sharing produces both immaterial value for the individual and brand exposure for the retailer.
But the best technological integrations into the retail environment are those that cannot be seen. To assist in the development of both physical and virtual retail spaces, retailers commission designers and architects.
The Office for Metropolitan Architecture, a firm helmed by Rem Koolhaas and commonly referred to as OMA, did precisely this for their series of Prada epicenter stores nearly 20 years ago. In the Prada SoHo epicenter, OMA inserted plasma screens seamlessly into fitting-room mirrors so that customers trying on clothes were recorded from all angles for a visual playback. The glass containers of the fitting rooms were made from Priva-Lite, an electronically activated material that can be controlled by the customer to appear transparent or opaque, challenging notions of public and private space. OMA also programmed the store for various non-retail activities, like the hidden DJ booth in a large sloping ramp or stadium seating that captured the familiar feeling of the Spanish Steps in Rome. The whole affair was meant to connect the in-store retail experience to a global market in real and virtual time and space.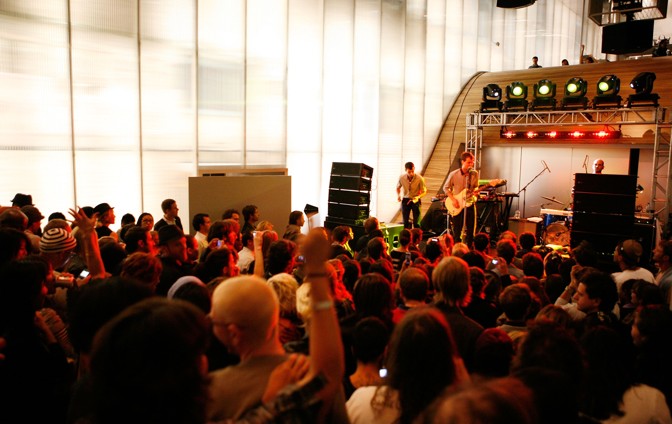 The band Rapture plays at an event at the Rem Koolhaas-designed Prada Soho store in 2009. (Amy Sussman / Getty)
Now that the smartphone is over a decade old, retail has moved beyond OMA's 2001 vision. More importantly, consumer priorities have changed drastically in regards to material purchases. Buying things has become less important than pursuing experiences. That poses a problem for retailers, who are in the business of selling consumer goods. Brands like Warby Parker, a web-based eyewear retailer with stores in major U.S. cities, have redefined retail partly by changing the purpose of stores. By keeping only samples on their sales floor, Warby Parker reduced their back-of-house stockroom square footage while simultaneously grooming customers to prefer an online retail experience. Customers can bring a prescription to the store and play with the various glasses on display, or they can upload a head shot and try on glasses virtually. Browsing in person and ordering online later is nothing new, but Warby Parker deliberately decoupled the retail experience from purchase completely. That turns the retail showroom into a place to experience the products' style without guilt or pressure from salespeople.
Shifting consumer preferences may account for part of this shift from material possessions to bespoke experiences. But other forces are also at work, including the critical mass of unlimited data plans and upgrade cycles of cellular devices by mobile carriers, which permit everyone to partake in snapping, posting, liking, and sharing physical experiences in virtual space. The result is a much more nuanced consumer, who expects more from brands and products, whether they actually purchase anything or simply (re)post it instead.
The fusion of commerce and exhibition should come as no surprise, given the history of the art museum and the department store as sites of public display. In the mid-18th century, the private collections of art patrons populated public exhibitions of classical art and antiquities in newly minted civic buildings. Early department stores emerged soon after, and retail and exhibition displays blended together. Both groups saw shoppers and museumgoers as bodies to be regulated by protocols of decorum when occupying these spaces. The department store and the museum gallery flattened social hierarchies, as those present in each respective space participated in one singular activity: consumption. Despite the contemporary distaste for it, a certain democracy transpired in the act of commerce that obscured the social pecking order in favor of shared cultural and aesthetic values.
The collaboration of art and retail took a subversive turn in 2007, in a retrospective of the Japanese artist Takashi Murakami at the Museum of Contemporary Art in Los Angeles. Highlighting his super-kawaii collaboration with Louis Vuitton, the exhibition—cheekily named © MURAKAMI—also featured an LV boutique within MOCA that, according to the artist, incorporated "the 'act of selling' into the exhibition as a performance." Blurring the distinction between the white-box gallery and luxury retail space, Murakami admitted, "The shop project is not a part of the exhibition; rather it is the heart of the exhibition itself. It holds at once the aspects that fuse, reunite, and then recombine the concept of the ready-made."
When © MURAKAMI traveled to the Brooklyn Museum in 2008, the retail experience was less luxury and more bootleg: It moved outside the museum to a back alley, where hired actors played the role of West African vendors who bartered "knockoff" bags with visitors. From their shanty stalls and derelict tarps, authentic Louis Vuitton merchandise—sold at full MSRP—replaced the lowbrow products traditionally expected from seedy guerrilla merchants. On the one hand, the show made an overt commentary about luxury, whose artifice is no less "fake" than counterfeit designs, and about the citywide crackdown on immigrant vendors too. But on the other hand, the black-market knockoff purchase became domesticated by its authentic source, transformed back into a brand experience.
The collaboration between Murakami and Louis Vuitton generated value from scarcity. The product of this partnership was a limited-edition handbag, but the by-product was a desire for it—an intangible quality. That same ethereal desire has driven lower-end retail partnerships, too. In 1999, Target launched a Michael Graves line of home goods and appliances, an economically viable alternative to the high-end ones to which Graves had lent his name for the Italian housewares company Alessi. The floodgates opened, and Target would go on to collaborate with well-known, high-end designers, from Missoni to Judith Leiber to Proenza Schouler, making them household names.
What started as modest capsule collections from corporate retailers, supported by designer names or celebrity endorsements, now proliferates as casual collaborations of everyday objects among independent brands. A hunger for the most recent design collab has also produced a new type of consumer: the hypebeast (or hypebae). Known for their hyper-selective and discriminative taste, hypebeasts search for the freshest trends—especially limited-release lifestyle products. Well-known among hypebeasts are the sneakerheads, or avid collectors of athletic footwear. One of the most identifiable and coveted brands of the hypebeast is Supreme, a streetwear retailer with a large following among skaters and artists known for their exclusive cross-brand collaborations. In Los Angeles, a line of teenage boys perpetually queues up outside the Supreme store on Fairfax Avenue, outfitted in legit streetwear. They are in line to skate the bowl inside, another move to cementing a brand following in the post-product retail environment.
Hypebeast or not, many consumers wait for a limited-release collaboration, or "drop," days in advance. Often, the purchases they make at these exclusive pop-ups flood a secondary resale market online. Standing in line takes time, so sometimes a little side hustle is necessary to gain access to exclusive products. While the young generation certainly drives consumer market trends, they are equally responsible for how retailers control their online and in-store inventory thanks to their resourcefulness.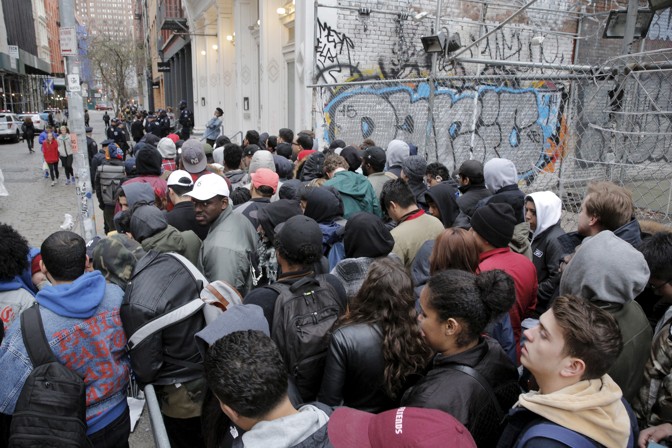 People line up for a Kanye West pop-up shop in New York. (Brendan McDermid / Reuters)
And thanks to bots. In the summer of 2017, media outlets covered a unique phenomenon occurring among enterprising high schoolers in the suburbs. These students lived nowhere near a major city for the launch of a coveted shoe or bag, but with the help of bots, proxy servers, and programming know-how, they had a major competitive advantage over any human attempting to check out online. Many retail website servers have crashed due to the influx of high traffic at peak launch times, and corporations have issued statements that they, too, are developing technology to distinguish bots from humans during checkout.
One by-product of this aggressive, digital tactic is a surge of specialized apps for purchasing retail wares. Today, there are a plethora of subscription-based services that offer to procure the freshest release of a given shoe or design (refer to the hashtag #cookszn). Whether it's a subscription-based site or the independent operation of 15-year-old, retailers attempt to compete by streamlining their own mobile strategies with similar features. Twitter or Instagram are most often used for product-release announcements and requests, then Venmo for point of sale, forging an entire movement of "social merchants" out of the infinite scroll of immaterial content. It's almost like a virtual pushcart rolled up to the social-media services where buyers' eyeballs spend most of their time anyway.
There is something sincerely poetic about commerce's new power returning to the suburbs, the birthplace of malls and their distinctive culture. It may have been assumed that the suburbs are where the American Dream dies, especially as city centers continue to grow. But people like the suburbs, and large populations of people, who also buy things, still live there.
In some cases, that sensibility is getting exported to high fashion, as in the normcore styles of Virgil Abloh's Off-White. But in other cases, pop-ups unironically embrace the ordinary materials of suburbia—plywood and cinderblock, for example—which invoke the comforting feel of Home Depot DIY or home-built half-pipe ramps. In others still, suburbia has become a new host for the cultural avant-garde; Kanye West recently built the new Yeezy headquarters in Calabasas, California, just west of the San Fernando Valley.
It might just be a nostalgic nod to another time, but perhaps it's more than that. Suburbanites have always longed for experiences beyond their ticky-tacky cul-de-sacs; instead of shopping malls, now technology provides the direct line. And now customers (as "followers") have assumed the free labor of brand editors, driving market trends via social media. Thanks to their numbers, and their buying power, the suburbs may now have a major impact on everyone—particularly in how they influence the way retail environments further dissolve into everyday experience.
It's hard to know if that shift is for the better or worse, in the long run. When I first yearned for inspirational fashion in the malls of central Ohio, it was a dream of escape to the coast, where culture happens first. But now that smartphones allow trends to travel everywhere immediately, there's no need for escape. All the experiences you could ever imagine are right there, in the palm of your hand.
Courtney Coffman
is the manager of lectures and publications at the Princeton University School of Architecture.