Workers in Katerra's factory in Phoenix, the first of several that the company plans to open around the country. Katerra
Flush with venture capital, the startup Katerra wants to revolutionize the construction industry. But as history shows, it's harder than it looks.
From the end of the Second World War until a few years ago, when it cooled off, productivity surged across the U.S. economy, giving rise to what's often called the "productivity miracle." From manufacturing to agriculture to retail, industry after industry became cheaper, faster, more mechanized, and more efficient.
But the same can't be said of construction. Productivity in construction has not only not risen, it's actually lower now than it was in 1968.
The way that most large buildings get built hasn't changed much from 50 years ago. It goes by a deceptively straightforward name, "design-bid-build." First, a developer or owner hires an architect, who comes up with a rough design. To flesh this out, the architect brings in consultants such as engineers and landscape architects, and sometimes niche consultants like food-service specialists.
When the design is finished, the owner puts it out for bids from general contractors, and hires one of them—often the lowest bidder—to supervise construction. The GC issues its own bids, and farms out the pieces of the project (for example, the HVAC system and the concrete work) to subcontractors. It's not uncommon for the subcontractors to bid out work, as well, hiring sub-subcontractors. Then, when construction begins, the architect runs interference between the owner and the GC, trying to ensure that every detail is built correctly without blowing the owner's budget. (Much of the time, the budget gets blown anyway.)
Not surprisingly, having so many cooks in the kitchen leads to misunderstandings and finger-pointing. Add volatile material prices and a skilled labor shortage, and you have, in the now-familiar parlance of Silicon Valley, an industry waiting to be disrupted.
Silicon Valley has noticed. On May 30, a Menlo Park company called Katerra announced that it had acquired Michael Green Architecture, a 25-person architecture firm in Vancouver, British Columbia. On June 12, the company revealed that it had bought another, larger architecture firm, Atlanta-based Lord Aeck Sargent. This comes five months after Katerra raised $865 million in venture capital from funders led by SoftBank's Vision Fund, which has also invested heavily in the co-working startup WeWork.
"The construction industry is ripe for digital disruption," said co-founder and chairman Michael Marks in a press release. (Marks is the former CEO of electronics manufacturer Flextronics, now Flex.) "This new round of funding will enable us to further invest in R&D and continue to scale the business."
Katerra is not unique in its quest to streamline an unwieldy and frustrating process. The design-build model, an alternative to design-bid-build, has been catching on in the U.S. But Katerra stands out for two reasons.
One, its goal is radically ambitious: complete vertical integration of design and construction, extending from an architect's concept sketches of a building down to the screws and bolts that hold it together. The company sources supplies directly from China and has a factory in Phoenix that makes roof trusses, cabinets, wall panels, and other elements. Last September, it announced plans to open a new factory that will make panels of cross-laminated timber, a kind of high-tech structural wood. It intends to open several more plants—plus warehouses for supplies—around the U.S.
Katerra was founded in 2015. Initially, the buildings it built were designed by outside architects. In 2016, the company hired an architect, Craig Curtis, to head up a design division. With Curtis' team and the two architecture firms it just gobbled up, it now has enough manpower to design buildings itself.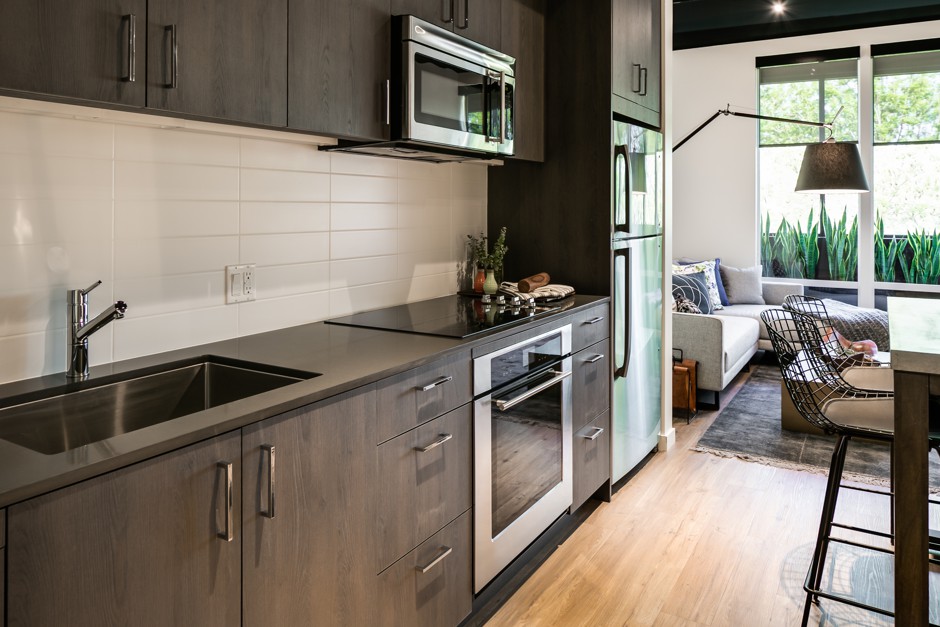 A Katerra model unit. Deciding on details like faucets and drawer pulls is usually left to the end of the design process, but on Katerra's model, it can happen near the beginning. The company says this provides clarity on costs and avoids disagreements later. (Katerra)
This is what's known as "backward integration," when a company at the end of the supply chain seeks to shape its products "upstream." (Compare Netflix, which first rented and streamed TV shows, then started making them.) With both design teams and factories under its umbrella, Katerra hopes to consolidate a messy system into an efficient one-stop shop. It wants to become the Starbucks or Zara of construction, churning out apartments like so many lattes or jumpsuits. (Starbucks and Zara are both known for practicing a high degree of vertical integration; Starbucks buys and roasts all its coffee and owns its stores, while Zara manufactures many of the garments it sells.)
Curtis, Katerra's head of architecture, told CityLab that the company's model changes the way its architects work. "We can curate the interior of our buildings in a way that architects are not used to," he said. Before joining Katerra, Curtis was a partner at the Miller Hull Partnership, a well-regarded Seattle architecture firm.
It wants to become the Starbucks or Zara of construction, churning out apartments like so many lattes or jumpsuits.
"The typical process is [that] a lot of decisions are made during the submittal and shop-drawing phase," Curtis said. (Shop drawings are normally prepared by subcontractors during construction and submitted to the architect for approval.) "There's always fighting over design quality at the end of the project. We're moving all of that up. ... What that allows us to do is guarantee a price early. We're guaranteeing a price up front, and that's really unusual and and really attractive to our customers."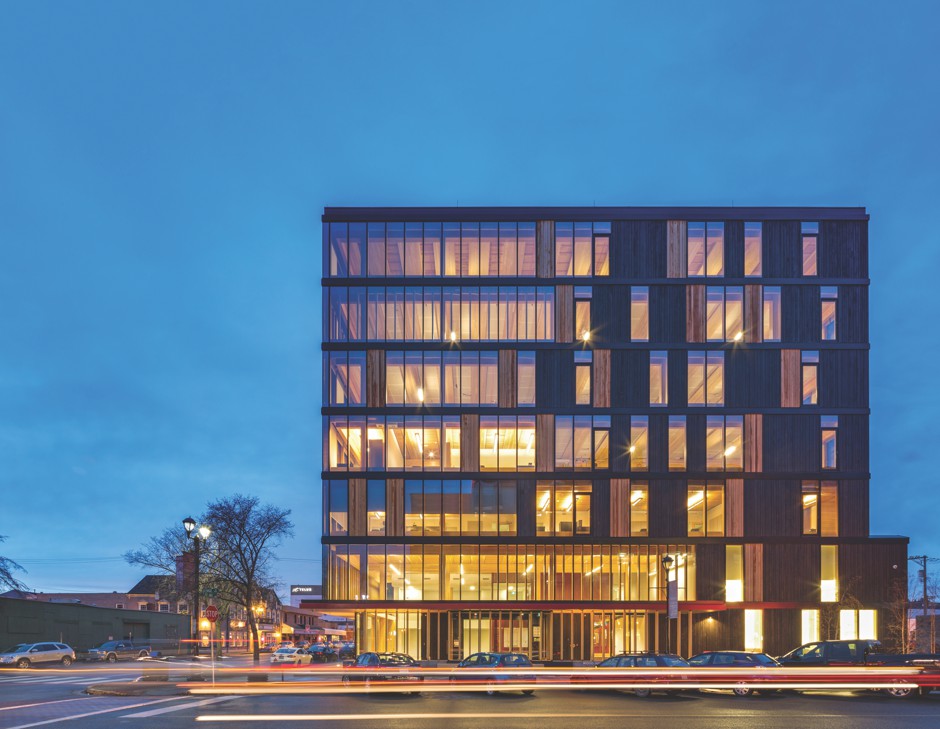 The six-story, mass-timber-structured Wood Innovation and Design Centre in Prince George, British Columbia (Michael Green Architecture)
The other reason to watch Katerra is because Michael Green is the world's best-known proselytizer and designer of tall wood buildings. Green works almost exclusively with "mass timber," a new genre of super-strong and fire-resistant wood products (including cross-laminated timber, or CLT). His website features designs for a 35-story wooden skyscraper in Paris and even an "Empire State of Wood." Those grand schemes remain unbuilt, but Green has realized more modest timber high-rises: a 96-foot-tall building in British Columbia, and a seven-story office building in Minneapolis, completed in 2016. (Most building codes in the United States don't allow tall timber structures without a waiver, although that is about to change.)
With Green on board and a CLT factory in progress, Katerra hopes to corner the emerging market in mass timber. "We're making a big investment as a company into mass timber," Curtis said. "We're trying to get ahead of this tidal wave of projects that are coming to North America that will be built with this technology."
There's a match on a deeper, philosophical level, too. Both Katerra and Green see themselves as designing not just buildings per se, but a whole new construction process. For Green and other timber enthusiasts, it's a virtuous circle that starts with sustainably harvesting trees; progresses to a factory where the timber is turned into finely calibrated pieces, like so many Legos; and results in a building assembled cleanly and quickly, and that keeps harmful carbon locked in its bones. The building can even be recycled once it's reached the end of its useful life.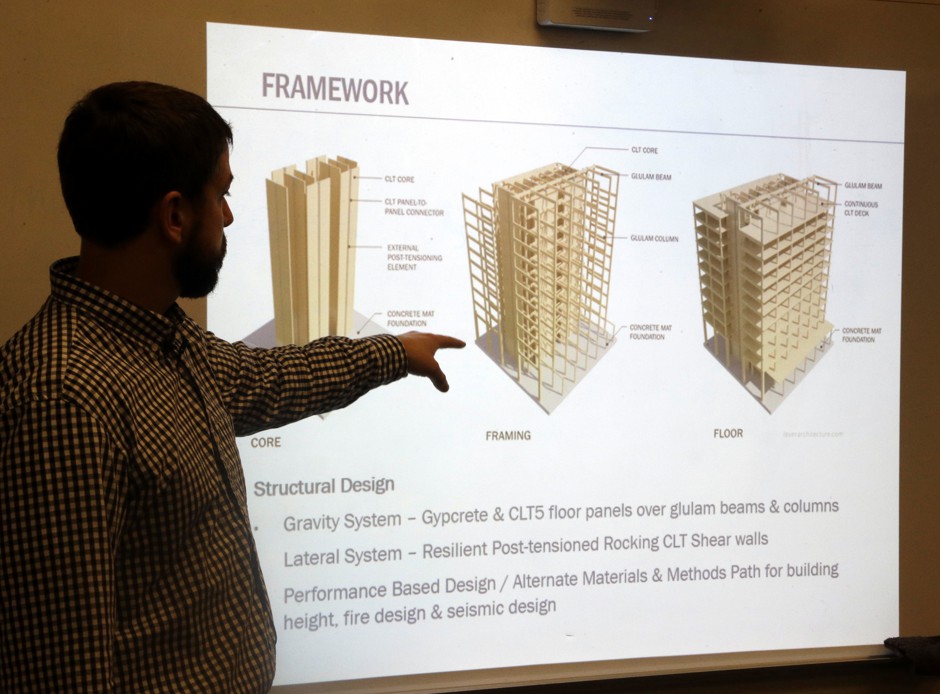 Structural engineer Eric McDonnell shows diagrams of high-rise construction using cross-laminated timber at Portland State University in 2016. (Don Ryan/AP)
If all this sounds too good to be true, well, we've been here before. Once upon a time, prefabrication was going to free us from the chains of conventional building. Walter Gropius and Buckminster Fuller extolled the benefits of prefab in the early 20th century, and in the postwar years, companies such as Lustron and the National Homes Corporation factory-built prefabricated homes by the thousands.
Once upon a time, prefabrication was going to free us from the chains of conventional building.
But prefab never took off in the U.S. like it did in Europe. As journalist (and onetime prefab entrepreneur) Lloyd Alter has noted, labor is more expensive in Europe, environmental regulations are more stringent, and more people live in rented multifamily housing, which is not as sensitive to swings in the economy as American single-family real estate. Prefab ventures in the U.S. flame out, Alter wrote, because "they have serious overhead and cannot compete with a guy in a pickup truck with a magnetic sign and a nail gun and a bunch of subcontractors getting paid by the square foot."
Will Katerra fare any better? By controlling every step of the process, it assumes all the risk, whereas in the rest of the industry, risk gets passed around like a hot potato. But Curtis said the company's co-founder Fritz Wolff, a developer of multifamily housing, has helped it ramp up quickly to avoid being crushed by overhead. "[Wolff] gave us a pipeline of work that was enough to launch our factory. Other people who have tried prefab, if you don't have scale—the pipeline to keep your factory running—you're not able to produce the product economically."
It's also true that Walter Gropius and Buckminster Fuller didn't have today's technology. Katerra touts its use of SAP HANA (a real-time data processing application) and the Internet of Things to achieve "deep integration and newfound efficiencies." It designs buildings in Revit, a 3D modeling software, and then converts the files to a different format for the machines in the factory, but Curtis hopes to get everyone working on the same platform before long.
"The digital tools are getting sophisticated enough that as designers, we can start looking at problems in a more integrated, cross-functional way," said Phil Bernstein, an architect who teaches at the Yale School of Architecture and who has written extensively on technology and labor issues in architecture. "The tools are not causing this [shift to vertical integration], but they're enabling it." (Bernstein noted that he used to work with Michael Green and they remain on friendly terms.)
The real indication of success, said Bernstein, will be whether Katerra's methodology works for many types of buildings. "If you hitch your wagon to a building type—multifamily housing, or middle schools, or outpatient clinics—those markets rise and fall. You can't be dependent on a single one," he said. So far, following Wolff's lead, Katerra has focused on multifamily housing and its cousins, senior and student housing. Curtis said the company will branch out. The other design firm it acquired, Lord Aeck Sargent, has experience with several building types.
Historically, the Achilles heel of progress in construction has been low investment in R&D, Bernstein said. "Margins are razor-thin, and competition is heavily predicated on price. Nobody has enough money to do capital-intensive [R&D]." On this measure, Katerra, with SoftBank's huge infusion of cash, "is off to a pretty damn good start."
It will have competition. Other builders and developers are plunging into modular construction—making fully-fitted apartment units in a factory, then trucking them to a site and stacking them like boxes. A 32-story tower at Atlantic Yards in Brooklyn was built this way, and the company Factory OS recently completed a modular apartment building in the Bay Area. But progress has been rocky. After the Atlantic Yards developer claimed to have "cracked the code" of the modular high-rise, the project became mired in delays and recriminations, and a different developer ended up completing it. Factory OS has run into opposition from trade unions, which are organized along the splintered, hyper-specialized lines that these startups are so eager to integrate.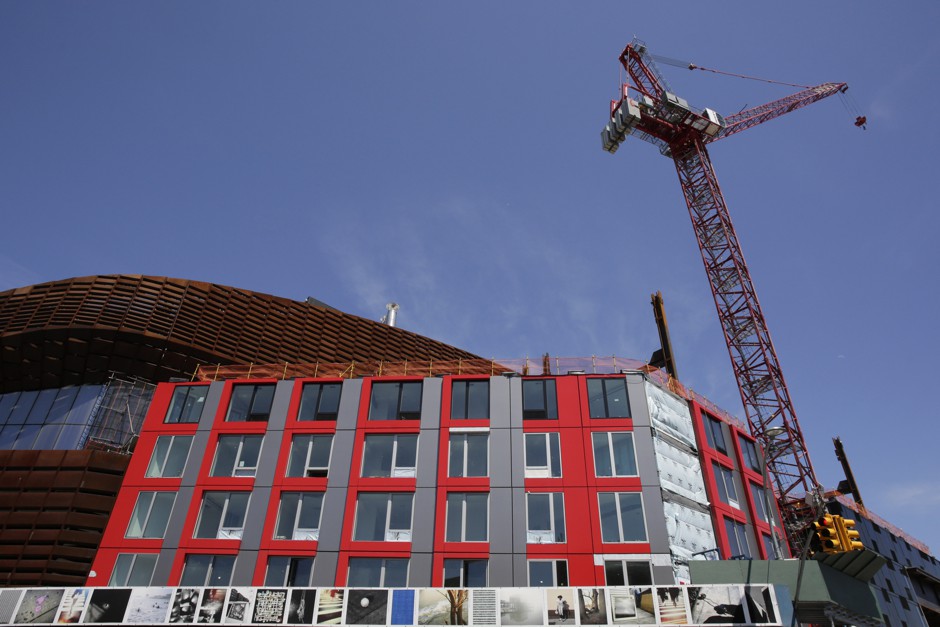 A crane looms over the modular apartments being built at the Atlantic Yards development in Brooklyn in 2014. Intended to be a breakthrough for modular construction, the project became mired in delays and recriminations before a different developer took it over and completed it.
The really big question is how much design and construction can be optimized, even under ideal conditions. The fact is that a building is not a latte or a jumpsuit—or, for that matter, an iPhone. Building materials are bulkier and more expensive to ship than coffee beans or electronic parts. More importantly, every site is unique. Climate zones vary dramatically. Functional requirements differ. Owners and developers make idiosyncratic requests.
"Buildings are site-specific, program-specific, and highly bespoke," Bernstein said. "It's not the stuff that's in the building that's bespoke; it's the configuration."
Katerra promises that it can "strike the perfect balance between standardization and configuration." Scooping up good architects and investing in mass timber could give it a decisive edge—or prove to be a costly wrong bet.
If Katerra or another startup did manage to crack the code, major changes would follow. Many architecture firms would likely close down or become studios within construction companies. (Architects are trying to stay ahead of the curve, however; the international firm Cannon Design has struck out into making modular exam rooms and other "pods" for healthcare buildings, and last year acquired a design-build firm, Gkkworks, in a form of forward integration.) Trade unions would probably give way to all-purpose building unions, like the one that represents Factory OS workers.
Urban buildings would go up faster, meaning less disruption for people living and working near them and less waste produced on construction sites. Despite different cladding on the outside, many would have very similar DNA, thanks to widely used semi-standardized designs. And the building components themselves, whether made out of wood or another material, would be ruthlessly tweaked (to fit more on a truck, for example).
But the prefab dream has died many times before: A boatload of venture capital is no guarantee that it won't again.