In the middle of 2014, after the Syrian government had retaken the city of Homs from rebel fighters, Sergey Ponomarev stood with his camera and surveyed the damage. The photojournalist found a family who had returned to their old flat and captured the scene: in a street buried in rubble and lined with destroyed buildings, they load whatever possessions they can salvage into a taxi. Their son wears a brightly coloured party hat he has found. It is at once mundane - the family calmly going about their business - and devastating.
In another photograph, four boys play amid the rubble. They have been burning the plastic from electrical cables they've found in shelled buildings - to get to the copper wire, which they can sell. Another shows a recently built shopping centre. Never opened, it is now crumbling and skeletal, a giant portrait of Syria's president Bashar al-Assad adorning the front.
"The rebels didn't have a lot of arms or fighters," says Ponomarev. "But they had snipers and RPGs [rocket-propelled grenades]. If they saw a tank, a sniper would hit a small hole in the tank's armour and an RPG man would try to hit the same spot so the RPG would go deeper into the tank and explode. The tanks suspected that, in every window, every hole in the wall, there were snipers. So the tactic of the Syrian army was to shell every suspected window."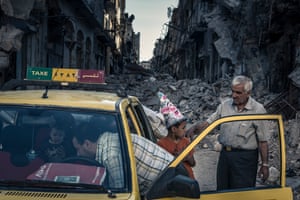 Homs, June 2014: Abu Hisham Abdel Karim and his family bundle salvaged possessions into a taxi.
Ponomarev's photographs, from his series Assad's Syria, are about to go on show at the Imperial War Museum in London. His series The Exodus - which documents the resulting refugee crisis and features photographs that won Ponomarev, along with New York Times colleagues, the 2016 Pulitzer prize - will also be on display.
We're in the museum's cafe, surrounded by the machinery of war. Ponomarev tells me what he looks for when taking a photograph: "Everything should come into the right place at the right time - the light, the people, the event or action. Everything should be well balanced, so the frame will be perfectly shaped. That's the skill you develop over years."
Ponomarev's other talent is to capture vast, complex situations - the war in Syria, the Arab spring - and set them on a relatable, human scale. In Damascus, near the rebel-held zone, a shell hit a car. "It exploded and set other cars on fire," he says. "Instead of rushing about and shooting the burning cars, I decided to capture a pedestrian." The photograph, taken from behind, shows a man holding on to his bicycle, calmly standing and watching. "It's obvious he's a resident who just stumbled on the scene."
Ponomarev went to Damascus in 2013. Before you can even check into your hotel, he says, "you have to go to the information ministry and they assign you a translator - a minder who will escort you". The minder would report back to the government. "I'd see him reporting on what we did," says the photographer with a smile. "I was doing my stories, he was doing his."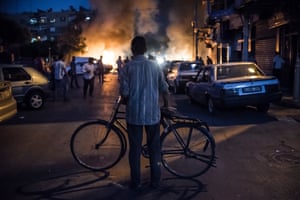 Damascus, August 2013: A cyclist watches the fire caused by an exploded mortar. Photograph: Sergey Ponomarev
There was, at one point, a frustrating period when he was trying to find out if there had been a chemical attack in the suburbs. But most of the time, he says, there wasn't a huge amount of conflict between what he wanted to see and what his minder, or rather the government, allowed. "I wasn't intending to meet with any diehard supporters of the opposition. My photography is slightly different. I'm showing the life of normal people, whether they are inside this government-controlled bubble or outside."
One of the most striking things about reporting from the parts of Syria controlled by the regime, he says, was witnessing how people went along with government propaganda. "You see that they have their own 'truths', none relevant to real things that are happening." But much of the western media's reports were from the rebels' side, he adds, so that wasn't balanced either. "I got this possibility to get inside, to see that it's a normal society, to explain why they support the government."
The photographer asked to visit Assad's prisons. At one, according to a recent Amnesty report, thousands of detainees were tortured, starved and executed in mass hangings. His request was granted, but Ponomarev's visit was tightly controlled. "They showed us several detainees. One was a Russian-speaking Syrian who was trying to bring in money for fighters. There were four others who also spoke Russian, but pretended they didn't. They were, the state said, producing explosives and car bombs. We were requesting to meet with some Chechen detainees but [prison officials] said they were not ready yet. I guess they were probably beaten and their bruises were still visible, so they cannot present them to journalists."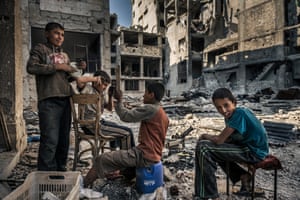 June 2014: Homeless children play in the ruins of Homs after opposition forces fled their district. Photograph: Sergey Ponomarev
Ponomarev, who is 36, started taking photographs as a teenager and studied photojournalism at Moscow State University. He worked for Russian papers, and was a staff photographer for Associated Press for eight years, before going freelance in 2012. A year later, he was largely working for the New York Times.
Although he doesn't think of himself as a war photographer, Ponomarev has seen plenty of crises and conflicts. At Associated Press, he covered the Beslan school siege in 2004, the Lebanon war in 2006, and the fall of Tripoli in 2011. He has also shot stories in Ukraine and, last year, was in Mosul when Iraqi forces launched an offensive against Isis.
Then there was the month he spent in Gaza: "You're constantly hearing the metal buzz of drones flying around, like metal mosquitoes. If you don't hear the sound of the drone, that means it's cleared the airspace for a jet. So a jet will come and bomb something. That was scary - you don't know which house it will bomb."
He has a therapist. "That's the best way, to talk to a professional who will try to get all your bad feelings and fears out, rather than talking to your friends. Your friends will say, 'This dude just constantly talks about war - it's not that fun.'" He smiles.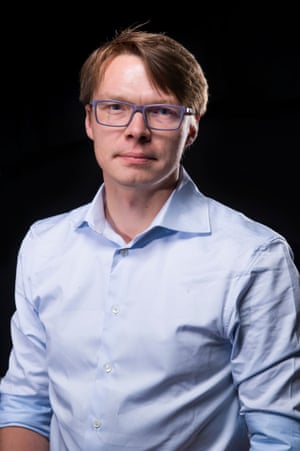 Sergey Ponomarev. Photograph: Andrew Tunnard
Having been to all these places, does Ponomarev think photography can change the world? "No," he says. "We are now so overwhelmed with visual information, it's always around us." However, he does think his pictures might "disturb people from living in their normal, cosy lives and probably encourage them to take action". This could be making a donation or volunteering.
But it's not like the late 1960s and early 70s, he says, when photographs of the Vietnam war had the power to really shock - in particular, Eddie Adams's picture of a Vietcong prisoner being executed or Nick Ut's photograph of a nine-year-old girl running from a napalm attack. "Those images could stop war, but not any more."
These days, he says, we're used to distressing images, and find it easier to turn away. "Some people are feeling like they don't want to be disturbed - and some editors now put warning signs before images. Imagine if the 'napalm girl' had been shown with a warning saying, 'You will see war crimes and nudity.' It's not that shocking. You click or you don't click. It won't provoke you to take action.
"In a way, the value of our work has been a little bit lowered." He pauses then adds: "But still we are able to produce strong and iconic images. We have to do that."