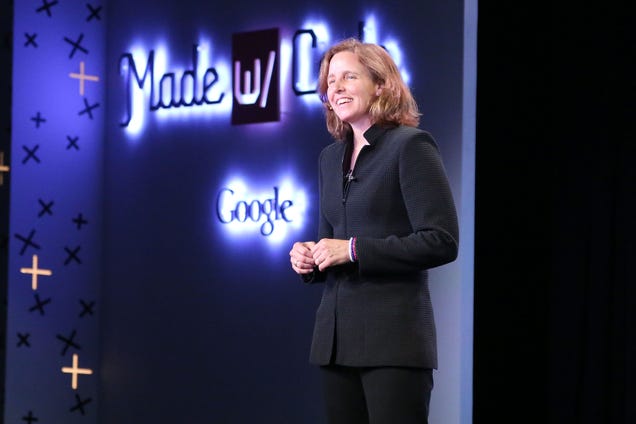 Two lawsuits filed last month against Google claim the search giant tried to steal superior video streaming technology from VSL Communications, a company it was in talks to acquire. According to the filings, VSL discovered the scheme thanks to some Post-It notes on which phrases like "Try to destroy email" were written. We've obtained what a source claims are copies of the Post-Its.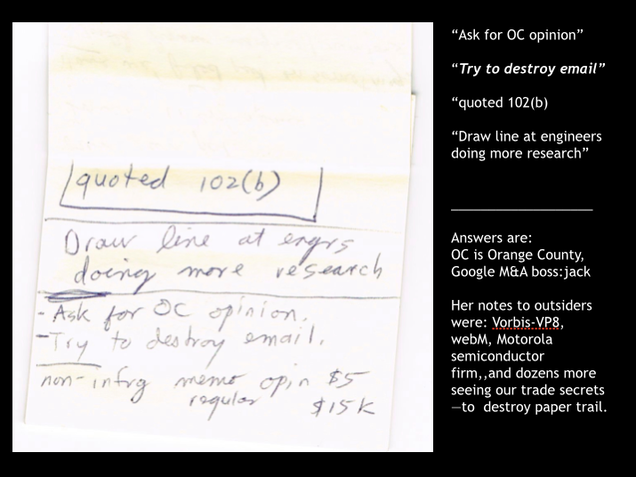 The source for these Post-Its, who requested anonymity, also provided what they claim is a non-disclosure agreement related to the video technology allegedly signed by Megan Smith, then Google's VP of new business development. President Obama recently named Smith (pictured above) the Chief Technology Officer for the United States.
The importance of speedy and accurate data transmission for a search and video company is so vital that HBO used it as the basis for the entire first season of Silicon Valley. The technology at issue in these lawsuits was developed by VSL Communications, also known as Vedanti System Limited, which holds a patent to slice and portion video instead of compressing it. VSL claims its trade secret "reduces multi-media content and data files in a lossless format." (The season finale of Silicon Valley revolves around the theoretical limit of lossless compression.)
The patent infringement suit was filed in Delaware and the trade secret lawsuit was filed in Santa Clara Superior Court, the county where the alleged NDA was signed. Both complaints claim that VSL's proprietary information is now being used in YouTube, Google Adsense, Google Drive, Google Maps, and many other Google products. We have reached out to lawyers for the plaintiffs and defendants and will update the post if we hear back.
The alleged infringement began in 2010 when Google entered into talks to buy VSL or license its technology. After talks stalled out, VSL asked for its proprietary documents back. According to the complaint, when Google returned those documents, the package included Post-Its that allegedly reference Google's plan to use VSL's technology without getting in legal trouble.
Given Google's history of alleged infringement on patents and copyrights—often silenced with a settlement—the Post-Its are particularly intriguing.
Other high-ranking Google executives are also implicated in the alleged scheme. According to the complaint, in March, 2010, Alpesh Patel, the CEO of VSL, first met with Nikesh Arora, once the fourth-ranking executive at Google. Arora left Google this past July for a plum role at SoftBank, the Japanese telecom giant that bought Sprint last year and is currently in talks to acquire DreamWorks Animation.
The complaint claims Arora met with VSL because Google was "in desperate need" of a way to improve its video technology. In April 2010, Patel allegedly signed the NDA with Smith.
Our source said the document obtained by Valleywag was originally prepared by VSL. It includes what the source claims are copies of the alleged Post-Its as well as annotations explaining their implications. Neither the patent, nor trade secret lawsuits name the author of the Post-It notes, just referring to the author as "Google personnel," but the notes refer to conversations that extend far beyond one person.
There are also number complicated relationships referenced in the lawsuits. For example, VSL's intellectual property rights are being enforced by Max Sound, which licensed the technology. The complaints also reference On2 Technologies, a wholly owned subsidiary of Google that develops video compression technology. On2 was acquired in February, 2010, before negotiations with VSL began. On2 is one of the defendants, along with Google and YouTube. The complaints alleges that On2 used VSL's proprietary codecs.
But however complex the corporate structure, the copies of the Post-Its we got, if authentic, support the scheme claimed in the lawsuits. There is a reference to the "recklessness std," legal standard used in determining willful infringement. The notes also point to Google sharing VSL's proprietary information with non-Google employees. The annotations fixate on Tim Terriberry, referred to as "Tim Caraberry" in the note, a computer science Ph.D who worked for Mozilla at the time, and allegedly collaborated with On2.

One Post-It uses shorthand for licensing (lic) and litigation (lit): "Design around lic/risk of lit. What if prods are money-making." Seems like Google has answer to that "what if."
Google Post-Its Notes from Patent Infringement and Trade Secret Lawsuits
NDA between Google and VSL signed by Megan Smith
Here is the portion of the trade secret lawsuit that refers to the Post-Its: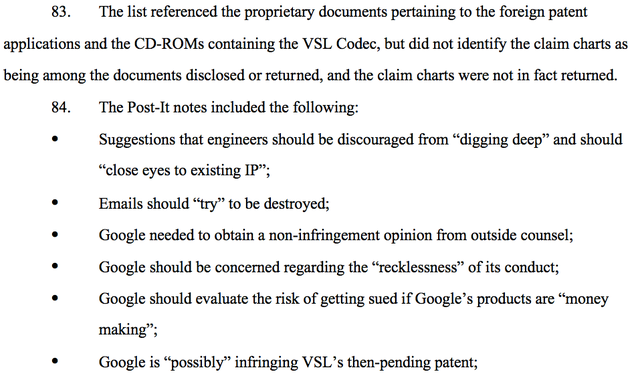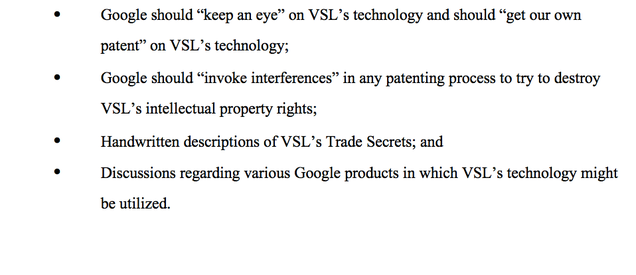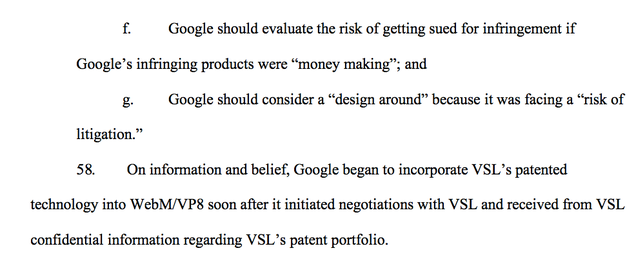 Here is the section of the patent infringement lawsuit related to the Post-Its: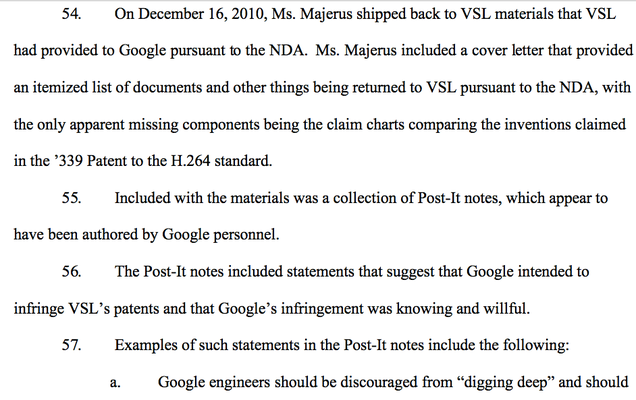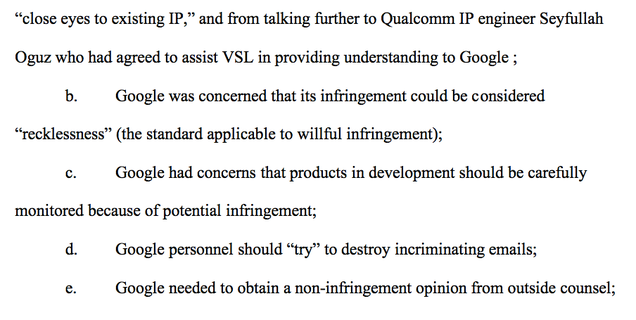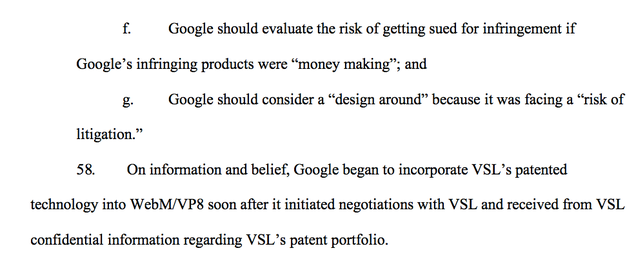 If you have any information related to these two lawsuits, please email [email protected]
[Image via Getty]