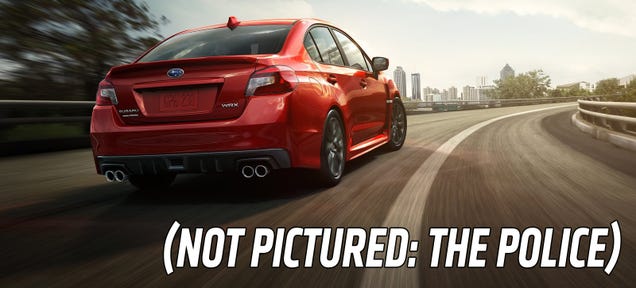 There are two things you're gonna hear often if you own a Subaru WRX. The first is "You're going to need another clutch," and the second is "Do you know why I pulled you over today?" Apparently, the second one goes for the Mercury Topaz too. Who knew?
That's what we learn from a new study released today by Insurance.com, which sought to determine the most-ticketed vehicles in America by percent of owners who received citations. The Detroit Free Press has a good summary of the results.
The study says the WRX leads that list, with one out of three drivers — 33.6 percent — having reported receiving a traffic citation recently. (If you've ever owned a WRX or an STI, you're probably nodding your head in agreement right now.)
Second place went to the Pontiac GTO, where 32.6 percent of owners reported tickets. They don't discern whether it's the old-school GTO or the re-badged Holden from the mid-2000s, but I bet it's the latter. In third place, right below the Goat, was the Scion FR-S. Who says the Toyobaru is slow?
But then we get into some weird results. The Mercury Topaz, a car that hasn't been built in 20 years, placed seventh; the Suzuki Reno came in thirteenth, tied with both the Volkswagen GTI and Hyundai Veloster.
I guess when you don't care about your car, you're free to drive it like you stole it.
Insurance.com says they based their results on insurance quote requests from 550,000 drivers a month. As always, take studies like these with some skepticism, but when insurance-seekers are reporting these themselves, I have to assume the list is fairly accurate.
You can search for your car, too. Where does yours rank?
1. Subaru WRX – 33.6%

2. Pontiac GTO – 32.7%

3. Scion FR-S – 32.6%

4. Toyota Supra – 30.8%

5. Subaru Tribeca – 29.7%

6. Volkswagen Rabbit – 29.6%

7. Mercury Topaz – 28.8%

8. Scion tC – 28.8%

9. Toyota FJ Cruiser – 28.4%

10. Mazda2 – 28.1%

11. Hyundai Veloster – 28.1%

12. Volkswagen GTI – 28.1%

13. Suzuki Reno – 28.1%

14. Scion xA – 27.8%

15. Pontiac G8 – 27.7%

16. MINI Cooper S Countryman – 27.5%

17. Mitsubishi 3000 GT – 27.4%

18. Saturn Aura – 27.1%

19. Infiniti QX56/QX80 – 27.1%

20. Toyota Prius C – 27.0%