We just came back from Sydney, Australia where we had the opportunity to experience the world's first Gigabit Class LTE network operated by Telstra, using the world's first commercially available Gigabit Class LTE device, Netgear® Nighthawk M1 powered by Qualcomm Snapdragon™ X16 LTE modem. As we are still in the process of analyzing the collected data, this brief overview should offer our initial impressions.
The vast majority of outdoor tests were conducted on March 14th & 15th and included visits to iconic locations throughout Sydney's Central Business District (CBD). On March 16th stormy weather limited our mobility and kept us in the hotel, but we used that time to experience Nighthawk M1's 4-way receive antenna design performance in cell edge environment.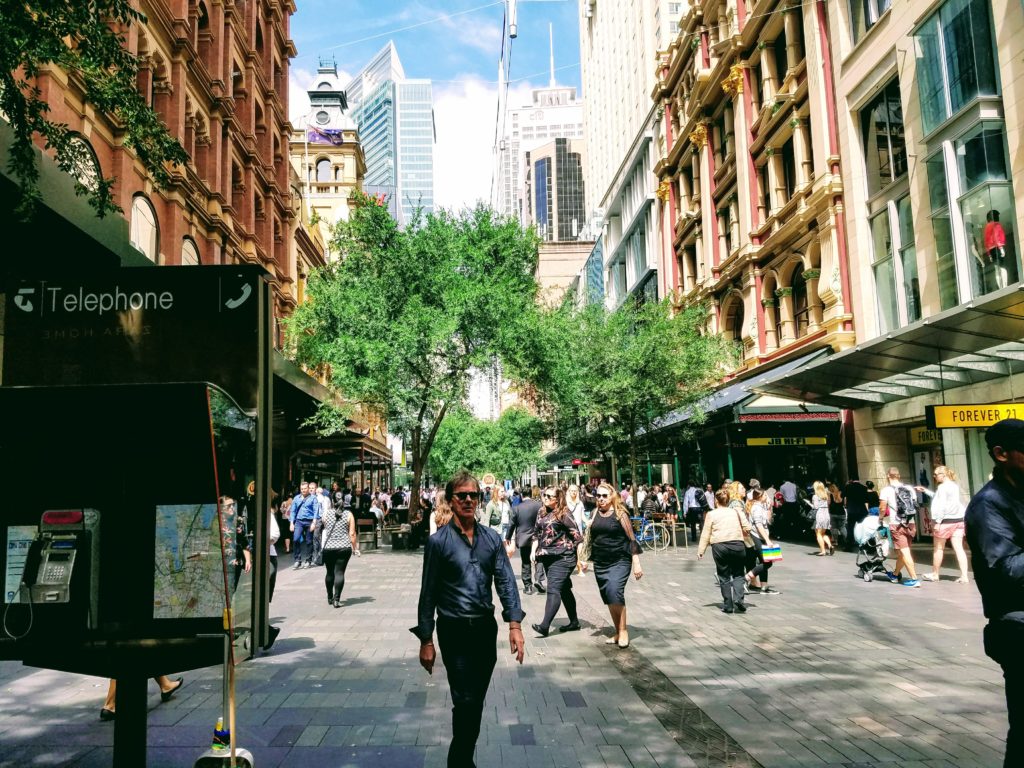 Our goal was to quantify the performance delta of a Category (Cat) 16 device (Nighthawk M1) against a Cat 6 device (Telstra Signature Premium by HTC) in a Gigabit Class LTE network, by performing everyday tasks such as downloading and uploading (large) files to Google Drive, streaming YouTube 4K videos, and using a popular Ookla SpeedTest. For maximum performance, our preferred testing method involved a laptop tethered via USB, which means most of our testing has been done stationary. Additionally, we performed a healthy amount of low mobility testing using smartphones wirelessly tethered to the M1. Over three days of testing we have burned through 180GB of data.
Telstra's state of the art FDD LTE network currently runs on four LTE channels, three being 20MHz wide (two contiguous 2600MHz Band 7, one 700MHz Band 28), and an additional 15MHz wide (1800MHz Band 3). That's a massive 150MHz of dedicated and deployed LTE spectrum on what seems a tightly spaced cell grid, ensuring one-of-a-kind end user experience throughout the CBD. To put that into perspective, in the NYC market Verizon is dedicating a total of 90MHz of deployed LTE capacity on a macro grid originally spaced for CDMA 850MHz, although Verizon's recent densification efforts have been admirable. Additionally, the estimated population of Sydney is roughly half of NYC's, with population density 28 times lower than NYC's. And with all that deployed LTE capacity, Telstra still has more than enough spectrum to operate two DC-HSPA+ layers (2100MHz Band 1 and 850MHz Band 5), and an additional Single Channel HSPA+. If that's not enough capacity for you, an additional 900MHz Band 8 spectrum is readily available for refarming after the recent GSM network shutdown.
All Telstra's multi-sector macro sites in Sydney's CBD have been provisioned with 10Gbps fiber backhaul links, and unlike many operators around the globe, and especially here the U.S., Telstra has chosen to obtain the "full-speed" baseband licensing agreements at the eNodeB level, taking any potential artificial throttle imposed by the infrastructure vendor out of the picture. For many operators this type of a decision typically boils down to economics, but maintaining a global leadership position without sacrificing the highest possible quality of user experience happened to be the driving factor behind Telstra's decision, and we salute them.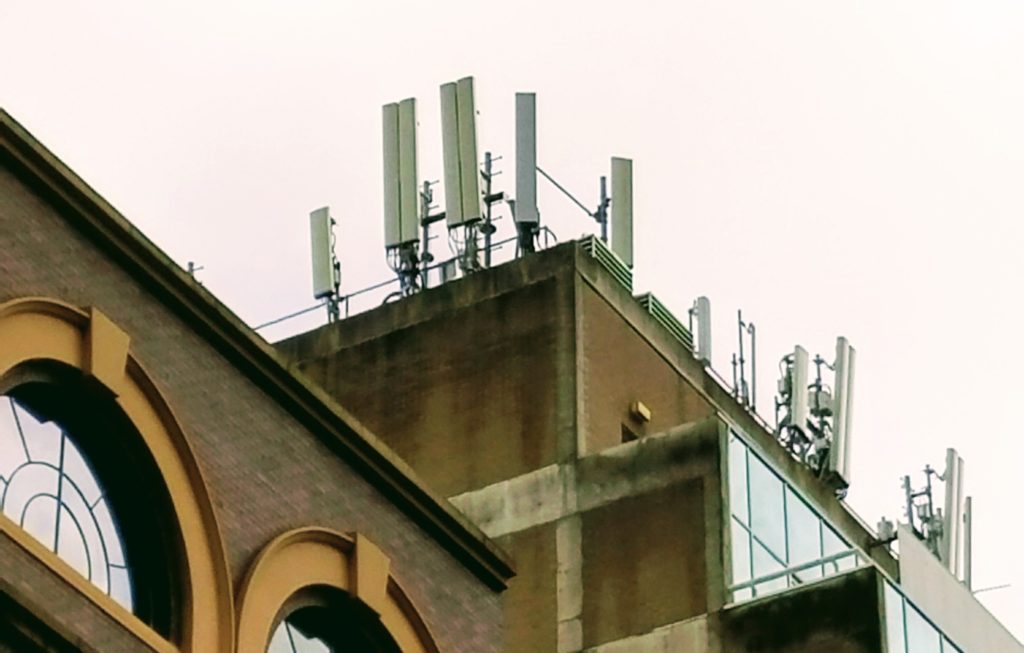 Just over a month ago, Telstra has started early trials of Evolved Multimedia Broadcast Multicast Service (eMBMS) throughout the market, currently allocating about 10% of spectrum resources in Band 28 for point-to-multipoint video broadcast. eMBMS is a feature defined in Release 8/9, and unlike unicast, it enables content (video, software updates, weather, news) delivery to unlimited amount of users at the same time, all sharing the same pre-allocated number of network resource blocks. In this case, eMBMS feature reduces the downlink data rates on Band 28 by 10%, but can be dynamically managed. eMBMS is a highly efficient way of distributing popular content to meet a clustered demand, typically large stadiums, arenas.
Ericsson is supplying the latest hardware and software (17A), and over the past 12 months Telstra and Ericsson have been hard at work upgrading cell sites with four-branch transmit and receive equipment needed for 4×4 MIMO operation on LTE Bands 3 and 7. Another unique feature rolled out throughout the market is Ericsson Lean Carrier (ELC). ELC is Ericsson's own advanced solution taking page straight out of 5G NR study item, with the purpose of reducing inter-cell signaling interference and improving the utilization of advanced modulation techniques such as 256QAM. ELC is designed to suppress chatty signaling coming from neighboring sites during the quiet times (late night) when there is no user data transmission, which reduces interference, allows for more efficient spectrum utilization and ultimately higher data rates on active user terminals.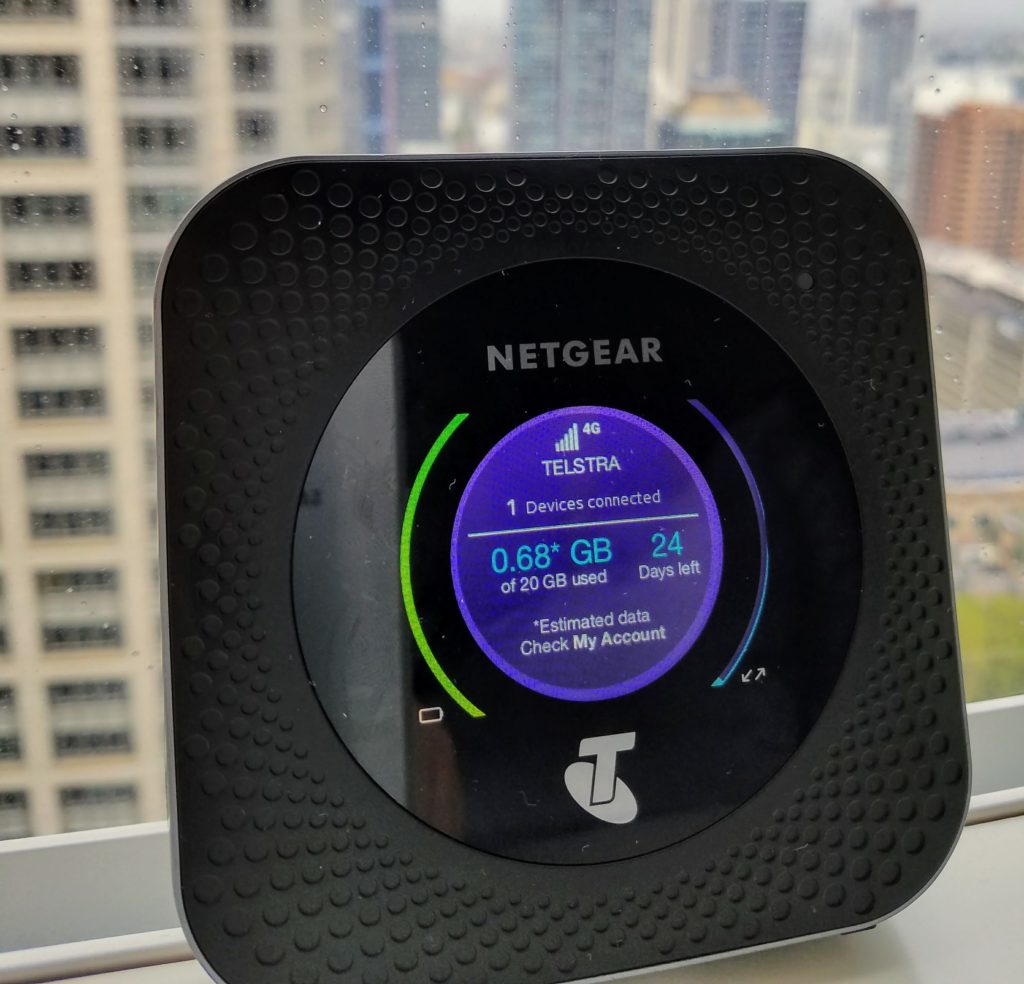 Netgear Nighthawk M1 is the first commercially available Category 16 LTE device, powered by Qualcomm Snapdragon X16 discrete LTE modem, and WTR5975 RF transceiver. The same Cat 16 modem is integrated into the Qualcomm Snapdragon 835 platform, and is expected to power many popular high end smartphones later this year. Qualcomm Snapdragon X16 LTE modem supports up to 4-Channel Carrier Aggregation,  Downlink 256QAM, and Nighthawk M1 LTE mobile router includes 4-way receive diversity (4RxD) antenna design for mid and high LTE bands, enabling 4×4 MIMO operation up to Rank 4, and allowing for peak download speeds of up to 1Gbps. Uplink 64QAM on all supported bands, and Uplink Carrier Aggregation (UL-CA) on two contiguous Band 7 component carriers is also supported, allowing for upload speeds of up to 150Mbps (Cat 13). Nighthawk M1 has USB Type-A and Type-C ports, Ethernet port, supports 802.11ac on both 2.4GHz and 5GHz, up to 80MHz wide channels. M1 users can configure the router using internal configuration page, or using a sleek mobile app developed by Netgear, which offers a more granular access to router settings, such as Radio Access Technology (RAT) preference and basic LTE Band locking feature.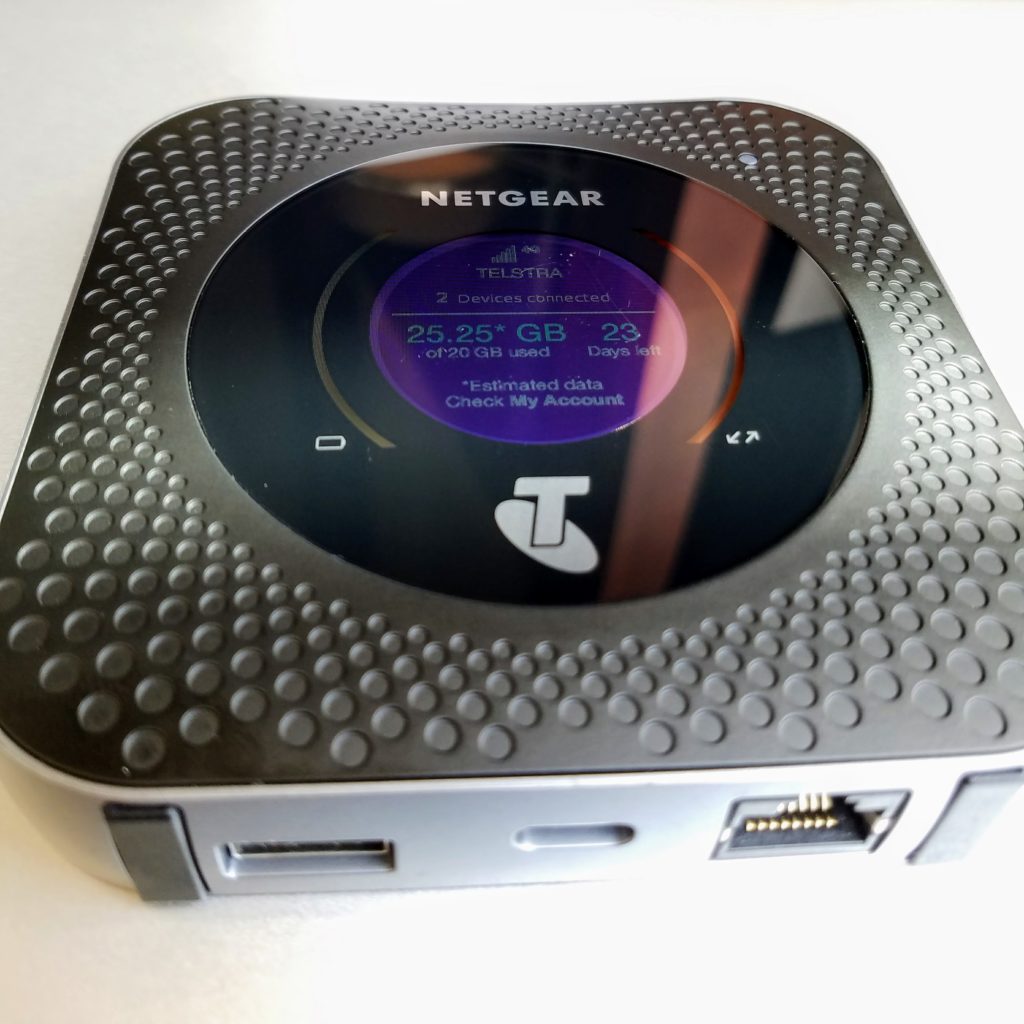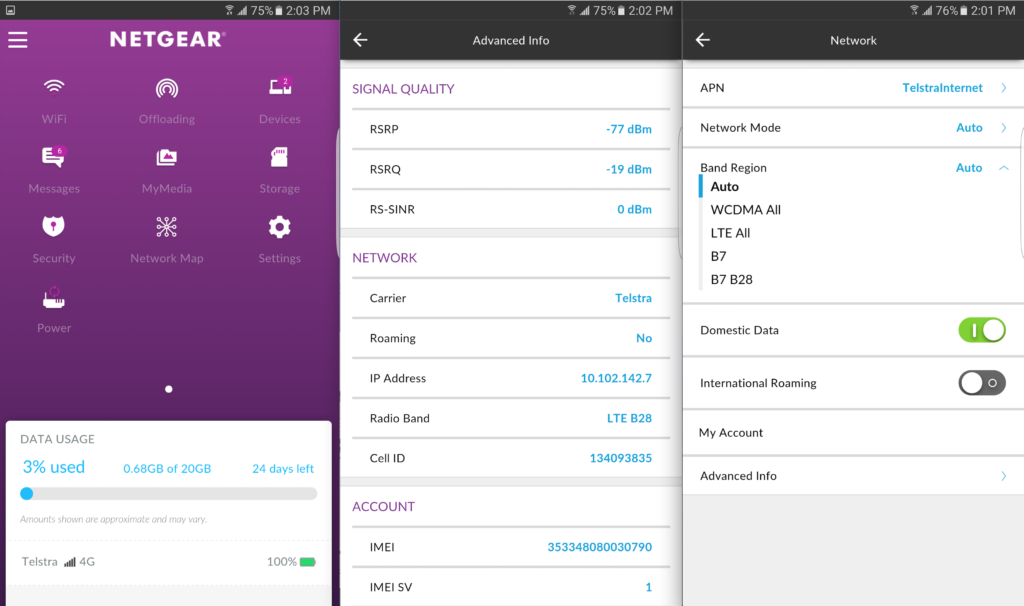 Telstra has also supplied a Category 6 device (HTC's Telstra Signature Premium) capable of aggregating two downlink component carriers with peak speeds of up to 300Mbps.
" The network performance has been nothing short of stellar. In Circular Quay, one of the busiest tourist locations, we've achieved sustained downlink data rates of over 400Mbps, peaking at over 550Mbps. — Cellular Insights
Upload speeds were exceptional, leveraging UL-64QAM, and Uplink Carrier Aggregation (UL-CA) on two contiguous Band 7 component carriers, peaking at 113Mbps. Reaching these high upload speeds required locking the device to Band 7 Only, which limits the downlink performance to 2-Channel Carrier Aggregation, but enables the UL-CA. We are sure that higher data rates would've been possible had we tested during the quiet times.

During the peak hours at the same location, Telstra's LTE network had no issues delivering sustained data rates of over 200Mbps, and uplink of over 80Mbps.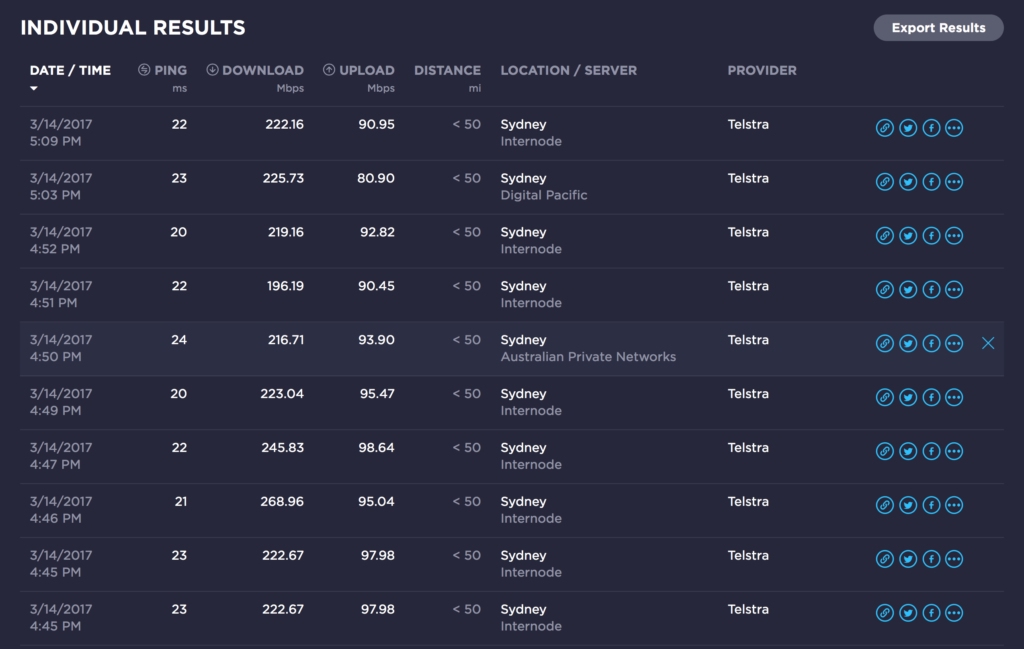 YouTube 4K videos would stream immediately and smoothly, and uploading 1GB file to Google Drive at 14MBps took just a little over a minute.

Combining results from all outdoor locations, Cat 16 device achieved speeds of 30Mbps for 85% of the time, vs 57% of the time on a Cat 6 device;

During the indoor testing at RSRP value of -100dBm or lower, Cat 16 device achieved speeds of 10Mbps for 89% of the time vs 37% of the time on the Cat 6 device;
Telstra's LTE network isn't a lab test or a limited demonstration of a Gigabit Class LTE capability. This is a fully functional, fully optimized, living and breathing commercial Gigabit Class LTE network, delivering an unmatched LTE performance in multiple markets, setting the bar almost impossibly high for all other operators around the world. We are extremely impressed with this first hand experience, and surely hope to pay another visit in the future, with field testing equipment by our side.