In July of 1945, Han van Meegeren picked up his badger-hair brush and began to paint his last forgery.
Over a decade, the wiry Dutchman had surreptitiously become Europe's premier conman — a disgruntled artist-turned-forger who'd sold his works for tens of millions of dollars. Fueled by rejection from the art world, he had duped leading critics, wealthy collectors, and even a high-ranking Nazi official into believing his works were real. What's more, he had chosen to do so by emulating the works of Jan Vermeer, a technically-immaculate master of the Dutch Golden Age.
But post-World War II, a "Vermeer" painting sold to Nazi Reichsmarschall Hermann Göring was traced back to van Meegeren — a painting of such high quality that experts agreed no one could have possibly fabricated it. Accused of plundering for the Germans, the artist was sentenced to death. In an odd twist, van Meegeren was given one last chance to prove his innocence: If he could produce a brilliant forgery before the eyes of court-appointed witnesses, he'd be spared. What ensued would make the man one of the most popular figures in the Netherlands.
This is the story of Han Van Meegeren, the most dramatic forger of the 20th century.
Life as a Legitimate Painter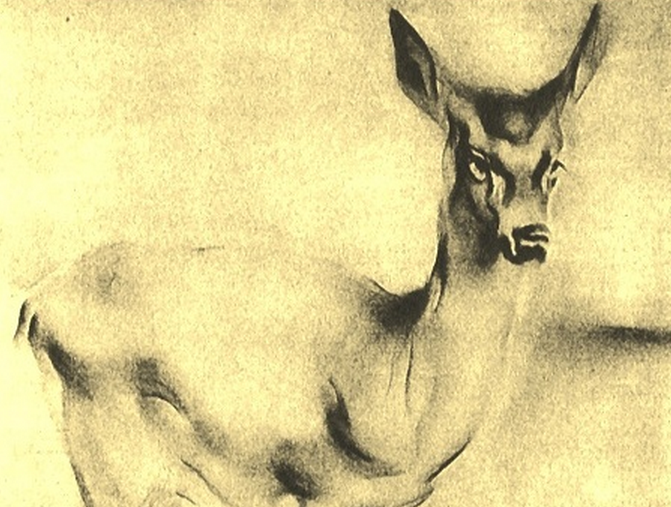 Han van Meegeren was born on October 10, 1889 in a small Netherlands community just outside of Deventer. From an early age, van Meegeren's father, a history teacher, strictly discouraged him from any creative pursuits: When the man caught his son drawing or exploring art, he'd force him to write "I know nothing, I am nothing, I am capable of nothing" hundreds of times on a sheet of paper.
As a young student, van Meegeren's talents were nonetheless recognized, and he received moral support from his educators. One of them, Bartus Korteling, had taken a fascination with the work of Johannes Vermeer (one of the great painters of the Dutch Golden Age); he copiously deconstructed the man's work for van Meegeran, showing the boy how to "manufacture and mix colors" and emulate the aged style. Korteling also instilled in van Meegeran a belief that the modern Impressionist movement was "degenerate art" and that the masterworks were of unparalleled artistic quality.
Meanwhile, van Meegeren's father continued to decry the merits of art and placed his son in an architecture program. Unbeknownst to the man, his son pursued art classes at the school instead, all the while keeping up with his architecture coursework. Upon graduating, van Meegeren had a brief tenure designing buildings, but soon went against his father's wishes and attended art school. Here, he won numerous prestigious awards, and was recognized as one of the premier young artists in the country.
***
In 1915, van Meegeren wed, had a child, and assumed a teaching position at the Netherland's Royal Academy of Art. His monthly salary, a measly 75 guldens (about $800 in 2014 purchasing power), afforded the family very little; to supplement his income, he sold his sketches — generally landscapes, portraits, and Christmas scenes — at local art markets. Serendipitously, this work caught the attention of a local elite art society, and he was soon producing sketches for Dutch royalty.
Van Meegeren saw the peak of his original artwork career in 1921, when he drew Princess Juliana's Deer (Hertje; pictured above). The sketch was subsequently printed by the thousands and became unanimous with Netherlands artwork (it was once said that the print hung in one in five households in Holland). The artist traveled around Europe as a portrait artist, racking up stately sums from the elite upper class, but his journeys came with temptations. After several bouts of infidelity, van Meegeren's wife filed for a divorce, and the artist embarked on the next phase of his career.
The Art of Forgery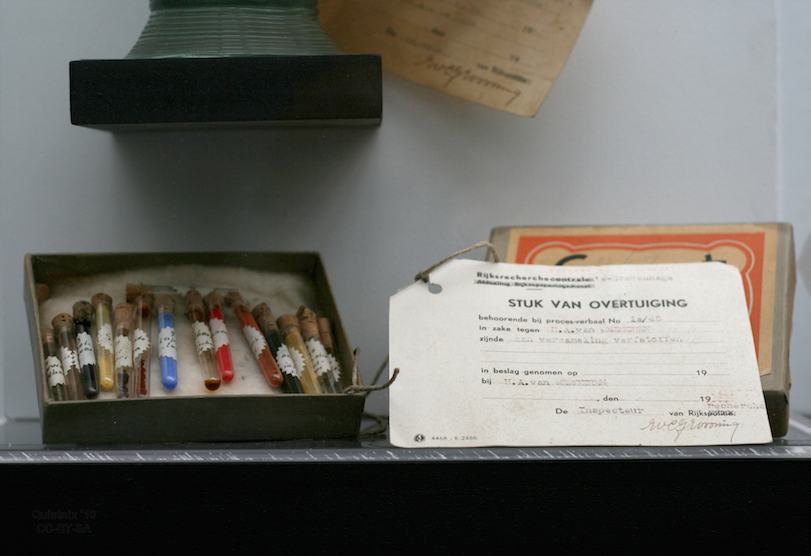 Van Meegeren's art supplies
By the mid-1920s, Han van Meegeren had established himself in the Netherlands art scene, but critics soon noted his limitations, penning him as nothing more than an "imitator" of Golden Age artists. "He is a gifted technician who has made a sort of composite facsimile of the Renaissance school," wrote one pundit. "He has every virtue except originality."
The highly-sensitive van Meegeren took offense to these comments and published a series of defensive, hostile tirades against the modern art community in a self-published journal. In doing so, he fell out of favor with critics.
With the resounding declaration by critics that he was limited, van Meegeren set out on a mission to prove that he could "not only copy the style of the Dutch masters in his paintings, but produce a work of art so magnificent that it would rival the works of master painters." He moved to the South of France, holed up in a small studio, and devoted himself to improving his craft.
Next on van Meegeren's agenda was to select a famous artist to forge. He contemplated many of the great Dutch painters (Frans Hals, Pieter de Hooch, and Gerard ter Borch), but ultimately settled on Johannes Vermeer — an artist many considered among the most difficult to emulate. "Vermeer was just about the greatest brand name of them all," Edward Dolnick, author of the Forger's Spellexplains. "If you can get away with Vermeer, that shows how terrific you are — and it's where the money is."
Vermeer worked slowly, integrated unique, expensive pigments (lapis lazuli and Indian yellow), and was renowned for his understanding and treatment of light. He had also only produced 35 verified paintings over his lifetime (most famously, Girl with the Pearl Earring; 1665), leading art historians to question where the others were. It would take a tremendous feat to forge Vermeer's work, but the disgruntled van Meegeren was out to prove his worth.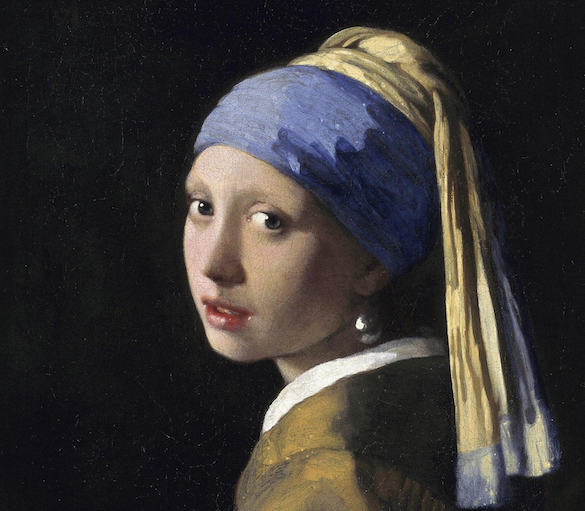 Vermeer's masterpiece, Girl with a Pearl Earring (1665)
For six years — from 1932 to 1937 — van Meegeren voraciously studied the work and life of Vermeer, reading up on his techniques, colorations, brush strokes, and even personal affairs, with the ultimate goal of duping the art world that had denigrated him.
Recreating Vermeer's style proved incredibly difficult. Van Meegeren purchased original 17th century canvas, crafted his own paints from raw materials (just as Vermeer had done), and spent months perfecting the shades of yellow, blue, indigo, and white lead used by the Golden Age painter; In lieu of modern tools, he meticulously constructed his own paint brushes from badger hair — just as the 17th century masters had done.
Another dilemma faced by van Meegeren was emulating the age of the paint. Oil paints take decades to fully dry and harden; he had to find a way to make two-month-old paint seem as if it were three centuries old. Van Meegeren purchased a pizza oven and experimented by shoving his imitation paintings inside — but time after time, the paints would just burn or melt. He soon refined this process: First, he'd mix his paints with phenol formaldehyde and melt plastic to harden them; he'd then bake the completed painting at 212-248 °F, roll it with a baking pin to crackle it, and wash it through a cycle of India ink to emulate patina. It was an ingenious system — perhaps the best ever devised by a forger — and it produced incredibly convincing paintings.
Nearly all of Vermeer's 35 known works were set in the same house with the same "furniture and decorations," most of which portrayed the same people (usually a woman). At first, van Meegeren focused on producing paintings that were consistent with Vermeer's limited themes, but he soon learned a valuable lesson, as art historian Edward Dolnick recounts:
"He learned that if you come close to getting an imitation just right, the closer you come, the more convincing people find it. But if you get super close, people examine it more intricately and focus on the last little gap that keeps it from being real."
Observing these failures from other forgers who'd been caught, van Meegeren began to take risks. Instead of holding steadfast to Vermeer's previous themes, van Meegeren set out to paint very different scenes while still maintaining Vermeer's artistic signatures.
Most critics at the time agreed that there were at least 15 Vermeers (in addition to the 35 proven to be real) that had been lost with time; this provided van Meegeren's fakes with a plausible backstory.
The $35,000,000 Fakes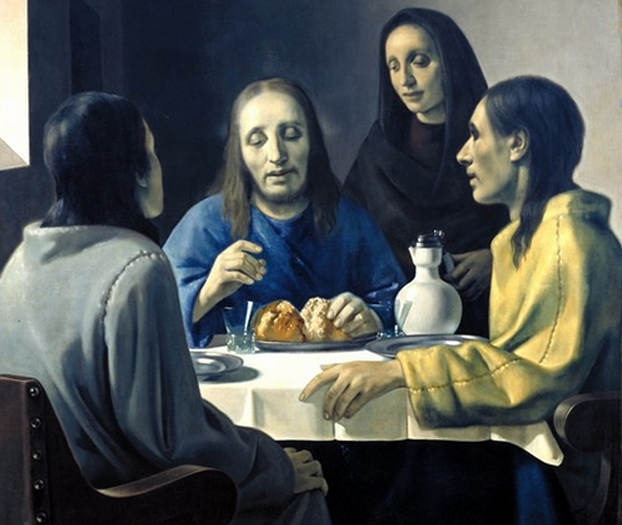 The Supper at Emmaus (Han van Meegeren's forgery, 1937)
Though van Meegeren had acquired the skills to produce Vermeer forgeries, he had no knowledge of how to sell them. By chance, he met Theo van Wijngaarden, a shady art restorationist who'd purchase cheap pictures, move them to contacts in other European countries, and sell them at a massive profit. With his network of "well-placed accomplices," Van Wijngaarden had operated since the turn of the century without detection, but lacked the talent to produce the artworks himself. The two agreed to join forces just as van Meegeren completed his first master forgery.
During his studies, van Meegeran had learned that Vermeer greatly appreciated the work of Italian painter Michelangelo Merisi da Caravaggio, though he'd never created a work inspired by it. Throughout 1936 and 1937, Van Meegeren analyzed the Italian's best known work, "Supper at Emmaus," then went about replicating it in the style of Vermeer, complete with affectations: "Wormholes, yellowed varnish, soilage, and, for good measure, a poorly repaired rip." He titled the work with the same name — "Supper at Emmaus" — and went about peddling it to the art world.
Via Van Wijngaarden put the artist in touch with Gerald A. Boon, a gullible parliamentarian with an interest in artwork, and proceeded to convince him that the painting was a real Vermeer. His backstory was convincing: The painting had "belonged to a Dutch family living in Italy, who, persecuted by the Fascist authorities, desperately needed funds for an escape to America."
Boon devoured the story, and excitedly passed it along to Dr. Abraham Bredius, one of the foremost art historians of the era, and a well-respected Vermeer "expert." An "eighty-three-year-old monster of vanity," Bredius' opinions were held in high regard and vastly influenced the purchases of collectors at the time. After examining "Supper at Emmaus," he championed its undoubted authenticity in the November 1937 issue of Burlington Magazine:
"It is a wonderful moment in the life of a lover of art when he finds himself suddenly confronted with a hitherto unknown painting by a great master, untouched, on the original canvas, and without any restoration, just as it left the painter's studio. And what a picture!

Neither the beautiful signature…nor the pointillés on the bread which Christ is blessing, is necessary to convince us that we have here—I am inclined to say—the masterpiece of Johannes Vermeer of Delft . . . quite different from all his other paintings and yet every inch a Vermeer. In no other picture by the great master of Delft do we find such sentiment, such a profound understanding of the Bible story—a sentiment so nobly human expressed through the medium of highest art."
With Bredius's "expert" stamp of approval, the painting sparked a fierce bidding war between millionaire socialites and foundations. Ultimately, it was purchased by The Rembrandt Society for the princely sum of 550,000 Dutch guldens (roughly $4 million today), and donated to a fine art museum in Rotterdam.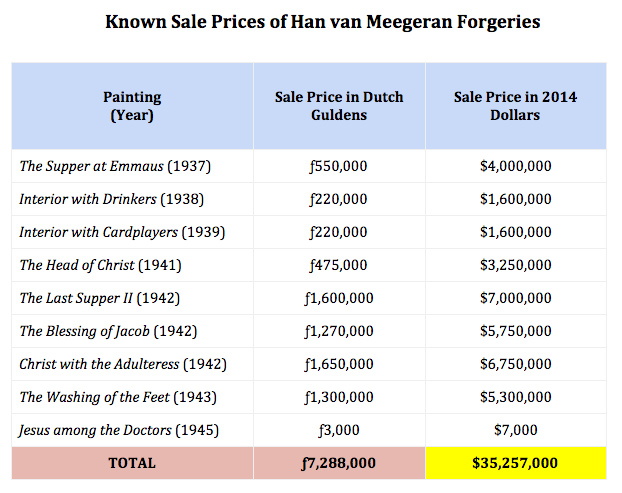 Note: This is only a list of known sales prices — van Meegeren produced 18 known forgeries (possibly as many as 21), most of which were speculated to have sold for similar amounts. Priceonomics, via Wikipedia.
Riding high, van Meegeren purchased a 12-bedroom French estate, and, ironically, bought several real masterpieces to adorn his ornately-molded walls. Here, he produced "Last Supper I," another painting in the style of Vermeer, as well as "Interior with Cardplayers" and "Interior with Drinkers," two forgeries in the style of Dutch artist Pieter de Hooch. The latter two were sold for 220,000 gulden ($1.6 million today) each.
By the onset of World War II, van Meegeren had began to drink heavily and he developed a penchant for sleeping pills; as a result, he got lazy with his work. While the quality of his forgeries declined, experts had no gauge of comparison: all real Vermeers were locked away in storage due to wartime concerns. After migrating back to the Netherlands, van Meegeren produced a series of these less-skillful Vermeers — "The Head of Christ," "The Last Supper II," "The Blessing of Jacob," and "The Adulteress and The Washing of the Feet" — each of which sold between the modern equivalent of $3-7 million.
By 1943, he'd amassed a fortune of $30 million (after his collaborators had taken their cut), and moved to the Keizersgracht in Amsterdam, an exclusive stretch of properties once occupied by the likes of Peter the Great, John Adams, and Daniel Fahrenheit. He had no qualms about spending and went about purchasing an absurd amount of real estate — 52 homes and 15 country houses — throughout Europe.
Fooling the Nazi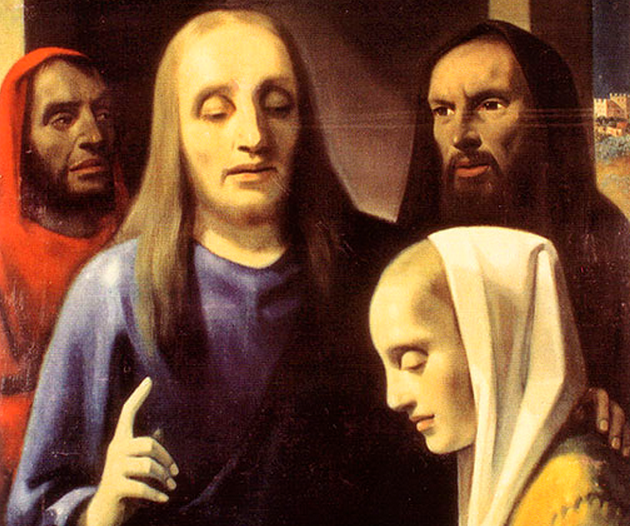 "Christ with the Adulteress" (Han van Meegeren; 1942)
As the Reichsmarschall of the Nazi army, Hermann Göring was the second most-powerful man in Germany, behind only Adolf Hitler, and was notoriously ruthless. But when Göring had a falling out with Hitler in 1942, he withdrew from the Nazi Party and invested his time and money in his other hobby: Collecting artwork. Göring's collection, much of which had been plundered and stolen during the war, was gargantuan and museum-worthy, and he was always on the hunt for exceptional works.
Around the time Göring left the military, van Meegeren's agent sold one of the artist's Vermeer forgeries, "Christ with the Adulteress," to Alois Miedl, a Nazi banker and art collector, for (2014 equivalent) $6,750,000. Miedl, an enterprising businessman, then traded the work to Göring in exchange for 137 paintings (presumably, all plundered). Göring was tremendously proud of his new Vermeer (which he presumed, of course, to be real): He promptly hung in it his residence and declared it the "jewel" of his collection.
***
A few years later, as Allied forces pushed into Nazi territory, the van Meegeren Vermeer, along with 6,700 other looted pieces of artwork, was uncovered in an obscure Austrian salt mine. Göring had kept immaculate paper trails for all of his paintings, and the Vermeer was traced back to Miedl; when Miedl was questioned, he pointed to van Meegeren.
When asked by police where he'd acquired the painting (still thought to be an original Vermeer at this point), van Meegeren was unwilling to admit to his life as a forger, and unable to explain himself. It was only when he was accused of being a "Nazi plunderer" that van Meegeren revealed his story.
"The painting in Göring's hands is not, as you assume, a Vermeer, but a Van Meegeren!" he told police in May 1945. "I painted the picture!"
Forging out of a Forgery: Van Meegeren's Trial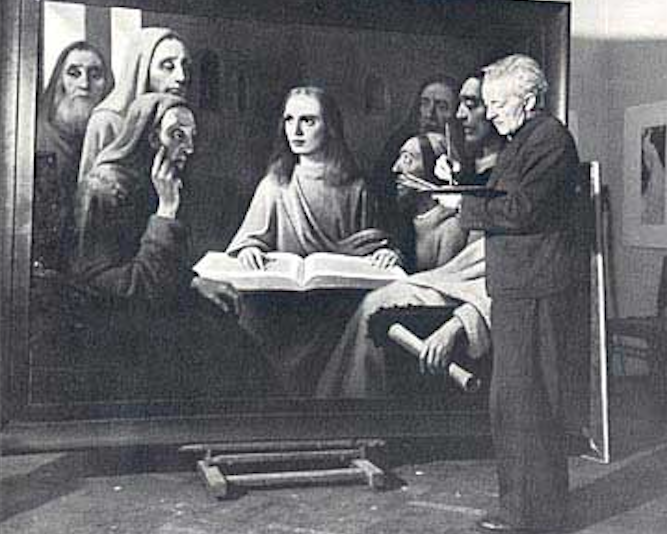 Van Meegeren painting "Jesus Among the Doctors" in court
Van Meegeren's story was immediately met with skepticism. Facing charges of fraud and aiding and abetting the enemy, the artist found himself in a peculiar situation: He had to systematically prove he had conned the Nazis through forgery. As preliminary trials began in 1945, he got his chance.
After being confined to the headquarters of an Amsterdam military command for a few months, van Meegeren offered a proposition to prove this innocence — he'd forge one last Vermeer before a panel of reporters and court-appointed witnesses. The court agreed, and the man was brought his paints and brushes. Over the course of six weeks, a drunk and high van Meegeren (he claimed this was the only way he could work) slowly crafted his last Vermeer, "Jesus Among the Doctors." Forgery experts subsequently determined that it was of such a high quality that van Meegeren couldn't possibly be lying, and his abetting the enemy charge was dropped. (The painting was later sold for $7,000, astronomically lower than the millions his other forgeries had commanded.)
But van Meegeren still faced a less serious fraud charge, and on October 29, 1947, his second trial began. In interviews with the press, he'd won over the public. The forgeries, he told a reporter, were "spurred by the disappointment of receiving no acknowledgements from artists and critics" and he'd been "determined to prove [his] worth as a painter by making a perfect 17th-century canvas." He'd taken the original declaration that he was a traitor and Nazi conspirator, and flipped it on its head: Instead, he claimed, he had planned to dupe the Nazi with his forgeries in a scheme to reclaim 200 plundered Dutch paintings. In a matter of months, he went from being a detested figure to a patriotic hero — a "lord of misrule," as one writer put it.
In post-war Amsterdam, the Dutch "craved a carnival." As The New Yorker wrote, van Meegeren's humiliation of the Nazis "was too pricelessly funny to be marred by stale grudges," and they saw the artist's plight as a humorous, light-hearted affair. During the proceedings, the courtroom was adorned with van Meegeren's forgeries; experts presented close-up photographs, charts, and signature analysis, but the artist's popularity overwhelming any compelling evidence against him.
At one point, van Meegeren turned toward "Emmaus," the master forgery that had taken seven years to paint and sold for nearly $4 million, and made a sympathetic plea to the righteousness of art:
"Yesterday, this painting was worth millions of guilders and experts and art lovers would come from all over the world and pay money to see it. Today, it is worth nothing and nobody would cross the street to see it for free. But the picture has not changed. What has?"
In another memorable moment, the judge asked van Meegeren, "You do admit, though, that you sold these pictures for very high prices?" to which the artist replied, "I could hardly have done otherwise. Had I sold them for low prices, it would have been obvious they were fake!" The room bellowed with laughter. "Clearly," writes Jonathan Lopez, author of The Man Who Made Vermeers, "the day belonged to the master forger."
Once facing a charge of death, van Meegeren's sentence was reduced to one year in prison. "I'm sure about one thing," he told a reporter, shortly after the verdict. "If I die in jail they will just forget all about it. My paintings will become original Vermeers once more. I produced them not for money but for art's sake."
But van Meegeren never made it to jail: On December 30, 1947, just before he was to be incarcerated, the 58-year-old artist suffered a heart attack and passed away.
A Hero's Exit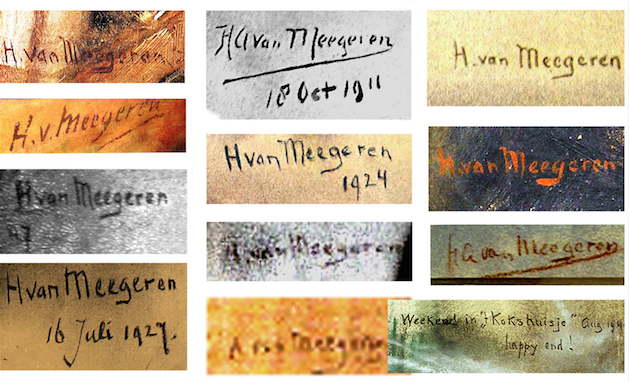 Han van Meegeren signatures
Once suspected of being a Nazi collaborator, Han van Meegeren was lauded as a national hero following his trial. An early 1947 poll found the forger to be "the second most popular man in the Netherlands, after the newly elected Prime Minister."
The Dutch had been taken by van Meegeren's rhetoric — that he'd conned a Nazi official to prove his patriotism — and the fact that he'd cheated people and walked away with millions of dollars seemed to be of little importance. Ironically, his forgeries surged in value, particularly in the United States, where people were fascinated by the "man who'd swindled Göring." A market of forgers replicating van Meegeren's forgeries emerged — including the artist's own son, Jacques, whose replicas were of a particularly low quality.
Meanwhile, in the wake of van Meegeren's confession, the art world reeled in embarrassment. "Art historians, connoisseurs, museum directors and unscrupulous dealers had all been involved," wrote one Vermeer historian, "Contemporary methods of evaluating the work master painters required a profound reconsideration; the dénouement of the Van Meegeren affair brought about a kind of a catharsis." Van Meegeren, a man who "derived his greatest amusement from leaving other people in the dark," had accomplished his goal.
In an interview just before his death, van Meegeren explained that his motives largely stemmed from being repressed as a child. "It's something my father said to me," he told a reporter — "'You are a cheat and always will be.'"
If only his father knew.
This post was written by Zachary Crockett; you can follow him on Twitter here.
To get occasional notifications when we write blog posts, please sign up for our email list.
---