With the 199th Pick …
Even for a coaching prodigy with a withering sense of humor, Belichick's ultimate success as a head coach is due, in a significant way, to an enormous stroke of luck. During the sixth round of the 2000 draft, instead of taking quarterback Tim Rattay with the 199th pick, the Patriots selected Michigan's Tom Brady. After Brady replaced an injured Drew Bledsoe in '01, the Patriots won three of the next four Super Bowls.
Rick Venturi: " When you get a guy like Brady that late in the draft, that's just lucky. But the Patriots kept four quarterbacks in 2000, which is pretty rare. So maybe the brilliance wasn't in drafting Brady but in Bill's recognition right away that he had something special when no one else knew it."
Adam Vinatieri (Patriots kicker, 1996-2005): "I think the first Super Bowl season was probably the year that it really switched for Bill. The first couple of years, we were a little shaky while he was getting his personnel lined up. Bledsoe gets banged up, Brady comes in, and we start winning games. When Brady first came in, his first start, the rest of the team was like, "This is a young kid, we have to step up and help each other." Bill didn't see it that way. He told us not to try to do too much by thinking we had to cover up for others. We followed his lead and it worked. That's when they started drinking the Kool-Aid of believing that Bill knew what he was doing and that Bill had a vision."
A Madness to his Methods
Thirty-some years after he aced the Lions' coaching quiz to land a job in Detroit, Belichick's own weekly player exams, meticulous game prep and increasingly relentless pursuit of every possible advantage become part of Patriots dynasty lore.
Terrell McClain: (Patriots defensive tackle, 2012): The Patriots are more like a private school. They don't like business getting outside. They like to keep everything inside, even scouting reports. If a piece of paper is on the floor, it gets crumpled up and thrown away. They make sure you turn everything back in and shred all that stuff."
Adam Vinatieri: He knew what was going on in the building at all times. He controlled which doors we went out of. The way in and out of our locker room to our cars was right by his office. I think when they built it, there was probably planning involved."
Rosevelt Colvin: "At practice, Bill twirls that whistle around his two fingers, watching everything, seeing everything. He could be on another field, I'm not kidding now, he could be on another field and come running over because he saw that the key guy on a kickoff return missed his block."
Phil Savage: "Most coaches specialize on one side of the ball. But he's one of the few out there who have a global perspective of the entire game and all 22 positions. He's a true coach of all 22 positions plus every specialist. That's a rarity. He's one of the few coaches out there who, if you dropped him on the staff at Drake University and said, 'Hey, be the tight ends coach,' he could absolutely coach those tight ends to the nth degree."
Rosevelt Colvin: "The dude's a walking football encyclopedia. He can give you the history of the spread formation or the single wing. I tell people all the time, if you ever had a conversation with him about football it would be one of the greatest conversations you ever had in your whole life."
Jon Robinson: "He always migrated toward the defensive line at some point in practice. It was cool to see him work with Vince Wilfork, teaching him technique in his early stages."
Vince Wilfork (Patriots Nose Tackle, 2004-14): "I had no idea what I was doing in a 34 defense; I had never played it before. Every day he worked with me. He made me understand it. There were times when I was pissed off. But he's the one I credit for the career I've had. He never took his foot off the pedal."
Aqib Talib: "Once, in practice, Brady threw a seam ball that was intercepted, and Bill, man, he chewed Tom out, saying, 'You got 130 career interceptions,' or whatever it was, 'and half of them are on this route. You keep doing the same s— over and over and this is what happens.' Right then you know two things about the Patriots and Bill Belichick: Everybody is treated the same, and you better get your s— together."
Kevin Faulk: "I loved when Bill would yell at Tom Brady and say, 'Hey, Tom, I could go get the quarterback at Foxborough High to do it better than that.'"
Rosevelt Colvin: "Any time something bad happened at practice, the two words you don't ever want to hear come out of his mouth are 'Take off.' That Bill-ism means just get out of his sight and run a lap around the field. If he was really pissed off, he'd yell 'Take off,' wait a few seconds and then add 'Everybody!' and that meant coaches included, even the old guys and heavy guys. We'd all circle back, inching up, hoping not to hear 'Keeeeep going.'"
Kevin Faulk: "We prepared for everything. Not saying we perfected it, but we prepared for everything. There's no second-guessing or hesitation when you play for Bill. When you have to think on the field, it slows you down. When you know exactly what you're doing and how to do it and why you're doing it, that allows you to play faster, and your talent flows freely. It's like being in class. They hand you a test, you open it up, look at the questions and go, 'Wow, I know all the answers already.'"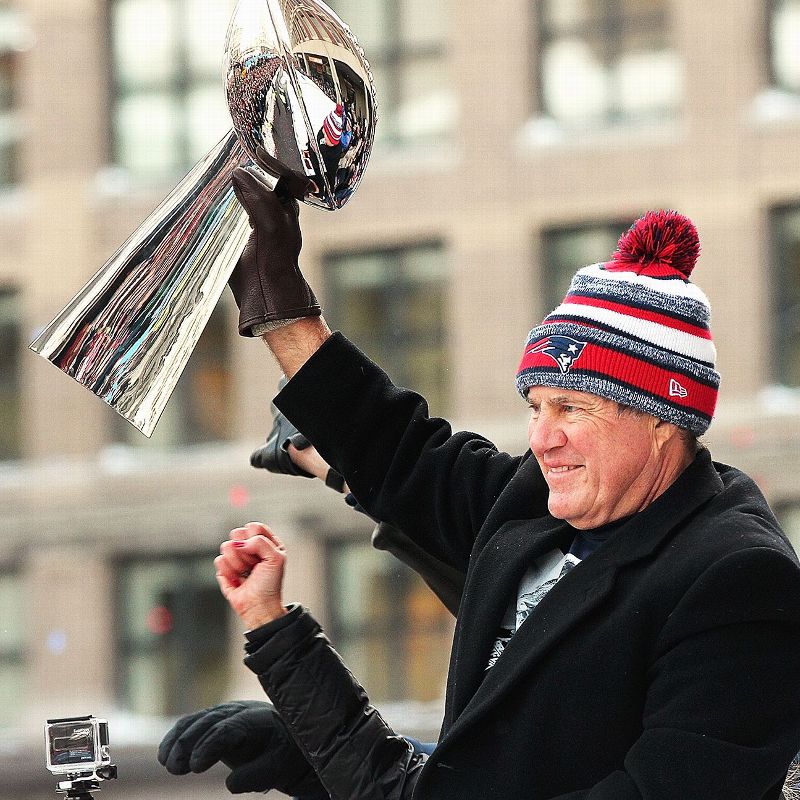 "I kneel at the altar of Vince Lombardi, Chuck Noll, Tom Landry and Bill Walsh, but he may go down as the best," says Rick Venturi. Wendy Maeda/The Boston Globe via Getty Images
Matt Cassel (Patriots Quarterback, 2005-08): "Every Tuesday during the season, the quarterbacks would sit down with him and get his scouting report. He'd go through, in a detailed report, the strengths and weaknesses of every opponent that we were going up against. Mainly DBs, sometimes linebackers. But also we'd talk about the defensive coordinator, his philosophy, where he came from, his background, and he'd give you, basically, a great understanding of who your opponent is going to be."
Don Jones (Patriots Safety, 2014): "Tuesday they would give us the scouting report, and on Wednesday morning Bill would go around the whole room — from Tom Brady down to the bottom man on the roster — and ask everybody about the person they were going against. You really didn't want to be the one not to know."
Heath Evans: "Those Q&A's could get really, really stressful because he could ask you anything and you'd better know it. [Former Patriots tackle] Matt Light always sat right behind me, so any time Bill did ask me a question early on, Matt would be whispering in my ear all the wrong answers."
Darius Butler (Patriots Cornerback, 2009-10): "He's a big reader, things like The Art of War, and he would tie the books into day-to-day life. He would have quotes around the facility. He'd ask you what a sign says above a door and you'd have to know what it said. It was things you wouldn't think related to football, but they actually did."
Adam Vinatieri: "There were times when he would surprise you and ask you a certain teammate's wife's name."
Darius Butler: "He wants you to know your teammates and have a certain respect for them. That's something a lot of other places don't harp on. But from that point on, it's something that's important to you because it's important to him."
Don Jones: "He'd be like, 'Don Jones, so tell me about that gunner.' I'd say, 'He's No. 46. His name is Alfred Morris. He's very fast off the ball, likes to use the swim move. He likes to break down and tackle you, finish you. He's big but soft on the point of attack.'"
Heath Evans: "You're in a Friday red zone meeting, Bill pulls out a sheet of paper and starts asking, 'Hey, Kevin Faulk, what's the Indianapolis Colts' favorite blitz on third down and short in the red zone in the fourth quarter?' Kevin would give an answer and he'd be like, 'Heath, do you agree?' And I'd be like, 'Yes sir, I agree, but they also like to run this one.' Corey would just make up answers if he didn't study. Bill would ask, 'Hey, Corey Dillon, what do you think about their two answers?' And if Corey would say, 'Yeah, I agree, Coach," he'd be like, 'OK, Corey, if you agree, then tell me what's their favorite blitz on first-and-10 inside the red zone?' He never let anyone get away with maybe knowing or not knowing."
Bob Quinn: "You always had to be on your toes because you never know when you're going to cross paths with Bill. He would just be waiting for the omelet station at 6:45 a.m., and he'd ask a question about pro scouting or something and you'd have a half-hour conversation right there."
Matt Cassel: My rookie year, I got crushed in the back by a corner blitz against the Giants. We're playing them the next year in the last preseason game. He asks me, 'OK, Cassel, what front do they like to bring the corner blitz from?' I had looked it up the night before, anticipating it. I said, 'Coach, it's an over.' And he goes, 'Brady?' Well, you know immediately when he goes to the next guy: 'Oh, no. Oh, no.' And Brady says, 'An under.' And he goes, 'Brady's right. I don't want to have to send your mother another note that says, 'Dear Mrs. Cassel, we regret to inform you that your son got killed being a dumbass.'"
Mike Whalen: "You want to know what kind of influence and control he has over this franchise? Listen to his players. It's totally, exactly the same things Bill says. That resonates with every single coach out there. Same page. Same message. Same culture. When you get to a point when you hear your players talking and answering questions very similarly to the way you would answer, you know the philosophy is in place, they're all in, they drank the Kool-Aid."
Rick Venturi: "If he has a motivational style, I'd say that it's constant emotional discomfort. That's why his teams never flatline."
Through the Gate
Belichick's turn from good guy to villain, in the eyes of his detractors, started in 2007, when the Patriots were caught illegally videotaping Jets coaches' defensive signals in a Week 1 matchup. The Patriots won the game and then the next 17, heading into Super Bowl XLII undefeated. New England's 17-14 loss to the Giants in that game crushed Belichick — those who were there say he was left broken and apologizing to his team. That season, for his role in the so-called Spygate, the NFL handed Belichick the largest fine in league history ($500,000) and took away the Patriots' first-round draft pick. As New England continued its roll toward its fourth Super Bowl win, in February 2015, and beyond, other incidents exposed Belichick's trademark gamesmanship as something closer to habitual rule-bending. Does it change his place in history? Does he even care that we're focused on his controversies instead of his coaching genius?
Heath Evans: "I never had greater admiration for a man besides my father than I had for Bill after the Super Bowl XLII loss. To the 53 men in that locker room and the coaching staff, he delivered a heartfelt apology. He felt like he had really let us down. Despite 18-1 being the most bitter pill I think you can swallow in sports, when I walked out of that Super Bowl locker room that night I still left with kind of a shining moment in my mind about Bill Belichick, how a man that everybody swears is so arrogant and so self-centered is really the exact opposite."
Mike Whalen: "Bill can take a lesser talent and convince them that if they buy in completely and do their job within his system, they will all get to a level that will far surpass what any of them could ever do on their own. That's why you don't have to be a Tedy Bruschi or a Tom Brady to be a leader there. If you're someone who puts the team first and always does your job, then in his system you will be viewed as a leader. That's how you produce something like what Malcolm Butler did in the Super Bowl. That's Bill's strength and his legacy."
Curtis Martin: "There will always be that question with Bill because Spygate and Deflategate happened. I see it as someone so driven to get every single edge. But I also see it as someone who didn't need that. I see it as that tipping point, that over-the-top part of perfectionism to get every single advantage."
Rosevelt Colvin: "He knows all the gray areas and knows most of, if not all, the rules, and he wants to gain an advantage the best way possible. If the rule says you can inflate a ball to 15 psi … Bill is going to inflate that thing right to exactly 15 psi. I've never heard him say we're going to deliberately break the rules or cheat. He just tried to be on the edge, the cutting edge, of what can and cannot be. It's like this with Bill: Is this the limit? OK, then let's go to the limit."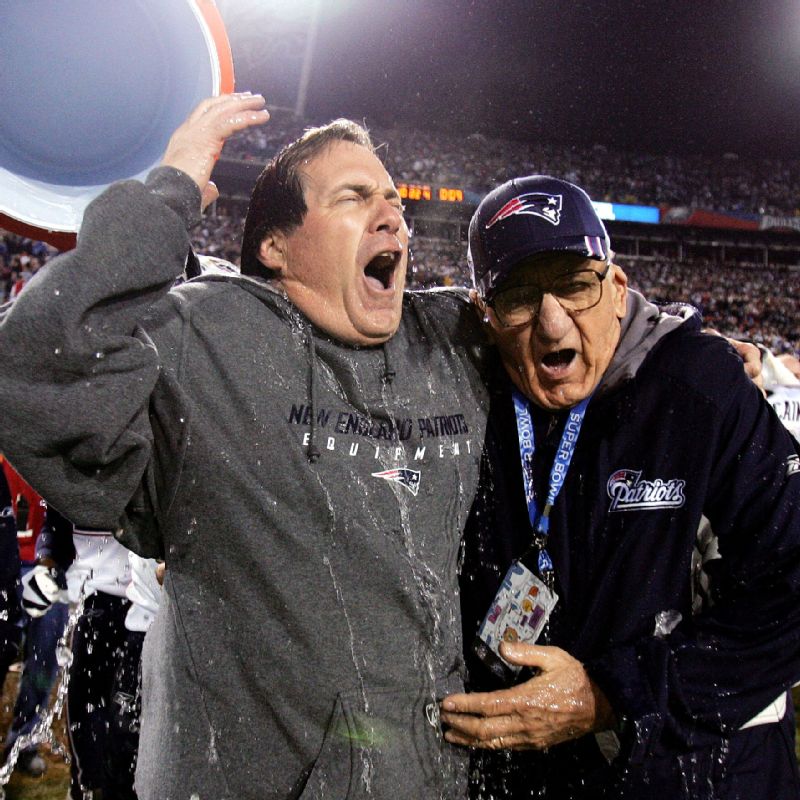 Could the Lombardi Trophy have a new name by the time Belichick retires? David J. Phillip/AP Photo
Former NFL Coach: "He will step across the line at any point he thinks he can get away with it. That [stuff] happens. It absolutely fits with the culture and the mindset there. It's all about winning, and when you're working 23 hours a day looking for every advantage and you have your whole life invested in the outcome of a football game, honestly, how long before you start to think, 'Well, if I go just a little bit further with pushing the envelope, what's the difference?' The harder you work and the more you're invested in it, the more you start to think like Bill and the easier it becomes to justify it."
Curtis Martin: "I don't think most people in the football world would see that as something that undermines his coaching ability. I see it as two separate things. It'll be hard for the controversies not to be mentioned. It may be a tagalong, but I don't think it defines him. It shouldn't take away what he's been able to accomplish."
Kevin Faulk: "It does take away from it. I'm not going to say it doesn't bother him, because we're all human, so, yes, he's going to think about it. He's not going to show it to you because that's just not him, but he cares. We all care. Because now you're talking about our legacy as a team, as an organization."
Amy Trask: "I consider Bill the best coach in NFL history, notwithstanding the other issues that have been raised."
John Harbaugh: "He's the best coach in football. I have great respect for him."
Rick Venturi: "I kneel at the altar of Vince Lombardi, Chuck Noll, Tom Landry and Bill Walsh, but he may go down as the best. Noll's Steelers were built in about a year and stayed the same for a decade. But what Bill's done, how he's been so good for so long — in an era of free agency and the salary cap, where everything is built to make everything equal — is absolutely amazing. Those of us in this business, even the ones who don't like him, can't help but respect what he's done."
Rosevelt Colvin: "Take away those Super Bowl losses to the Giants, or add one or two more in the next few years, and the debate about his legacy is easy: You have to start seriously thinking about renaming the Lombardi trophy after this dude."
ESPN reporters Todd Archer, Rich Cimini, Jeff Dickerson, Jeremy Fowler, Greg Garber, Jamison Hensley, Paul Kuharsky, Jeff Legwold, Ivan Maisel, Pat McManamon, Ian O'Connor, Mike Reiss, Michael Rothstein, Phil Sheridan, Mike Triplett and Mike Wells contributed to this report.

David FlemingDavid Fleming is a senior writer for ESPN.com and ESPN The Magazine.