This story appears in ESPN The Magazine's March 27 Analytics Issue. Subscribe today!
You're all alone, little man, and you're starting to think it was a mistake to board that plane. Ever since you walked off that jet bridge, people have been asking questions with their expressions: How did you get here? Who told you to come?
You're a skinny 16-year-old taking a trip by yourself for the first time, and you flew 2,100 miles from Los Angeles to Atlanta for a basketball camp, only to be told nobody knows who you are. The guy driving the shuttle from the airport to the hotel couldn't find your name on the players list, so you stand on the curb holding your suitcase and your confusion, deciding what to do next.
You've got the hotel's address on a piece of paper and enough money for a cab ride, and you're determined to get it straightened out.
This camp is one of the big ones for high school players, sponsored by a shoe company. You're here because your coach made a call, and he believed in you enough to convince someone important — someone you are right now trusting actually exists — that you belong here with all the best high school players in the country.
You get out of the cab and walk up to the camp's check-in table at the hotel, trying to look like you belong, trying to ignore the buzz in your head that says you might not. "Westbrook," you say. A lady runs her finger down the lists of names, flips through the papers with a concerned look and then starts back at the top. She asks again, and you try to keep it light by saying, "Westbrook — always at the end." You're trying to be cool, even as she winces. "Honey, I'm so sorry — you're not on the list."
You ask her to please check once more. She looks up at you with kindness, seeing your eyes widen in panic, and shrugs.
You make a phone call. "Coach, I'm not on the list." Back in Los Angeles, Reggie Morris doesn't sound all that surprised. "Sit tight," he says. "I'll figure it out."
And so you sit. And you wait, shifting your too-big, size-14 feet under your too-small, 6-foot body to shed the nervous energy. Hours pass. Just you and your suitcase. You watch the other players — the ones everybody here knows just by looking at them — leave their rooms and pass through the lobby on their way to the gym.
It's like these other guys are a different species. From where you sit, the entitlement comes off them like a smell. They have boxes of recruiting letters from all the top-shelf programs. They'll get smiles and bro-hugs from every tracksuited coach who swaggers into the gym. They're on a first-name basis with the shoe-company reps whose life goal is to compliment 16- and 17-year-olds long enough and loud enough that someday they'll sign up to wear the right logo.
You? You have letters back home too. You can count them on one hand.
Here's a dirty secret: You're a few months away from your 17th birthday, about to be a senior in high school, and you can't even dunk. You're getting there, though, you can feel it. The workouts with Pops — running the dunes at the beach, shooting at Jesse Owens Park near the house in Lawndale — have you closer to the rim. The hours spent shooting what Pops calls the cotton shot, a soft pull-up jumper that incongruously appears at the end of a full-speed drive, have given you a sneak attack against anyone bigger and stronger.
Four hours later, someone from the camp walks toward you, smiling. "All set," he says, handing over a shirt and a pair of shorts. The shirt goes to your knees, each armhole wide enough for both legs, and the shorts billow like a parachute when you run. You hold them out in front of you. "Sorry, that's all that's left," the guy says.
And so you show up to the gym late, and scraggly, and unknown, with Pops' mantra running through your head: Your only friend on the court is the ball. You wad all your anxieties and self-doubt into a ball and throw it at the court until a few of those important men in the tracksuits, unable to find you on the camp roster, feel compelled to ask who you are. It's not talent they're seeing but desire, and the sheer amount of space you manage to occupy with that 150-pound body.
The looks on their faces indicate something you've seen before, and something you'll see again: They have no idea what to make of you.
---
The task of describing Russell Westbrook's play this season, his ninth in the NBA, is a challenge readily accepted but rarely completed. His style is portrayed as angry, or vengeful, or enraged, or ferocious, but when I ask him if he feels all those primal emotions when he's playing, he says, "Not at all. I feel fine."
It's a funny line, and he delivers it with suitable nonchalance. I feel fine. There's a rubber bracelet on his wrist that expresses his attitude toward just about everything: Why not? It's his slogan-turned-koan-turned-trademark. It describes his shot selection, his fearlessness, his wardrobe. So yes — of course he feels fine. But he's not finished. He tilts that jaw, highlighted by whiskers that emerge like weeds through concrete, and says, "That's always the perception, that I don't have control and that I'm mad. I don't know why people say that — 'He looks angry, he looks mad.' No. I'm focused. I'm locked in on what's important, and the extraterrestrial stuff doesn't matter."
This first post-Kevin Durant season, this endless Jackson Pollock splashing across the court night after night, has been a refutation of limits and constraints. Westbrook, 28, was averaging an NBA-leading 31.7 points to go with 10.6 rebounds and 10.0 assists through March 6, putting him on pace to join Oscar Robertson as the only players to average a triple-double for a season. But the numbers belittle the experience. Throughout modern NBA history, triple-doubles have been memorialized, fetishized and sometimes trivialized — but never before have they been normalized. It is a surprise whenever Westbrook doesn't get a triple-double.
"I think people miss the point," says Oklahoma City Thunder general manager Sam Presti. "The thing I'm impressed with isn't the statistical accomplishments. What he's doing is more a feat of mental toughness and mental endurance."
Westbrook is a statistical aberration who manages to resist quantification. Watching him live and looking at the numbers, or even the highlights, is as different as swimming in the ocean and taking a shower. He is playing every game like he doesn't trust it to be there tomorrow. He rebounds like a power forward, flies through the lane with a blatant disregard for his body and accelerates off the dribble like a Bugatti. Asked how big he feels on the court, Westbrook, at 6-3 and 200 pounds, says, "As big as I need to be." Everything around him seems to diminish, as if this normal-sized man has the power to shrink the world around him.
Durant's decision to sign with the Golden State Warriors last summer, after playing alongside Westbrook for eight seasons, triggered a highly unfulfilling pseudo-feud. It also, in unexpected ways, granted Westbrook a measure of immunity. Even after Westbrook signed a three-year extension with the Thunder in August, nobody knew what to expect. Everyone had an idea, of course: Westbrook, set free of Durant's electromagnetic force, would spin off into his own orbit. His worst qualities — dominating the ball, taking bad shots early in the clock, force-feeding his teammates impossible passes in an attempt to rack up assists — would awaken the caustic grandpa in every basketball purist. Oh, he'd get his numbers, but the team would suffer. After all, history has not been kind to teams that lose a franchise player: The 2010-11 Cavaliers won 19 games after winning 61 the season before LeBron James left for Miami; the Heat won 37 after winning 54 in James' last season in Miami; New Orleans won 46 in Chris Paul's final season with the team, 21 the next.
Given that litany of failure, it's tempting to say the Thunder, playing with an outlet-store roster in a bespoke world, are joining Westbrook in making some sort of history. They were 35-28 through March 6, and it would take a massive late-season collapse for them to fall below the seventh seed in the Western Conference playoffs. Westbrook has taken a deeply flawed team and bent it toward his will.
---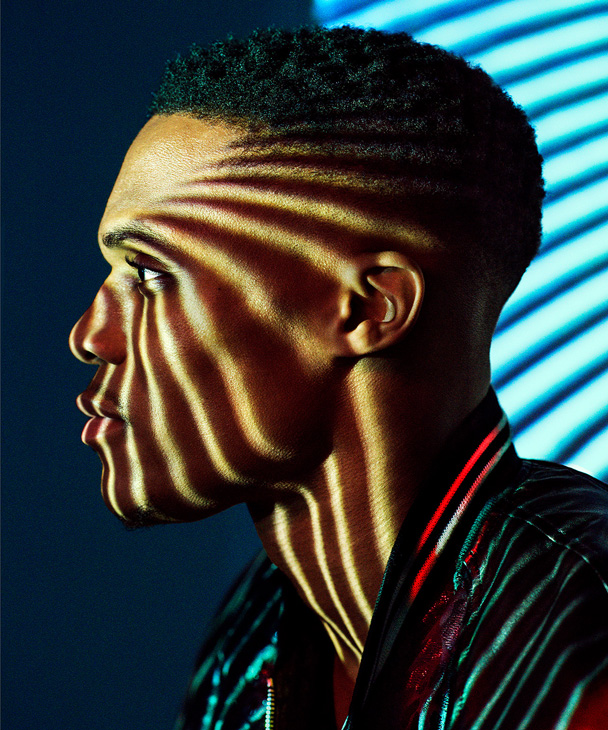 You're in the gym, little man, sitting on the bench, all alone, watching a group of college and pro players go through weeknight workouts at Leuzinger High. You're here because Coach Morris came to you after your sophomore year and delivered the workout schedule and a message: These guys are using the gym, and they could use an extra body.
Outside the gym, there's all kinds of garbage going on, which is why you're not out there. You and your brother hear gunshots every once in a while, and the sirens and helicopters are part of the South Central soundtrack, but you know what and whom to avoid. Pops works with you at the park when he's not working at the bread factory, and your mom is always there to talk about anything but basketball. At school you find your group, the guys who want to play ball and get good grades, and ignore the rest.
Coach Morris sees all that and more: how much it means to you; how you get on teammates when they're late for class; how you walk across the street from your house to do chores for Khelcey Barrs' grandmother after Khelcey — one of your best friends — died of an enlarged heart after a pickup game the year before.
At the gym, you watch while Tony Bland, home after a season in a Russian pro league, leads a group of pro and college players through workouts. They need you only every once in a while, to stand in on defense in five-on-five drills, but when they call, you hop up like a hero, firing your skinny-as-a-flagstick body off the bench. They try to post you up, these grown men, and you widen your stance and hold your ground and use all your available leverage to keep them from scoring. They think it's funny, cute even, the way you try so hard when it's clear you don't stand a chance.
A year passes, you hit 6 feet, and the guys come back to the gym. This time around, they're having trouble scoring on you. At first they pretend they're going easy, trying to be nice, but then they start to dog each other:
Man, Little Russ stopped you four times in a row.
You mean you can't get a shot off him?
Soon they invite you into the drills. These grown men, even the pros, start to treat you as an equal.
Four years later, when you get drafted at No. 4 by the Seattle Sonics, Bland will be an assistant at San Diego State, and he'll be clapping and yelling in the basketball office when your name is announced. When everyone else in the room calls the pick crazy, Bland will stand up and announce, "They have no idea what they're getting."
The image that pops into his head when he hears your name called has nothing to do with the player you've become. It's you sitting on that bench, waiting for a chance.
---