Outside the gates of a residential complex called Oak Bay, a construction frenzy tears up the central Chinese city of Wuhan, a metropolis of 11 million racing to catch up with Beijing and Shanghai. The aural assault of jackhammers and cement trucks fades at the walls of the complex. Inside, a leafy oasis of manicured grounds and winding red-brick walkways draws out residents for early morning tai chi sessions near the banks of the Yangtze River.
Among the 5,000 apartments, on a high-rise's 20th floor, lives Yan Xiaobing, a chemicals distributor with short, spiky hair. His wife, Hu Qi, operates an English tutoring business. Their social-media feed shows the couple and their two young children under blue skies at the beach and posing at landmarks in Europe and Japan. One photo shows Yan reading to pupils in a classroom.
In half-frame glasses, blue plastic house slippers and button-down shirt, Yan could have passed as an ordinary office worker when Bloomberg News reporters found him late last year. Filling the apartment doorway with his 6-foot frame, he expressed soft-spoken bafflement at the portrait the U.S. Justice Department paints of him: not a modest businessman, but a new type of international drug dealer. "This is horrifying," he said. "Their investigation must have gone wrong."
Federal prosecutors in Mississippi charged Yan, 41, in September with leading an empire built on the manufacture and sale of drugs related to fentanyl, one of the world's deadliest and most profitable narcotics. So strong that it's been studied as a chemical weapon, the drug has saturated American streets with breathtaking speed: It kills more people than any other opioid, including prescription pills and heroin, because it's so easy to overdose. Authorities say they have linked Yan and his 9W Technology Co. to more than 100 distributors across the U.S. and at least 20 other countries. Investigators expect scores of arrests as they dismantle his alleged network.
A month after the indictment, Deputy Attorney General Rod Rosenstein held a Washington news conference to shine a spotlight on Yan and another man, Zhang Jian, 39, who's accused of a similar scheme. Their indictments, Rosenstein told reporters, marked "a major milestone in our battle to stop deadly fentanyl from reaching the United States." 
Yan is the first Chinese national the U.S. has ever added to its "consolidated priority organization target" list of individuals thought to command the world's most prolific drug-trafficking and money-laundering networks. Investigators say his strategy was to offer fentanyl-like compounds called analogues — which differ slightly on a molecular level but produce similar effects — in order to exploit discrepancies between the laws in the U.S. and China. Rosenstein expressed optimism that his Chinese counterparts would hold Yan accountable.
But if Yan doesn't resemble a stereotypical drug lord, neither is fentanyl your average drug. It has upended how traffickers conduct business and how such activity gets policed. Bloomberg News examined hundreds of pages of court documents and government reports and interviewed drug dealers and law officers, retracing a byzantine path that took investigators from a Mississippi parking lot all the way to Wuhan.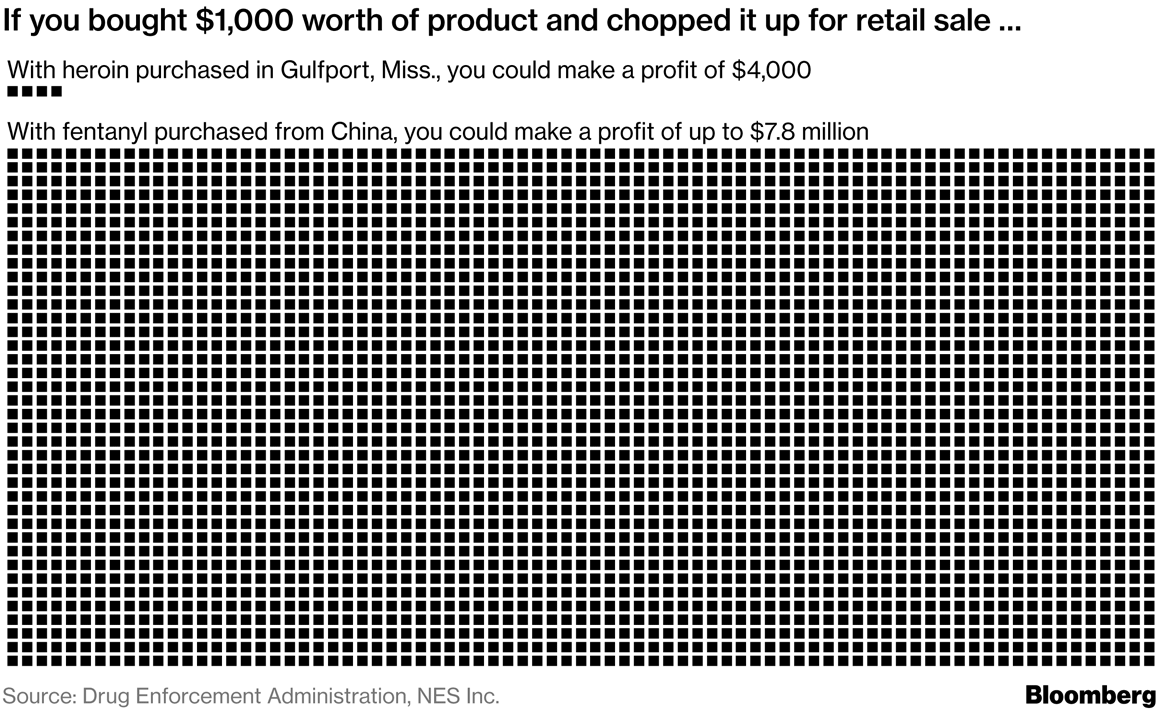 What emerged looked less like the movie fantasy of guns and fancy cars and more like an operation that brokers souvenir keychains or counterfeit cosmetics. It is barely more trouble to dispatch deadly drugs than any of the other goods Americans import from the country of 1.4 billion every day. 
The Drug Enforcement Administration might have never found Yan if not for a traffic stop in Ocean Springs, Mississippi on March 20, 2013. On an overcast Gulf Coast morning, Roslyn Demetrius Chapman, then 26, turned into the parking lot of the AT&T call center where she worked. A police officer suspected the windows of her silver Mitsubishi Galant were tinted too darkly, then found her license was suspended. He arrested her, and a search of her car turned up bags of synthetic marijuana and white powder.
Gulfport police Sergeant Adam Gibbons, a native New Yorker with a hockey player's build and buzz cut, was two towns over when he got the call. As a then-13-year veteran who split time between street patrols and investigations with a DEA task force, he had insight into the trade from top to bottom and an expertise in synthetic narcotics. He took the lead. His team searched Chapman's home and a storage unit, finding more synthetic marijuana, chemicals used to make it, U.S. Postal Service boxes, shipping labels, ledgers and receipts.
He and DEA intelligence analyst John Metcalf scoured Chapman's phone records, Facebook account and laptop. It looked like she was in love with someone named Rasheed Ali Muhammad in Bridgeport, Connecticut, whom she'd met on the phone through a mutual friend. They'd rendezvoused in Washington and New York and he'd gifted her shoes and Godiva chocolate. She'd gotten his name tattooed on her chest.
"Im all in with u baby," she wrote in one email, pledging to help him in "building an empire."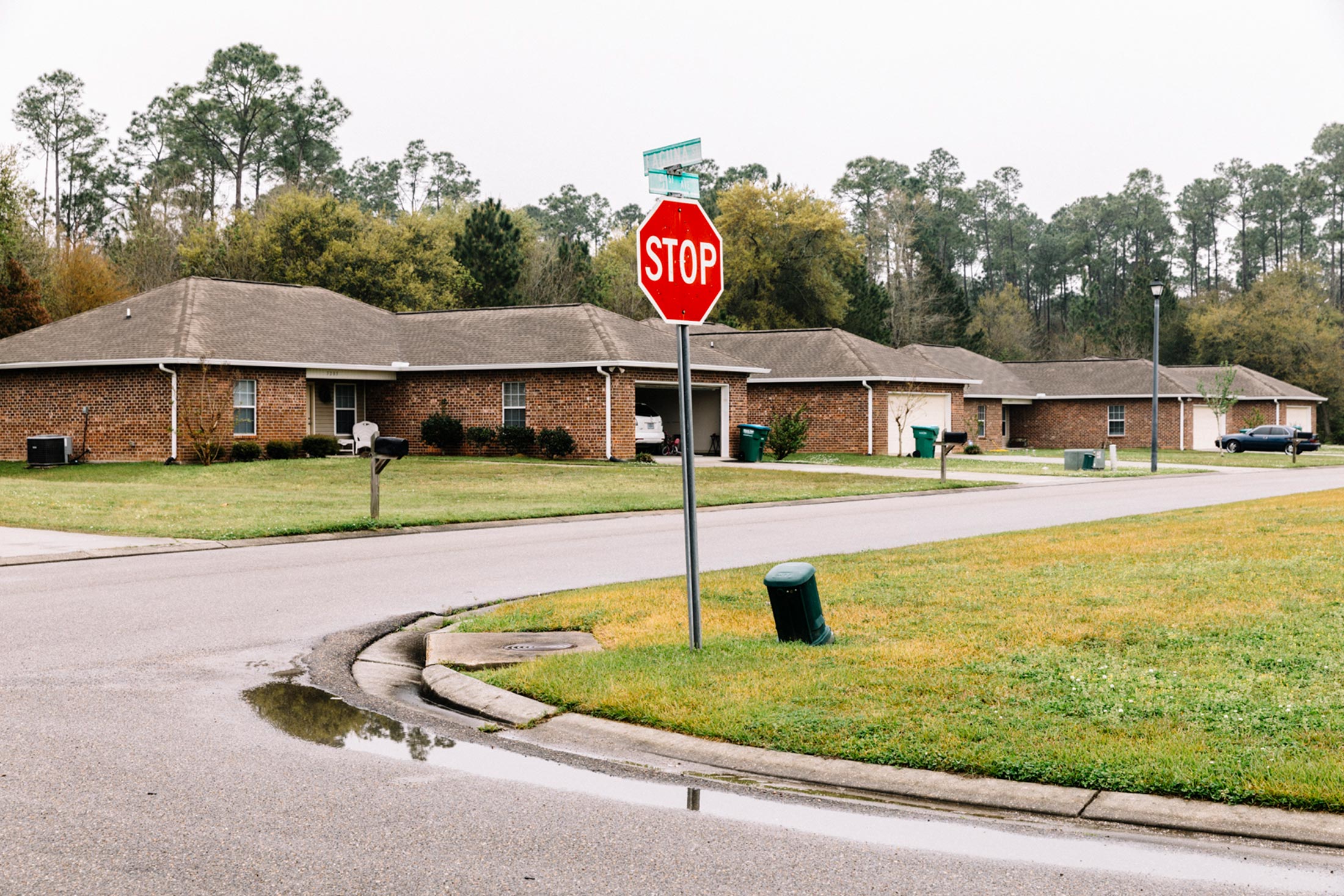 Chapman's home in Gulfport, Mississippi, where police found synthetic marijuana, chemicals used to make it, U.S. Postal Service boxes, shipping labels, ledgers and receipts.
Their so-called empire was an online operation that sold synthetic drugs known as spice, bath salts and flakka that mimic marijuana and stimulants. It wasn't some haphazard thing: They treated first-time customers to free samples and free shipping, took credit cards and PayPal, and provided next-day delivery, tracking numbers and 100-percent money-back guarantees. 
But where were the fake weed and bath salts coming from? Gibbons obtained a search warrant for a Yahoo email account created by Muhammad and spotted the drugs' source: Yan Xiaobing in Wuhan.
A Sept. 14, 2011, message to Yan read: "Can I pay to have this stuff shipped faster? I need this stuff like yesterday," referring to JWH 210, a synthetic cannabinoid. 
Using the alias William Zhou, Yan confirmed the shipment with a tracking number. "UPS is the fastest way to USA, we have tried our best to send it quickly and charge no extra fee," he wrote. A similar compound, he wrote, "is just out of stock, the new batch will be ready tonight, so we will send it tomorrow. Since September, the purchase amount are soaring, so we will increase human power and equipment to expand the production capacity." 
He signed it, "Best regards." 
On Aug. 10, 2012, Yan sent Muhammad's account a price list for 26 mind- and body-altering chemicals ranging from $1,400 to $3,600 per kilo.
(Chapman and Muhammad would later get prison sentences of nearly 17 and 120 years, respectively. In interviews, Muhammad, now 45, admitted to selling chemicals but said he did extensive research to remain within the law.)
Fentanyl wasn't on offer, but agents kept following the digital trails that have made it easier for people like Muhammad and Yan to enter the global drug trade and for investigators to hunt them down. Because Yan used Gmail, operated by U.S.-based Google, Gibbons and his team could persuade a judge to let them monitor his communications in real time. What they found broke the dam: Yan wasn't just selling fake weed and bath salts to Muhammad in Connecticut. Gibbons said he was peddling fentanyl analogues around the globe. 
"This guy has hooks all over the place," Gibbons recalled thinking as he traveled to New Orleans; Baltimore; Portsmouth, New Hampshire and dozens of other cities to track down buyers. Metcalf, the intelligence analyst, worked the international angle, alerting his counterparts about customers in Russia, Kuwait, Sweden, Brazil and 16 other countries. They went undercover as distributors, prompting Yan to send them seven shipments containing kilograms of fentanyl analogues and other synthetics. Yan labeled the packages as clothing, buttons, radios and cleaning supplies, and when Gibbons claimed that one had been confiscated by customs, Yan sent another for free.  
By the time of the indictment, investigators had tied Yan to at least two Chinese factories equipped to produce deadly chemical compounds by the ton. The indictment charges Yan with conspiring to manufacture and import 22 substances banned in the U.S. over six years beginning in 2010. Included on the list are four fentanyl analogues — none of which were illegal in China at the times he's accused of sending them to Mississippi.
That wasn't by accident, Gibbons said. "He stayed abreast of the law to stay ahead of it."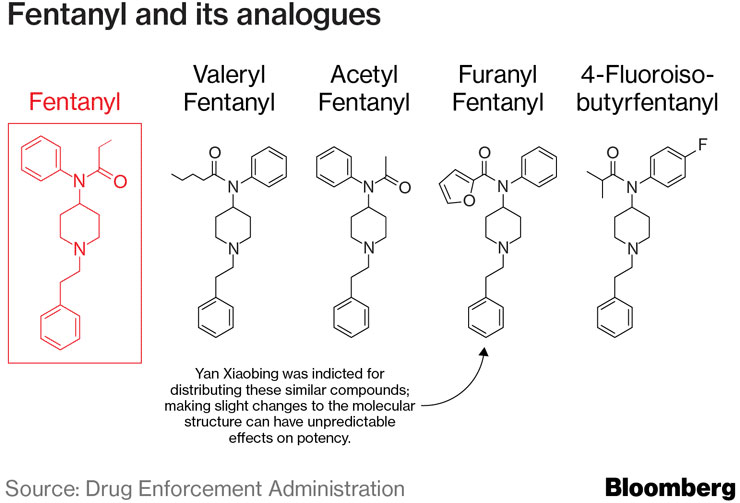 While the blossoming of fentanyl as an internet-era plague is new, the drug itself isn't.
Paul Janssen, the physician-founder of Janssen Pharmaceutica, now a unit of Johnson & Johnson, synthesized it in a Belgian laboratory in 1960. It is the world's strongest opioid approved for human medical use, soothing the most excruciating pain and helping to put surgical patients to sleep.
For years, fentanyl-related overdose deaths never exceeded a few thousand. Then, in 2014, the drugs killed more than 5,000 people. By September 2017, they accounted for more than 26,000 deaths, half the opioid total. One of the seeds of demand had been sown in the 1990s, when doctors began overprescribing legal painkillers like OxyContin. Abusers eventually turned to their stronger cousin, heroin. That in turn created an opening for dealers to offer fentanyl. 
The drug is potent almost beyond comprehension — and that's what changes the game. It's prescribed by the millionth of a gram. Two milligrams, the equivalent of seven poppy seeds, can kill. It's often crudely diluted, which makes it difficult for illicit users to determine how much they're consuming. 
The drug's rise has coincided with that of the dark web, encrypted messaging apps and cryptocurrencies like Bitcoin, all of which help manufacturers remain anonymous. They can transport hundreds of thousands of doses via the U.S. Postal Service or FedEx — slipping past law officers accustomed to tracing narcotics by the truckload.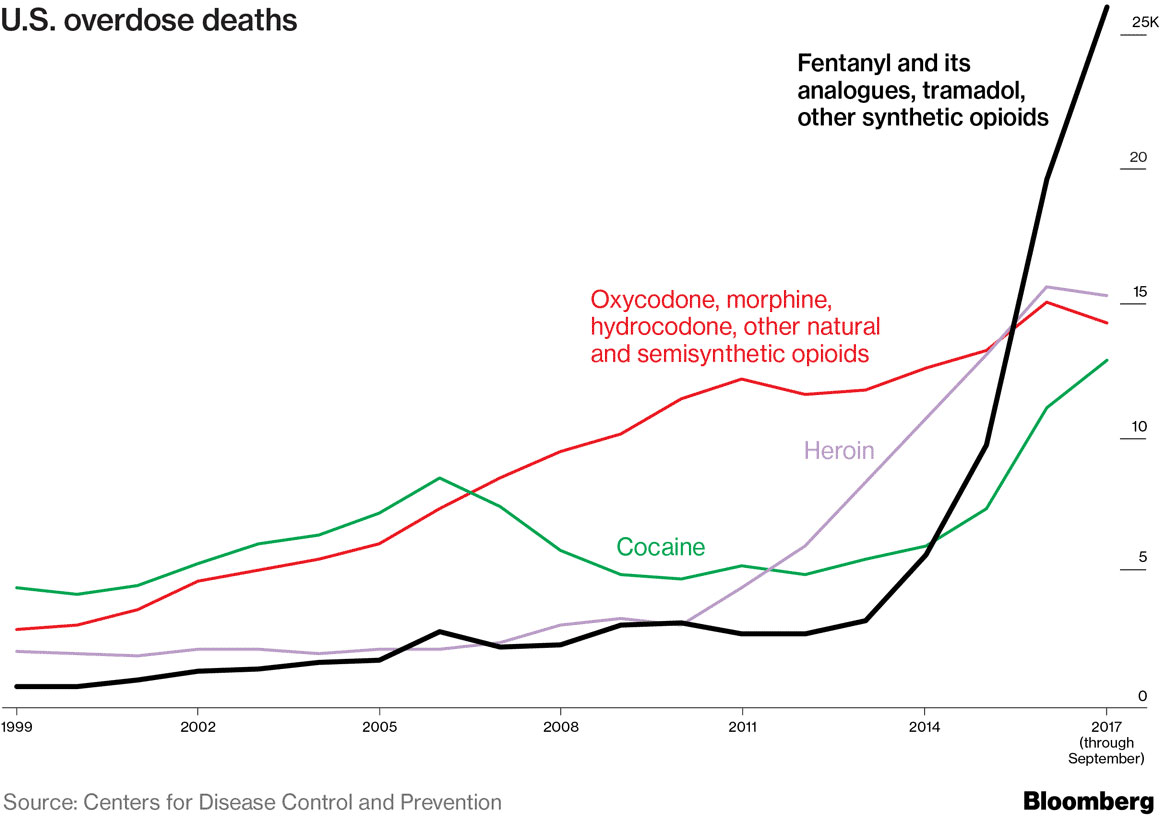 Fentanyl's astronomical profit margins have driven its rapid spread. When Gibbons and Metcalf went undercover, they bought a kilogram from China for $3,800, which, when turned into tablet form, could fetch on the street up to $30 million. Compare that with a kilo of heroin, which wholesales for about $50,000 in Gulfport and generates a profit of just $200,000. 
"Fentanyl is a smuggler's dream," said Scott Stewart, a former U.S. State Department special agent who's a vice president at Stratfor, a global intelligence firm. "It's compact. It's valuable. It's fantastic for the smugglers and it's terrible for law enforcement."
There's no need to grow vast fields of opium poppies, which must be defended against weather, competitors and government eyes. Raw materials and equipment are cheap. Synthesis takes about a week and requires neither heat nor skills more sophisticated than following a recipe. And in recent years, rogue chemists have unearthed instructions for analogues that researchers discovered decades ago but never put into legitimate use. Sellers offer these variations before governments can outlaw them. Potency and purity vary: One dose may produce a euphoric high, while another kills immediately.
Most fentanyl on America's streets isn't made for pharmaceutical use and then diverted. According to the DEA, it's illicitly manufactured in overseas laboratories. Mexican cartels play an increasingly prominent role, using networks established for heroin and methamphetamine. But U.S. officials say most originates in China, one of the world's top manufacturers and exporters of raw pharmaceutical ingredients.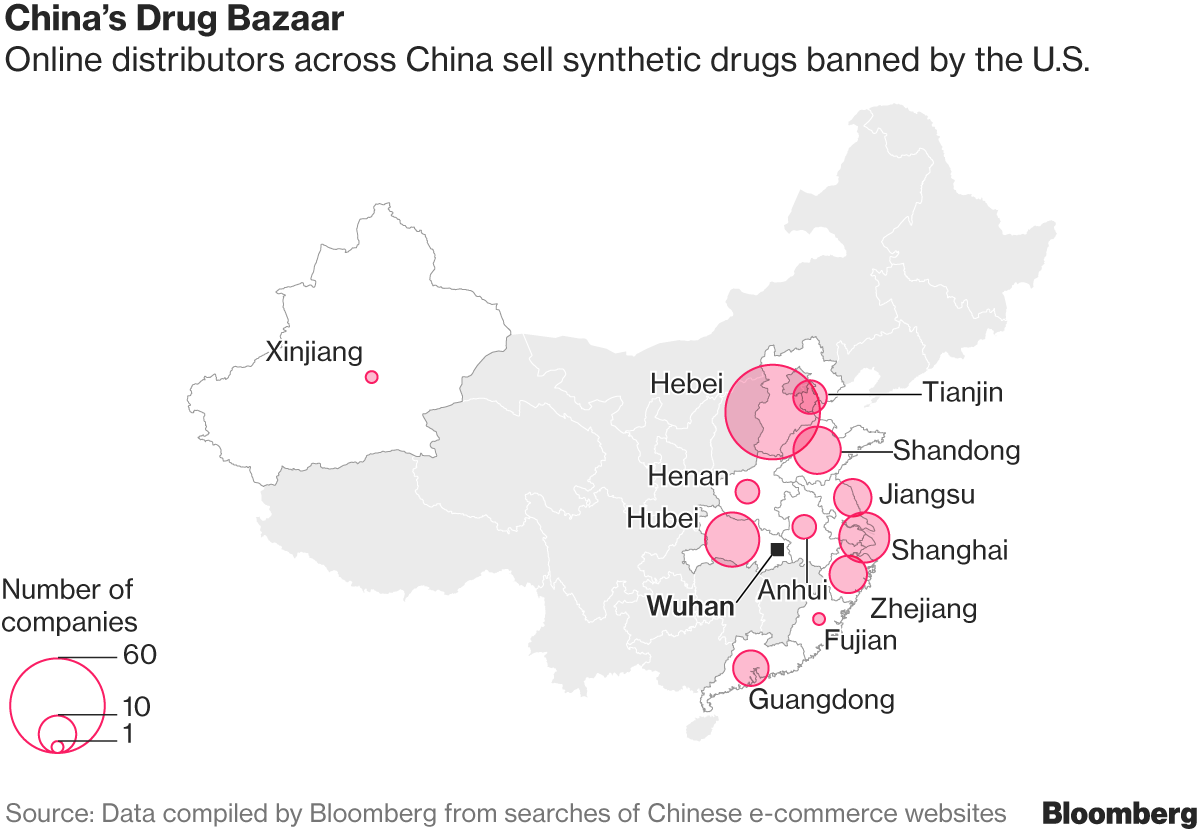 China has a fraught history with opium, dating to when foreign traders imported it in the mid-1800s. Widespread addiction followed, and attempts to stamp out the trade triggered two futile wars against the British. 
Today, the Chinese consume a fraction of the pharmaceutical opioids Americans do and are thought not to have much of an abuse problem as a result. Yet a market for synthetics flourishes, driven by demand abroad. A vast chemical industry operates there with little government oversight, according to the U.S.-China Economic and Security Review Commission, and can legally procure ingredients tightly regulated elsewhere.
While Chinese authorities control fentanyl, they've been slow to ban new analogues. And they didn't begin restricting fentanyl's two most common ingredients until this year, more than a decade after the U.S. In addition to clandestine operations, the DEA says, legitimate laboratories make the illicit opioid on the side. And unlike in the U.S., anyone can sell or purchase pill presses, which dealers use to trick addicts into thinking they're buying milder drugs like OxyContin when they're actually getting fentanyl. 
American officials speak in the language of diplomacy when they address China's cooperation. They applaud its addition of more than 130 synthetic drugs — including at least 10 fentanyl analogues — to its list of controlled substances since 2015. In Beijing, presidents Xi Jinping and Donald Trump in November discussed ways to enhance coordination on drugs and fentanyl in particular. 
But Chinese officials have dismissed the U.S. claim that most illicit fentanyl originates in their country. "The biggest difficulty China faces in opioid control is that such drugs are in enormous demand in the U.S.," Yu Haibin of the China National Narcotics Control Commission said in December, according to China Daily. 
The U.S. lacks leverage, said Markos Kounalakis, a visiting fellow at Stanford University's Hoover Institution. "The two countries play by different rules," he said. "What's bad for America is not necessarily bad for China."
The U.S. indictment paints Yan as a wily outlaw. In person, he has an answer for each accusation. Yes, he'd shipped fentanyl analogues and other compounds to the U.S., but that was before they became illegal in China, and he steered clear of others as they were banned.
"I don't know what they do with them after they get them," he said. "They might abuse it. That's one possibility."
No, he didn't knowingly sell substances illegal in the U.S. and no, Chinese law enforcement never contacted him. He learned of the allegations, he said, only when Bloomberg News emailed him. (At a police station across the street from Yan's apartment complex, a duty officer said he wasn't aware that one of America's most wanted men lived inside.)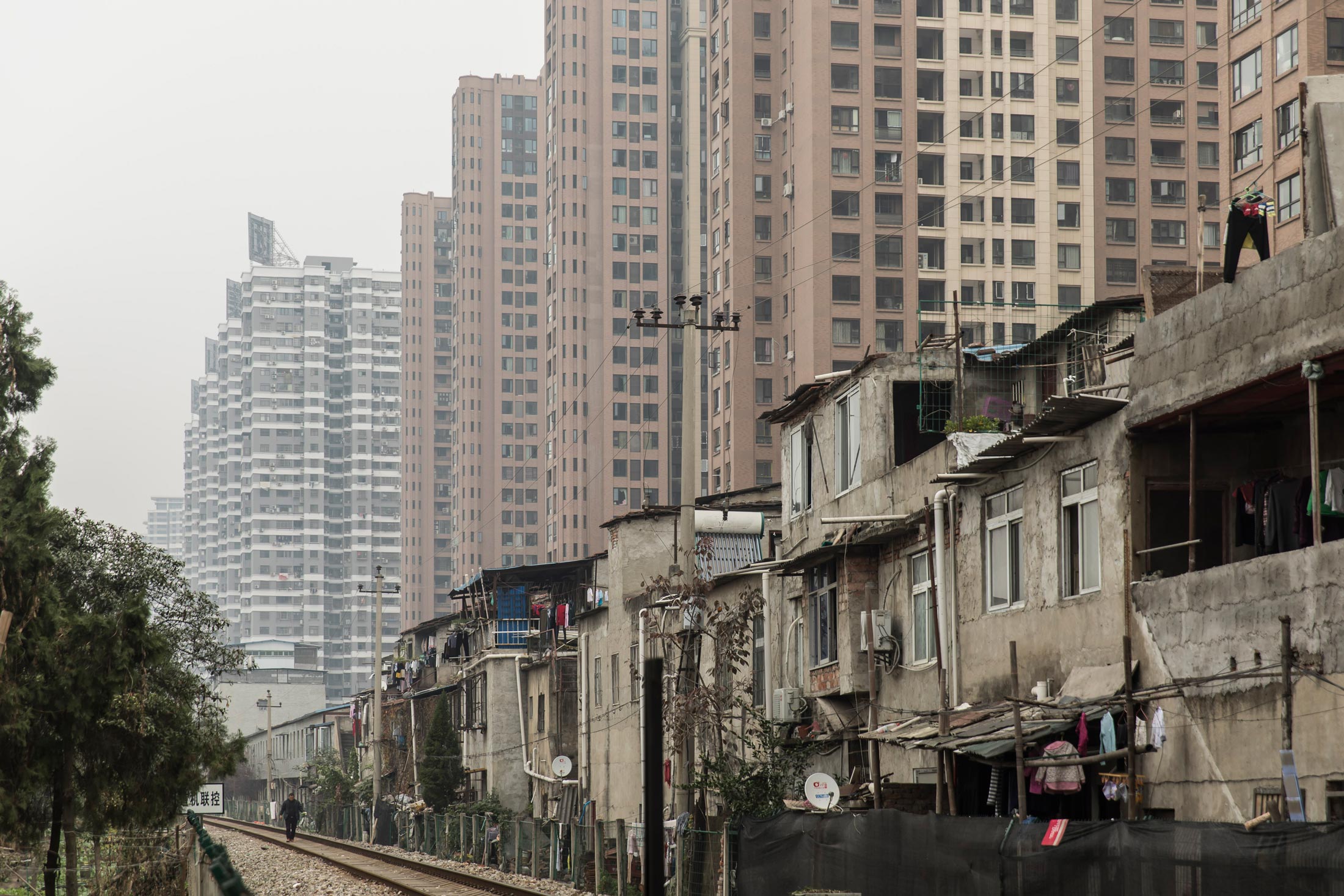 Oak Bay highrises in Wuhan, China.
Yan's company, 9W Technology, was renamed 5A Pharmatech Co. in March 2016, according to the Hong Kong Companies Registry. On its website, 5A last year listed headquarters in Wuhan and two factories: one specializing in bulk chemicals of up to 500 kilograms, and the other in "production of ton class." It boasted about providing raw ingredients for pharmaceutical giants including Pfizer Inc., Abbott Laboratories, Merck & Co. and Johnson & Johnson. 
Yan said those claims were only puffery that he'd hoped would make his business appear established. Instead, he said he was a mere broker. He purchased chemicals from Chinese labs, marketed them via the internet, used freight companies to ship them and received payment via international wire. He brushed off the aliases as a way to skirt a non-compete clause from a prior job. Bloomberg News was unable to verify any of his claims.
Yan said he has been essentially unemployed after unwinding his company because business was slow. His wife, Hu, continues to run her tutoring firm. She isn't named in the indictment, but incorporation documents identify her as the owner of the chemical company and emails that were used to send Chapman and Muhammed to prison show Yan arranging payments in her name. 
The couple initially agreed to interviews to clear their reputations. But in the weeks after, 5A Pharmatech's website disappeared and Yan stopped responding to emails. When Bloomberg reporters visited the high-rise office tower listed as an address for 5A, another company occupied the space and its workers said they'd never heard of the firm. In April, Hu filed papers to dissolve 5A Pharmatech.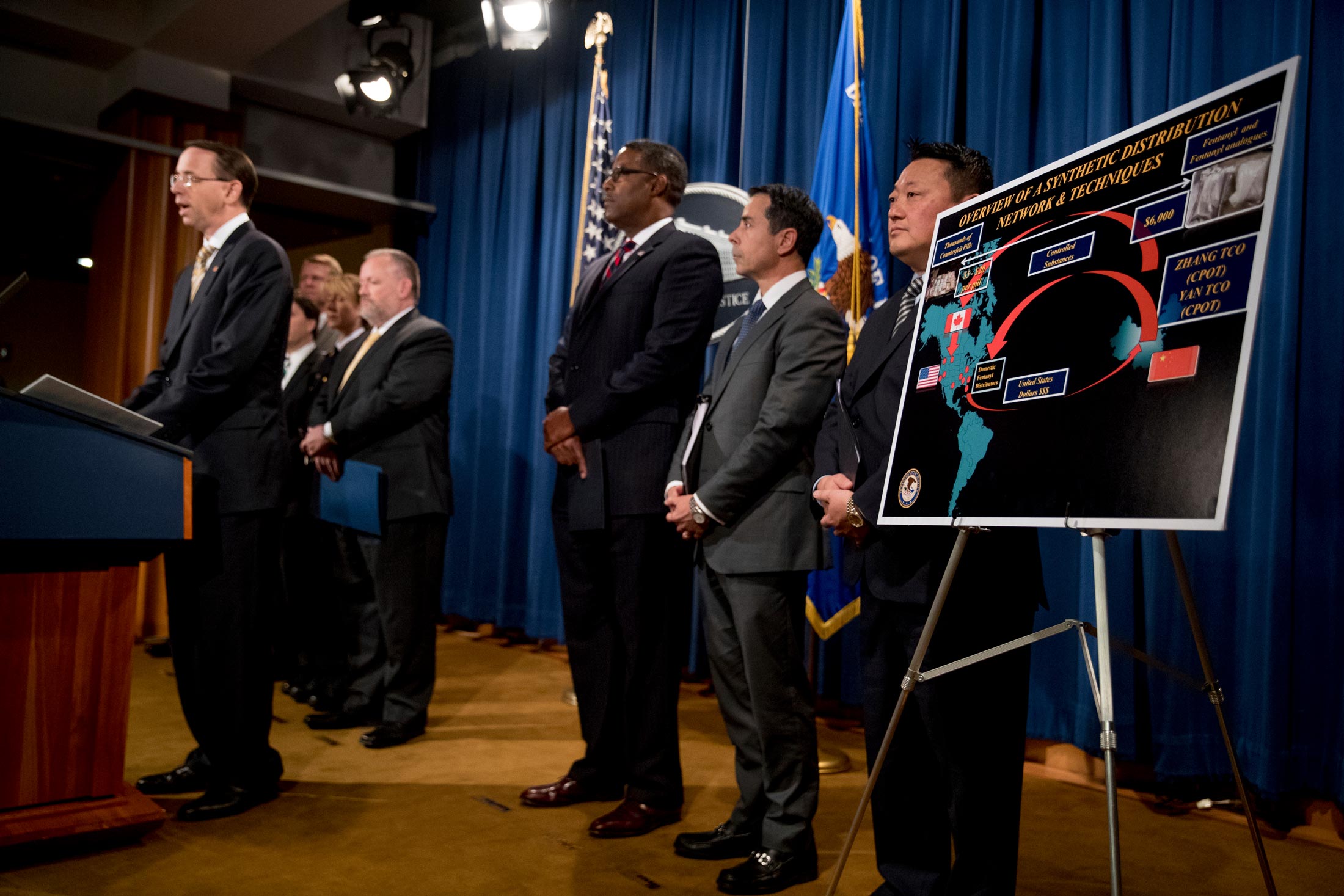 Deputy Attorney General Rod Rosenstein, left, accompanied by other law enforcement officials, speaks at a news conference at the Justice Department in Washington on Oct. 17, 2017, to announce the indictments of alleged Chinese fentanyl traffickers Yan Xiaobing and Zhang Jian.
Seven months after Rosenstein's press conference, China has extradited neither Yan nor the other accused kingpin, Zhang. And in a rare interview that aired in December, Yu of the Narcotics Control Commission told Vice that the U.S. failed to show that either man broke Chinese law. 
"We haven't reached a point to indict or arrest them yet," Yu said. "The U.S. unilaterally indicted these two Chinese nationals, which has caused practical difficulties in our subsequent investigation." The commission didn't respond to repeated requests for comment for this article.
With the DEA's powers to pursue suspects overseas limited, agents are working to break up domestic trafficking rings. Last month in an unrelated case, authorities in New England indicted 45 people and seized more than 30 kilograms of suspected fentanyl, two firearms and more than $500,000 cash.
While Yan will likely never see an American courtroom, let alone a prison, Gibbons and Metcalf haven't slowed down in Gulfport. They travel the country, educating colleagues on their techniques. Their spider maps of co-conspirators grow bigger as they write more affidavits, obtain more search warrants and comb through new troves of emails. Yan isn't the only target, even within his chemical company, Gibbons said. "He's one guy out of many."
— With assistance by Natalie Obiko Pearson, and Michael Smith