FOSSIL, Oregon—It can be a pretty depressing proposition to start counting the deaths in this tiny town set among the hills and buttes of central Oregon.
Sherian Asher, 74, began keeping track a few years ago, despite herself, until she realized the tally: Four deaths a month, in a town of 450. Then she stopped counting.
Fossil, Asher said, is "just going to die out."
Businesses are disappearing, too. There used to be four gas stations, three grocery stores, three car dealers, and a lumber mill. Now, there's just one restaurant in town open at night. The nearest hospital is more than an hour away, the nearest city, Bend, is two-and-a-half.
"You look up the definition of fossil in the dictionary, you'll find it's something that's been dead for a long time," Asher told me, as she sat under a parasol in the hot sun at a one-table farmer's market she runs with three of her closest friends, the youngest of whom is 68.
Fossil is the seat of Wheeler County, where the median age is 56, which is the highest of any county in Oregon. By contrast, the median age of Multnomah County, where Portland is located, is 36.1. From 2000 to 2013, the median age in Wheeler County rose from 48 to 56.
"People just keep having birthdays," Larry Snyder, 74, a white-haired and jolly friend of Asher's, joked.
Wheeler is also Oregon's least populous county, with just 1,300 people, and its whitest (94.3 percent of its residents are white). Being three and a half hours from Portland doesn't exactly attract very many people, especially young or non-white ones. After the Kinzua lumber mill closed in 1978, the town began bleeding jobs—today, there are only 347 full-time jobs in the whole county, not counting self-employment. This is a 42 percent decrease in wage and salary employment since 1970, according to an analysis by Headwaters Economics, a Bozeman, Montana-based consulting firm.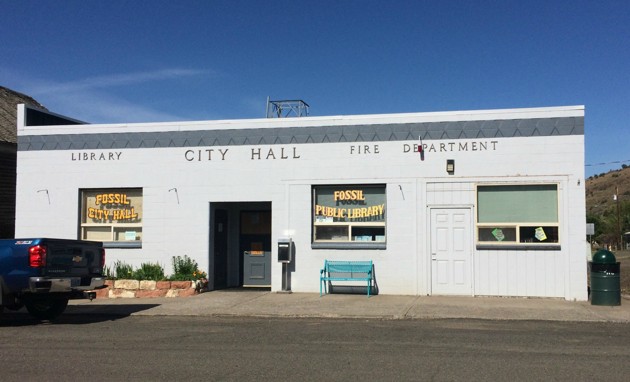 The school in Mitchell, a town in Wheeler even smaller than Fossil, has been able to stay open only because it recruited dozens of kids from foreign countries to study there and live in dorms for a semester or a year, boosting enrollment numbers. (Oregon's schools are funded based on enrollment.) The school in Fossil has opened a distance-learning program and many of its students live elsewhere and participate online. Some elementary school classes have only a few students.
But Fossil is not unique. Over the past two decades, as cities have become job centers that attract diverse young people, rural America has become older, whiter, and less populated. Between 2010 and 2014, rural areas lost an average of 33,000 people a year. Today, just 19 percent of Americans live in areas the Census department classifies as rural, down from 44 percent in 1930. But roughly one-quarter of seniors live in rural communities, and 21 of the 25 oldest counties in the United States are rural.
Population decline in rural America is especially concentrated in the West. There's a lot of wide-open land there, but most people, and young people especially, live in the cities. Half the jobs in Oregon, for example, are now in three counties in and around Portland, according to a study by Headwaters. Almost two-thirds of Utah's jobs are along the Wasatch Front, which runs from Salt Lake City to Provo.
The changing dynamics of the rural West have caused tensions; the standoff at the Malheur National Wildlife Refuge near Burns was just 200 miles south of here, in a county that, like Wheeler, had once prospered off the land. But while the Bundys had demands—they wanted the federal government to loosen restrictions on federal land—people in Wheeler County are a little less sure of what to do about their predicament. In fact, no one seems to have an answer for what's next as the county gets older and more sparsely populated.
This, not the attitude of the Bundys, is more typical of rural America. Those who live there tend to like it, but they're aging, and there aren't enough jobs to keep younger people around. So kids and grandkids move to the cities, coming back on holidays, inheriting their parents' homes and leaving them empty, wondering what will happen to the towns their parents say used to thrive. This is how rural America dies: not with a bang but a whimper.
* * *
When I met Adam Temple, he was watching water run down his alfalfa fields with a slightly befuddled expression on his face. His family has been farming this land for generations, but he's still learning how to keep the fields flat and when to plant the barley and peas and how a strike in Los Angeles can affect the hay market for the year.
Temple is not your typical Wheeler County farmer: He came back after leaving the area, living on the East Coast and serving in the Peace Corps. His grandfather needed some help around the farm, so he decided to give it a try.
Temple is one of a handful of multi-generational farmers still left in Wheeler County, though his farm looks different than his grandparents' did. They once had 100,000 acres and 12 employees—mostly cowboys—to herd cattle on the land. But the family sold most of its land back to the government, and now Temple has only about 1,000 acres, which he farms himself with the help of technology and a part-time hired hand. He recently started renting a house on his land via Airbnb to make some extra money. He's not sure what will happen to the land when he stops farming. His son likes to sleep in, and so probably won't become a farmer, Temple says.
Farming is just one of the industries in rural America that has changed dramatically over the past half-century. It is more automated than ever, and a farm can be run with far fewer people than ever before. In 1900, some 40 percent of the population worked in agriculture, a century later, only 2 percent did. Similar dynamics have overtaken logging, mining, and other resource extraction industries. In some ways, rural America, more than much of the rest of the country, is the victim of productivity gains. And in rural America, fewer other opportunities materialize to replace the jobs the machines take.
"In a lot of the industries [rural areas] have traditionally been dependent on, technical developments have replaced a lot of the jobs," said Don Albrecht, the director of the Western Rural Development Center at Utah State University Extension, about communities in the rural West.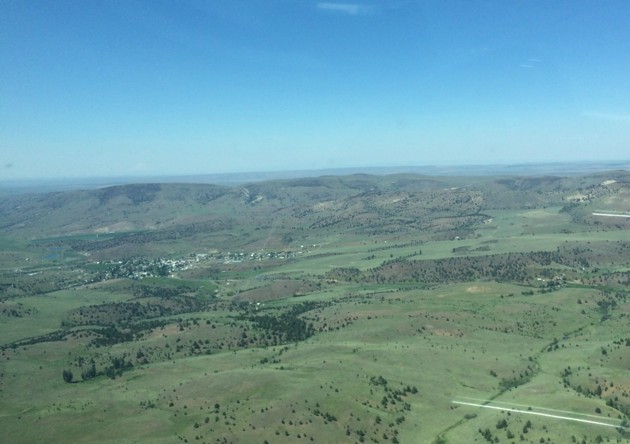 And as jobs automated and fewer people were needed to run farms and cut trees, one-time rural dwellers moved to the cities, where the pay was a lot higher and the opportunities were greater.
"They never came back," Albrecht said.
Shifting management of federal land has also changed the mix of jobs available, Albrecht said. The federal government owns 53 percent of the land in Oregon, and has reduced the amount of timber harvesting and grazing allowed on its lands in the past few decades.
Temple took me up in the small prop plane he keeps next to his tractor, and as we flew over his farm and the acres and acres of government land, we could see buttes and rolling green hills and a few small farms. Much of the land is owned by the government, Temple told me. From the air, we did not see many signs of humans. Temple pointed out Wheeler County's three towns, all small clusters of homes and buildings surrounded by giant expanses of open land. Then he flew over homes out in the country. People didn't live in most of them, he said, over the humming of the engine. They buy them as vacation homes and come out a few times a year from Portland or elsewhere, to hunt or to fish. Then they go back to the big city.
It's a big contrast to what Wheeler County used to be, he told me, when there were four brothels in town, according to his grandfather.
"It's not like young kids want to stay here," he said.
Temple introduced me to Jared Michel, a 19-year-old who moved back to Wheeler County to be near his father,  Temple's sole employee on the farm. Michel hasn't been able to find a job except for some part-time work repairing fences. He's trying to figure out if he can stay in Wheeler County.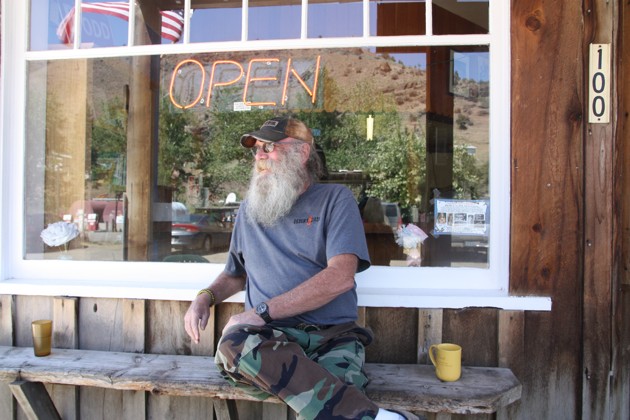 Same with Mickey Dodd's son, who just got out of basic training and moved back to Mitchell. Dodd runs the Mitchell Stage Stop, an old-timey café on the town's main street, which looks like a run-down version of a Disneyland old West ghost town. There's a secondhand store, the Stage Stop, and a Feed n' Farm grocery store. Most of the town consists of the half-dozen buildings on the main street with for-sale signs in front of them, a banner emblazoned across the front in red, PRICE REDUCED.
"The young people have no chance whatsoever of making it here," Dodd, who is 61, told me. "That's why the smart ones, when they finish high school, they leave."
For those that do find jobs, they tend not to pay very well. Average earnings per job in the county fell 60 percent to $14,614 between 1970 and today, according to Headwaters Economics. Wheeler County now has the lowest earnings per job of any county in Oregon.
But, while young people can't stay, old people can't leave. They own homes here, and as the population has dwindled, real-estate prices have dropped. If they sell their homes, the proceeds won't be enough to live in the cities, or buy a space in a nursing home or assisted-living facility.
"If we sold our house here, we'd have to live in a shack somewhere," Fossil resident Roger Morehead, 74, told me.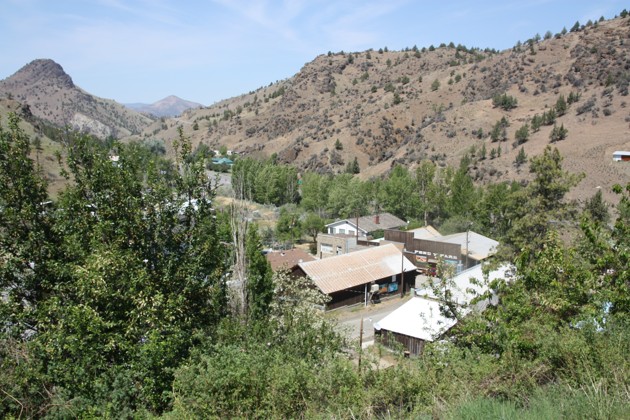 Much of the money coming into Wheeler County these days is from government benefits like Social Security and from stock dividends. Non-labor sources of income—things besides wages—were 58 percent of total income in the county in 2013, according to Headwaters.
The ratio of old to young people is bound to be a growing problem going forward, for Wheeler County and places like it. Marj Sharp, who runs Haven House, the assisted-living facility in Fossil, told me they're always short-staffed. It's difficult to find someone who is qualified, can pass a drug test, and who wants to work with the infirm for the pay offered. Haven House has only Certified Nursing Assistant on staff, and getting new people certified is a challenge, since the nearest training is 90 miles away and costs about $3,000. On the City of Fossil's website, there are two jobs listed. One is for a part-time on-call caregiver for Haven House. The other is for a part-time cook at Haven House.
"This is a good place to age. It's quiet and laid back," she told me. "But who is going to take care of you when you're here? That's always been a question."
* * *
The folks in Wheeler County have all sorts of ideas for how to stop their county's population from disappearing altogether. But many of those ideas revolve around restoring how things used to be—attracting a new lumber company or factory or whatnot.
"Older folks remember when it was a resource-based economy and they want it to stay that way," Anne Mitchell, a former county commissioner who now works for a rural economic-development consulting firm, told me.
But the county has had difficulty attracting small businesses, said Chris Perry, the county's judge. Wheeler is too far from major cities, it doesn't have broadband, and it barely has phone reception.
"We tried the low-hanging fruit, businesses with five to 10 employees or less, and even that's been a struggle," he said. "It's hard to keep an employee-base if there's no amenities like Walmart."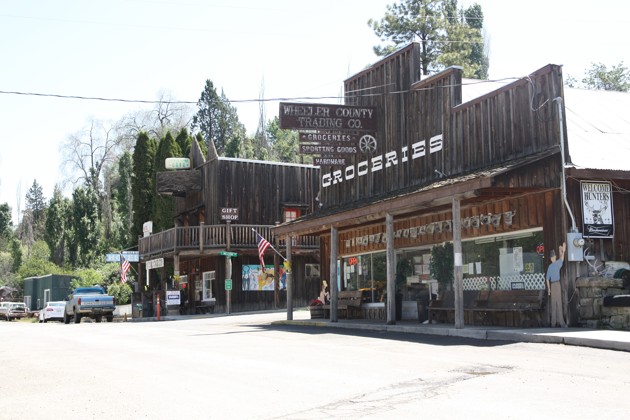 Now, locals are being urged to start their own businesses. Since 1970, the number of self-employed individuals grew 178 percent, according to Headwaters' analysis. And this is during a period of incredible decline. Locals have started businesses like small handmade salsa companies and microbreweries, Greg Smith, the head of the Wheeler County Economic Development Corporation, said.
"These folks are resilient," he said. "They're very self-sustaining, smart people, and they are going to make the decisions they need to make to continue living in frontier Oregon."
The tourism industry could create jobs in Wheeler, according to Chris Mehl, a Headwaters analyst, who says rural counties can turn protected federal land into tourism destinations. The John Day Fossil Beds National Monument in Wheeler County attracted more than 100,000 visitors in 2013, for instance, and Travel Oregon, the state tourism board, is promoting the Painted Hills, another Wheeler County landmark, in its Seven Wonders of Oregon campaign.
"When I look at it through rose-colored glasses, there's so much potential, all it takes is letting folks know they're truly open for business," said Ben Gordon, the stewardship director of the Oregon Natural Desert Association. His organization is supporting a bill to get a part of Wheeler County called the Sutton Mountain Wilderness area protected permanently by federal law (the area is currently categorized as a wilderness study area under control by the Bureau of Land Management).
But tourism is seasonal, and Oregon is full of areas with stunning natural resources that could draw tourists, not just far-off Wheeler.
Chris Mehl, of Headwaters, has another idea for how to grow Wheeler County's population. Property values are low, and so the county might be able to entice people living elsewhere to move to Wheeler County, where their money will go further.  They'll pay lower property tax rates here, and they'll have a nice, quiet lifestyle. They'll shop in the stores and hire plumbers and electricians and maybe even home care aides.
Mehl is talking about a very specific population, of course, one that already exists in Wheeler County and much of rural America. He wants the region to become a mecca for the elderly.