This year, Broadway boasted perhaps the most ethnically diverse season of the last decade. There were several musicals and one play play both created and performed by artists of color and other works that featured nonwhite actors in prominent roles. This season also included Broadway's first performer in a wheelchair - in a dance-heavy musical, no less. When the Tony nominations were announced, 14 of the 40 nominations in the acting categories went to actors of color, a welcome corrective to the #OscarsSoWhite trend.
But how diverse is Broadway really? And how welcoming is it to artists of colour? Last week, the Hollywood Reporter gathered seven nominated actors - Leslie Odom Jr, Jeff Daniels, Gabriel Byrne, Zachary Levi, Reed Birney, Danny Burstein and Alex Brightman - for a roundtable that often focused on the diversity of the season. That a panel concerned with diversity featured only one actor of color seemed telling enough. But more distressing were Odom's comments on his career prospects after Hamilton.
Odom has earned career-making reviews as Aaron Burr, the villain of Hamilton. But he was moved to comment: "If a white actor was having a similar situation as I'm having right now in this show, the kind of success of this show, there might be three or four offers a week for the next shows you're going to do. There are no shows for me to do. There's just no roles."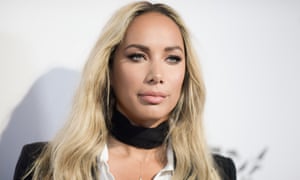 Leona Lewis: due to play Grizabella in the Broadway revival of the Andrew Lloyd Webber musical Cats. Photograph: Richard Shotwell/Invision/AP
This does not seem to be an exaggeration. The prospects for the next season don't look especially bright from the perspective of diversity. Of course, announcements of new projects will continue to roll in throughout the summer and fall, but as it stands, the season is once again focused on revivals and film adaptations - Les Liaisons Dangereuses, Falsettos, The Price, Groundhog Day, Hello, Dolly!, The Glass Menagerie, Charlie and the Chocolate Factory. With the exception of Cats, which recently announced Leona Lewis as Grizabella, and Miss Saigon, shows with actors of color in the primary roles seem unlikely (though Natasha, Pierre and the Great Comet of 1812, one of the few original pieces announced, does have an African-American female lead and performers of color cast in other parts).
Plays and musicals take years to come together, so it may be several seasons before we experience the knock-on effects of this one. But what will be the effect, exactly, and how successful was this season in terms of diversity? Leaving aside the Hamilton juggernaut, in which actors of varied ethnicities play founding fathers, lovers and rivals, box office receipts have been mixed. Allegiance and Amazing Grace both closed quickly. Eclipsed is hanging on. Shuffle Along, On Your Feet! and The Color Purple continue to do well. In sum, this should still be encouraging enough for producers to take a chance on more daring material requiring more diverse casts and it should encourage writers and composers, too. But if significant change comes at all, it may come slowly.
Why is this? Broadway is, for the most part, a for-profit business. Stars plucked from film and TV, industries that also have mixed records in terms of diversity, are often seen as necessary to sell shows, and a majority of those stars are white. So while this season saw James Earl Jones, Forest Whitaker, Jennifer Hudson and Lupita Nyong'o on the boards, it also saw Jeff Daniels, Michelle Williams, Jessica Lange, Gabriel Byrne, Jim Parsons, Jesse Tyler Ferguson, Matthew Broderick, Clive Owen, Linda Lavin, Judith Light, Keira Knightley, Bruce Willis and Al Pacino.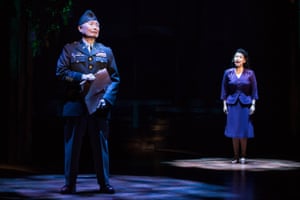 Lea Salonga and George Takei in Allegiance. Photograph: Matthew Murphy/AP
It's also important to note that while musicals, both new and revived, have recently shown a greater willingness to diversify their casting, straight plays have proven more resistant, whether out of a lack of imagination or a fear of alienating audiences, who expect a greater level of realism in drama, or so producers may assume. (Perhaps that assumption also holds true of musicals. During the roundtable, Zachary Levi defended the all-white cast of She Loves Me with the somewhat tone-deaf assertion that the musical "has a fully Caucasian cast because it takes place in Budapest in the 1930s, and that's what was written".)
With the notable exception of Eclipsed, set during the Liberian civil war and exclusively starring women of color, of the other new plays on offer, only The Humans managed to cast an actor of color in a major role, and Misery placed an African American actor in a minor one. In terms of revivals, The Gin Game and Hughie boasted famous actors of color in the lead roles, but of the rest, only Ivo van Hove's revival of The Crucible had an integrated cast.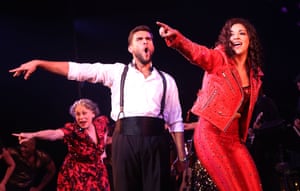 Josh Segarra as Emilio Estefan and Ana Villafañe as Gloria Estefan in On Your Feet! Photograph: Bruce Glikas/FilmMagic
Yet Ana Villafañe, who stars as Gloria Estefan in On Your Feet!, has felt the excitement of this season. On her way to work, she passes the marquees for Hamilton, Eclipsed, and Shuffle Along. "It's very powerful," she says. As a Hispanic woman, she spent years playing stereotypical roles. Her parents "were so tired of seeing me killed by a gang", she says, experiences which have made her especially proud to play Estefan, "who redefined what a Latina could look like" and be. She is proud to stand up among a cast of more than 30 Hispanic actors, particularly during a cultural moment "where Donald Trump is an actual thing", and to look out into the crowd at an audience comprised of "all shapes and colors and sizes".
She trusts that On Your Feet! will continue to run, and hopes that by the time she leaves it, there will be more opportunities for actors of color. "We want to see ourselves represented in the arts," she says. "And it would be a huge mistake not to keep making these opportunities for actors of color. Because there's a clear thirst for it." She also hopes that producers and casting directors will realize that she and women like her can play more than merely "the Latina with curly hair and the red dress". As she says: "These are not the only stories we can tell."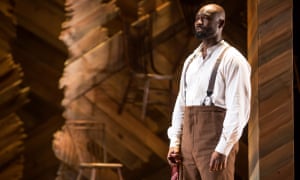 Isaiah Johnson in The Color Purple. Photograph: Matthew Murphy
Bernard Telsey, the head of Telsey + Company and a man who helped to pioneer color-conscious casting with the diverse ensemble of the original Rent, wonders why it is taking Broadway writers, directors, and producers so long to open themselves to performers of all ethnicities. "There's a lot of years between Rent and Hamilton," he notes. Telsey says that he and his fellow casting directors always welcome character descriptions that don't restrict ethnicity. "This is what we live for," he says. He wants more productions to think more imaginatively. Colorblind casting, he says, "needs to happen much more, even in stories that are not written by people of color. We need to make more strides." He suggested that encouraging people to think this way "is not as much of an uphill battle as it used to be".
But colorblind casting still isn't the norm. Jennifer Lim, an actor originally from Hong Kong who received excellent notices as the female lead in Chinglish a few years ago, has found very few Broadway roles to audition for in subsequent seasons. In straight plays, she has found few roles open to all ethnicities. "The opportunities aren't there," she says, and she tries "to not get bitter about it". She does hope that shows like Hamilton will prove a game-changer, contesting the idea that white audiences want to see mirrors of themselves or that color-conscious casting will confuse them. "As someone who did not grow up in this country and is not familiar with that era of American history, I had no problem following the story or getting emotionally invested," she says.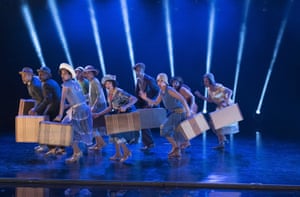 The cast of Shuffle Along, featuring Savion Glover, performs Pennsylvania Graveyard Shuffle. Photograph: NBC/Getty Images
When opportunities for performers of color do arise, the excitement is palpable. Craig Burns, a casting director at Telsey + Company, held open calls for the Asian American musical Allegiance last season and remembers "a feeling of celebration" during auditions. Burns describes this season as one "for the history books" in terms of its diversity and he believes its effects will last. "The industry seems to be juiced by this season and all of its variety," he wrote in an email. "Live theatre should reflect the world in which we live."
So what can producers and audiences do to bring that about? Isaiah Johnson, who stars as Mister in The Color Purple and is pleased "to be a part of this significant season", believes that producers should find new writers and encourage those writers to tell a variety of stories. "The reason we don't have more diverse programming is because we don't have enough producers seeking new works," he says. "The demographics of playwrights being produced, they aren't playwrights of color." Producers and directors can also make themselves more open to nontraditional casting and audiences can show support for productions that do assemble diverse casts.
This is essential if we want to keep talented artists of all ethnicities working on Broadway and in the theater more broadly. As Odom said in the roundtable: "I'll take care of myself. I'll be fine. I'll go do music. I'll go do TV. I'll go do what I have to do." He, too, clearly hopes that the success of Hamilton and shows like it will influence writers and producers further down the line, but perhaps it won't happen soon enough. "I'd be interested to see what the next two or three seasons look like," he said, "because I don't hear a whole lot of stuff."