Yesterday's announcement that production-based hypercars could race at Le Mans in 2020 has us thinking about the last time a road car won the famous 24-hour race. It was 20 years ago, and the car was a Porsche 911 GT1 driven by Allan McNish (in his first of three Le Mans wins), Laurent Aïello, and Stéphane Ortelli. This, the 66th running of the 24 Hours of Le Mans, was the last year of GT1, a class which allowed top-flight street-based cars to compete for overall wins.
Advertisement – Continue Reading Below
The idea behind GT1's creation in the mid-1990s was to get more road-based cars to Le Mans and other major races after Group C was priced out of existence. Putting emphasis on road cars rather than purpose-built prototypes would theoretically drive costs down for manufacturers looking to get into international sports-car racing.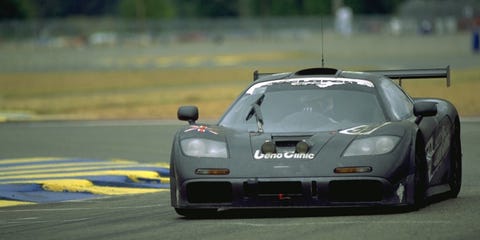 In 1995, the McLaren F1 GTR claimed a shock overall victory at Le Mans, signaling to everyone else that if they wanted to compete in GT1, they'd need to step up their game. This led to wild homologation specials.
As Jalopnik explains, the first was the Porsche 911 GT1, a thinly veiled prototype racer that only shared a handful of parts, and a passing resemblance with the street car it was named for. But cleverly, Porsche built a couple of road-going 911 GT1s, allowing it to enter the GT1 class. In its debut Le Mans appearance, the 911 GT1 placed second overall, while a Porsche-powered prototype won outright.
Advertisement – Continue Reading Below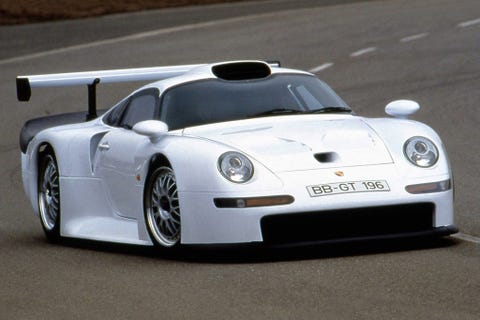 In 1997, the FIA created the GT Championship for production-based cars, and as a result, more automakers followed Porsche's lead in creating homologation-special GT1 machines. Two stand out—the Nissan R390 GT1 and the Mercedes-Benz CLK GTR, both of which were even more prototype-esque than the 911 GT1. It was those cars that set the stage for 1998.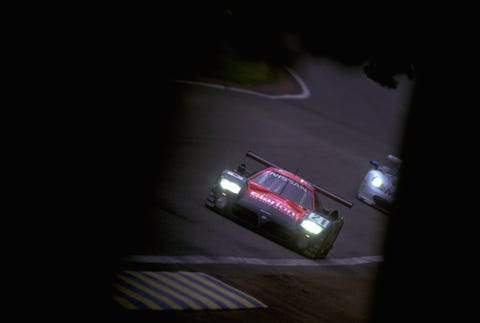 Advertisement – Continue Reading Below
Advertisement – Continue Reading Below
As Tiff Needell explains in a Le Mans 1998 recap on Top Gear, Mercedes and Toyota were the frontrunners. Mercedes developed the CLK GTR—which won 1997 FIA GT championship, but didn't race at Le Mans—into the V8-powered CLK-LM, and Toyota showed up with the stunning and not-at-all-a-street-car GT-One. Porsche, it seemed, was outgunned.
Click here if you can't see the video above.
But, mechanical problems plagued both the Mercedes and the Toyota, letting Porsche slide into the top two positions. The 911 GT1 wasn't as fast, but thanks to the incredible expertise of the Porsche team, and its proven, workhorse flat-six, it was the best car of the day.
Nissan didn't have the pace of Porsche, but it managed to take home third, fifth, sixth, and tenth with its squad of R390 GT1s. Fourth went to a McLaren F1 GTR—itself heavily modified for the 1997 season in response to Porsche—while a Ferrari 333SP was the sole prototype in the top-ten.
Advertisement – Continue Reading Below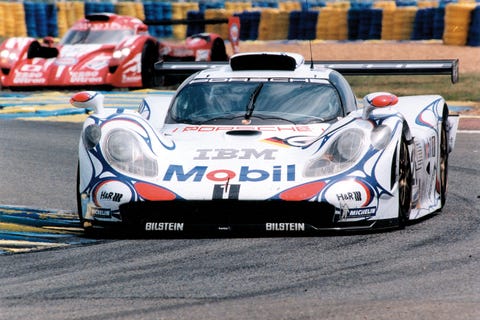 The cars of GT1 were incredible, still etched into the minds of endurance racing fans today, and for many, immortalized in Gran Turismo racing. But GT1 had to die.
Remember, this was a class created to drive costs down in top-level endurance racing with cars that were street-car first, race-car second. Porsche flipped that around with the 911 GT1, and everyone else followed suit, driving costs back up again. The 911 GT1 might technically have been the last road car to win Le Mans, but it was barely a road car. It was an echo of the same problem sports-car racing organizers had with Group C just a few years earlier.
Advertisement – Continue Reading Below
Advertisement – Continue Reading Below
And it draws a striking parallel to today. The Le Mans Prototypes (LMPs) that replaced GT1 cars became far too expensive in recent years, reaching a peak in 2016 where Porsche, Audi and Toyota all ran sports-car teams with F1-esque budgets. . .in a series with far less exposure than F1.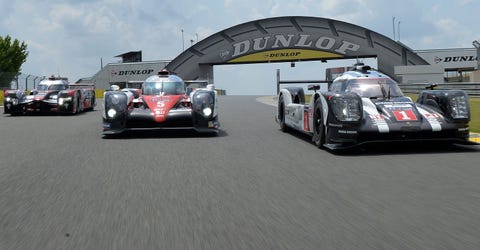 Those rising costs—combined, of course, with the VW Group's expensive diesel emissions-cheating scandal—pushed Audi and Porsche out of LMP1 in 2016 and 2017, respectively, leaving Toyota as the sole factory team in the class. The FIA was unable to attract any other automakers into the series to run against Toyota.
And that's why the FIA wants to slash LMP1 budgets by 75 percent for 2020, and allow production-based hypercars to run at Le Mans, and in the World Endurance Championship. Hopefully, that'll bring incredible machines like the Aston Martin Valkyrie and the McLaren Senna into the series.
Advertisement – Continue Reading Below
But you can't help but wonder if this will lead to the rise of homologation specials again. And maybe that's not such a bad thing. After all, the cars and the racing in GT1 was great, even if, perhaps, it wasn't sustainable.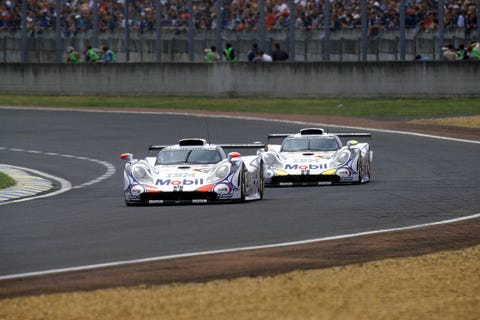 Porsche