Owls in stained glass at the Kogen-Miller Complex Alexander Vertikoff
The idiosyncratic art of Edgar Miller (1899-1993) has long been hidden behind closed doors. Finally, Chicagoans are getting more opportunities to see it.
Edgar Miller was a virtuoso in any medium he chose: painting, sculpture, stained glass, architecture, interior design, printmaking, metalwork, cutlery, graphic design. He put those prodigious skills toward building a creative community on Chicago's near-north side in the 1920s and beyond. Miller's handful of architecture projects (a series of live-work lofts) stretched the boundaries of the city's bohemian frontier, seeding a new hub for culture, art, and radical politics.
This output never earned Miller a place in Chicago's pantheon of culture. But now a non-profit, Edgar Miller Legacy, is celebrating his legacy and offering new ways for people to connect through Miller's work.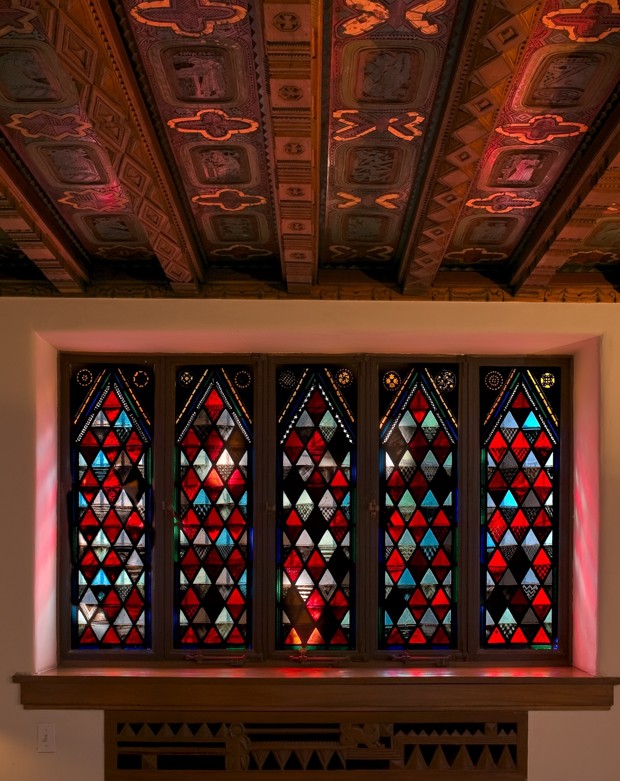 The entry room in the Glasner Studio (Alexander Vertikoff)
Miller was born 1899 in Idaho, just nine years after it became a state. He had the sort of free-range frontier childhood that's both illegal and impossible today. As kids, he and his brother would go camping for days in complete wilderness, sketching animals and plants. (He recalled attending a bonfire with a local tribe of Native Americans.) He developed a deep reverence for nature, evident across his work.
One of Miller's high-school teachers recognized his talent for art and arranged for him to attend the Art Institute of Chicago. He arrived in 1917 during city's golden age. The fastest-growing city in the world, Chicago was run by barons of capital who were very interested in burnishing their image with the finely crafted art that Miller could provide.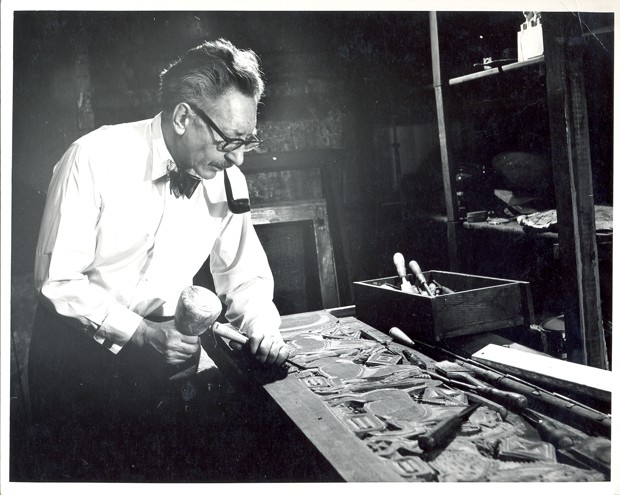 Edgar Miller carving a bench (Paul Hansen)
Miller was a committed workaholic, churning out movie posters and children's wallpaper. But he wasn't just a commercial craftsman. He had philosophical aspirations for the role art should play in life. At the Art Institute, this caused him to mount a revolt with fellow students, including close friend Sol Kogen. Eventually, Miller dropped out.
It wasn't much of a detriment. He learned many new skills at the shop of artist, sculptor, and industrial designer Alfonso Iannelli. And Miller became closely aligned with some of the city's premier architecture firms, such as Holabird & Root, contributing murals and installations to their projects.
Less lucrative, but more influential, was a wild idea that Kogen dreamed up. After spending down his stash of family money living in Paris, Kogen returned to Chicago in 1927 and proposed that he and Miller build a bohemian live-work artist complex like those he'd seen in Montmartre. Kogen, whose family owned a textile business, had just a portion of Miller's raw artistic talent, but compensated with a voluble and magnetic personality—a Gatsby-esque bon vivant to the quieter, more thoughtful Miller. Together, they had the connections and talent to pull together a new kind of artistic community in Chicago.
Their proto-hipster set was already being priced out of the Tower Town neighborhood just north of the Loop (named for the 1869 Water Tower, one of the few structures to survive the Great Chicago Fire), so they set their sights on the neighborhood that would become Old Town, then a working-class German and Armenian district. Zac Bleicher, executive director of Edgar Miller Legacy, calls the project "the brainchild of Sol Kogen, but with the artistic direction of Miller."
For this first venture—the Carl Street Studios—Kogen purchased an old mansion and converted it slowly, scrapping and saving, paying piece by piece. (Miller maintained until his death that Carl Street was still a work in progress.) Kogen would often salvage building materials off the back of a truck, and this handmade sense of upcycling persists. Many of Miller's stained-glass windows display scraps of glass with different patterns and textures, as if each had its own fingerprint. It's a mode that has been taken up again in Chicago by Theaster Gates, the contemporary multimedia artist, who uses the broken and discarded to create places for community within art.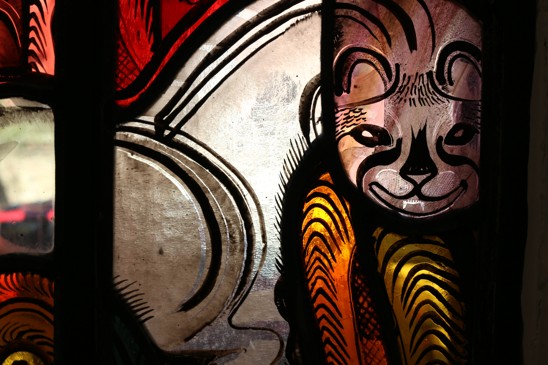 Weasel in stained glass at the Carl Street Studios (Zac Bleicher)
With the Carl Street Studios and later projects, Miller sought to create an environment of total art—and he, uniquely, had the skills to do this himself. He was decidedly a maximalist, painting antelopes on the plates you ate from, carving frolicking weasels into ceiling beams, and slicing Edenic figures out of metal silhouettes on windows. He wanted art to be an all-encompassing "social adventure."
Around this time, avant-garde Modernists in Europe were paring back architecture to a utilitarian and egalitarian ideal. This meant unadorned buildings of raw, abstract geometry. Miller, by contrast, craved representation his entire career. To him, a shared and definite understanding of the things around us was what bound people together.
With the Carl Street Studios and later projects, Miller sought to create an environment of total art—and he, uniquely, had the skills to do this himself.
Miller's highest expression of his ambitions was the Glasner Studio (part of the Kogen-Miller Complex), which now hosts Edgar Miller Legacy's headquarters. For arts patron and manufacturing magnate Rudolph Glasner, Miller built an art refuge topped by a third-story "ballroom" that, with its graceful ceiling beams, is equal parts stick-built chapel and medieval mead hall. It's hard to imagine a better place for a ripping good dinner party with fringy artists and outcasts.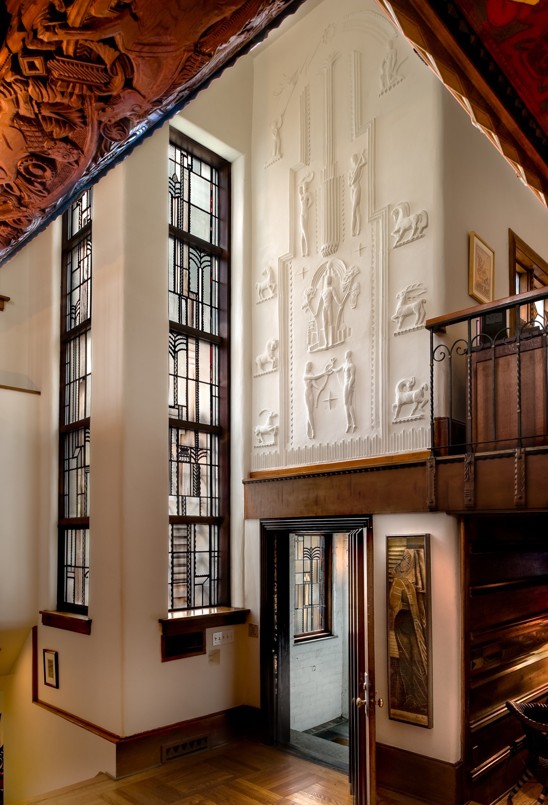 The entry to the Glasner Studio (Alexander Vertikoff)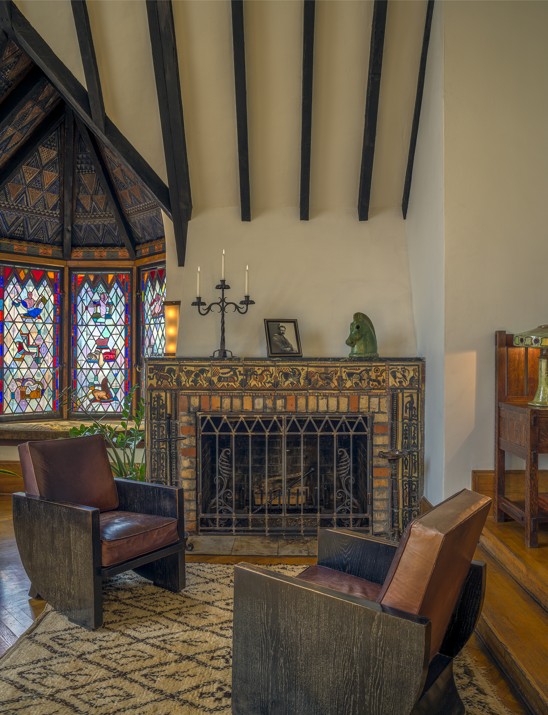 The third floor of the Glasner Studio (James Caulfield)
Lots of artist-studio conversions popped up in Old Town in Miller's wake, and a sense of countercultural community pervaded the entire neighborhood. It was a constant presence at the Glasner Studio, no matter how many clumsy renovations it suffered. Through the late 1960s, it was something of a lefty and revolutionary hangout, often at the behest of reformed socialite Lucy Hassell Montgomery, who used her second husband's Post Cereals company fortune to fund the Civil Rights Movement. Fred Hampton hid from the police here two months before he was assassinated. George McGovern and Jane Fonda stopped by; free jazz explorers Sun Ra and the AACM played private shows.
From 1927 to 1937, Miller lived mostly at the Carl Street Studios. He remained in Chicago and supported himself by his art until the late 1960s, when he went into semi-retirement and moved to Florida to buy and operate a hotel. After his wife died, he moved to San Francisco to live with his children. He largely faded from view until several artists familiar with his work sought him out in California. They celebrated his eventual homecoming in 1986, when Miller came back to Chicago, moved into one of his old buildings, and started working again. He died in 1993. Edgar Miller Legacy was founded in 2014, after Bleicher's uncle Mark Mamolen restored the Glasner Studio.
Unlike Frank Lloyd Wright and Mies van der Rohe, Miller didn't teach; he had no acolytes to perpetuate his legend.
Miller's low historical profile is a result of temperament, geography, and the ascendance of Modernism everywhere. Unlike the Chicago luminaries Frank Lloyd Wright and Mies van der Rohe, Miller didn't teach; he had no acolytes to perpetuate his legend. His few buildings are difficult-to-access private residences. The Glasner Studio "is his greatest work," said Bleicher as we sat in it, "and we are [two] of thousands—two thousand, maybe—that have ever seen it." Also, Miller never had access to the New York City public-relations machine that boosted the fortunes of many artists of his era. Edgar Miller Legacy does occasionally open up his buildings for tours. Miller's Fisher Apartments are now a Chicago landmark, and the Carl Street Studios are part of The West Burton Place Historic District.
Miller was never a card-carrying member of the Modernist revolution, but he always saw himself as a progressive. Like the Modernists, he was enamored with machine-age construction and fabrication techniques, but he didn't approve of perpetuating uniform space. He craved idiosyncrasy and diversity. He was more aligned with the Arts and Crafts movement of the late 19th century. He distrusted Abstract Expressionism as being hopelessly self-obsessed: What could be derived from Jackson Pollock's splatters of paint beyond the artist's own peculiar mindset?
Miller largely failed to get his work into the galleries that would have earned him wider exposure and a more durable legacy. He was an artist's artist and an architect's architect. Being shut out by cultural arbiters was a source of some bitterness and cynicism.
He preferred animals and children to adults, and put animals on everything: stairway bannisters, bas-relief sculptures, and stained glass. His depictions of ibex, horses, wolves, goats, and owls are playful and abstracted, but there's a sense of ancient history to them. They could adorn a Viking map of the New World, and would look at home on a totem pole.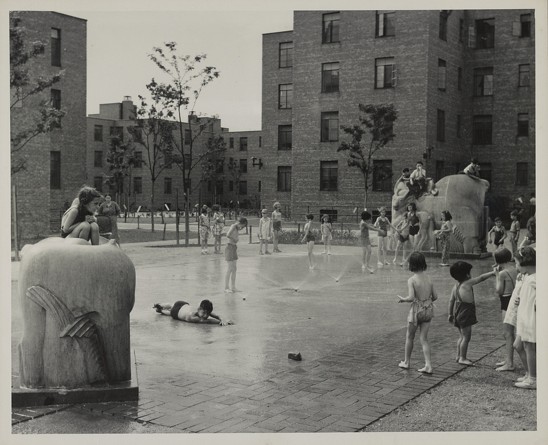 Children playing on Miller's animal sculptures at the Jane Addams Homes, public housing built by the Works Progress Administration, in 1938 (Peter Sekaer, United States Housing Authority/Library of Congress)
Miller illustrated books for his own children, and kids, Bleicher said, "so easily connect with [Miller] in a way that adults don't, because they're trying to intellectualize it too much. Miller's aesthetic philosophy is about trying new things and pushing boundaries, so it's a great story for kids."
That's a summation that Charlie Branda agrees with. She's the president and founder of Art on Sedgwick, which offers art classes and programming to kids and adults in the Old Town neighborhood, serving its many affluent neighbors (if Miller was gentrifier, his work is long since done) and the sizable minority of subsidized-housing residents at the Marshall Field Garden Apartments. "When you're doing something creative, you're starting to imagine possibilities that you wouldn't have thought of, especially if it's groups of people who are largely separated," Branda said.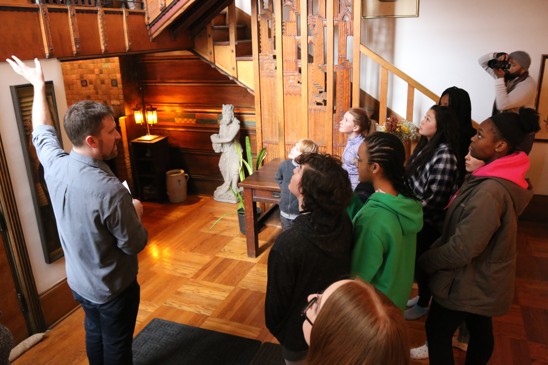 (Edgar Miller Legacy)
Working with local public and private schools, Art on Sedgwick and Edgar Miller Legacy have hosted tours of the Glasner Studio and walked kids through workshops on some of Miller's preferred mediums: stained glass (rendered for kids in transparent plastic and paper), clay, and print-making. The children's Miller-inspired artworks were collected and displayed at Art on Sedgwick's annual art show earlier this month.
Sharon Bladholm, the artist-in-residence leading some of the workshops, knew Miller after his return to Chicago. "Like Edgar, I work with a whole bunch of different materials," she said, and she is also largely self-taught. "I was inspired by Edgar at a really young age. To me, it was really cool to be passing along this legacy."
In ultra-segregated Chicago, it often seems that pride in the city is the only thing held in common across racial and class boundaries. The quiet legacy of Edgar Miller seems like a perfect shared secret—although it may not be a secret much longer.