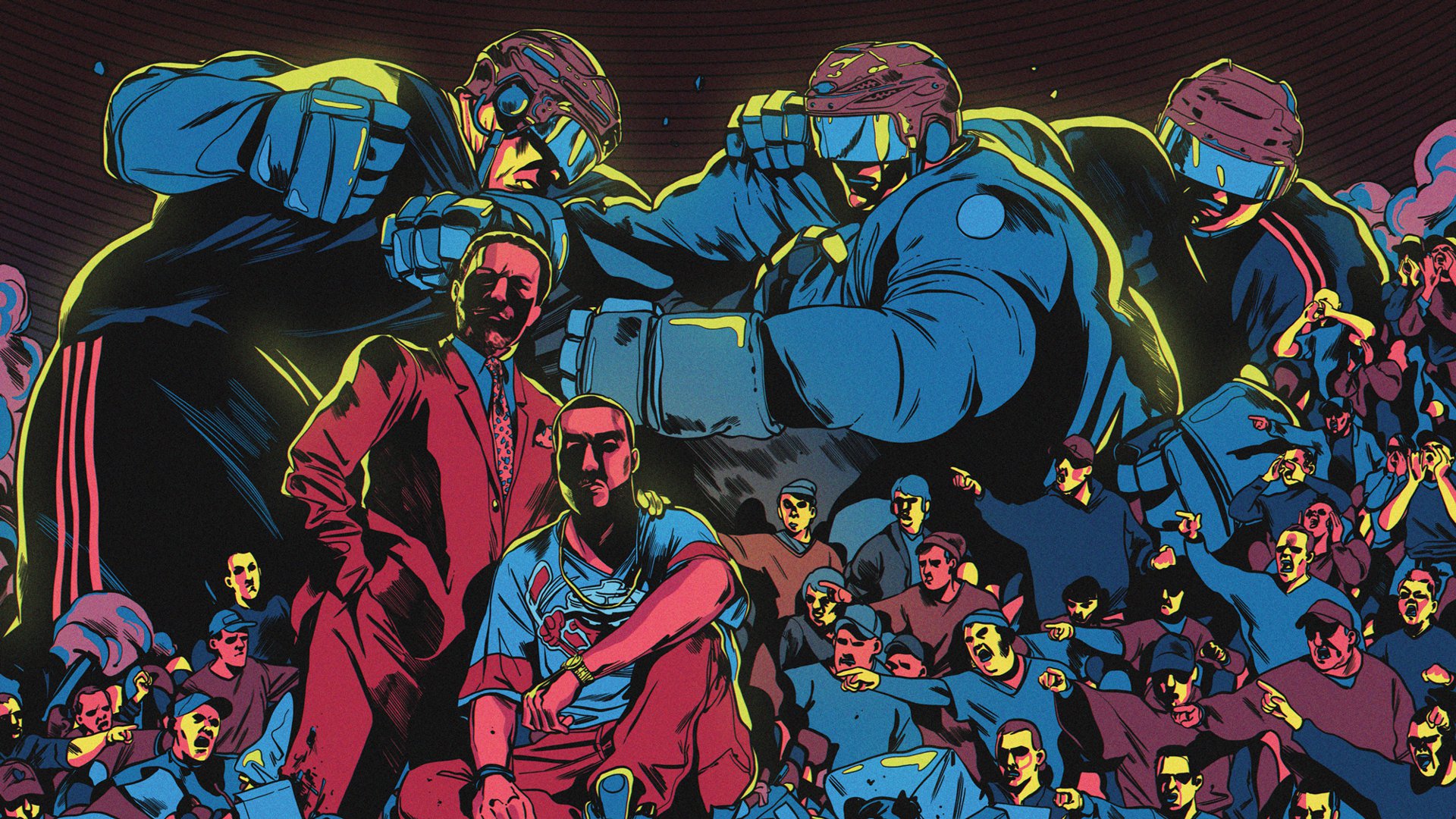 Paul Lacolley
There's nothing sadder than a small city.
A small town has its lawns and picket fences and wholesome values, a big town its go-getters and civic fathers. A big city has its strivers and fine food and bright lights. But a small city, full of drifters and vacant lots, faded Victorian houses lining its weed-buckled streets, is ruinously sad. Such a city will have many of the bad elements of a metropolis and few of the good. It will have desperate people, lost causes, and crime. It will have mobsters.
Danbury, Connecticut, is the ultimate small city.
Depending on whom you ask, Jimmy Galante was either one of its mobsters or a legit businessman whose waste-removal company had become associated with the Mafia. The New York Times described him as "a Danbury trash hauler suspected of mob ties" who had a story "right out of 'The Sopranos.' "
Yet in some ways Galante's biography seemed unlike that of a traditional hood. He was born in the Bronx but grew up in bucolic South Salem, New York; did a stint in the Air Force; and then took a job driving a garbage truck. In the mid-to-late 1970s, he started his own company, Automated Waste Disposal, and by 2004, he'd built it into a trash-collection empire of companies valued at about $100 million. Though he lived with his wife and two children in suburban New Fairfield, he was beloved in nearby Danbury, where he had his office. Galante was a philanthropist; a pediatric suite in the emergency department of Danbury Hospital was named for his family.
However, he'd been to prison for tax evasion. And, according to court papers filed by the U.S. Attorney's office, his business disputes occasionally ended in violence:
For nearly two decades, Galante's enterprise promoted a climate of fear through violence, threats of violence, economic sanctions and threats of economic sanctions. For instance, Galante and a few trusted associates burned a competitor's truck in 1992—after first binding the driver—to send a message to stay out of the Connecticut market, and in 2006, damaged the tires of a competitor's truck after that carter refused to back down on a $50/month account.
But Jimmy Galante was smart, and the G-men could never quite nail him. He did have a weakness, though. Now and then, he liked to make an elaborate gesture, something attention-getting. In 2004, this meant buying a minor-league-hockey franchise and installing it at the local youth rink, the Danbury Ice Arena. Some say he did it as a civic benefactor, to give a depressed city something to rally around. ("I wanted to bring something back to the community," Galante told me when I spoke with him in February.) Some say he did it for the same reason he owned a race-car squad: He loved to compete.
Everyone, however, agrees that he did it at least in part for his son, AJ, who was 17. A senior at New Fairfield High, AJ had been an alternate captain of his school's hockey team, which played at the Danbury Ice Arena with Jimmy often in attendance. Then AJ had gotten hurt. "He was a defenseman and hit a kid," Galante said. "It was a clean shot ...[but] they came right at AJ, and he had a very severe knee injury, couldn't play hockey anymore. Like any father, you want to be able to do something for your son."
As AJ explained it to me: "It happened at dinner. My father said, out of nowhere, 'If I ever buy a hockey team, you're going to run it.' I was like, 'Yeah, sure.' Then, two days later, he said, 'Okay, I bought the team.' " True to his word, Galante made his son the team's general manager. AJ did one of his first press calls on a cellphone in a New Fairfield High School hallway, the interview ending abruptly when a teacher walked by.
The story of Galante's team has become legend in Fairfield County, where I live. I first heard it from a father on the sidelines of a Little League game soon after I moved in. I hear it again every time my son Micah's Squirt Division travel team plays a home game at the Danbury arena. On such nights, I suppose I'm just like Galante was, rooting for my son in the crazed way understood by all hockey parents. I know it's not healthy, but I can't help myself. If Micah's short career—he's currently 10 years old—were, God forbid, to come to a sudden end, I'd gladly enlist a mobster to buy him a team so he could still have a future in hockey. Maybe that's why I became obsessed with this story: It connects our little home rink with an epic of the human hockey condition.
Also, it's funny as hell—The Sopranos meets Slap Shot. And it all ended in an FBI raid and subsequent indictment that landed Galante in the slammer, along with the infamous gangster Matthew Ianniello, a k a Matty the Horse, the then-86-year-old capo di tutti capi of the Genovese crime family.
Jimmy Galante purchased an expansion franchise in the United Hockey League, the equivalent of Double A baseball. A UHL season was about 80 games followed by playoffs; the champion took home the Colonial Cup. It was a violent league made of players on the way up, players on the way down, and some players simply holding on, happy to live in the limbo of the minor leagues. The UHL comprised 14 teams, including the Quad City Mallards, the Elmira Jackals, the Flint Generals, the Fort Wayne Komets, the Kalamazoo Wings, and the Adirondack Frostbite.
Galante named his team for the family business: the Trashers. The jerseys featured the team mascot, Scrappy, a garbage can with the lid raised just enough to reveal two almond-shaped eyes peering from the darkness.
AJ spent the summer after his senior year assembling a roster. It was all new to him, but he was sure of the player he wanted most: Brent Gretzky, the brother of the NHL legend Wayne. "First of all, he was a really good player," AJ explained, "and second, the name recognition."
Gretzky, at 32, was in the descent portion of his career. He almost looked like Wayne—the same intelligent eyes and long face, the same scraggly mall-rat hair—but not quite. Something was off-brand, faded; he was like a dollar bill that'd been through the wash. He'd already played 12 seasons of pro hockey: a total of 13 games in the NHL, followed by years of wandering the minors. He was a star in the UHL, having scored 43 goals for the Port Huron Beacons the previous season.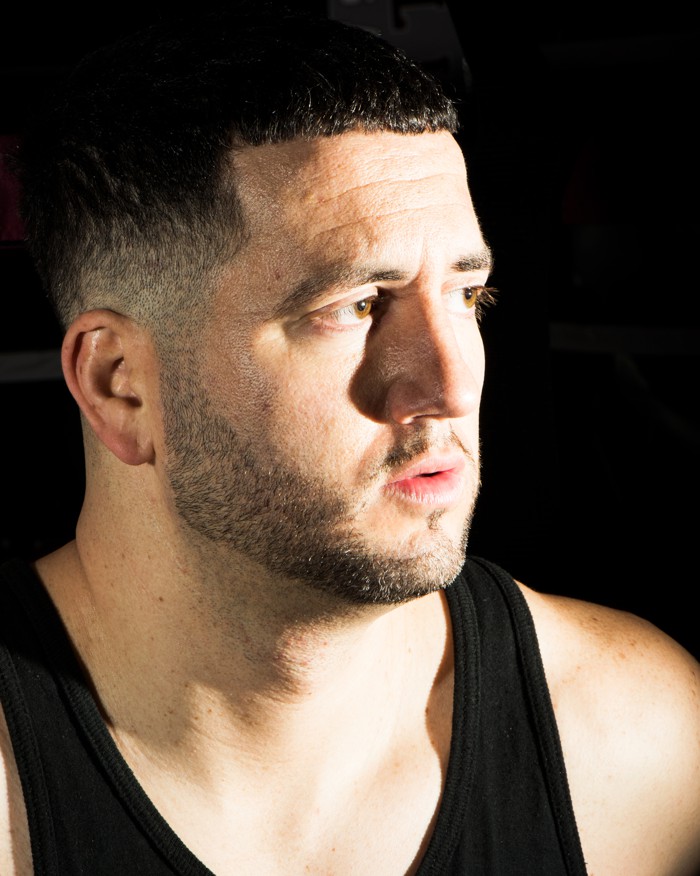 AJ Galante, now 31, became the general manager of the Danbury Trashers while still in high school. He had to cut one of his first press calls short when a teacher walked by. (Brian Finke)
When it came time to negotiate Gretzky's contract, AJ turned the deal over to his father. The UHL had a salary cap that limited teams to a total of approximately $275,000 for the whole roster. Gretzky reportedly earned $100,000, which would have left little for the rest of the team. But Galante got around it in classic mob fashion: no-show jobs. According to the indictment filed with the U.S. District Court in Connecticut, in addition to skating for the Trashers, several players (or their wives) were on the payrolls of his various companies—salesperson, sales manager, whatever. Although the Trashers' reported budget came in under the cap, the feds would later claim that for the 2004-05 season the actual figure was approximately $750,000.
AJ knew the sort of team he wanted: skill plus muscle, skaters plus goons. He fashioned his club as the bad boys, the evil empire of the UHL: If we can't beat you, we're at least gonna beat you up. At home they took to the ice to "Welcome to the Jungle," by Guns N' Roses. AJ considered it unfair to fans if a game had fewer than three fights. That was the minimum; that was getting your money's worth. "We just figured, We're going to make a team everyone loves to hate," AJ said. "Whether people deny it or not, everyone loves a hockey fight."
He found skill players on the internet, assembling his squad the way he might have assembled a fantasy-football team. That meant late-night sessions on hockeydb.com, where he searched for telling stats. After signing Gretzky, he went for Jim Duhart, the Crash Davis of minor-league hockey. Having collected 563 goals over the course of his 15 seasons in various leagues, Duhart gave the Trashers a second genuine scoring threat. But his fights are what people remember. If you search Jim Duhart, those are what you find: Jim Duhart versus Tom Clayton, Jim Duhart versus Jason Taylor.
AJ filled out the roster with a mix of has-beens and might-bes. Most of these guys, if they'd been drafted into the NHL, had gone late, in the triple digits. If asked why they hadn't made it, they'd tell you no one had ever really given them a shot. Mario Larocque was different: He'd been taken in the first round of the 1996 NHL draft by the Tampa Bay Lightning. All told, he played just five games for them. Tampa Bay fans still include him among their grievances: a wasted pick. He was one of those players who had everything except whatever mysterious quality it is that separates Wayne from Brent, the Yes from the Not Quite.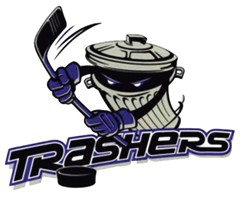 Wikimedia
AJ was more freewheeling when shopping for muscle. He searched two places, one actual, one virtual. The first was the famed Quebec League (officially the Ligue Nord-Américaine de Hockey), which can be thought of as an aquarium stocked with fighting fish: young goons and old goons, bald goons and goons with mullets. During the 2010-11 season, the Quebec League averaged 3.2 fights a game. The second place AJ looked was where any other fan might have: hockeyfights.com, a website that aggregates footage of brawls on the ice. "I wouldn't look for the most penalty minutes," he told me. "I'd look for the guys with the best entertainment rating."
The Trashers featured some of the most storied names in hockey violence. Jon "Nasty" Mirasty, a Cree from Saskatchewan, wore a Mohawk, sometimes multicolored, and would average eight penalty minutes a game for Danbury. Frank "The Animal" Bialowas, a legend in hockey circles, had played three games in the NHL, then spent the rest of his career in the minors, rambling from rink to rink, like a bad man in a Western. "No one wanted to fight him," AJ said. "The intimidation factor was unreal." Rumun Ndur was the only Nigerian-born player ever to make it to the NHL. But AJ's favorite was Brad "Wingnut" Wingfield. Unlike most enforcers, Wingnut could really play. His job was to be the Kevin Costner to Brent Gretzky's Whitney Houston.
The 2004-05 Trashers blew through the UHL like a freak storm. They led the league in penalty minutes. Wins came in bunches. They were always pulling them out late, clearing the bench, fighting and celebrating. "That team was uniquely physical, to put it nicely," Doug Christiansen, a 6-foot-5 Trashers wing, told me. "It was a different day of hockey."
Life for the Trashers was life on the road, going from small city to small city. They loved playing for Jimmy, because he took care of them. Most teams rode in a rickety, Partridge Family-style bus. The Trashers traveled in a luxury coach; they played card games and talked all night. Good hotels, a beautiful locker room—several players remember their tenure on the team as their most satisfying time in pro hockey. When asked whether they knew anything about the other side of Galante's life, most said something along the lines of Not exactly, but we did know we were well taken care of. "First of all, if you look at the bus, it was pretty sick," Mario Larocque told me. "So we knew Jimmy had resources."
Questioned about the no-show jobs, former players laughed and changed the subject. One player told me he did actual work in waste removal for Galante—nothing no-show about his job.
Galante spent $3 million to refurbish the Danbury Ice Arena. It held fewer than 3,000 seats, the fewest in the UHL, but it had a jewel-box intimacy. Little separated the team from its fans, physically or culturally: They mostly made nothing, were going nowhere, and knew unfairness. "Danbury is a blue-collar town, and they could relate to the players," Galante told me. "Let's face it: What else does Danbury really have?"
The rowdiest spectators were cordoned off in Section 102, directly behind the visitors' bench. Parents were warned to keep children away. It was populated by the die-hard, the angry, and the drunk. And the noise—my God, the noise! It had to do with the acoustics. Now and then, AJ would watch a game from Section 102. One night, he got into a shouting match with a stranger who turned out to be the visiting team's general manager—the result being a call to AJ from Richard Brosal, the UHL commissioner, followed by a short suspension. Which was the point: The Danbury Ice Arena was the sort of place where you could get into it with a random bozo in the bleachers, and he would turn out to be the head of the opposing team.
"Mid-season, that's when we really caught fire," AJ told me. "It was all over the blogs and hockey-fight sites, the craziness. There was an incident where one of our players attacked one of the Adirondack coaches, and that ended up in the Toronto Star. People were like, 'What the hell's going on over there?' And they'd do some research and see how young I was, and the father-son dynamic and the type of fighters. It started becoming urban legend."
The 2004-05 UHL season coincided with the NHL lockout. Having failed to agree with players on a new contract, major-league owners canceled the season. Typical New York Rangers or New York Islanders fans were in the position of heroin addicts who'd lost their supply—which is how they found their way to the Trashers. And fans weren't the only ones who found the Trashers; players did too. The lockout sent NHL stars into the cold. Many signed with the American Hockey League, the league directly below the NHL, pushing AHL players down to teams in the UHL. "There was a tremendous infusion of talent," Christiansen said.

Pete Cosgrove / AP; HockeyDB.com; Reading Royals; Vladimir Bezzubov / KHL Photo; Rick Steward / AllSport; Getty
The Trashers were even able to land a few genuine NHL players, one of whom was Mike Rupp. At 24, Rupp had already spent two seasons in the majors. In the spring of 2003, while playing for the New Jersey Devils, Rupp had scored a game-winning goal in the Stanley Cup finals. Now he was turning up with his gear at a regional airport, being greeted too enthusiastically by what looked like a high-school kid claiming to be his new GM. Rupp played 14 games for the Trashers—racking up five goals, five assists, and 30 penalty minutes—before going back to the NHL for nine more seasons.
Every great team needs a great rival. The New York Yankees have the Boston Red Sox; the Chicago Bears, the Green Bay Packers. The Trashers had the Adirondack Frostbite. The closest team to Danbury, the Frostbite played in Glens Falls, New York, just three hours away by luxury coach. They were the cream of the UHL, one of its best teams and a pet project of hockey celebrities: The franchise was owned in part by the former NHL coach Barry Melrose and the ESPN broadcaster Steve Levy. The rivalry between the teams developed fast. Two months into the season, the games turned nasty. Danbury's equipment manager would soak the Trashers' jerseys in Crisco before they played the Frostbite so the opposing goons couldn't get a firm grip. Some fights started spontaneously, following a big hit. Others started formally, proposed and accepted in the way of czarist-era duels:
Wanna go?

Yeah.
One morning, as AJ was driving to school—he was by then a freshman at Manhattanville College, in Purchase, New York, a 40-minute commute from New Fairfield—he heard Barry Melrose talking smack about the Trashers on ESPN Radio. "He took a shot at us," AJ told me. "I remember being so pissed, I had to do something. So I reached out to a guy I knew in the Quebec League and said, 'Get me Chad Wagner.' "
Chad Wagner was one of the most feared hockey fighters of the era. He had once set a record in the West Coast Hockey League with 503 penalty minutes in a single season. Wagner generally played on one- or two-game contracts, and promised AJ that he would take care of the Frostbite. At a home game in Danbury, "he beat up three Adirondack forwards," AJ said. "It turned into a brawl. He ended up reaching over the bench and grabbing the Adirondack coach, trying to pull him over the boards. He was suspended from the UHL for life."
"We were maybe the toughest team to ever play this game ... We had 10 goons! What does that mean? We play ... a team with maybe two goons. Their goons fight our goons. All get tossed. Guess what? We still got eight goons."
And then there was the "broken-leg game." People who tell the story start with the date, as if recalling an event of historical importance: December 1, 2004. The Trashers were hosting the Kalamazoo Wings, and Brent Gretzky was being shadowed by the Kalamazoo defenseman Josh Elzinga. Brad Wingfield—"Wingnut"—challenged Elzinga: Drop 'em; let's get it on. Elzinga refused. But as Wingnut moved away, Elzinga stuck out his skate and grabbed Wingnut's jersey. Wingnut went down awkwardly, and a crack could be heard in every part of the arena: Wingnut's left tibia and fibula. ESPN The Magazine reported that one onlooker described Wingnut as "on all fours, like an animal braying for help." He'd be out the rest of that season, and half of the next. The game turned into a riot, everyone taking a run at everyone else. "Rumun Ndur ended up seeing red and going batshit crazy," AJ told me. "He allegedly kicked a referee. He got suspended."
Jimmy Galante and AJ, then a teenager, overseeing renovations for the Danbury Ice Arena in 2004. (Chris Ware)
As James Harper, a veteran minor-league linesman, was talking with the scorekeeper, he got into it with Jimmy Galante, who'd come down from the owner's box. "I wound up having words with the referee, and unbeknownst to me, he was a full-time police officer in upstate New York," Galante told me. "I took a swing at him. He had me arrested in the locker room. It was a big to-do." Although Galante claims that he never actually made contact, he was charged with assault. (Prosecutors ultimately dropped the case for lack of proof.)
According to ESPN, an FBI wiretap that was capturing Galante's phone calls would later reveal that three days after Wingnut broke his leg, Galante asked his business associate Ciro Viento to call Commissioner Brosal. (Galante denies having had this conversation.) The issue was a letter he wanted Harper to send the commissioner, absolving Galante: "Tell him that it is fucking imperative that we get that letter that ... Harper's gonna write to Brosal." Galante added what the referee should say in the letter: " 'After coolin' off and thinking about it for a few days ... I was just as much at fault.' " Harper never sent such a letter, but another wiretap captured Viento on the phone with Brosal: "I was asked to give you a call, but not to give you a call, so that you would never be put in the predicament where somebody said that you were called." (Brosal denied any effort at coercion.)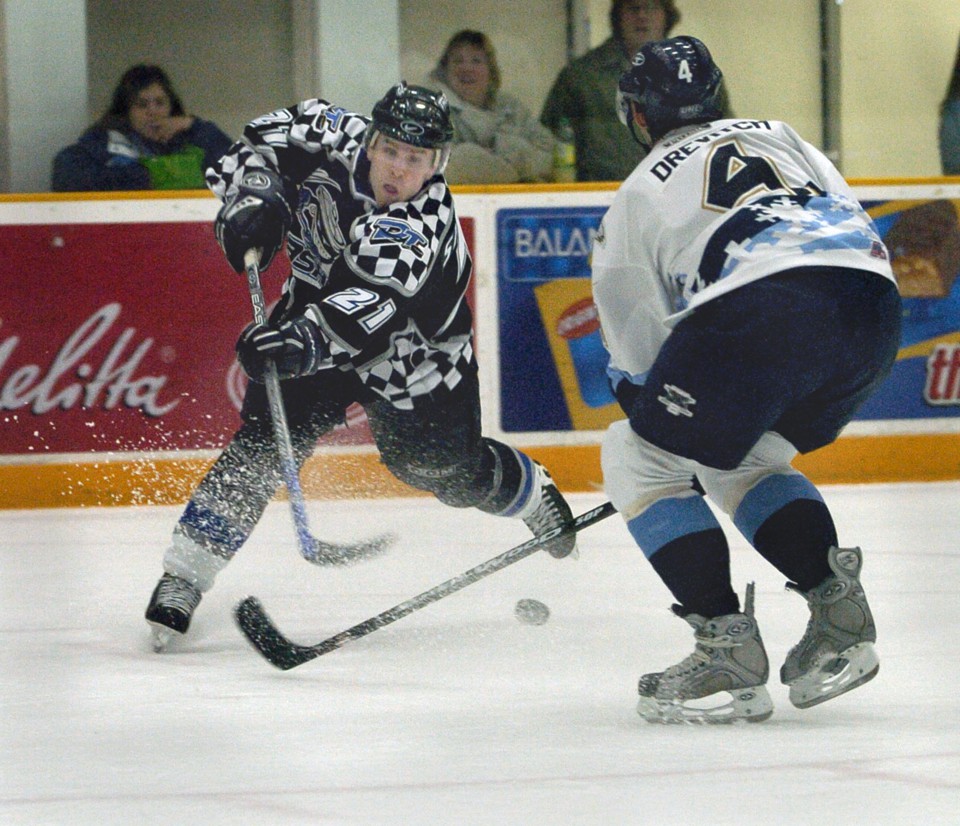 When playing teams such as their archival, the Adirondack Frostbite, the Trashers would have their jerseys soaked in Crisco so opposing goons couldn't get a grip. (Carol Kaliff / The News-Times / Hearst Connecticut)
The Trashers finished the 2004-05 season with a 44-29-7 record, which put them in the playoffs. In many ways, the first round of that postseason was the high point: the Trashers versus the Frostbite, best of seven. A violent, brutal melee from start to finish. "You have to understand," Dave MacIsaac, who played 62 regular-season games for Danbury, told me. "We were maybe the toughest team to ever play this game. The most famous tough-guy team ever was who—the Broad Street Bullies, '74-'75 Flyers? They had, what, three goons? We had 10 goons! What does that mean? We play a team like the Frostbite, a team with maybe two goons. Their goons fight our goons. All get tossed. Guess what? We still got eight goons."
Game Two is what people remember. Many Trashers players—now scattered in office complexes and neighborhood rinks across North America—speak of this as the greatest night of their hockey life. The game was still knotted after two overtimes. The Trashers sprawled in the locker room as the Zamboni worked. Between periods, players take off their jersey and pads. When the signal comes, they pull on a fresh shirt, put on the gear, head out. But by 1 a.m., the Trashers were out of fresh shirts. It wasn't a crisis, but it was a drag. No one likes to put on wet clothes. Danbury fans who'd followed the team to Glens Falls got word of the situation and gave the players the shirts off their own backs. Could there be a better symbol of the link between fans and team?
The winning goal came in the third overtime. "I was on the bench," Doug Christiansen told me. "I remember being elated, guys tumbling over the boards like we'd won the Stanley Cup." The Trashers went on to win that series, but lost the next. By the second round, they had nothing left.
In professional sports, there are usually two games taking place. The first happens on the field, court, or ice. The second goes on in the front office: signing players, making trades. But for the Trashers, there was a third game, although neither Jimmy nor AJ knew about it. It was happening at the FBI's office in New Haven, where, by the spring of 2005, a handful of agents were deep into an investigation of Galante's garbage business. According to the subsequent indictment, the investigation was part of an effort to thwart "illegal practices in the trash hauling industry." It had been kicked off by a complaint. Someone had said Galante, with a near-monopoly on regional garbage collection, was driving out competitors. The FBI had sent an agent undercover to pass himself off as a rogue salesman and befriend the men around Galante. Within weeks, the agent was seated beside the boss himself in the owner's box at the Danbury Ice Arena, cheering as the Trashers skated out. The U.S. Attorney's office learned enough to get wiretaps and, eventually, search warrants.
The wiretaps captured Galante's associates recalling a trip to Mount Kisco, New York, where they went—as Michael Gustafson, the lead assistant U.S. attorney who handled the case, would later state in court—"to retain the services of a leg-breaker known as the Carpenter." Also caught on tape was Galante telling an associate to deliver a message to a would-be canary: "Long Island says hello," referring to Matty the Horse Ianniello. Gustafson would later describe Galante as "a manipulating, controlling, hands-on bully."
Brian Finke
When I asked Galante why he'd become a fixation for prosecutors, he said, "I have no idea. Maybe because I'm Italian and in the garbage business."
In the summer of 2005, federal agents raided Galante's offices, coming away with more than $500,000 in cash and more than 5,000 boxes of documents—receipts, account books, you name it. In this way, they happened across, in addition to all sorts of other malfeasance, evidence of those no-show jobs, which ultimately resulted in additional charges against Galante.
There was something else in the books too. According to the indictment, Galante was making quarterly payments of $30,000 to Matty the Horse, the successor to Vincent the Chin Gigante and the boss of the Genovese crime family. Galante's payments were characterized as a "mob tax" to ensure his companies' primacy in the trash trade. It was a twist Elmore Leonard might have considered improbable. A case involving a minor-league hockey team also nailed Matty the Horse.
In 1980, after the Houston Oilers barely missed a trip to the Super Bowl, Coach Bum Phillips gave their fans a famous pep talk. "One year ago we knocked on the door," he said. "This year we beat on the door. Next year we're going to kick the son of a bitch in!"
It was like that with the Trashers. They'd gotten close in 2005; now they intended to kick the son of a bitch in. The team was largely the same, with a few additions, including yet another minor-league-hockey legend, David Beauregard. "AJ and I would stand up there and look at the teams that were coming to play us," Galante told me. "We would yell down during warm-ups, 'Come on, you're going to be skating for us next year!' And they'd look at me and rub their fingers, and I'd reach in my pocket and pull out my wallet, and they'd start laughing."
A Galante associate was caught on a wiretap, talking to the league commissioner: "I was asked to give you a call, but not to give you a call, so that you would never be put in the predicament where somebody said that you were called."
"Beauregard was one of my favorites," AJ said. "First year, he was playing for the Port Huron Beacons, killing us. He wore a full face mask. I remember asking, 'Why does he have the full mask?' Someone told me, 'He's only got one eye.' " He'd lost vision in the other—a stick through the visor. The injury barred him from the NHL, so he was down among the minor-league rabble. "The second year, Port Huron became the Roanoke Valley Vipers. And he'd still kill us," AJ went on. "It was one of those things where we'd say, 'Hit this guy.' But no one could catch him. Toward the trade deadline, we were going through a slump. My dad wasn't too happy, and in so many words I was told, 'We need a fucking scorer.' I was on spring break from college, and my break consisted of me in my room researching ... I didn't really have any relationships with other hockey people. So I'm like, 'How the hell am I going to get a trade?' I ended up taking this Vipers fan booklet and calling the merchandise number. There was no other number. Somehow they got the message upstairs. They called back, and I said, 'Do you want to trade that one-eyed guy?' His first game with us, he had [a goal and an assist]. He was unreal down the stretch."
The Trashers finished their second season 48-17-11, then rolled through the playoffs, making it all the way to the finals, where they lost to Kalamazoo in five games. But for many, the highlight had come earlier in the season, when Wingnut got his revenge. He was just back from that broken leg when the Wings came to Danbury. The result was a kind of frontier justice. He caught Josh Elzinga in a corner, called him out, beat him down. Asked how the payback made him feel, Wingnut said great, "but I would have liked to have seen him leaving the ice on a stretcher or in a body bag."
AJ now runs a gym called Champs Boxing Club & Fitness. He hopes to turn Danbury into a boxing mecca—up there "with Oxnard, California." (Brian Finke)
Jimmy Galante was arrested on June 9, 2006, not long after the final game of the season. In the indictment filed by the U.S. Attorney's office, Galante was charged with 72 counts, including extortion, witness tampering, and racketeering.
He'd been named with several others, including Trashers Coach J. Todd Stirling, who pleaded guilty to taking part in the salary-cap fraud. In court, Matty the Horse was ruined and old, hard to understand. After he was released on $1 million bond, he was asked whether he had any comment. The gangster shrugged: "What can I say, right? Nothing."
Matty the Horse spent 18 months in the big house, but he survived it, dying a free man in August 2012. Jimmy pleaded guilty to racketeering conspiracy, tax fraud, and wire fraud. The government seized most of his assets, including 25 trash companies and a string of race cars. He spent six years in Allenwood, a federal penitentiary in central Pennsylvania.
The Trashers folded three days after Galante's arrest. AJ called it a coincidence: Changes in the league made continued play impossible, he said, not "the legal problem." Of course, his dad's arrest played a role. "The United States government came in and seized my assets, and one of the assets was the team," Galante told me.
Maybe it was better that way. No slow dissipation for the Trashers, no aging and decline. Just two unforgettable seasons sealed in amber. In 2015, AJ opened a boxing club across from the Danbury arena. He named it Champs Boxing Club & Fitness. That's where he told me his story, amid the light and heavy bags, in the regulation ring. He's working to turn Danbury into a boxing mecca—up there "with Oxnard, California."
Galante got out of prison in 2014. Asked what he's up to these days, he said, "Enjoying life."
The Danbury arena, meanwhile, has returned to its old existence as a youth rink. My son plays there eight or nine times a year. I sit in Section 102 and let the other parents have it.