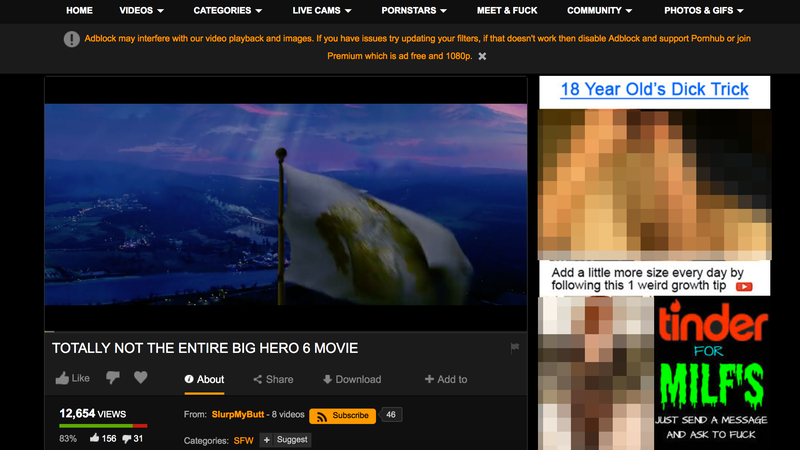 All images: Screenshot via Pornhub
As far as accidental comedy goes, few things beat watching a PG-rated Disney film on a site with the ads for penis enlargement guides and "Tinder for MILFs." And while I didn't specifically seek out Pornhub or 2014's animated adventure Big Hero 6 today, both came into view thanks to the Reddit community r/FullMoviesOnPornhub.
The subreddit's name is a clear nod to its older (and better-subscribed) siblings FullMoviesOnYouTube and FullMoviesOnVimeo, which both include "no pornography" as their primary rule. (Pause for laughter.) Pornhub may not be as popular a dumping ground for illegal movie uploads, but it's one of the best for high-profile releases. Rogue One, Moana, Bad Santa 2, Dr. Strange, Age of Ultron, and Step Brothers are all currently available, often under titles like "DEFINITELY NOT THE FULL MOVIE OF STEP BROTHERS."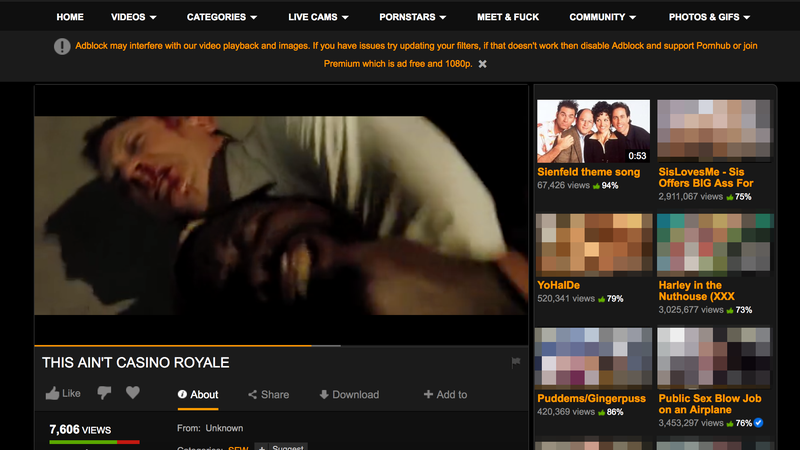 "Why is the Seinfeld theme on Pornhub?" is a valid question with no clear answer.
YouTube's aggressive Content ID copyright protection system and its partnerships with deep-pocketed studios make it exceptionally difficult to upload highly sought-after movies to the site. Cropping a movie aggressively can trick the robots, but it also makes movies basically unwatchable—so the FullMoviesOnYouTube crowd tends to stick with more obscure releases. Currently near the top of the subreddit, for example: early no-budget John Carpenter film Dark Star and Gandahar, which is better known as "the René Laloux movie that isn't Fantastic Planet." Oftentimes YouTube will flag and remove content the instant it's uploaded. Pornhub, on the other hand, ironically seems to give very few fucks.
The obvious question—"why is this on here?"—appears in the comments for the upload of The Force Awakens. "My original plan was to upload movies I've downloaded to YouTube as an unlisted video so I could just share the links between friends and family," writes Pornhub user Freeentertainment, "it didn't work so I decided to upload a movie here just to see what would happen." That user has since uploaded every single Star Wars movie. The Force Awakens alone has been viewed nearly 60,000 times on the site.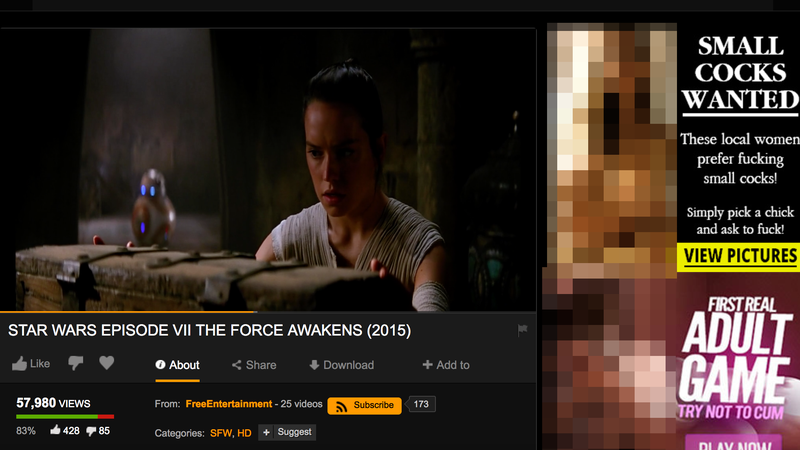 Sadly, the Star Wars Christmas Special does not appear to be on Pornhub. Yet.
Legitimate theatrical releases also seem to strain the algorithm that determines similar videos to watch next. With only porn to pull from, Pornhub's bot told me I ought to follow Rogue One with something called "Spooky Ghost Blowjob."
In the end, however, the funniest piece of this piracy puzzle isn't the obvious upload titles, the contrast between the videos and the environment they appear on, or having to go to what amounts to a digital strip club to steal safe-for-work movies. It's that YouTube has, for years, struggled to keep users from uploading porn to its catalog of clean, family-friendly content. Now Pornhub has to fight to keep out videos where no one fucks.
We've reached out to Pornhub and will update if we hear back.