"So-and-so stands to make a fortune."
It's a routine objection about the conflicts of interest that have framed the early days of the Trump administration. From President Donald Trump's potential infractions of the Emoluments Clause to the efforts by his family members to cash in on the presidency, the outcry is so familiar that it's an exhausted chorus.
But Jared Kushner really does stand to make a fortune. The deal that Trump's son-in-law and White House advisor is structuring with Chinese investors for the redevelopment of a poorly performing Manhattan office property promises a windfall of hundreds of millions for Kushner Companies. This, despite the fact that New York faces a glut of office supply and rising vacancies.  
The proposal for 666 Fifth Avenue—you can't make this stuff up—unites all the worries over the Trump family's business practices under one garish roof. From the millions the project may garner for the sale of U.S. visas to foreign petitioners to the building architect's embrace of autocracy, 666 Fifth as projected is a gleaming crystallization of the Trump era.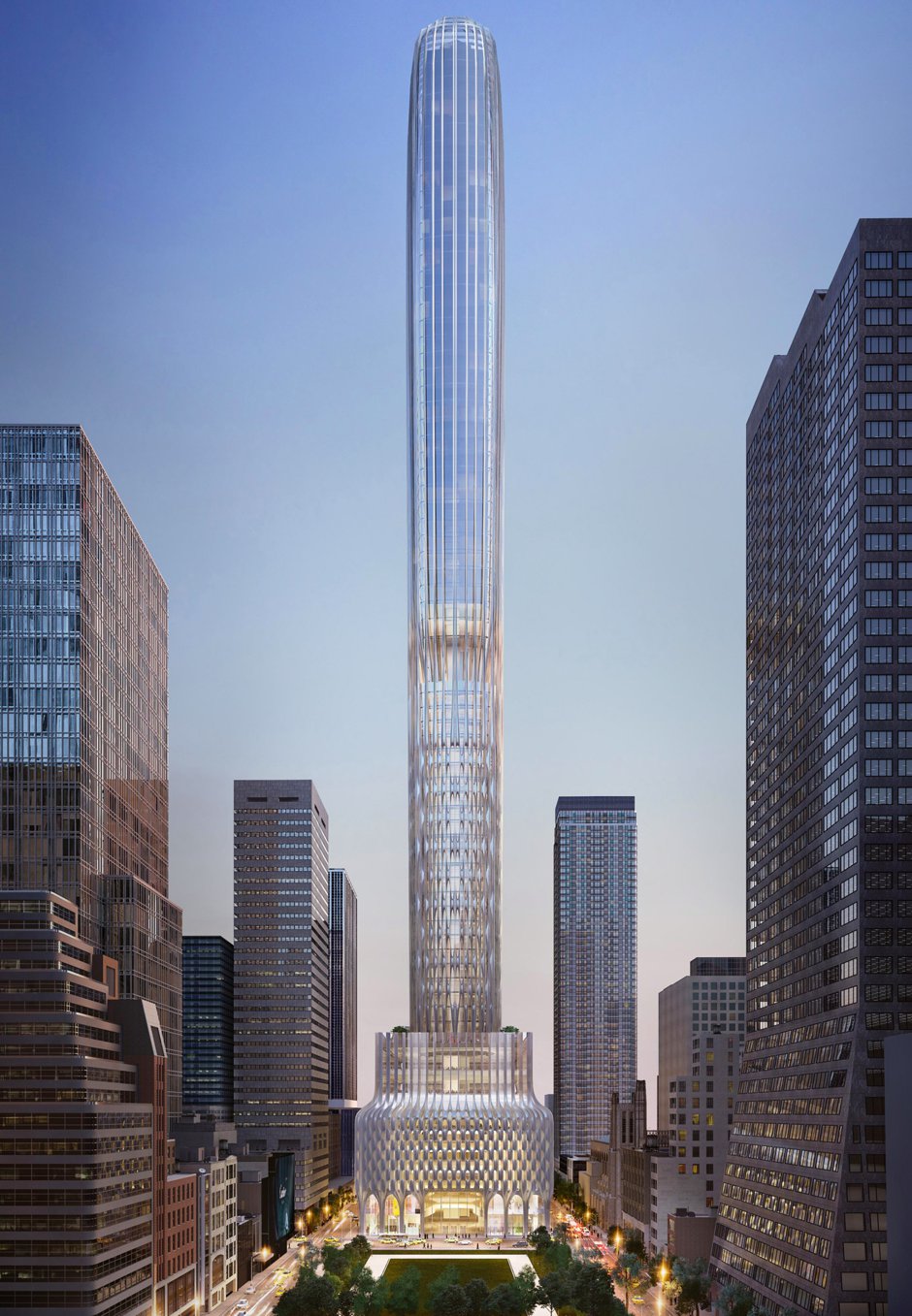 Keeeeep scrolling...   (Kushner Companies/Zaha Hadid Architects)
Details for 666 Fifth emerged this week in reports from Bloomberg and the Wall Street Journal. According to those outlets, Kushner Companies is negotiating with investors over a development that may generate as much as $12 billion in investment. The company's partners may include Anbang, whose $4 billion investment in the plan would include $400 million for Kushner Companies.
Given the break-even status of the current property and the sag in office real estate across New York, the project is already raising eyebrows. Anbang's relationship with the Chinese government is a well-shrouded secret; critics say that a sweetheart deal for 666 Fifth could be a play by China to buy influence with the White House. (Jared Kushner sold his personal stake in 666 Fifth to a private trust, but that trust is controlled by his family members, much as Trump has arranged his own business interests in an extremely half-hearted effort to avoid the appearance of conflict.)
One of the most risible qualities of 666 Fifth is bound to go overlooked, given the fog of influence-peddling and fascist spectacle concealing it.
The proposal for 666 Fifth Avenue features a design by the late Pritzker Prize-winning architect Zaha Hadid, whose name is synonymous with luxury, curvilinear design, and autocratic tendencies. Zaha Hadid Architects' work in the U.S. includes One Thousand Museum, an "exoskeleton" tower in Miami whose structural supports are visible from the outside. London's Design Museum called her Heydar Aliyev Center in Baku, Azerbaijan, the design of the year in 2014, despite the human rights violations that led to its construction. Concerns over the deaths of hundreds of migrant construction workers in the build-out for the Qatar 2022 World Cup have dogged the firm's work for Al Wakrah Stadium (where at least one worker has died to date). Japan bucked Hadid from its plans for the Tokyo 2020 Summer Games once costs for the firm's Olympic stadium eclipsed $1.6 billion.
Patrik Schumacher, Hadid's successor at the helm of the firm, has only fanned the flames of controversy. Schumacher has called for scrapping social housing and ending government support for art school in the U.K., where the firm is based, among other Ayn Rand-ian positions. As a company, Zaha Hadid Architects has publicly distanced itself from his pronouncements, including his call for the abolishment of all public space.
The early design for 666 Fifth seems to create public space where there is none—a small irony, given that Trump Tower erases public space and Shumacher opposes it. A whole block of Midtown has disappeared in the design rendering, replaced by a park that fronts the podium of the building. The design itself is typical Zaha: spectacular, unyielding, devoid of context. The podium is a show-stopper that echoes Santiago Calatrava's jaw-dropping World Trade Center transit hub, with a 1,400-foot-high super-tall skyscraper stuck on top for good measure. It is the kind of design that might seriously argue for clearing out blocks of Manhattan to make way for better views of the façade. Awesome, like the Burj Khalifa, but awful, too, in the same way—an anti-populist building that rejects history, precedent, neighborhood, place.
One of the most risible qualities of 666 Fifth is bound to go overlooked, given the fog of influence-peddling and fascist spectacle concealing it. That is its potential use of EB-5 financing, an immigration program that has secured hundreds of millions in development for luxury real estate in exchange for visas for (mostly Chinese) foreign investors. The cash-for-visas program, which was the subject of House Judiciary Committee hearing in February, has garnered intense congressional scrutiny at a time when the Trump administration is closing U.S. borders for Muslims (and their laptops) as well as undocumented immigrants.
As it was originally designed, the EB-5 cash-for-visas program was meant to draw foreign direct investment to rural and distressed urban projects. Congress has pledged to take steps to either bring the immigration category back in line with its original intent or scrap it altogether. But Kushner's interest in securing easy money for 666 Fifth could presage a White House defense of the beleaguered program. Specifically, a defense of EB-5 as a way to trade U.S. visas for Chinese investment in luxury real estate.
If plans for the 666 Fifth tower proceed, it will not be completed before 2025 at the earliest. By then, the president's second term in the White House will have potentially just concluded. We might (or might not) have a big, beautiful border wall to stand as a concrete monument to his extraordinary administration, and all it represented. But no single Trump-era deal will show so neatly how the devil's children have the devil's luck quite like 666 Fifth.