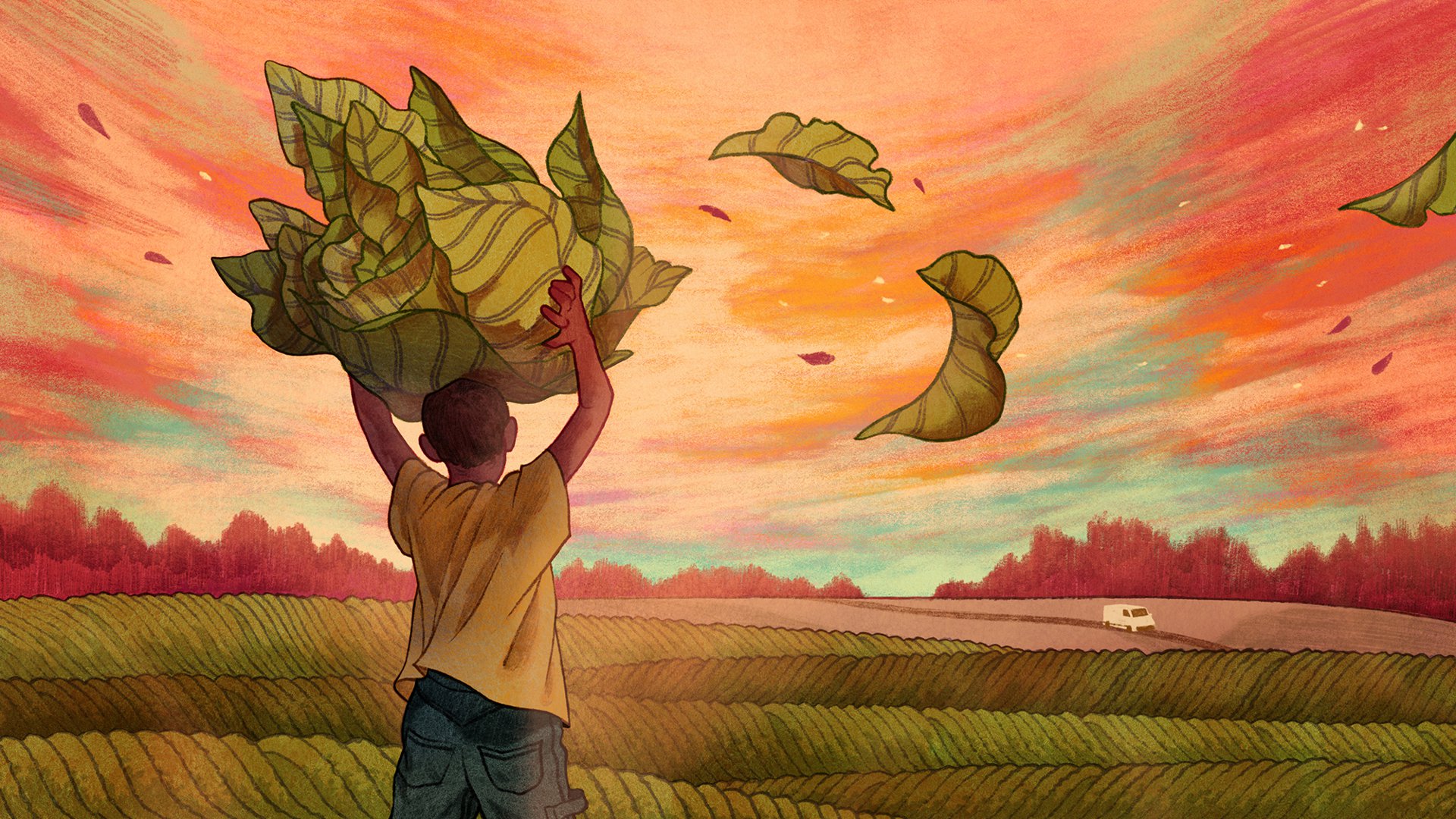 Leonardo Santamaria
KINSTON, North Carolina—They would wake up at five or six in the morning. They didn't know where they were going, but they knew how far it was, what time the day had to start. Yesenia Cuello's mother would fix breakfast, or if the girls were up early they would do it themselves to help her out. Then the preparations for the day would start. Burritos, in the microwave, wrapped in napkins, wrapped in foil. The perfect food for working tobacco: You can eat it with one hand, no need for the break you won't get anyway. Gloves, the trash bags, hats, water. Then the white van would pull up outside the trailer where they lived, and they would jump in, ready for a long day of work.
When Yesenia and her sisters told their mother they wanted to work with her back in 2005, her mom said no at first. A single mother who had just moved her six kids from California, she was determined to keep her young girls out of the fields. But the girls, who were out of school for the summer, knew money was tight. Around the trailer park, people called them chicas poderosas, "powerful girls": When they stuck together they could get what they wanted. And so their mother relented, thinking the girls would never be able to survive the day anyway. Yesenia, who was 12 at the time, as well as her two sisters who were 10 and 11, began to work tobacco.
They had intended to use the money for kid stuff, school supplies at the local Walmart, and clothes from the flea market. When they got out there with their mother and saw how hard it was, they knew they had to keep going back. "The first day was sunup to sundown," Yesenia told me. She now works with NC FIELD, a migrant-worker service organization, running a group for farmworker kids. "Because of that we continued to go in order to help her out. We did realize that it was really hard and she was there without us." They gave her money to help pay the bills, keeping a small amount for themselves.
Although today tobacco picking is done by machine, much of the rest of the production is done by hand. Workers line up row by row and rapidly move down the lines of plants, topping (taking off the buds and flowers), suckering (taking off the "suckers," or unwanted shoots), and lifting up the plants to pull out the weeds at the bottom. Yesenia says her back still bothers her though she hasn't worked tobacco in eight years, all that bending over and standing for 12 hour days on uneven ground. She's tall—almost six feet—but sometimes the plants were so high that she lost track of her mom, who worked faster. Her mom would wait and they would do the next one together, sticking with each other and checking in throughout the day. "We were fortunate to be able to have her there with us," Yesenia told me. "What you see a whole lot is unaccompanied youth."
In most industries in the United States, child labor is highly regulated. Children need to be 14 to 16 years old to work, depending on the industry, and there are standards governing what they can and cannot do. The Fair Labor Standards Act makes exceptions for many small farms, meaning they can hire children at any age—an exception that many family farms have relied on to run their businesses. On bigger farms, children with parental permission may work for hire as young as 12, and do work deemed to be hazardous as young as 16. The lack of standards for child labor in agriculture dovetail with the lack of protections for farmworkers more generally: Under federal law, farmworkers cannot legally collectively bargain, and rarely receive benefits and overtime.
In eastern North Carolina, where Yesenia lives, agriculture is big business. According to data from North Carolina State University, agriculture makes up 17 percent of the state's economy and 17 percent of its workforce. Seventy-five percent of the state's cash crops are grown in this part of the state, where the low fields seem to flatly run forever into the sea. In between are small towns, farmhouses, abandoned barns, and strip malls. (Cash crops are crops grown for commercial value rather than personal consumption.) Although tobacco production has been on the decline, the 2017 State Agriculture Overview lists tobacco as the state's most valuable crop, bringing in $724 million last year. It's a defining product of the state, and known for being high quality. International tobacco companies such as China National Tobacco, Philip Morris International, and British American Tobacco use North Carolina tobacco.
By definition, migrant farmers move from crop to crop, and child workers are no different, moving from tobacco to cucumbers, blueberries, and then sweet potato as the season progresses. (There aren't exact numbers, but Reid Maki, the coordinator of the Child Labor Coalition at the National Consumers League, a consumer-advocacy nonprofit, estimates there are 300,000 to 400,000 child workers in U.S. agriculture. The government doesn't have recent, detailed statistics on these workers.)
Tobacco is planted by June. A few weeks later, "the crop is ready to start topping," Melissa Bailey Castillo, the outreach coordinator at the Kinston Community Health Center, told me. "It is labor-intensive for a few weeks, where you need as many people as you can to get it topped as quickly as you can." This means that farmers are pressured to fill the fields quickly with workers and look for able bodies rather than paperwork. "So it is a prime candidate for child labor," she added.
For many migrant workers in North Carolina, working tobacco is "a rite of passage," Norma Flores Lopez, of Migrant Head Start, an organization that provides services to migrant-worker children, told me.
As far a rites of passage go, it's one that's more or less hidden from view—with employers, companies, and consumers alike not seeing the labor that goes into tobacco picking. It is very hard to tie a specific worker to the cigarette at the end of the chain. Workers often do not even know the farm they are on (and in many cases contractors will not tell them) or who they are working for. They are often paid in cash, and give no identification when they show up to work. In this way, the workers are invisible, and because their work is largely unregulated, the government isn't watching closely either.
"The biggest thing I noticed when we were advocating for child-labor abolition was that farmers were like, 'Kids, what kids? I don't have kids,'" Castillo told me. The farmers could simply point to a contractor. "Farmer Brown has willful ignorance. He doesn't know he doesn't want to know." Castillo points out there are thousands of acres to manage, and hundreds of workers. "It doesn't excuse them, but they really don't know. When you start to tell them stories they are mortified."
I first arrived in Kinston in February, when the sky was still gray and the fields were still brown. The streets were empty besides a young woman selling Girl Scout cookies with her mom and a few out-of-towners arriving to go to Chef & the Farmer, a fancy restaurant whose chef has a show on PBS. Queen Street, the main drag, had an old-time feel, with its Civil War monument and interpretive center, shuttered theater, and painted wooden houses.
But the hallmarks of the coming agricultural season had begun already. The hardware store had signs in the window advertising live chicks and seeds. A white van rolled through, packed with agricultural workers. Soon, the Mexican markets would be crammed with posters advertising seasonal work. And in the fields close to Kinston, the trailer parks would fill with trailers, and the trailers would fill with migrant workers. In these campos, or camps, people live sometimes 10 to 15 to a house, not including children, with 30 to 40 sharing a bathroom. Many trailers are without running water, heat, or electricity. In the summer, cords would run from one trailer to another, linking a few lucky ones with electricity. Contractors in their white vans would drive through asking whether anyone needed work the next day. And people young and old would say yes.
Ingrid, who asked me not to use her last name because she doesn't want to be publicly identified with such a difficult chapter of her life, began working in the fields when she was 13 in order to provide for her six-week-old son. She had moved in with her father, and he told her she had to work in order to have them stay. "It was at an age where you don't have the muscles yet, so it was hard," she said. She is now 22, and drove two hours to come meet me in Raleigh at a Marriott. She was petite, wearing a white top, and chose her words carefully. She still looked impossibly young.
Ingrid recounted how the lack of water in the fields meant that when you went to break for food, there wasn't always water for you to wash your hands, so you would eat with your hands covered in pesticides and tobacco. "Find some water or just eat," she said.
A landmark Human Rights Watch study on child labor in tobacco, published in 2014, found that nearly three-quarters of the 141 children they interviewed, all between the ages of 7 and 17, reported "serious symptoms—including nausea, vomiting, loss of appetite, headaches, dizziness, skin rashes, difficulty breathing, and irritation to their eyes and mouths—while working in fields of tobacco plants." The study also found that many children were exposed to pesticides and other dangers, as well as nicotine. "Child tobacco workers often labor 50 or 60 hours a week in extreme heat, use dangerous tools and machinery, lift heavy loads, and climb into the rafters of barns several stories tall, risking serious injuries and falls," Margaret Wurth, the author of the report, wrote.
At Wake Forest University, in Winston-Salem, North Carolina, Thomas Arcury and Sara Quant, professors of family and community medicine, have been researching farmworker health for years. They did a study on green-tobacco sickness in adults, also known as nicotine poisoning, and found that 25 out of the 182 workers they surveyed had experienced it. In another study, they examined conditions of farmworker youth between the ages of 7 and 17. "Youth farmworkers are especially vulnerable to occupational injuries because of their smaller size, lesser strength, and greater surface-to-volume ratio compared with adults; their developing neurological and reproductive systems; and their lack of maturity and experience," they wrote.
"What we found is that the way this work is organized leaves these children in a very unsafe work environment," Arcury told me. "Would you put a 10-year-old working in a field with a bunch of 20- and 30-year-old men and women doing heavy work in an unsafe environment?" Ingrid mentioned that sometimes the other workers also pose a threat—as a 13-year-old girl, she feared every time she had to go off alone to the edge of a field to use the bathroom that she would be sexually assaulted. Children also struggle to stay on pace when crops are paid on a piece-by-piece rate. "These are kids, so they are not as strong and can't keep up. There's pressure on them from the adults working in the same environment to keep up."
Arcury and Quandt, who have studied farmworker health extensively, cautioned me on fixating only on tobacco. "It just isn't tobacco," said Arcury. "You can ban working in tobacco, but it's not going to work. They will be doing everything else in those jobs and exposed to everything but nicotine. That's a good thing. But they will still be exposed to organophosphate pesticides, still exposed to the heat and humidity and the heavy loads," he said.
Many of the kids who develop health issues show up at the Community Health Center in Kinston. Inside is a dental clinic, a pediatric clinic, and an obstetrician. The only center of its kind for miles, the clinic has to be everything to everyone, including a transportation service. For the most part migrant workers can't drive, because they lack either documentation or a car or both. In many camps, their only chance of getting anywhere, including the grocery store, is to go on the day the contractor goes. Everyone puts in their order with whichever lucky person gets a seat in the car. The clinic has some vans of its own, and Castillo, the clinic's outreach coordinator, said she'd also love to open some remote access points, especially during the picking season. Today the waiting rooms are quiet, except for a few families sitting in the chairs and some calls over the loudspeakers for interpreters. Castillo, who takes me on a tour of the center, tells me that it is the most crowded during the season on the days that it rains, and then the doctors can find themselves feeling overwhelmed.
Upstairs, in a conference room on the top floor, along with Yesenia and Castillo, I met Sandy Tripp, a pediatric nurse practitioner here. Tripp, with blond bangs and a brightly colored patterned top, said she looks for the telltale signs that her patients have been working in the fields. "I do look for things like calluses on hands, dirty feet," she said. "Signs of bruises in places you wouldn't normally see bruises. I ask the children 'You know, what do you do for fun?' leading questions so they tell me." If they are older than 12, she can't stop them from working, but she does try use her time to educate them, providing some measure of occupational-safety training, which is mostly lacking.
"I can only say, 'You need to be careful. Your back is growing. Your muscles are developing. If you have a mask, if you have access to protective equipment, you need to use it.'" No matter what type of work they do or who they are, teenagers have the unfortunate habit of thinking they are invincible, she said. "When they reach the ages of 12 to 16, they don't have a sense of 'This can really happen to me. I can get sick.' They have no fear. Even if they have protective equipment, they may not use it."
Yesenia told me that the first day she was supposed to work tobacco, she dressed in a tank top and shorts, thinking it was going to be really hot out there. Her mother told her immediately to put on some pants and long sleeves. "She said it was because of the sun. Little did we know it was also to protect us from the pesticides," she said. She said during her work she would walk out into the fields and "everything would be really wet," a sign that fields had been recently sprayed, and it would smell noxious.
"We thought it was fertilizer," she said. Ingrid recalled a time when they were spraying the field next to where she was working and the woman next to her fainted. "Oh okay, it's the heat," said the person in charge, she said. "But," according to Ingrid, "it wasn't the heat." She believes it was chemical exposure.
Castillo said at the clinic they see a lot of children with allergies on their skin, from both the pesticides and tobacco. "They are the world's worst for not wearing gloves," she said. "These skin issues come up, from the way their skin reacts to the tobacco leaves and the pesticides. That and respiratory issues—we see a lot of breathing problems."
There have been measures brought forward to change the laws on tobacco and children farmworkers. When President Obama took office, the labor secretary at the time, Hilda Solis, proposed changing the laws, putting "work with tobacco" and "work with power-driven equipment" into the category of hazardous work that can't be done by anyone under 16. Margaret Wurth, from Human Rights Watch, told me that she and her colleagues had thought they might be able to ban child labor in farming more generally, but, in the end, "there wasn't political will."
In 2012, when Obama was up for reelection, his administration withdrew Solis's proposal after coming under criticism from Republicans in Congress and farm groups who said the bill would hurt family farms and make it harder to teach kids about farming. A 2012 article in The Hill quoted Representative Denny Rehberg of Montana, a Republican, who said the language of the exemption wasn't clear enough, leaving too much "to the whims of how the next Labor secretary or the next administration decides to interpret these rules." In withdrawing the proposal, the Labor Department said in a statement that the administration was "committed to promoting family farmers and respecting the rural way of life." (The Department of Labor and the EPA did not respond to my requests for comment.)
Advocates for the bill said that misconceptions about what the legislation would do clouded the debate. Wurth, of Human Rights Watch, said the proposal was twisted into "kids not being able to operate battery-powered flashlights on farms." That the Obama administration withdrew the bill as opposed to fighting for it, even if that fight would have ended in defeat, was, she said, "salt in the wound."
Maki, of the Child Labor Coalition, attributes this "misinformation campaign" directly to the American Farm Bureau Federation (AFBF), the largest farming industry group in the country. "Farm and ranch families are more interested than anyone else in assuring the safety of farming operations," said the then-president of the AFBF, Bob Stallman, in 2012. "We have no desire at all to have young teenagers working in jobs that are inappropriate or entail too much risk. But, laws and regulations need to be sensible and within reason—not prohibiting teenagers from performing simple everyday farm functions like operating a battery-powered screwdriver."
I spoke with Paul Schlegel, the deputy policy director for the AFBF, twice for this story. He told me his recollections of the hearings, about a mother who testified that her child was injured more frequently in gym class than on their farm. "There were members who talked about what they learned when they were 13, 14, 15, working outside of school hours in accordance with state law, and how meaningful that experience was to them," he told me.
"I don't know if you come from an agricultural background, but there is a very strong work ethic in the people we represent," he continued. "I think you find generally if you start from the premise that people don't care about the safety of any of the people who work on farms, not just young kids, but anybody, you will get a strong reaction from our members that that is not an accurate reflection of how they go about their business."
When I kept asking about workers not on family farms but on larger, industrial operations, he stopped me. "I'm sorry, are you from an ag background? Did you grow up on a farm? I'm sorry," he said.
There were two changes to EPA regulations under Obama, starting in 2015, that advocates for child farmworkers counted as victories, and that the Trump administration is now targeting to roll back. One is a revision to the worker-protection standard, which currently bans children under 18 from handling pesticides or reentering fields where pesticides have been recently sprayed, and the second is a rule that bans children from working with restricted-use pesticides. The AFBF supports these rollbacks, saying they were introduced poorly and should be left up to the states, according to Schlegel.
About an hour from Kinston is the Tobacco Farm Life Museum, celebrating the history of tobacco growing in the area. One exhibit features women grinning and wearing T-shirts that say Proud to be a tobacco farmer's daughter. On the day I visited, there was a hog-killing demonstration, sponsored by the North Carolina Pork Council. Duke University is named after a tobacco magnate, and the term tobacco road is used to reference the athletic conference for North Carolina universities. Tobacco is the region and its history.
And yet, despite tobacco's omnipresence, the children who work the fields are barely seen or discussed. Castillo's daughter, Samantha, told me that a few years ago she and some other advocates put on an exhibition of photographs of child labor. "People were shocked," she said. Samantha gave a speech about child labor in agriculture in farming at a college in Kentucky, another state with a large tobacco-growing industry, and many in attendance expressed complete disbelief.
Yesenia once brought the NC FIELD youth group to an event at Wake Tech, a community college in Raleigh, featuring presentations by executives of tobacco companies. Yesenia and her friends sat up front, and her sister pointed out to her that the executives weren't addressing child labor in the talk. After the event ended Yesenia and her friends had a conversation with the executives. "Let's just say the conversation carried on so long we had to take it outside. They had the same reaction that some people have where they are oblivious to child labor."
And this is the crux of the matter: In the absence of government regulation, the power to see or not see these children, to employ them or not, to enforce precautionary health measure or not—all of this rests with the tobacco companies and the subcontractors they use. Some of the major tobacco companies have changed their standards in response to reports on child-labor conditions, even though the government has not asked them to. Philip Morris International, for example, has sought to improve how they source their tobacco and raised their minimum age for farmworkers, according to Castillo. Miguel Coleta has been working at Philip Morris International on labor-rights issues, and the company began to implement changes in the U.S. in 2010. Human Rights Watch recognized Philip Morris for targeted changes to reduce child labor in 2014, after the organization's report.
Coleta's work in the U.S. is quite different than similar work in other countries, he says. "In the case of the United States, setting those clear standards in terms of child labor meant setting standards that are stricter [than] U.S. law," Coleta said. He added it was hard at first to get farmers on board: "The challenge for us was to get farmers understanding why we were imposing those standards and the fact that they had no reflection in the law made this process more difficult than other places," he said. Since then, other companies have followed suit, adopting higher minimum-age standards, which, said Coleta, "makes our life easier."
I reached out to British American Tobacco, which acquired the North Carolina-based Reynolds Tobacco last summer, creating the world's largest publicly traded tobacco company. "We do not employ children in any of our operations worldwide and make it clear to all of our contracted farmers and suppliers that exploitative child labour will not be tolerated," said a spokesperson for the company. According to British American Tobacco, they are not aware of significant issues within their own supply chain. A spokesperson for R.J. Reynolds Tobacco told me over email that they assess their farms through third-party audits, interviews, and employee assessment. The 2016 audit of 341 farms found 22 minors, four employed in violation of their contracts. "Note that a violation of R.J. Reynolds Tobacco Company's policy regarding the age of employment does not mean that a grower violated child labor laws," the spokesperson wrote.
But for some companies, the lack of government oversight has meant that they have no reason to look for a problem—no reason to see the children who pick the tobacco that they turn into cigarettes. This is the case at China National Tobacco (CNTC), the largest cigarette maker in the world, which has offices in Raleigh. It has not made any statements or outward changes based on industry pressure or the Human Rights Watch report. (Yesenia said the officials she spoke with at the meeting were from CNTC.) The company supplies one-third of the world's cigarettes and has recently expanded from the Chinese market to cruise ships and other countries. (CNTC did not respond to requests for comment.)
Castillo is doubtful that the standards have been met as companies say they have, especially without government regulation that would force companies to do more: "Even now, it's not about your age, it's about how big you are," she said. "If you don't look like you are 10 to 12, you are going to get a job." Most of the farmworker youth I spoke with for this story said they were not asked their ages or for identification when they showed up for work. It's almost as though nobody cared who they were at all.