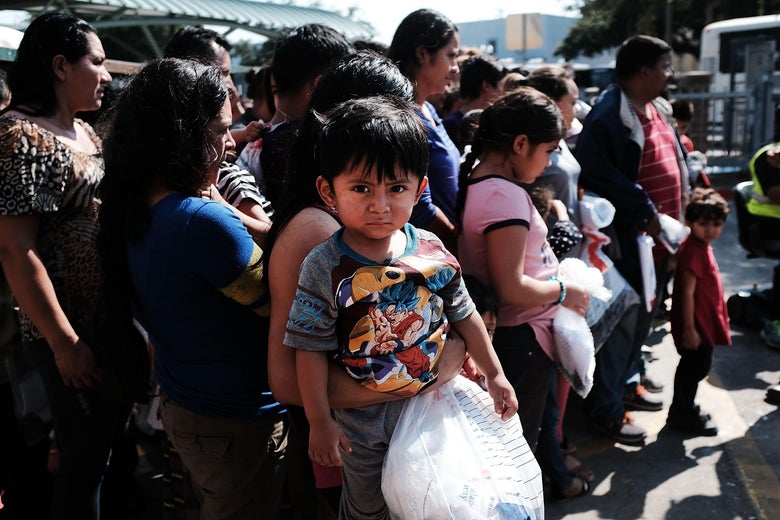 Dozens of women, men, and their children, many fleeing poverty and violence in Honduras, Guatamala, and El Salvador, arrive at a bus station following release from Customs and Border Protection on Saturday in McAllen, Texas.
Spencer Platt/Getty Images
This piece was originally published on Just Security, an online forum for analysis of U.S. national security law and policy.
Facing a growing outcry over his administration's separation of more than 2,300 children from their parents between May 5 and June 9, President Donald Trump signed an executive order Wednesday that he said would "keep families together." The order seeks to accomplish that not by ending "zero tolerance" prosecutions of parents for crossing the U.S.-Mexico border (though reportedly there has been at least a temporary pause), but by jailing families together during criminal and immigration proceedings "to the extent permitted by law."
What that means in practice is unclear. Prolonged detention of immigrant children, with or without their parents, is illegal. It violates a legally binding 1997 class-action consent decree known as the Flores settlement that governs the treatment of minors in immigration custody. During the Obama administration, courts interpreted Flores to limit the time period that the government could detain children to 20 days in most cases.
The Trump administration has denounced Flores as a "loophole" and demanded that Congress override it so it can start detaining families for longer periods of time. The executive order instructed Attorney General Jeff Sessions to file a request to modify the Flores settlement so that the Department of Homeland Security can detain families together during their criminal and immigration proceedings. It is not clear what will happen if the court denies that request, but the order repeats Trump's false claim that the Flores settlement forces him to separate families:
It is unfortunate that Congress's failure to act and court orders have put the Administration in the position of separating alien families to effectively enforce the law.
All of this ignores a growing body of evidence that the family separation policy and the failure to reunite families are themselves violations of Flores, as one federal magistrate judge in El Paso found in an overlooked decision this January. Flores specifically requires that minors in U.S. immigration custody be provided with "contact with family members who were arrested with the minor." Instead, the government has bureaucratically severed the link between parents and children, and seems to have no system for reconnecting them.
Before applying the "zero tolerance" family separation policy along the U.S.-Mexico border, the Justice Department and DHS tested it in the Border Patrol's El Paso sector, which includes western Texas and all of New Mexico.
A DHS memo from April, reported by the Washington Post, claimed that authorities had drastically cut the number of families trying to cross the border illegally in the El Paso sector by criminally prosecuting every adult apprehended by Border Patrol agents there between July and November 2017, even if it meant separating them from their children. It recommended that DHS Secretary Kirstjen Nielsen implement the "100 percent" prosecution policy along the entire U.S. border with Mexico. 
The El Paso pilot program was not publicly announced, but by early November of last year, Miguel Torres, a federal magistrate judge in the Western District of Texas, had noticed the trend. He stated during a court hearing on Nov. 1, 2017, that "with some frequency in the last few months," defendants being prosecuted for immigration offenses had described being separated from a minor child at the time of their arrest.
Torres said he was particularly concerned by "what appears to be the total lack of information that these Defendants appear to be getting" about their children after being separated from them. He consolidated five cases where parents had been separated from their children, jailed, and criminally charged, and asked prosecutors and public defenders to file briefs on whether the government's actions were legal.
The evidence that has emerged since Judge Torres' decision suggests that he dramatically understated the extent to which the government's actions violate the Flores settlement.
From Oct. 21-23, all five defendants had crossed from Mexico into the U.S. with their son, daughter, or in the case of one defendant, a grandson whom she had raised for years. They and their children were apprehended by U.S. Border Patrol. The defendants were charged with "improper entry by an alien," which is a federal misdemeanor. Their children, who ranged from ages seven to 16, were put into the custody of the Department of Health and Human Services' Office of Refugee Resettlement, the federal agency responsible for the care of unaccompanied immigrant children.
Federal public defenders Maureen Scott Franco and Sergio Garcia moved to dismiss the charges against their clients on a variety of legal grounds. At a Nov. 27, 2017 hearing, Judge Torres denied the defendants' motion, for reasons he explained in a written decision. Torres concluded that the government's practice of separating parents from children, far from being compelled by the Flores settlement, was a violation of it—but that he lacked the authority to enforce it in the context of the defendants' misdemeanor criminal proceedings.
Specifically, Torres found that the government was violating Flores' requirement to provide children in immigration custody with "contact with family members who were arrested with the minor" regardless of the family members' legal status. He found that this provision "operates under force of court order" and that the government "has offered no evidence, nor made any reference to, any effort ... to comply with the provisions regarding contact with family members."
Torres also identified another major legal problem with the government's zero-tolerance prosecutions. Before accepting a guilty plea, judges are required to "determine that the plea is voluntary and did not result from force, threats, or promises," and the Supreme Court has ruled that defendants must be informed of a guilty plea's immigration consequences. Torres found that placing a defendant "incommunicado with his minor child" raised serious questions about whether a guilty plea could meet these standards.
But, because they were contesting the legality of their prosecution, the five defendants in this case did not plead guilty, so there was no plea for Torres to evaluate. Instead, they were convicted after a series of extremely abbreviated trials on Dec. 18, 2017. In each trial, there were no witnesses; the only evidence was Border Patrol documents that both sides agreed to enter into the record.
Before sentencing, one by one, each defendant begged to be reunited with his or her child.
"When I arrived here, I had my daughter with me, and up to this day today, I know nothing of her," Elba Luz Dominguez-Portillo said. "I came here fleeing from the Maras [violent gangs in Central America], and I ask I want to go back with my daughter as soon as possible. That's all."
"The only thing that I want now is to go back to my country with my son as soon as possible," Maynor Alonso Claudino Lopez told the court.
"I do want to know about the whereabouts of my son," Jose Francis Yanes-Mancia said. "I want to know if he is OK, and I want to take him back to my country of Honduras."
"I came here with my grandson. He was taken from me," Natividad Zavala-Zavala said. "I don't know where he is. ... I need to know where he is. He was taken from me. I know nothing of him. I need to know where my grandson is."
And Blanca Vasquez said she had fled to the U.S. with her son after her husband was murdered by gangs.
"I don't know where my son is," she said. "From the moment he was taken from me, I don't know anything about him. ... when I have myself in to immigration, they took my son away from me. They cuffed him. He is a 13-year-old little boy. He was cuffed and taken away."
All five defendants were convicted and sentenced to one year of probation. Four of them were deported, almost certainly without their children, in January and February.
Sergio Garcia, the public defender who represented the defendants, told me that after their convictions all of his clients other than Ms. Vasquez were removed from the United States before he could make contact with them, and "nothing in the paper indicates they left with their children." Garcia said an investigator from his office was trying to find out more information and re-establish contact with his clients and their families.
The fifth defendant, Vasquez, was almost deported as well. An asylum officer initially found that she did not have a credible fear of persecution if sent back to El Salvador. But after the Houston Chronicle published a story with extensive details about the murder of Vasquez's husband, violent attacks on her older son, and threats against her and her younger son, that decision was reversed. A lawyer named Bridget Cambria contacted Vasquez and offered to represent her at no cost in her immigration case. Vasquez was released on bond by an immigration judge on Feb. 21—an outcome that Cambria said was "almost never heard of" in El Paso. Vasquez was reunited with Luis, the son who had been taken away at the border, as well as his 22-year-old brother William, who had entered the U.S. and sought asylum in 2016.
On June 11, U.S. District Judge Kathleen Cardone affirmed the defendants' criminal convictions. Cardone agreed with the magistrate judge that in the context of the defendants' appeal of their misdemeanor conviction, the court lacked jurisdiction to rule on whether the government's separation of them from their children violated Flores, or whether separating parents from their children could render a guilty plea involuntary, and she declined to address the magistrate judge's substantive analysis of those issues. The defendants have since filed an appeal with the 5th U.S. Circuit Court of Appeals.
Judge Torres's decision was, as he acknowledged, based on a very limited factual record. But the evidence that has emerged since then suggests that, if anything, he dramatically understated the extent to which the government's actions violate the Flores settlement.
Flores requires that the government provide children with contact with their relatives who were arrested with them. Instead, the government is not only physically separating families for the period that a parent is in criminal custody, but choosing to process them in a way that makes it extremely difficult to reunite, or even speak to one another. John Sandweg, the former acting head of Immigration and Customs Enforcement, has predicted that some separations would be "permanent."
Flores requires that the government treat "all minors in its custody with dignity, respect and special concern for their particular vulnerability as minors" and "place each detained minor in the least restrictive setting appropriate to the minor's age and special needs." Infants younger than one, a 10-year-old with Down syndrome, and a blind 6-year-old have been separated from their parents and placed in shelters. Parents and children are sometimes separated with no opportunity to say goodbye, and without any opportunity to provide a child's medical history or identify relatives who might be able to care for them. Caregivers have reported that young children, especially, are hysterical, regressing developmentally, and having panic attacks. Dr. Colleen Kraft, the president of the American Academy of Pediatrics, has called the current policy "nothing less than government-sanctioned child abuse."
Trump claims that in order to end family separations, Congress and the courts have no choice but to take away immigrant children's legal protections under Flores. The other branches of government should not listen. The solution is to enforce those protections, not weaken them.
More from Just Security:
Detention of Migrant Families as "Deterrence": Ethical Flaws and Empirical Doubts
"Zero Tolerance" and the Detention of Children: Torture under International Law
You depend on Slate for sharp, distinctive coverage of the latest developments in politics and culture. Now we need to ask for your support.
Our work is more urgent than ever and is reaching more readers—but online advertising revenues don't fully cover our costs, and we don't have print subscribers to help keep us afloat. So we need your help. If you think Slate's work matters, become a Slate Plus member. You'll get exclusive members-only content and a suite of great benefits—and you'll help secure Slate's future.