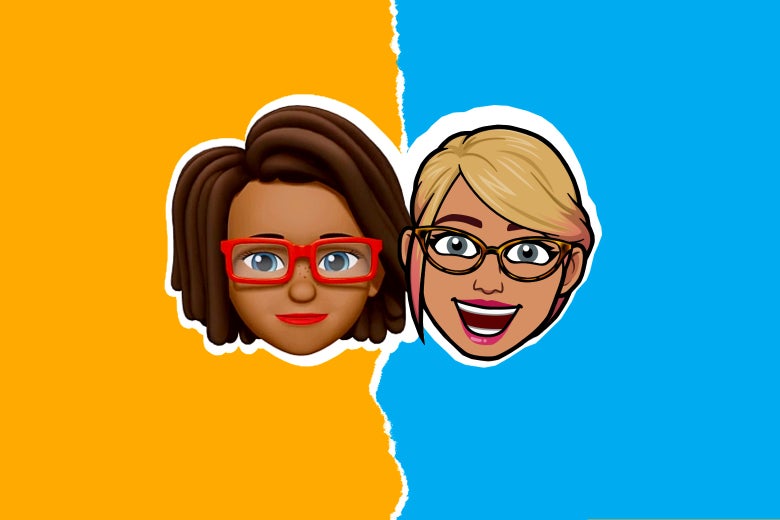 Photo illustration by Slate. Images by Apple and Bitmoji.
Cartoon-like digital avatars are nothing new. They date back to the MySpace era and games like Second Life and The Sims. With the popularity of smartphones and social media, the idea has gained new momentum—and become a surprisingly competitive arena. At its developer conference earlier this month, Apple unveiled the latest entrant to the space: Memoji.
Memoji are digital faces you can customize in iOS and then, using facial mapping in the iPhone X's front-facing camera and sensor array, animate with your real-life facial expressions. Apple introduced this concept with Animoji last fall, but now the cartoony creations have turned more personal. The company is also butting up against some existing digital avatar platforms as customized emoji become a more important part of our online communication and companies vie to lead that experience—and control the users and potential profit that comes with it.
Bitmoji is the most notable personalized 'moji app available. It gained an early foothold with teenagers as a fun, popular messaging addition in 2015, the same year it was the subject of a New York Times profile. From 2015 to December 2016, the app exploded: Its number of unique users grew 5,210 percent, largely aided by the March 2016 acquisition of its parent company Bitstrips by Snapchat, which quickly integrated the digital avatar-creating app into its own.
Since then, Bitmoji has rapidly improved the customizability and realism of its cartoon-like creations as well as the variety of stickers users can see their visage applied to, including greetings, moods, and activities. In September, Bitmoji leapt from the 2D sticker world to 3D augmented reality animations you can insert into your Snaps. Apple's Memoji, announced nine months later, encroaches on this space, but Snapchat is fighting back. While Bitmoji fans have been able to use its third-party iOS keyboard to insert their Bitmoji creations in Messages and other apps, now Snapchat users will be able to use their Friendmoji's as well—Bitmoji images that include both you and the contact you're chatting with. While the timing of this update could be coincidental, the message is clear: Snapchat doesn't want to yield its customizable avatar dominance to Apple.
Bitmoji isn't the only customizable emoji offering out there either. The numerous apps include options like Emoji Me on iOS or Zmoji on Android. Big players have also tried their hand at the trend. Google got into the space with its Allo messaging app in 2017. Samsung introduced its own Animoji-Bitmoji hybrid with the Galaxy S9's AR Emoji, which lets you customize a digitized version of your face captured via selfie; that image is then applied to a variety of stickers and GIFs you can share in other apps. While critics have called Samsung's slightly too realistic animations "creepy," the fact that Snapchat, Samsung, and Apple are now diving into this space proves how significant this kind of personalization has become. For these hardware-makers, their exclusive animated emoji options aren't just a feature, but a play to entice consumers to buy their newest handsets.
While the popularity of these silly personalized emoji illustrations may seem perplexing—or downright idiotic—to those who don't already partake, their rise makes sense if you look at the way our digital and personal lives have intertwined. "We are moving into the future where the division between your life and your digital life is going out the window; they are merging into the same thing," Bitmoji founder Ba Blackstone said in a 2016 Forbes interview. "And in our new world, your digital representation of yourself becomes increasingly important and your ability to represent yourself and express yourself and interact with people becomes more and more important." Or as Samsung says in its Galaxy S9 marketing: Words can't say what your emoji can.
This is why people get so deeply offended over things like anatomically incorrect emoji: These images are used as a means of self-expression, and if that's not accurate, it feels like an affront. As emoji have become more detailed, nuanced, and integral to our digital messaging, phone and app makers are striving to give us even more control over this experience with customizable features. Customization and personalization have been big themes in general across the smartphone and consumer electronics space this year. With Memoji joining the fray, the customized avatar space gains more legitimacy.