Lennon's strength as a writer was partly personal, someone grappling with his own worst experiences and actions in a serious way; and partly systemic, the product of educational programs offered behind bars. A former juvenile offender, he'd taken up the craft of writing seriously. It was one way to kill time, and he had plenty: He won't be eligible for parole until 2029. A few months after I published the piece in August 2013, Nicholas Kristof of The New York Times wrote a column about him, and published a piece by Lennon on his blog. I was impressed by Lennon's skill, but wondered what more he could do with it from behind bars.
I was guilty of a lack of imagination. Since his first piece, John J. Lennon has built up a career as a reporter and journalist behind bars. He's now incarcerated at Sing Sing—a more desirable location, I've learned, both because of its proximity to New York City, with a view of the Hudson River, and because it doesn't have the fraught history between guards and prisoners that Attica does—and has published work at The Guardian, Pacific Standard, and elsewhere, and is a contributing writer at The Marshall Project. There are many accomplished writers in prisons, including those who have become writers while incarcerated, but Lennon's commitment to reporting, on top of writing about his personal experiences, makes his work especially unusual and valuable.
This month, he also has his first print feature published, in Esquire. The piece is on the glut of people with mental illnesses inside American prisons, which have largely come to replace institutions designed to help the mentally ill.
"Nearly four hundred thousand of 2.2 million prisoners nationwide have a psychiatric diagnosis," Lennon writes. "Compare that with the thirty-eight thousand patients that the country's state-run psych hospitals can accommodate. The math is as easy as it is shocking: Ten out of every eleven psychiatric patients housed by the government are behind bars."
That's straightforward enough—any decent reporter could write it—but Lennon puts the reader inside the yard in a way no outside journalist could. Interweaving his own story; that of his bipolar brother Eugene, who died of a drug overdose; and of Joe Cardo, an Attica prisoner with schizoaffective disorder, he conveys the struggles of the people known among inmates as "bugouts." He mixes the jargon of the yard with clear explanation, and he writes with a poignant mix of empathy and humor, as in this vignette during a brawl:
Joe ended up next to me on the wall as we waited. We eventually saw a bright light approaching in the sky, bringing with it a familiar sound: A helicopter descended behind the outside wall of the cellblock. One of the fighters needed to be airlifted. Joe hung his head between his outstretched arms, his palms fanned out against the wall. He turned to me, tears welling in his eyes. "Oh, man," he said. "This place is crazy."
Even amid fitful efforts at criminal-justice reform, the United States has the largest incarcerated population in the world, both by total population and per capita. By any measure, it's an undercovered public-policy question, and an undercovered segment of the population, but it's also practically impossible for most reporters to deeply understand the prison world from the outside. Lennon, and imprisoned reporters like him, are an essential window for the rest of the country into what happens inside the walls and barbed-wire fences of the nation's prisons.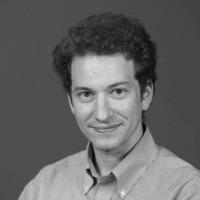 David A. Graham
is a staff writer at
The Atlantic
, where he covers U.S. politics and global news.