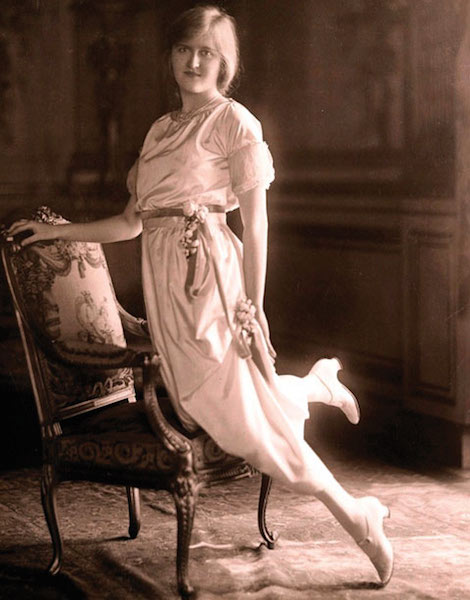 Huguette Clark, the youngest daughter of copper mogul and Montana Senator William Andrews Clark, lived her life in the headlines. Born in 1906 to the senator and Anna LaChapelle—Clark's second wife, 39 years his junior—Huguette attracted media attention even as a toddler. She and her sister Andrée, four years older, appeared in the "New York Times" and the "Chicago Herald Tribune" disembarking steamships from Paris—Anna's safe haven from the press, where Huguette was born—and private railcars in Butte, Montana, the sooty city founded on Clark's copper fortune.
"I got to go to a super-secret Christie's warehouse with two lawyers."
Shy by nature, Huguette struggled with the attention her family's fortune excited, and over the years, she withdrew further and further into the privacy of her luxurious Fifth Avenue apartments. Just before her death at the age of 104, Huguette was thrust into the spotlight one last time when news reports of her odd life sparked public interest in her finances and hotly disputed will. It was around this time that Huguette's habits and hobbies—specifically, her passion for collecting porcelain dolls and commissioning dollhouse models of Japanese palaces—became fodder for questioning her sanity.
Huguette was born into an incredible Gilded Age fortune comparable to that of the Vanderbilts and Rockefellers. Her father was greedy and ruthless—he bought up all of the production channels in Butte, from copper mining, to smelting, to shipping. Environmentally, the impact was extreme: Roasting ore produced clouds of sulfur and arsenic that enveloped the city, contaminating water, stifling trees, and causing close to 200 deaths in one half of 1890 alone (today, the Berkeley Pit in Butte is one of the country's largest Superfund sites). After Clark was elected to the Senate, Mark Twain called him, "as rotten a human being as can be found anywhere under the flag."
Clark was ostentatious with his wealth and raised eyebrows constructing a 121-room mansion for his young family at 952 Fifth Avenue on Manhattan's Upper East Side—a decade-long build-out completed in 1911. Equipped with an air-filtration system, swimming pool, wine cellar, Turkish bath, and organ, it was described by the "Boston Journal" as "towering and Massive in its arrogant hideousness."
The Clarks were also tragedy prone. When Huguette was just 13 years old, Andrée contracted meningitis and died. Huguette struggled to adjust to her new status as an only child in an often-empty mansion (her parents traveled frequently to Europe, leaving Huguette behind with nurses), and turned increasingly to her ever-expanding collection of dolls. Her elderly father passed away in 1925, leaving a will that ordered the sale of his gaudy home, forcing Huguette and her mother to move out of the Fifth Avenue mansion to more modest apartments five blocks away. When no buyer could be found, the mansion was demolished.
"After Clark was elected to the Senate, Mark Twain called him, 'as rotten a human being as can be found anywhere under the flag.'"
William and Anna instilled a love of art, music, and travel in their children. From the age of 8, Huguette took violin lessons on a Stradivarius. The Fifth Avenue mansion brimmed with paintings by famous artists like Edgar Degas and J.M.W. Turner, and Huguette's mother was an accomplished harpist who loved to serenade friends and family. When Huguette expressed interest in painting in her late teens, lessons were arranged with Tade Styka, a Polish painter making the portrait circuit in Manhattan in the early 1920s. Huguette had a real knack for it, and in 1928, a series of her watercolors were shown at the Corcoran Gallery in Washington, D.C. Like her parents, Huguette had a collector's impulse without budgetary constraint. Above all, she favored porcelain dolls, to which she dedicated an entire room on Fifth Avenue. She also kept them in her bedroom at Bellosguardo, the family's sprawling summer estate in the Santa Barbara hills.
In 1928, Huguette endured a highly public, likely unconsummated marriage to William Gower, the son of her father's accountant. They separated after only nine months and subsequently divorced, and the humiliation drove Huguette towards a more private routine: Mother and daughter spent the cold months in New York, and the warm months in Santa Barbara, keeping public encounters to a minimum beyond Huguette's lessons and outings with Styka.
In the wake of her brief marriage, Huguette became preoccupied with Japanese art and culture, and in the early 1930s, she began collecting Japanese artifacts. She mimicked their style in her own art and designed and commissioned tiny dollhouse models of Japanese palaces. But ever sensitive (the sinking of the Titanic in 1912 had sent young Huguette into an emotional tailspin), Huguette was horrified and depressed by the attack on Pearl Harbor in 1942, which brought the United States into World War II and led to an FBI investigation into her correspondences with, and purchases from, Japan.
Amid the Cold War scare of the 1950s, Huguette and her mother stopped making trips to California, spending all of their time on Fifth Avenue. In a mark of the paranoid times, Huguette purchased a French chateau in New Canaan, Connecticut, in 1951—an emergency retreat in case of nuclear attack that she maintained for the rest of her life, but never visited. It was also during this period, in 1955, that Huguette spent $50,985 on La Pucelle, or "The Virgin" violin, a 1709 Stradivarius that went untouched until the mid-1800s, when Jean-Baptiste Vuillaume, a famous French violin maker, gave it its name and installed a new, decorated tailpiece engraved with an image of Joan of Arc in armor.
When Anna passed away in the fall of 1963, 57-year-old Huguette fully embraced her status as a recluse. She refused to leave her apartment aside from occasional errands, and by 1975, had even cut out chauffeured trips, immersing herself completely in her hobbies behind closed doors. There, she expanded her doll collection, took photographs from her apartment windows overlooking Central Park, and even sketched cartoon still frames from episodes of "The Smurfs." She would peruse the catalogs for upcoming doll auctions, and then send her lawyer, Donald Wallace, to do her bidding. When he became ill, her accountant Irving Kamsler would attend auctions in her stead. Huguette made frequent phone calls to friends and family, but she did not step foot outside for nearly 20 years—through the presidencies of Ford, Carter, and Reagan.
Then, in 1991, Huguette was forced to break her self-imposed seclusion when lesions on her face were diagnosed as advanced skin cancer. She was rushed to Doctors Hospital (soon to be renamed Beth Israel North). Stable within a few months, Huguette nevertheless refused to leave. Because she didn't have health insurance, she paid for the expense of living at the hospital out of pocket. She quickly adjusted to a new, more social, routine, surrounded by nurses and caretakers, and continued to collect dolls, keeping her assistants busy delivering items from her collection to and from the hospital.
While Huguette's inner circle of staff and nurses found her habits puzzling, it wasn't until 2010 that a series of NBC reports by journalist Bill Dedman brought Huguette's story of reclusion to light, hurling her back into the spotlight after nearly five decades of privacy. Not only was this fodder for the tabloids, but it drew the attention of many of Clark's distant relatives, the descendants of her half-siblings from her father's first marriage. Several had been attempting to contact Huguette for years and had been puzzled by the stonewall. Meanwhile, Huguette had become increasingly fond of showering monetary gifts on her caretakers—more than $40 million worth, including a few checks written to Beth Israel, between 1997 and 2004. The lion's share went to her private nurse, Hadassah Peri.
Huguette would turn 100 in 2006, and with that deadline in mind, her new lawyer Wallace Bock and Irving Kamsler started urging her to write a new will in the early 2000s. At the time, her will, written in 1929, left everything to her deceased mother and would, therefore, be distributed to family members whom she had last seen in 1968. Although witnesses have since attested to Huguette's mental stability late in life, many questioned Bock and Kamsler's motives. In 2010, the Manhattan District Attorney's office launched an investigation of the handling of her finances, but in the end, no charges were filed.
The heiress passed away in 2011 at the age of 104, in her bed at Beth Israel. After her death, it came to light that she had signed two versions of her will in the space of five weeks in 2005, when she was 99 years old—both drafted by Bock and Kamsler. The first will stated that if her unused house in Connecticut was not sold before she died, her private nurse, Peri, would receive $5 million. That meant, by default, she left the bulk of her fortune to distant family members. The second will cut them out, and gave the vast majority of her estate to Peri. As executors, Bock and Kamsler were poised to make millions in fees. Immediately, family member filed lawsuits, and in 2013, 20 distant relatives won a $34.5 million settlement. Peri was even forced to return $5 million in gifts she received from Huguette over the years.
Huguette's most recent biographer, Meryl Gordon, a journalism professor at NYU, with bylines in "Vanity Fair" and "Town & Country," published The Phantom of Fifth Avenue: The Mysterious Life and Scandalous Death of Heiress Huguette Clark this spring. Gordon began her research in June of 2011, soon after Huguette's death. Meanwhile, Dedman's Empty Mansions: The Mysterious Life of Huguette Clark and the Spending of a Great American Fortune, the book-length version of his NBC investigation, was released in September of 2013 ("Eat Pray Love" director Ryan Murphy has since optioned the film rights). That October brought the settlement of Huguette's estate, and with it, Gordon received exclusive access to 75 previously unexplored boxes from Huguette's apartments. These 30,000 odd pieces of paper factor heavily in The Phantom of Fifth Avenue—everything from telegrams she sent to artisans in Japan to receipts for diamond necklaces.
This June, large swaths of the Clark family's estate went up for auction at Christie's. The auction, "An American Dynasty: The Clark Family Treasures," brought in $8,463,938 in total, which went toward establishing an arts foundation at Bellosguardo and settling the other bequests in the will. Gordon was in attendance, and a few days later, we met in her Upper West Side apartment to discuss Huguette's legacy.
Did you get to spend time with the Clark family possessions before Christie's auctioned them off?
I got to go to a super-secret Christie's warehouse with two lawyers. The storage room we went through was the size of a football field, totally jam-packed. We looked through a number of boxes, and I was able to see some of Huguette's dolls and paintings. It's a complicated emotional feeling to go to an auction of someone's private possessions, especially someone I had been studying so intimately for almost three years.
What was the scene like at Christie's on auction day?
It actually felt like a reunion, because there were a number of people there whom I had interviewed for the book: Four of Huguette's father's descendents, and Lucy Tower, whose grandfather, William Gordon Lyle, was the Senator's doctor. Lucy had been hoping to buy one of Huguette's paintings. Huguette's other biographer, Bill Dedman, was also there. I was more surprised to see people there who I didn't know at all—people who spent a fortune on Huguette's possessions without any kind of personal connection.
What items did you bid on?
One of Huguette's Central Park paintings and a beautiful Japanese screen, both of which went for much more than I could afford. But in the heat of the moment, I felt like winning something would have been a huge achievement. Since the auction, I've been in touch with another woman who bid, and we both wish we had bid higher. The problem is it goes so fast that you're left thinking, "Oh my God, what have I agreed to? Is that next month's rent?"
When Huguette bid from the hospital, she had never even laid eyes on some of the dolls she bought, correct?
I was amazed that she didn't want to see her winnings. It seems to me that you would at least want to see the thing before it went into storage. But Huguette had more than 600 dolls, and sometimes I think just the knowledge that she owned a thing was enough.
How did you tackle the mountains of material Huguette left behind?
I almost ended up writing the equivalent of two books. I had done most of my interviews with Huguette's family members, lawyers, and assistants when the court settlement came out in late September of 2013. Suddenly I had access to all of these boxes of Huguette's possessions that the lawyers had taken from her apartment. There were thousands of pieces of paper in them: The telegraphs she sent to artisans about tiny details for her Japanese model palaces, and correspondences about her own paintings and her doll collection. I was also able to track her spending. For example, Black Thursday, when the stock market crashed, fell on October 24th in 1929. On October 28, Huguette went to Cartier and spent $15,500 on a pair of emerald, pearl, and diamond earrings, $2,640 on a diamond wristwatch, and $3,125 on a diamond bracelet. On the whole, the documents were a total mess. A box would be labeled "1970s Legal Papers," and I'd find Huguette's wonderful old letters and telegrams from the 1920s. I spent several 12-hour days plowing through boxes. A paralegal had been assigned to work with me, and I gave her everything I found of historic value, to put into separate boxes.
How did Huguette organize her possessions in the Fifth Avenue penthouse?
A lot of the organizing fell on Christopher Sattler, especially after Huguette moved into the hospital. Chris is the younger brother of Neal Sattler, whose high-end renovation firm took on the incredible task in 1973 of renovating Huguette's apartments in the style of a Gilded Age time capsule. While Huguette refused to meet with Neal in person, she warmed to Chris, who eventually took on the task of inventorying Huguette's possessions for her insurance company. He even built storage shelving for her doll collection. Chris told me that Huguette had very elaborate systems. For the last 20 years of her life, she would say things like, "I want you to bring me a book on the third shelf to the left." It was the same with her dolls, which were stacked in boxes up to 6 feet high in the apartment, so the right ones could be easily retrieved and rotated in and out of the hospital room, a handful at a time. But in the '90s, there were some leaks in the ceiling, and the lawyers had to move things around for insurance reasons. Luckily, nothing was damaged.
Was her doll collection an easy target for media scrutiny?
Huguette started collecting dolls as a child. There's a photograph in Phantom of Huguette sitting on a porch with her dolls spread out around her as a little girl, and then another of her as a teenage debutant, at a party with a doll in a matching dress. In Bellosguardo, her family's Santa Barbara mansion, she had a circle of half-size chairs around her bed, a dozen of them, to sit her dolls on. Her collection was obviously meaningful to her, but she didn't talk to her dolls, as far as anyone knows. She treasured them. They were always in pristine condition.
Do you think Huguette got the collecting bug from her parents?
It's true that Huguette's parents wanted the best of everything, and that her father toured Europe buying vast quantities of artwork. His collection is pretty fascinating, because plenty of his paintings turned out to be forgeries, while other pieces of art were nearly priceless—one of his oriental rugs just sold for $30 million at Christie's. The senator was pretty stubborn and defensive about his taste. Meanwhile, her mother collected antique fans and, as a talented harpist, was responsible for an impressive musical instrument collection. But I think Huguette was more influenced by her father's perfectionism than his collecting. The 121-room mansion he completed for his family in 1911 was micromanaged down to the very last tile. He imported an entire sitting room from Japan, furniture and all, and bought up granite and bronze foundries in Maine and upstate New York to source his materials. When you look at Huguette's own collection of miniature Japanese castles and dollhouses depicting scenes from fairy tales, it's clear that she'd taken her father's perfectionism and enacted it on a miniature scale. She grew up watching her father demand nothing but the best, and she took enormous pleasure from commissioning these dollhouses and making every single design decision down to the last inch.
So you don't trace her strange behavior back to childhood trauma, or some sort of stunting in her development?
Going into this project, I definitely wondered if Huguette might have been troubled in some way. But when I got to go through her documents and read the letters she wrote to her father as a child, I could really see her sense of humor. I think she had a very outgoing life until the early 1940s, when things became more difficult for her. She managed to avoid the tabloids after her messy divorce, and the last public photograph of her was actually snapped by the Associated Press on her honeymoon in Hawaii. The picture is unflattering. She looks old and uncomfortable in her furs and jewels. But throughout the '30s she continued to go out, often with Styka, to plays and concerts. Oddly, her breakdown in 1942 was very much connected to one of her collections. She was in love with Japanese culture, and suddenly, Japan was the enemy. She bounced back eventually, but I think she was always a more vulnerable person after Pearl Harbor.
Can you make a link between her interest in building Japanese models and her preoccupation with cartoons?
Huguette was a painter for many years, and she created these gorgeous scenes of Central Park from her Fifth Avenue studio window, like the one that sold for $19,000 at Christie's. When she stopped painting, she took up photography, and then she got really interested in animation. She'd watch cartoons to freeze each frame and sketch them, page after page, almost like an old-fashioned flip book. So her hobbies were informed by her artistic sensibilities.
Was Huguette more of a hobbyist than a collector? I tend to think of the latter as more passive.
Thinking about Huguette's collecting got me reflecting on my own behavior. Walk around my apartment, and you'll see that I have a lot of quilts. I remember the day I finished furnishing my apartment, and I had no reason to go to antiques stores anymore. I felt sad. I believe that collecting stems from a desire to surround yourself with stories. From where we're sitting right now, I can point out the 1930s star quilt that I got in Rochester, New York, and the antique slag glass lamp I got in Savannah, Georgia. It's nice to wonder where something came from. In that way, collecting isn't passive at all. For the Christie's auction, I tried my best to tell stories from Huguette's life, so the people who bought her possessions would at least have some sense of where those possessions had been.
Did Christie's give historical context for every item that came onto the block?
Christie's auctioned a lot of Huguette's fine jewelry a couple of years ago, and when I went through the exhibition, I noticed that many of the dates attributed to family photos were incorrect. Meanwhile, Christie's asked me to give a lecture on Huguette, and I agreed, but not before expressing how upset I was about the mislabeling, and that I'd like to help them fix it. Christie's took me up on it, but totally pro-bono. At the time, they were obsessed with finding information about one of Huguette's Stradivarius violins, which would be going up on the block. Not La Pucelle, but a 1731 Stradivarius she practiced on as a child, and that was found hidden in one of her closets after her death. I had found this telegram in Huguette's files—from her parents, telling her that they were coming home from Europe with the best violin the world. Christie's loved that. But the agreed starting bid was $10 million, and no one placed it. The violin ended up going unsold.
One of Huguette's classmates at the Spence School was Edie Bouvier of 'Grey Gardens' fame. Looking at the two of them, it's easy to draw a connection between amassing objects and being reclusive.
I think there's probably a through-line in there, just not in a negative way. Huguette was not a lady who lunched, and she chose not to go to the Philharmonic, so collecting was her way to stay engaged with the world, in a way that she was comfortable with. I was so intrigued to learn from Huguette's helpers that she always woke up cheerful. She had endless ideas for projects, even when she was 100 years old. Until the very end, she got excited about her auction catalogs.
You mention in the book that Huguette was also an avid reader of the "New York Times."
Yes. Everyone I talked to about Huguette loved to bring up that point, as if it were unexplainable and anomalous. But I believe that her sheltered lifestyle wasn't proof, in and of itself, that she didn't want to know what was going on in the world.
What did Huguette's family members purchase at the auction?
They bought her palettes, and her father's briefcase, which went for $13,000, plus the commission. That was pretty impressive, considering the starting bid was only a couple hundred dollars.
How do you interpret the family's interest in the auction, in light of the tension surrounding Huguette's will?
The whole family situation was so, so complicated. I truly believe that the three family members who first filed a guardianship case—Ian Devine, Carla Hall, and Karine McCall—were really concerned for Huguette. Going through the archives really drove this point home for me, because Huguette held on to letters from concerned relatives, dating back half a century. Of course, after her death the dispute over the will became about the money, but the atmosphere at the auction was very different. There was clearly a lot of interest in acquiring the senator's possessions, which suggests a deep pride in family history. To a degree, everyone with a connection to Huguette was drawn to a personal item. There are several painters in the family, and there were eight or nine palettes for sale. But there were also things that barely sold, like Huguette's beds. The auctioneer got the bid up to $1,100, but initially there was no bid at all. The beds were beautiful, but I think everyone agreed they were just much too personal.
Do you think Huguette thought much about this inevitable auctioning of her beloved possessions?
As an avid bidder herself, she must have known how these things work. I think Huguette's stubbornness about signing a will actually reveals her extremely particular beliefs, when it came to personal possessions. When I walked through the formal exhibition room at Christie's, I felt a little bit sad, and a little bit haunted. Partly because Huguette had all of these beautiful pieces of furniture and art that she didn't get to see for the last 20 years of her life, while she was at Beth Israel. If I were in her situation, away from home, I would miss my things. But to Huguette, ultimately, they weren't very important. Personally, I think Huguette decided to stay in the hospital because despite her appreciation of privacy, she liked being where people doted on her and gave her their full attention. And she liked to bestow attention, too. Her immediate reaction to the pressure to settle and distribute her wealth was to give away as much money, as many paintings and possessions, as she could.
Like what?
She gave away jewels and a Stradivarius to her nurse, in addition to millions of dollars in checks. It was almost as if she were saying, "Let me have fun now, and make people happy." After all of those years alone, Huguette was close to content. So I like to think of her stubbornness in the hospital as a major shift at the end of her life. Huguette chose human contact over materialism.
(Emma Whitford is an assistant editor at "New York" magazine. She lives in Brooklyn and can be reached on Twitter @emma_a_whitford. To learn more about Huguette Clark, pick up Meryl Gordon's "The Phantom of Fifth Avenue: The Mysterious Life and Scandalous Death of Heiress Huguette Clark." Also, check out Bill Dedman's website, EmptyMansionsBook.com, and book, "Empty Mansions: The Mysterious Life of Huguette Clark and the Spending of a Great American Fortune.")