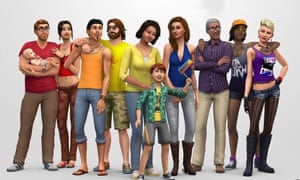 Players will be able to assign all gender characteristics to all characters.
Photograph: EA/The Sims
The Sims, EA's popular lifestyle simulation game, has removed binary gender categories for clothes, hairstyles, accessories and physical characteristics - such as voice pitch - in its customisation options for characters.
A blogpost from Maxis, the EA subsidiary that makes the game, announced the changes and focused on the game's history of LGBT support and the freedom it wanted to offer players.
"The Sims is made by a diverse team for a diverse audience, and it's really important to us that players are able to be creative and express themselves through our games", the post reads. "We want to make sure players can create characters they can identify with or relate to through powerful tools that give them influence over a Sims gender, age, ethnicity, body type and more."
The reaction to the changes has been positive. Comments left under a YouTube video previewing the changes said: "this is a really great step!", "this is what I always wanted" and, underneath the official blogpost: "As a transgendered male (female to male), I am extremely happy about this news. Thank you Sims team, you have my love."
As those of us who engineered a hook-up between Mortimer Goth and John Burb will know, The Sims has allowed same-sex characters to kiss and fall in love since the game's original incarnation in 2000.
This progressive gameplay stance, rare for its time, was originally unintended. When demoing the game at the E3 games show, two female characters began to kiss in a live simulation. In a New Yorker piece, entitled 'The Kiss That Changed Video Games Forever', Patrick J Barrett, one of the game developers, recalled:
"No other game had facilitated same-sex relationships before - at least, to this extent - and some people figured that maybe we weren't the ideal ones to be first." But the developers decided not to alter the game code and to keep same-sex relationships in place.
The option for same-sex marriage was introduced in The Sims 3, released in 2009, while the first offline same-sex marriages did not happen until March 2014 in the UK and June the following year in the US. The option for gay couples to adopt was also introduced in the game's third iteration.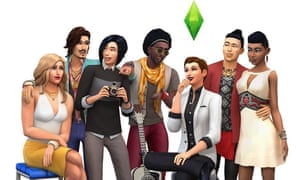 Some of the new Sims characters, without gender specific clothes or characteristics. Photograph: EA/The Sims
Fans have requested gender neutrality in the Sims for a while, although it may have been that the way characters were rendered made this difficult. In September 2014, EA fixed a bug preventing LGBT terms such as "gay" and "homosexual" being used in character names when users played online.