Imagine you're the kind of person who drives out to see submarine-cable landing sites for fun. This should not require too much imagination. We're talking about places in the world where the Internet rises out of the ocean. Of course you're the kind of person who wants to see that.
Now imagine you're in San Francisco. You have two options for landing sites to visit for a day trip. You can drive south to San Luis Obispo, where there are a few cable landings in close proximity to each other; or north, to Manchester, where there's only one landing for the Japan-U.S. Cable Network. Fate sends you to Manchester. "Fate" in this instance may mean a preference for really scenic drives.
I first learned about the Manchester cable in an excerpt from the cable station's internal company newsletter in a hacker magazine from 1995 found in the Prelinger Library in San Francisco. It made the station sound like a pretty cool place to work. I was particularly intrigued by the part about Floyd the technician, who "lives in his deluxe RV at the KOA during his work week." Sadly, I didn't see a deluxe RV in the KOA when I drove up, or during any subsequent visits.
Here is what happens when you go to see this submarine-cable landing site: very little. The actual station is, like much critical network infrastructure, designed to be ignored. The fences and buildings obscured by shrubbery don't really scream
"please call the intercom at the gate." When you call the intercom at the gate, he will tell you, in an annoyed voice, that they don't give tours. He will not tell you his name. It will be as thrilling as it sounds.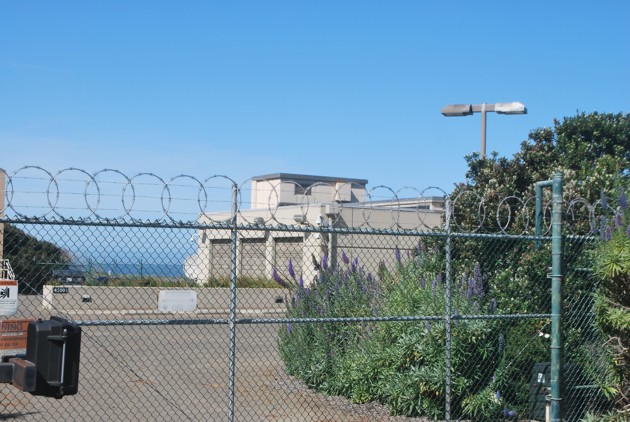 When AT&T first built the the Manchester Cable Station in 1956, it was referred to as the Point Arena Cable Station. Point Arena is the next town over from Manchester, and it's where the continental U.S. is geographically closest to the Hawaiian Islands. This proximity was one of the primary motivations for placing the cable landing out here.
Point Arena has a population of less than 600 people and a Main Street that is, in fact, the main street in town. It is a town with a mix of people who moved to the area in the 1960s and 1970s to get "back to the land" and their now-jaded children, people who come from generations of local fishers, loggers, and farmers, and people who are likely to pack the bar on Main Street on Poetry Night. And, like many of the other towns around it, it's a town that has historically had pretty limited Internet connectivity, and very few options for even getting online.
The fiber-optic cable that emerges from the Manchester Cable Station—and the many other cables that converge in the area because of the submarine cable—mostly bypass residents in its immediate vicinity. According to the best estimates of the Broadband Alliance of Mendocino County, roughly half of the 34,000 households in the county have only marginal or no broadband access.
The story of the Manchester cable and the struggle to bring connectivity to the Mendocino coast is in many ways a familiar story of digital divides in rural America, although it's perhaps more rife with irony in its literal disconnect. Here, strands of unused, inaccessible fiber-optic cable running along the Pacific Coast Highway are a painfully literal rendering of the digital divide, and the political machinations that keep that divide in place.
* * *
Historically, Point Arena's economy has primarily relied on fishing, logging, and agriculture. In the last 30 years, that economy has waned, and the area has been increasingly dependent on tourism (buoyed by the creation of the California Coastal National Monument in 2000). Between 1951 and 1998, Point Arena's economy was also supported by a small Air Force Station up on Eureka Hill Road. The Point Arena AFS was one of many bases rapidly built out in response to the Korean War, and maintained as a node in defense systems of the Cold War. Starting in 1960 it served as a radar station for the Air Force's Semi-Automatic Ground Environment (SAGE), a computerized defense network that laid a lot of groundwork for the research and development that went into ARPANET.
The Point Arena Air Force Station has been closed since 1998. While it seems likely that the cable station was beneficial to the military outpost, I haven't found evidence that the two were explicitly connected. The presence of a SAGE radar station less than 20 miles from a submarine-cable landing station that was built within the same year SAGE became operational is more likely convenient coincidence than spooky conspiracy.
But it does lend some weird historical resonance to the cable station's most recent appearance in the news. In a joint investigation by ProPublica and The New York Times, the cable station was a key piece of evidence of AT&T's extensive cooperation with NSA surveillance of network communications—with the implication that the central tap on the Japan-U.S. cable was within this particular cable station.
* * *
While AT&T was apparently more than ready to accommodate the needs of Fort Meade's finest, it has generally had less enthusiasm for accommodating its neighbors living near the submarine cable. This also isn't particularly surprising—rural areas with sparse populations like Point Arena and Manchester tend to have a pretty low return on investment.
Back when submarine-cable networks were upgrading from coaxial to fiber, the idea of creating the infrastructure for fiber to the home wasn't exactly a top concern of either cable companies or consumers. In 1992, when AT&T trenched some new cables through the area, the biggest concern wasn't increasing network connectivity but the fact their method of directional drilling had discharged bentonite (a non-toxic but still environmentally harmful clay used as a drilling lubricant) into Point Arena Creek. AT&T ultimately settled over the drilling incident out of court.
The year 2000 offered an opportunity to connect the glut of buried fiber to the region when AT&T and Wiltel Communications (later absorbed into Level 3 Communications) tore up local roads to install more new cables. At the time, AT&T representatives dismissed the possibility of connecting the community for vaguely defined "technological reasons" and cost, estimating that to get Point Arena access to the transpacific cable it would cost $1 million just to build a switching facility and support facilities (there is a switching station in Manchester, owned by Level 3, but until recently almost no local providers could access it).
While the cost of building out Internet infrastructure is very high, it's possible to get government support for it—but it's not used that often. The California Public Utilities Commission (CPUC) maintains the California Advanced Services Fund (CASF) to help bring broadband to underserved areas. Large incumbent telecoms don't really use it since they know they'll never really see full ROI. While smaller ISPs would like to use it, but according to the Broadband Alliance of Mendocino County, they often don't—it's a difficult application process that only covers capital costs. It also can only be used in underserved areas, but what constitutes a "served" area sometimes just means there's fiber in the area, not that the fiber's available to the public. If judged simply by the volume fiber in the ground, Point Arena is extremely well served, but most of that fiber remains dark or disconnected from residents.
Advocates hoped that the school system could be a conduit through which communities have been able to increase connectivity. Last year, as part of an FCC-run initiative, AT&T agreed to provide the Point Arena school district with broadband. While they did install a fiber line to the school, they gave the district merely a two-pair line—the bare minimum required for AT&T to fulfill the agreement, and barely enough capacity to serve both academic and administrative needs. These initiatives are well-intentioned, but as Trish Steel, the chair of the Broadband Alliance, pointed out to me, they often create "broadband silos" that give students Internet access at school, but leave their surrounding community disconnected and no way for students to do their homework once they go home.
At the heart of the struggle over rural broadband and digital divides in America is a question of whether the Internet is understood as a utility or as a product. Technically, because the Telecommunications Act of 1996 classified broadband as an "information service," the CPUC doesn't actually have legal authority to regulate access to it or create consumer protections.
If we measure infrastructure in terms of ROI, of course it doesn't make sense to build out fiber to the home in Point Arena. By that measure, it also doesn't really make sense to build bridges. Or roads. Or aqueducts. Public goods tend to have pretty rotten ROI. And today in the United States, the Internet increasingly acts as a stand-in or scaffolding upon which social and civic institutions are expected to operate, placing public services on the backbone of privately held platforms.
Without an equivalent to the Rural Electrification Act for broadband, it's not clear how that scaffolding won't collapse in on itself.
* * *
It's important to be clear that Point Arena isn't completely disconnected from the Internet—there are organizations and smaller ISPs that are doing their best to fill in the gaps.
The Point Arena Tech Center is one such organization. Housed within the Point Arena school district, it offers free Internet, tech support, and classes to the community during after-school hours.
Blake More, one of the founders of the Tech Center, was among the residents who wanted to see AT&T give residents access to the fiber network in 2000. She was a very early Internet adopter and advocate before moving to Gualala in 1997—as a freelance writer, a dial-up connection meant freedom to work from anywhere. While she and fellow artists who had moved to the area from San Francisco advocated for access—advocacy that included driving up to the construction sites in a yellow-and-blue station wagon to ask workers questions, writing letters to AT&T, and producing a "Cyber Western" play about the cable. At the time, More recalls that "No one really gave a damn around here. We were just the crazy artists."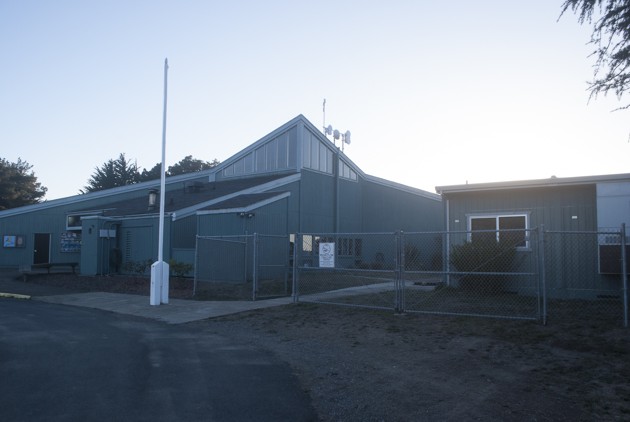 When the tech center first opened in 2003, it was met with similar disinterest and skepticism—as More put it, they were "[providing] something that people didn't even know they wanted yet." Gradually, as the Internet became an increasingly inescapable facet of commerce and communications, interest in the tech center's services grew (More noted that the rise of Facebook tracks pretty closely to that rise in interest.) Today, it's a beloved community resource.
Smaller ISPs continue to operate despite the difficult regional conditions. Steven McLaughlin, the editor in chief of the local paper The Independent Coast Observer, noted that the ICO still uses local cable provider Central Valley Cable. But many ISPs have come and gone, usually running into the same problems that keep larger telecoms away.
Wireless ISPs (WISPs) often seem like a promising workaround in rural areas—microwave can propagate signal really well (one reason they're increasingly the preferred networks of high-frequency traders) and it's relatively cheaper than trenching fiber. But wireless networks are only as solid as their fiber backhaul and expansion is limited by topography and line-of-sight.
Further Reach is a newer WISP currently serving the southern Mendocino coast. While they face the same challenges as past providers, they do have the advantage of having scored a fiber uplink in Level 3's switching station in Manchester, guaranteeing a reliable and superfast backhaul. The company is the brainchild of Yahel Ben-David, an Israeli technologist and entrepreneur. Prior to Further Reach, he worked on broadband services in the Indian Himalayas, primarily serving the Tibetan exile community. He's currently a Ph.D. candidate at the University of California, Berkeley, and Further Reach extends a lot of work he's done there on software-defines networks and rural connectivity.
Zean Moore, Further Reach's lead technician and a Mendocino County native, describes Point Arena as a town where "everybody knows everybody," and he's probably the person most likely to know everybody in town who has any interest in or questions about computers. Growing up in Point Arena, Moore was "the computer kid." "Anyone had a problem, even the teachers, I was the person to call—they wouldn't call the IT person or the network administrator from the school, they'd call me over." Moore left Point Arena in 2009 to study computer science at UC Berkeley and worked for media and technology companies before returning to Point Arena and taking the job with Further Reach last year.
Moore's description of the company's first year is a reminder of how much physical labor goes into creating and maintaining digital networks, and why so many small ISPs in the region have struggled. Further Reach's fiber connection runs from the Level 3 switching station to Manchester Elementary—a distance of only about 1600 feet, but one that for various reasons had to be trenched largely by hand.
Today, Moore's day-to-day is dedicated to the various puzzles that come with installing and connecting residents. When he installs equipment at the homes of new subscribers, he often gives them his personal number in case they have any questions. "A lot of people here aren't accustomed to or comfortable with corporate customer-support systems," he explains.
To Moore, improving connectivity is in some ways a matter of the community's survival. The older economic drivers of the area are changing, with some disappearing entirely. He sees a lot of good in the transformations a networked world has already brought to the area: Purchases that would otherwise require a four-hour round-trip drive are now next-day deliveries from Amazon, classes and training that might have required relocating are now online coursework, local artists and craftspeople who might have been limited to a smaller audience for their work can now expand their small businesses by selling wares online.
Some residents have resisted these changes, seeking to hold onto the area's agricultural past, or having deliberately moved to the county to get away from technology. While Moore concedes that's a valid perspective, it's also one that "benefits the few." In an increasingly connected world, logging off requires a tremendous degree of resources.
* * *
Along the beach by the Manchester cable station, there's a piece of an old coaxial cable sticking out of a cliff wall. I'm not sure if it's the original HAW-1 connection from 1957 or some other abandoned cable. It looks like a pretty clean cut, as though the cable was severed intentionally, a message in a bottle (or, well, a cable) cut short. It is wrapped in now-rusted protective sheathing that makes it look similar to the seaweed that washes onto the beach.
Submarine cables are probably the piece of network infrastructure most easily subsumed by a kind of romantic idealism. To some extent this is just an inheritance of being Of The Sea, which has little to do with the mechanisms of the cable's ownership or politics. While the submarine cable's history and geography tends to follow empire and conquest (as do most telecommunications technologies), the sheer ridiculous gesture of it brings me a misplaced kind of hope. There is a comfort in the fiction that once, human beings so deeply believed in the value of being able to reach one another from far away that they proffered this vision of strands of copper and later, glass running across the ocean floor. As metaphor, submarine cables are the ridiculous, naive, beautiful promise of a network in which we're all in this together, even across oceans.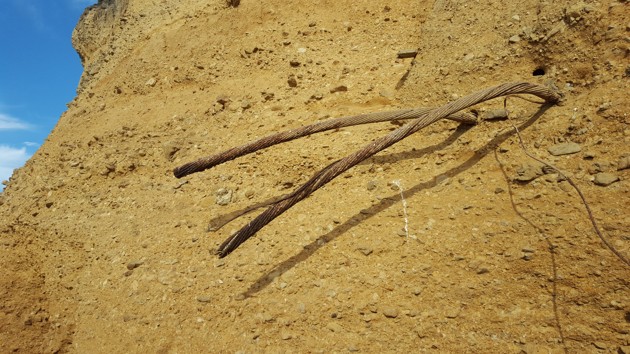 As reality, they're highly contested, political, and vulnerable spaces. In part, this is what is so compelling to me about Point Arena, about Mendocino county's digital divide and the Manchester submarine cable: It is a reminder that universal, inevitable connectivity is a promise that the largely privatized Internet created by the 1996 Telecommunications Act could never keep.
I don't really know what it looks like to really fulfill that promise, whether it's even realistic to believe it can be fulfilled, but if it can be it seems more likely to come from smaller-scale networks supporting regional need, rather than expecting AT&T to show up.
When I asked Zean about the impact he saw Further Reach making, he pointed out that Mendocino County's story is not unique: "We're not the only ones in this situation. Our impact is more global in the sense that we're developing something that people can learn from and take what we've done and adapt it for their community." It may lack the grandeur of a submarine cable, but it is a vision for the kind of Internet I'd much rather have than the systems that exist today.