Noah Berger/Reuters
Most of the top cities are the usual suspects—but there's something odd happening in Silicon Valley.
For American cities trying to attract jobs and job-seekers, it pays to be near universities and far from other big metro areas. That's one takeaway from a new study produced by Glassdoor, an employment website, that looks at where people are relocating and what's drawing them there.
The study found that the most popular cities to move to include all the usual suspects: San Francisco, California; New York City, New York; San Jose, California; Los Angeles, California; and Washington, D.C. But San Jose was also ranked second on the list of cities where people are trying to move away.
It's "an oddball case," said Andrew Chamberlain, Glassdoor's chief economist. There are a few different factors at play there, he explained. San Jose's steep housing prices are certainly one, but so is its proximity to San Francisco—people are more willing to leave their metro if they can move to another one nearby.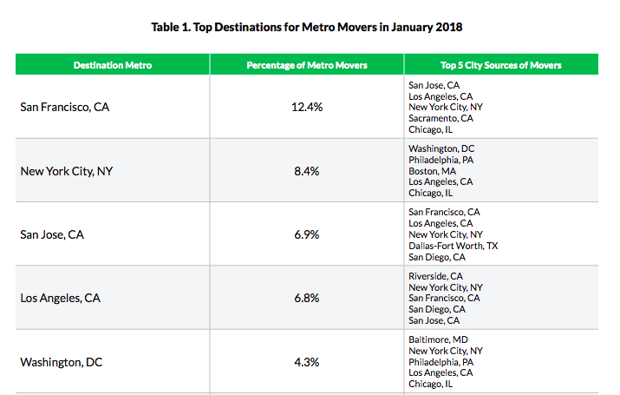 Glassdoor
That helps explain why the number one metro people look to leave is neither a rust-belt town nor a post-industrial one. It's Providence, Rhode Island: home to Brown University, the Rhode Island School of Design (RISD), and a slew of other colleges—and it's also close to Boston. "Boston has this gravity pull that just sucks away talent," said Chamberlain. "So that's the main reason why Providence loses skilled workers—because it's such an easy move for people. Compare that to Atlanta, where the next metro is maybe a four-hour drive. The metros where you have nothing else around you, a four-hour or longer drive, few people relocate out because it's a huge life change. Other metros, like Riverside, it's short trip to L.A., so it makes sense a lot of people would be moving."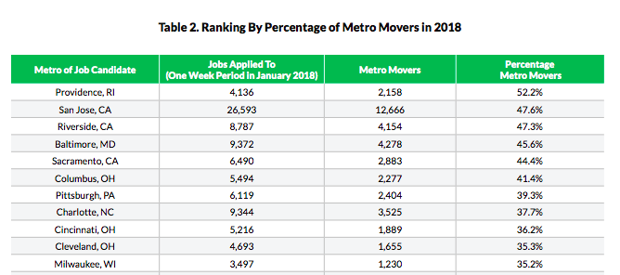 Glassdoor
The study looked at nearly 670,000 Glassdoor applications from 128,221 people who applied to jobs located in any of the 40 most populous U.S. metros. It found that while money is important, salary takes a back seat to company culture when applicants consider relocating for work. According to the data, a company with a Glassdoor rating that's one star (out of five stars) higher than a competitor's is six times more likely to attract a candidate, even if the competitor is offering a salary $10,000 times higher.
In an age when many companies (largely high-profile tech companies like Google, Facebook, and Twitter) make a big show of offering free food, beer on tap, dogs at work, and abundant ping pong tables, it's easy to conflate luxurious perks with culture. But Chamberlin said that it takes more to create a good company culture. "Having good career opportunities, having a good culture and values, feeling like you're doing some social good or having good senior leadership, those factors matter way more than money," he said.
The jobs that lend themselves most to metro mobility are engineering and tech related. (Out of 25 job titles with the highest share of metro movers, 13 had the word "engineer" in the name.) This, according to the study, is likely because employers in these industries tend to be concentrated in a few big cities and make a point to look across the country for talent. The least mobile roles were service related: bartenders, retail workers, delivery drivers, and receptionists. Such positions, according to Glassdoor, are more likely to be filled by locals, as those jobs are scattered throughout the nation.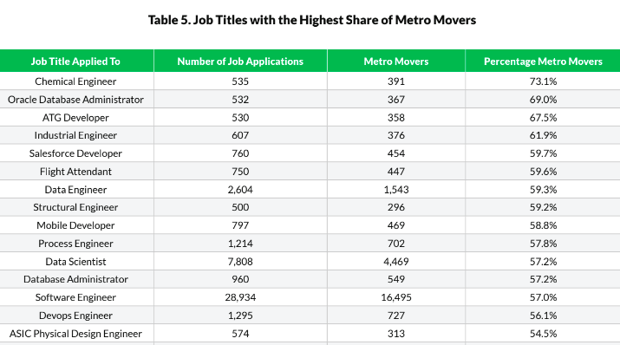 Glassdoor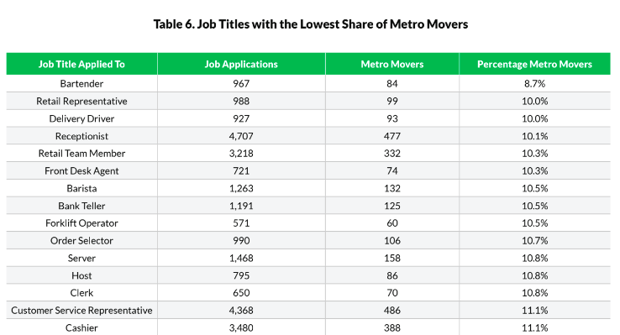 Glassdoor
But how do smaller metros compete with the giants? "When you look at what jobs are the most mobile today," Chamberlin said, "almost all are tech roles because they are unlinked to geography, and that gives some promise to the ability for cities like Pittsburgh or Kansas City to grow in the future. The way small towns can better compete is by working closely with a nearby university," in order to provide a high-quality labor force that will keep replenishing itself.
"That's a better pitch, in my opinion, than a five-year tax incentive," he said. "Cities would be better off if they focused on real fundamental improvements to the labor force. You have to have cities building the infrastructure and supporting growth of some tech employment."