THEY WON TWO titles under Epstein, but by the end of his Boston tenure, the boy who'd fallen in love with the Red Sox had turned into a man who needed to get as far from the team as he could. The Boston sports media machine has written thousands of words about why this rise and fall happened, but the simplest explanation lies in Belichick's warning to Theo. The football coach laid out the conflict between winning and human weakness. Everyone would start wanting credit and feel like the underappreciated key to the entire machine. Theo saw this come true almost immediately.
A cold war broke out between the baseball ops bunker and the second floor, the conflict cutting through every part of the organization. Epstein felt that some of his bosses were obsessed with optics and credit, more worried about personally winning a news cycle than helping create the culture that had developed in Theo's world. "It's rare you can find true togetherness, selflessness, connectedness," Epstein says. "We had that in baseball ops. It was in opposition to what I saw going on in the rest of the company."
Theo is an absolutist. He came to see the fight against the business side as completely black and white, good and evil — "French Revolution shit," he says — and in the next seven years, he quit his job twice, first in 2005 for 80 days, the second time for good in 2011.
In 2005, he turned down a contract, unable to work with people who would plant stories in the paper to minimize blame for trades and who worried more about public perception than the long-term health of the franchise. Theo gathered his staff members in the basement and told them he loved them, and that they'd always be family, but he couldn't do this anymore. Several people burst into tears, and he broke down too. They started drinking beer and telling stories, while reporters covering the contract dispute gathered outside the door with television cameras. Because it was Halloween, Theo put on a co-worker's gorilla costume and did a full slide down the conference table in the war room. Then he sneaked past the reporters in costume. When he got home, his confused dog went crazy barking until he took off the gorilla head. After nearly three months of feeling adrift and pathetic, however, Epstein went back to work in the basement. He couldn't stay away.
The second time he quit his job, he and his bosses still hadn't resolved the conflict between baseball and business. He read reports about how winning alone wouldn't stop NESN's flagging ratings; the focus group data said his office needed to chase and sign the big-name free agents, whether the team needed them or not. Epstein felt the culture "jumping the shark," as he puts it today, but also says the only person to blame for his problems was himself. He chased the likes of Carl Crawford. He overreacted to the reports about television ratings. He'd once been willing to quit his job over these kinds of battles, but in the winter of 2010-11, he didn't even have the energy to fight them. Always self-critical, he felt himself slipping, showing the same weaknesses he couldn't abide in others.
Then he started to hear whispers about the Chicago job. Epstein needed out of Boston, or rather, he needed to return to how Boston felt in 2002.
---
THE YOUNGEST GUYS in the Cubs' office work in the baseball operations video room, located between Theo's office and the door he uses to leave the building. When he wants a little hit of youth, he sticks his head in on the way out. Sometimes, after catching them watching reality television instead of breaking down film, he'll pull up a chair.
He loves reflecting the energy of that room.
There's always some new toy finding its way into their lives. The new Cubs baseball operations office, currently under construction across the street, will have a USA-CCCP bubble hockey game, which Theo wanted and found online. For a while now in Chicago, they've been jumping, just to see who can go the highest. At first, they used marks on a wall to keep score. That wasn't enough for Theo, whose instinct is to amplify everything until it is as ridiculous as possible. He tasked one of his guys with finding the exact model of equipment the NFL uses at the combine to measure vertical leap. The contraption cost $800 and is installed near the back left corner of the room.
"Eli, you're up," Theo says one night around 10 in the still-busy office.
Eli Shayer is a rising junior at Stanford by way of Anchorage, Alaska, who has done his own research about "the Frictional Cost of a Call to the Bullpen" and written something called a "Monte Carlo Markov model simulator in C++."
"Eli is a live, in-the-flesh intern," Theo says.
Shayer takes his dress shirt off and stretches up to set his standing mark. Everyone gathers around. Eli starts to bend and stretch and leaps up for his first attempt. He keeps going. Theo compliments Eli when he betters that first try, loving someone digging in and improving. The young staffers are always trying to impress Theo, perpetually the most annoying on the waiver wire in their office fantasy football league.
Tonight Epstein's encouraging, talking smack. "I thought Marshalls was out of small white T-shirts," he says, then he asks the scorekeeper how Shayer is doing so far.
"Nineteen inches," Davey says.
"And what was my best? Twenty-one?" Theo asks.
"Yeah."
Theo turns to Eli.
"Now, be smart here," he says.
The Cardinals radio network broadcasts a game in the background. Some guys work. Others lean in for Eli's next jump.
Eli gets 2 more inches.
"One more," Theo says. "You can do it."
Someone in the background pokes fun at Epstein's competitive streak.
"If you do this," he says, "Theo will be here all night."
Eli leaps up and beats Theo's best mark.
"Twenty-two?" Theo asks, and when someone nods, he starts to stretch.
People are really laughing now.
"Am I reracking this for you?" Davey asks Theo.
"We're going around the office while I get loose," Theo says.
The other guys take turns. Theo floats around the room, disappearing into his office to work the phone. To the left of his desk he's hung the biggest thing on his wall, an enormous photograph of Ted Williams. The picture is from Ted's rookie year, Williams wearing a small-town grin, closer in age to Eli than Theo. Epstein loves the joy on Williams' face, how he's still happy and hopeful, not yet hardened into the angry man who wouldn't tip his hat to the crowd. It serves as a kind of visual mantra, a reminder to Theo to keep himself and his office young and ideologically pure, giving them all a chance to stay together, to keep the decay of Boston from following them to Chicago.
The photo is an emotional North Star.
---
THE MAIN DIFFERENCE between 11-year-old Theo in front of an Apple II and 42-year-old Theo across from Wrigley Field are the rewards and, of course, the risks. The older you get, the more there is to lose, and the less time there is to get it back. He's got crow's-feet and gray temples. He's got two kids and two homes. He's got a marriage forced to coexist with his obsession. One night this season, his baby monitor woke him up and he couldn't fall back asleep. He went down the hall to the guest room to read. Awake and alone for hours, he thought about being middle-aged, and how and why he'd made the decisions that had led him here.
"It's a human phenomenon that there has to be a reason for everything. There almost never is."
– Theo Epstein
Epstein always requests that his family be off-limits to reporters, which keeps Marie Whitney from appearing in many stories about him, an absence that perhaps prevents outsiders from fully inhabiting the deepest conflicts baseball creates in Theo's life. He skipped Christmas with Marie's family once to try to sign a free agent. A year later, he skipped Thanksgiving to do it again. He let an ice cream cake melt, creating an irresistible metaphor. So when he came to Chicago, he intentionally over-staffed the office, trying to build a world where he could be great at his job while also fully enjoying the life his job has allowed him to live. He talks a lot about Marie, and when they're in a crowd, he reaches back to hold her hand.
He has learned that being a husband and father is hard, but baseball is easy. Show up, do the work, be curious. Never cheat the process or rationalize laziness. When you're good at your job, the office becomes a place to hide from your actual life. "You should talk to my wife," he says, "which I definitely will not let happen. She tells me that too: 'At work, whether you admit it or not, you can snap your fingers and everybody will do whatever you want. At work, people are kissing your ass. At work, everybody is happy when you're doing your thing and you're locked in. At work, their job is to facilitate you into a good place where you can do your thing. Then you come home, and whether you recognize it or not, you bring that shit with you.' And she's right, to an extent."
She's watched his emotional temperature rise and fall for more than a decade. When he's doing well, he's joking with his staff and organizing office games and pulling pranks and creating a kind of playground for overgrown kids. When he's not doing well, he's alone in his office, paranoid and adult.
She sees the cost of it all.
They pay it together.
---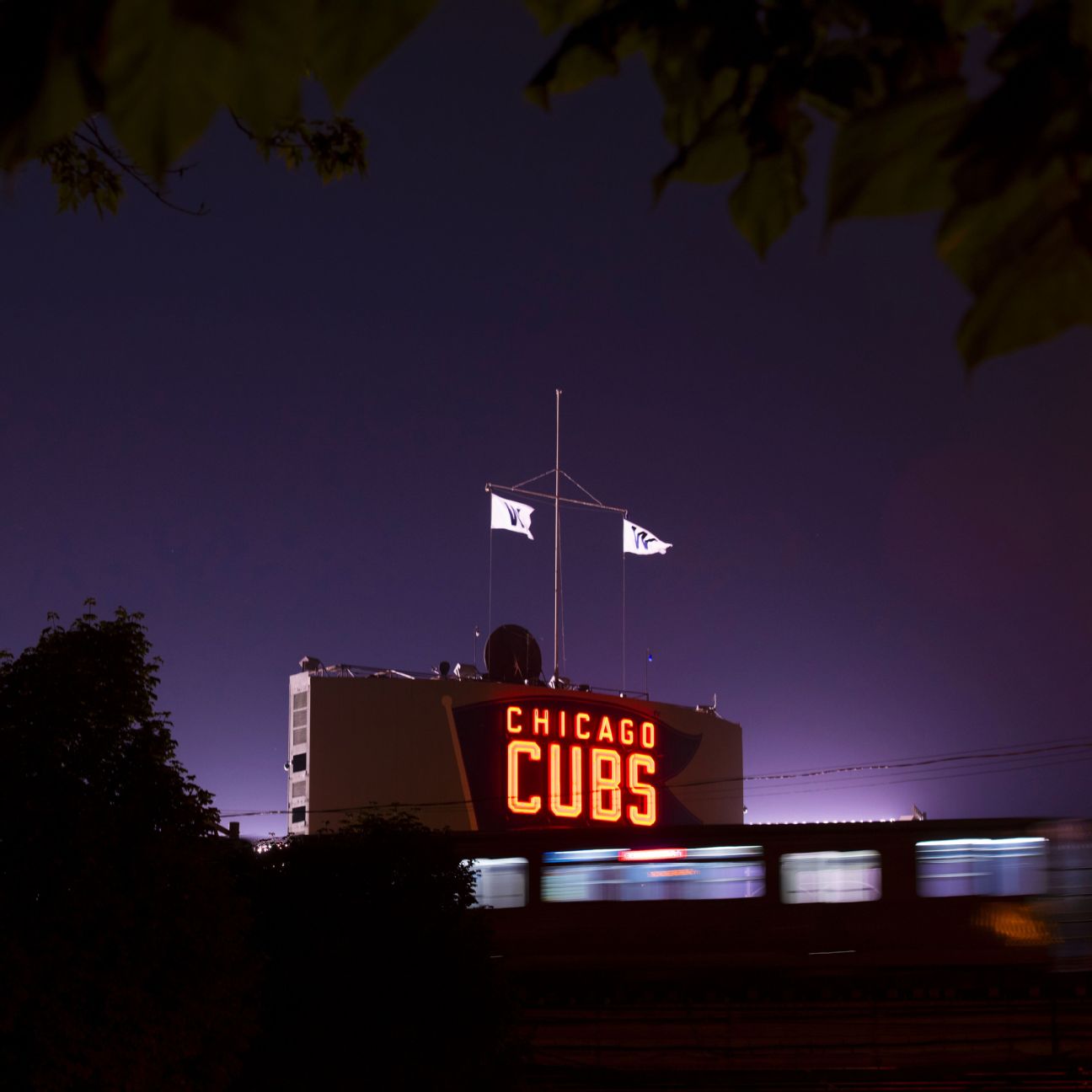 A CUBS WINNING streak grows to 11 games halfway through a home series against the Cardinals in August. On a Saturday, Epstein and the baseball ops guys gather in Suite 33 to watch the team try to win a third straight from St. Louis. Their world up there has its own set of rules and superstitions, and central to the canon is this: If the team needs offense, Theo makes Scott Harris, the director of baseball operations, take out a loaf of plain bread and start eating. When Harris eats carbs, the Cubs score. One game, when the White Sox were no-hitting them, Theo got an entire chocolate cake from the passing dessert cart on the suite level. Harris ate more than half of it and the Cubs won.
"Harris," Theo says, taking a bag of bread and throwing it to Scott, knowing that the Cubs always need hot bats against the Cardinals. "Just start eating."
Harris breaks a piece in half, to help choke it down.
"It's even more stale," he says.
"Good," Theo says.
The game goes well for seven innings, and then the bullpen starts to collapse. Nobody wants to verbalize what each of them knows: The Cubs have a 3-in-4 chance of not winning the World Series. Any serious problems in the pen and that number starts to climb. "It's such a fine line," Theo says, his hands laced behind his head.
Epstein starts muttering curses. He hands Harris the bread again.
"All right, Harris," he says. "Consume."
The Cubs lose the lead and the game, and the next day, all the same people are back in the same place to watch once more. Theo's still making Harris eat bread, a fresh loaf this time at least. The Cubs are leading in the top of the seventh when the game, and the mood in Suite 33, starts to turn. The speed with which the atmosphere becomes tense is astonishing. Theo is talking about one of the club's weaknesses, which is starting pitching health. John Lackey, the starter, looks exhausted, and with one out, a Cardinals batter hits a line-drive screamer directly at the third baseman for the second out. Theo turns and makes eye contact with Shiraz: It's time for Lackey to come out. Joe Maddon keeps him in the game, though, and on the next batter, Lackey leaves with a stiff shoulder. Theo is beside himself.
"Told you so," he says. "Fuckin' A. You just asked me what our Achilles' heel was."
Everyone gets quiet. People avoid Theo. Shiraz and Harris move outside to the balcony, while Epstein takes an iPad and pulls up the Cubs' internal website, called Ivy, where every piece of conceivable information is stored. Theo starts watching all the pitches thrown by relievers, and when he's not doing that, he's sending text messages to Hoyer, who is out of town. For a while, Theo just stares out at the field. Nobody says anything to him.
He's smoldering.
Hector Rondon eventually enters the game, then allows two baserunners.
The next batter hits a three-run homer, and the Cardinals are now ahead.
"Fuck!" Epstein yells.
"Should have seen that coming," he says, quieter and dejected. It's more than he can watch. He leaves the suite and walks out into the concourse alone, and when he comes back, he looks up at the television, which shows a replay of an Olympic gymnast on the vault landing flat on her ass.
"This is what our pen is doing," he says, pointing at the screen.
Epstein sprawls out on the couch against the back wall of the suite. Everyone is on a phone or computer, while Theo and Jed text back and forth. The game finally ends, a second straight loss to the Cardinals, and Theo is silent for about five seconds, looking out at the field. "Five days ago," he says to his guys, "we had our pen how we wanted it. Locked-down playoff pen. Now it's chaos. It's unbelievable. I'd never felt better five days ago."
Harris has the thousand-yard stare, sitting in one of the leather chairs, his foot up on a stool. Theo sighs. The baseball ops guys gather around to talk options. "In three weeks, we'll look up and it will all be better," Theo tells them wishfully, "but it's hard to navigate."
---
IN AUGUST, TO celebrate their 10th wedding anniversary, Marie wants to take a trip. Theo suggests Pearl Jam at Fenway. She suggests Greece.
They compromise and go to Greece.
The team flies west to Oakland, and Theo and Marie east to Santorini, where they and two other couples take a boat ride through clear blue waters. Being away leaves him feeling a little unsettled, but he would have felt more guilty telling her no. He's trying to reach for something like balance.
One of the other guys and Theo climb on some of those orange sulfur rocks where people write messages. His fellow traveler scribbles "Go Buffalo Bills!" Theo goes next, trying not to fall. Over about 15 minutes, he neatly carves the initials of his wife and his two boys. Days later, he returns to the grind, and Marie goes back to waiting on him to find whatever it is he's looking for, some feeling that always seems just out of reach. The days are long in a pennant race. Some nights, when he's finally home, he falls asleep and dreams of the Cubs winning the World Series. His dream always ends during the parade. It never fails. He wakes up before he discovers what might happen next, on the first day of the rest of his life.
Wright ThompsonA senior writer for ESPN.com and ESPN The Magazine, Wright Thompson is a native of Clarksdale, Mississippi; he currently lives in Oxford, Mississippi. Previously, he worked at The Kansas City Star and the New Orleans Times-Picayune. In 2001, he graduated from the University of Missouri School of Journalism.