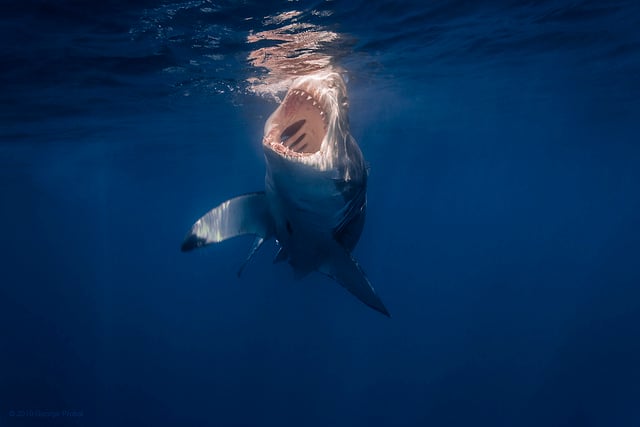 For photographer George Probst, Shark Week must be like looking through a family photo album. That's because this photographer's bucket list item turned passion is swimming with great white sharks and taking pictures that will help smash the 'Jaws' stereotype that clings to these majestic (if terrifying) creatures.
As he explains in the Flickr Moment video below, Probst's underwater adventures began with a breakup. Money that had been set aside for an engagement ring was all of a sudden freed up and so, he decided to cross off a bucket list item and go great white shark diving.
That first experience, documented with a little point-and-shoot and underwater housing, sparked something in Probst that has had him going back over and over ever since. His mission quickly became to eradicate the 'jaws' stereotype that these are all ruthless killing machines.
"When they come by looking you in the eye, there's this connection," Probst explains in the video. "You just get this completely different understanding, and there's a level of respect and awe of this huge animal."
As a result of this goal, many of his images show a calmer, more peaceful side to the not-so-gentle giants. Of course, that doesn't mean his portfolio doesn't include some of those open maw shots he says "the general public seems to love."
When he first started shooting great whites, he was using a tiny point and shoot:
He's since upgraded his gear… just slightly:
To see more of Probst's impressive Great White imagery, give his Flickr a visit by clicking here.
---
Image credits: Photographs by George Probst and used with permission