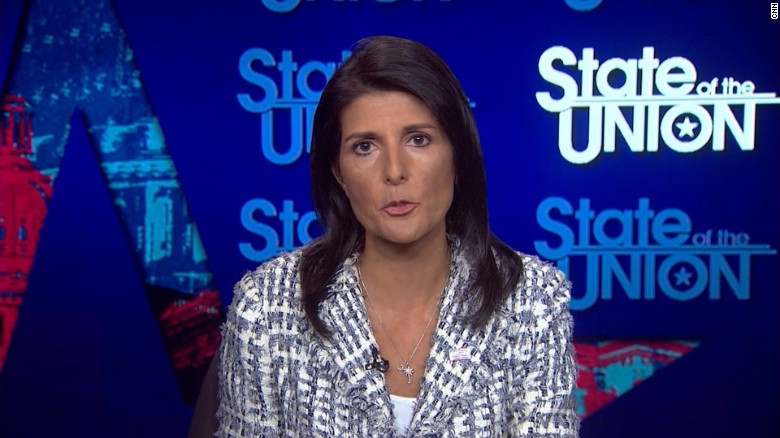 US, Russia relations deteriorate following missile strike on Syria
Tillerson due to meet Lavrov in Moscow this week
(CNN)The United States will "hold to account" any government that commits atrocities against innocent people, Secretary of State Rex Tillerson said Monday, as key US allies met to work out a common stance on Syria.
Tillerson spoke at an Italian war memorial before a meeting of foreign ministers from the G7 industrialized nations, which was dominated by the diplomatic fallout from the unexpected US missile strike on a Syrian airbase last week.
"We rededicate ourselves to holding to account any and all who commit crimes against the innocents anywhere in the world," Tillerson said in a short statement commemorating a 1944 German Nazi massacre in Sant'Anna di Stazzema.
Tillerson went on to meet his G7 counterparts at a summit in the nearby Tuscan city of Lucca — the first meeting of US allies since President Donald Trump ordered the bombardment on the Shayrat airbase in western Syria last week.
Diplomats were attempting to agree a common line before Tillerson meets Russian Foreign Minister Sergey Lavrov in Moscow later this week. British Foreign Secretary Boris Johnson told the BBC that the priority for the G7 summit was to give a "clear mandate" to Tillerson as he headed to Moscow.
But that effort was complicated by mixed signals at the weekend from the Trump administration on the future of Syrian President President Bashar al-Assad.
US ambassador to the UN Nikki Haley suggested regime change in Syria was inevitable in the wake of last week's chemical weapons attack that was widely blamed on the Assad regime.
Haley told CNN's "State of the Union" that removing Assad was now a US priority. "If you look at his actions, if you look at the situation, it's going to be hard to see a government that's peaceful and stable with Assad," she said.
But Tillerson was more equivocal, saying that the priority was the defeat of ISIS. Asked on CBS's "Face the Nation" whether deposing Assad was a priority, he replied: "I think the president has been quite clear. First and foremost, we must defeat ISIS." He went on to say that the Syrian people would determine Assad's future.
Before last week's chemical attack, Haley had said removing Assad was not a priority for the US government.
UK: Russia should ditch 'toxic' Assad
Syria overshadowed the two-day G7 meeting in Italy. Representatives from key regional powers including Turkey, Jordan and Saudi Arabia were invited to take part in a hastily arranged discussion.
Johnson and Tillerson held bilateral talks, at which the main topic was Russia's backing for Assad, Johnson said.
Moscow should end its "toxic" support for Assad, Johnson said in a statement quoted by AFP. "We need to make it clear to Putin that the time to back Assad has gone. He must understand that Assad is now toxic in every sense."
At the weekend, Tillerson said Russia's support of the Syrian regime made it complicit in the Assad's actions.
"I hope Russia is thinking carefully about its continued alliance with Bashar al-Assad, because every time one of these horrific attacks occurs, it draws Russia closer into some level of responsibility," Tillerson said on ABC's "This Week with George Stephanopoulos" on Sunday.
Warning from Iran
International reaction has been intense since the US fired 59 Tomahawk missiles at the Shayrat Airfield in Syria Friday, which housed the warplanes the US believes were used in last week's chemical weapons attack on civilians.
On Monday, Rouhani warned the US not to carry out any more strikes against Syria. "Repeating this action can be very dangerous for the region," he said.
Russian President Vladimir Putin discussed the strike on the phone with Iranian President Hassan Rouhani Sunday. Both leaders agreed on the "inadmissibility" of US action against a sovereign state.
In a statement issued by the Kremlin, Russia and Iran both called for an "objective, unbiased" investigation into the chemical attack that provoked the strikes.
Tillerson said Russia should do more to meet commitments it made in 2013 to guarantee the destruction of Syria's chemical weapons. "That will part of the discussions when I visit Moscow next week is to call upon Foreign Minister Lavrov and the Russian government to fulfill the obligation it made to the international community when it agreed to be the guarantor of the elimination of the chemical weapons," he told ABC on Sunday.
"And why Russia has not been able to achieve that is unclear to me. I don't draw conclusions of complicity at all, but clearly they've been incompetent and perhaps they've just simply been out-maneuvered by the Syrians."
CNN's Radina Gigova and Darya Tarasova in Moscow, Hamdi Alkhshali and Merieme Arif in Atlanta, Nic Robertson and Antonia Mortensen in Lucca and Bijan Hosseini in Abu Dhabi all contributed to this report.