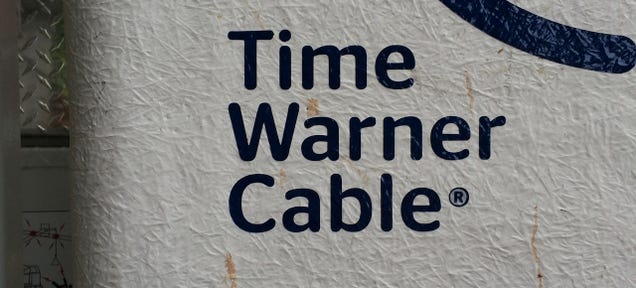 S
My Time Warner internet went down at home today. This isn't unusual, because it goes down all the time. But it's a problem, given that I work at home. And it's starting to feel personal because my neighbor, Lifehacker Whitson Gordon, has the same shitty internet provider, but his service rarely goes out.
I called customer service and spent the morning listening to Time Warner's hold music while waiting to speak with a human. While on hold I wasn't surprised to hear little ads sprinkled throughout the muzak. What I was surprised to hear were fun facts — FUN FACTS! — during every little micro-ad for Time Warner's services.
But these fun facts weren't your average Snapple cap factoid. No, these were a bit more odd, like Time Warner's automated customer service messages were having the robot equivalent of an existential meltdown and calling out for help.
One of the facts was that "Friday increases the happiness around the world by 11 percent." Here's the entire ad that was bookended by about 3 minutes on either side:
Did you know Time Warner Cable brings you live TV everywhere as part of your TV service? Get over 30 channels on your mobile devices — inside, outside wherever you want, for free. Did you also know Friday increases the happiness around the world by 11 percent? And that was before TV was everywhere.
That was it. And then the music just swelled back up to regular volume, doing its stereotypical hold-music thing.
The fact is so devoid of context that I'm not even sure what I'm supposed to take from it. "Friday" increases happiness? Does this mean people are happier on Fridays? That the existence of the weekend (something invented relatively recently, historically speaking) has made people happier? How do they measure happiness? I truly have no idea.
And what does it mean that this happiness increased "before TV was everywhere?" Are they trying to say that this fact is from some time period before television? Why wouldn't they give me a more recent fact? I tried to fact-check this, but it's so absent of context or meaning that I just gave up.
Another one of TWC's fun facts seemed to make light of the fact that we live in an emotionally crippling world where people strive to find meaning in their lives. Again, it made me start to wonder if the robot was just lashing out because it was unhappy with its own life.
Did you know, now we have easy to follow how-to videos on everything from programming your DVR to connecting video games, to WI-FI. Go to TWC dot com slash howto or TWC How-To On Demand. Did you also know Americans spend $11 billion on self-help books and seminars in 2008? Our videos are free, and then you can play video games! Seems like a win-win! It's better to know.
Trying to improve your life through diet, exercise, or positive thinking? What a chump! Time Warner has videos that show you how to set your DVR! What more do you need in life, you worthless meatsock?
Did you know with the TWC TV app you can now make any device a TV, in and out of your home. Download the app for free or go to TWCTV dot com and watch live TV on up to 300 channels, plus on-demand movies and shows wherever you are. Did you also know time never ends and never repeats itself – it just goes on forever. Our on-demand library doesn't go on forever but it comes pretty close. It's better to know.
It was at this point that I started to wonder if I was having a full-on psychotic episode. Was I going nuts? Did an automated robot message from Time Warner really just remind me that time itself goes on forever without repeating?
After another few minutes I actually got a little excited to hear the next fun fact, but no luck; the automated message robot just went back to the "Friday increases happiness" soundbite. Time may not repeat itself, but Time Warner's shittiness certainly does.
---
Image: Logo from the back of a Time Warner Cable service truck, taken by your humble blogtarian on his walk to find a coffee shop with decent internet access