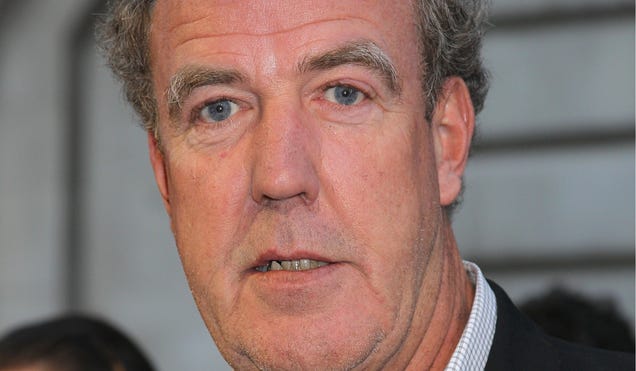 Top Gear got into hot water with its upcoming Argentina special, after it was noticed that Jeremy Clarkson's number plate looks like a reference to the Falklands War if you try really, really hard. It turns out that water is so hot, in fact, that things have boiled over, and they've been expelled from the country.
Just yesterday, it seemed like the worst consequence the team would face from accidentally buying a Porsche 928 with a plate reading "H982 FKL," was that they'd have to end their journey not in southernmost city of Ushuaia, as planned, but at an industrial park just outside.
Now it looks like they weren't even able to make it that far.
Top Gear was pelted with stones with such force, according to the Express, that the crew was forced to abandon their cars on the side of a road and flee:
The Top Gear trio and their film crew are understood to have packed up and left three days ahead of schedule after a tense meeting at the Hotel Arakur in Ushuaia where they were staying.

As they attempted to leave the country the car they were travelling in came under attack from angry Argentinian protestors.

Demonstrators stoned their vehicles at a petrol station as they crossed the town of Tolhuin on their way to the Chilean city of Punta Arenas.

One local paper reported: "There were people injured and police cars damaged."
The injured reportedly consisted of an Argentinian technician hired for production of the episode who was hit in the face with a rock, though he refused immediate medical attention.
Local government officials forcibly kicked the crew out of the country shortly after, doing them the kindness of providing a police escort to the airport. The production crew abandoned the damaged cars at a local police checkpoint, reportedly telling officers to burn the vehicles.
The Falklands War veterans group that organized the "protest" later explained, in the most Mafia-style way possible, that Top Gear really didn't have a choice of staying the country:
"We told them we couldn't guarantee their security if they didn't leave."
"Oh, Top Gear, eh? Nice show you got here. Real nice. With your cars, and your fancy camera equipment, all that. Yeah, real nice. Would be a shame if something happened to it. Big shame."
Obviously, this is bad. Really bad. I mean, I'm sure it'll be goddamn fantastic television, but it was probably an extremely tense situation for all involved. Long-time Top Gear fans will remember that at one point, while filming a special in the southern United States, the crew was pelted with stones after they mocked southern sensibilities. But even in that instance, they didn't feel the need to hightail it out of the continent as fast as they could.
So whatever happened down there, it got ugly, and it didn't look like it was going to get any better.
Argentina lost the Falklands War.
Photo credit: Getty Images