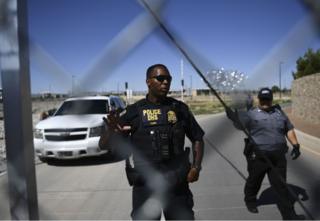 Image copyright
AFP/Getty
Image caption
Mr Trump has called for "strength and security at the border" in a series of tweets
US President Donald Trump has called for speedy deportations that bypass any judicial process in a tweet on Sunday.
"When somebody comes in, we must immediately, with no Judges or Court Cases, bring them back from where they came," Mr Trump wrote.
His comments come days after Mr Trump reversed a policy to separate migrant children from their parents following fierce backlash at home and abroad.
More than 2,300 children were separated from their parents in May and June.
As of May, all migrants who cross the US border illegally face criminal prosecution under the "zero tolerance" policy.
Skip Twitter post by @realDonaldTrump
We cannot allow all of these people to invade our Country. When somebody comes in, we must immediately, with no Judges or Court Cases, bring them back from where they came. Our system is a mockery to good immigration policy and Law and Order. Most children come without parents…

— Donald J. Trump (@realDonaldTrump) June 24, 2018
End of Twitter post by @realDonaldTrump
Skip Twitter post 2 by @realDonaldTrump
….Our Immigration policy, laughed at all over the world, is very unfair to all of those people who have gone through the system legally and are waiting on line for years! Immigration must be based on merit – we need people who will help to Make America Great Again!

— Donald J. Trump (@realDonaldTrump) June 24, 2018
End of Twitter post 2 by @realDonaldTrump
The president did not make the distinction between economic migrants and those seeking asylum.
Mr Trump has faced criticism, including from his own Republican Party, for his choice of language on Twitter.
When he earlier said immigrants threatened "to pour into and infest our Country", Republican congresswoman Ileana Ros-Lehtinen tweeted back at him saying his "baseless rhetoric" was "repugnant" and dehumanised those looking for a better life.
US immigration officials say 2,342 children were separated from 2,206 parents from 5 May to 9 June.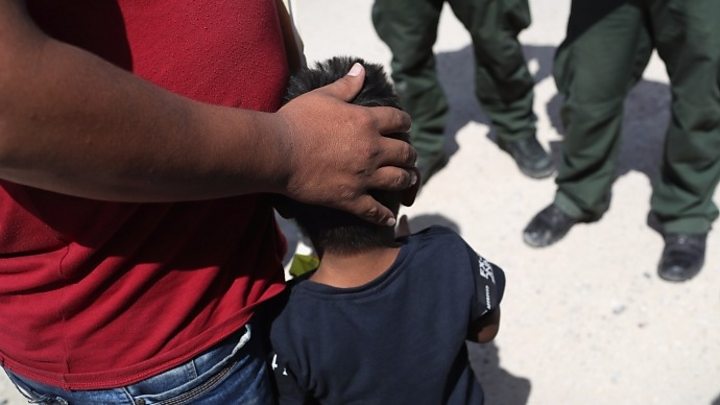 Media playback is unsupported on your device
Media captionZero-tolerance: The US policy dividing families and opinion
On 20 June, Mr Trump backed down from his support for the policy and signed an executive order ending the practice of separating families.
He said at the time: "I did not like the sight or feeling of families being separated."
Mr Trump's directive allows for long-term detention of immigrant children (albeit with their parents), which violates federal law that limits child detention to 20 days.
Tougher language after softened policy
Chris Buckler, BBC Washington Correspondent
A public outcry over migrant children being separated from their parents, forced Donald Trump to soften his immigration policy.
But since then, in a series of speeches, he has called for tougher laws – and claimed America's current legislation is laughed at by the rest of the world.
His latest comments on Twitter go even further.
He says that everyone found illegally trying to cross the border should be returned to their own country immediately – without involving judges or holding court cases.
Political opponents will be furious that that's even been suggested but President Trump clearly believes his supporters back his hardline stance.
Following Mr Trump's election in 2016, the numbers of migrants held or detained entry while crossing the border had dropped significantly.
However, since February 2018, the number of migrants crossing the border illegally is up, with arrests last month more than double those in May 2017.
While illegal crossings cannot be accurately counted, border arrests are used as a measure of illegal border crossings.