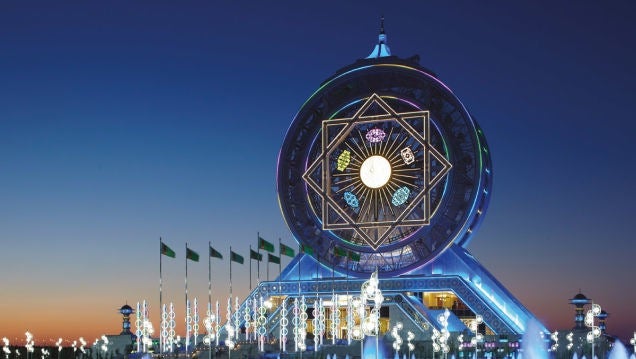 Turkmenistan was once an important stop on the Silk Road, and the country still has 2,000 years of architectural masterpieces. But since the fall of the Soviet Union, Turkmenistan's capital city Ashgabat has become a futuristic wonderland, with free internet and some astonishing architecture.
The last First Secretary of the Turkmen Communist Party named Saparmurat Niyazov (later known as the Türkmenbaşy, means 'Leader of Turkmen') became the first President of the independent country until his death in December 2006.
In these 15 years he created one of the most repressed countries ever, returned to the Turkmen alphabet, renamed all months and days after his family (among others), and built a supermodern capital city, similar to Astana.
Gurbanguly Berdimuhamedow (also known as Arkadag, means Patron), a former dentist, Minister of Health and Deputy Prime Minister won the 2007 election, receiving 89.2% of the votes and was re-elected five years later, with 97% of the votes. He offered free and uncensored Web access points in Ashgabat, made a better education system and curbed the personality cult surrounding his predecessor. There is still an autocratic regime in Turkmenistan, but a more open one.
And look at some of the beautiful futuristic buildings the Turkmen capital houses:
The Independence Monument, a 298 ft (91 m) reinforced concrete tower with exhibition halls in the middle of the statues of 27 historical Turkmen heroes, constructed in 2000.
S
S
(via Polimeks)
Fountain Shopping Mall, 2000, a unique building with around 7.8 million liters of water circulating from the top to the pools at its sides.
S
(via Pete Martin)
The Central Bank of Turkmenistan, opened in 2002
S
(via Metal Yapi)
Ministry of Health, constructed in 2005
S
S
(via Wikimapia and Goetz Burggraf)
White Wheat Museum, 2005
S
S
S
(via Polimeks)
The Puppet Theatre with puppets on its tower and a bird-shaped chandelier, opened in 2005
S
S
S
S
S
(via Polimeks)
The statue of Ruhnama (The Book of the Soul). This book was written by Saparmurat Niyazov, the last First Secretary of the Turkmen Communist Party (1985-1991) and the first President of Turkmenistan until his death in December 2006. He was often called Türkmenbaşy (Leader of Turkmen).
S
The Ruhnama includes many poems, stories and the autobiography of Türkmenbaşy, but also gives spiritual and moral guidance to the people. In 2006, Niyazov said that God told him if any student who read the book three times, they would automatically get into heaven.
S
(via Martha de Jong-Lantink and Begemot)
Faculty of Medicine, 2010
S
S
(via Polimeks)
Monument to the Turkmenistan Constitution, a 607 ft (185 m) tall marble tower built between 2008 and 2011. Inside the complex there is a conference room, a museum, a library and a cafe.
S
S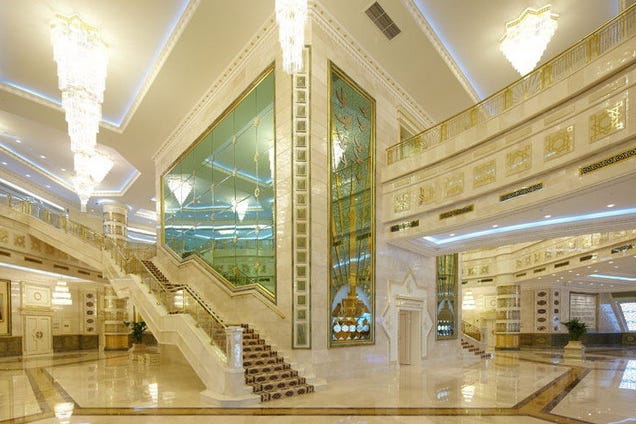 S
S
S
(via Photos of the Week, SkyscraperCity and Polimeks)
The Monument of Neutrality, a 312 ft (95 m) three-legged arch, also houses the Neutrality Museum, completed in 2011
S
There was another Neutrality monument, which was topped by a 39 ft (12 m) tall gold-plated statue of the First President Niyazov which rotated to always face the sun. It was removed by the new President named Kurbanguly Berdymukhamedov in 2010.
S
S
S
(via Polimeks)
The Turkmenistan Tower, a telecommunications and observation tower above the city, completed in 2011. With its height of 692 ft, this is the tallest structure in the country and the octagonal Star of Oguzkhan is the largest star ever built. There is a rotating restaurant, a tourist center and a special observatory, 13 television studios, audio and video editing rooms, a conference hall and an indoor parking lot in the building.
S
S
S
S
(via Polimeks)
The Wedding Palace, the building made of giant Turkmen stars. The 11-story building has more than a dozen wedding halls, dining halls, a hotel with 22 rooms including ten suites and a shopping center.
S
S
S
(via Polimeks)
The 312 ft (95 m) tall Älem Cultural and Entertainment Center, opened in May 2012. It contains the world's largest Ferris wheel, the 154 ft (47 m) high Älem (means 'The Universe').
S
S
S
S
S
(via Wikimedia Commons)
Military Academy buildings, completed in 2012 on an area of 1.5 million square foot (139,000 sqm).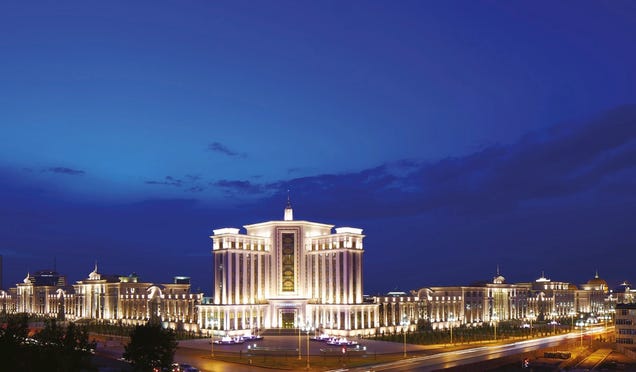 S
There are 224 classrooms with a capacity of 6,859, 3 gymnasiums, six conference hall, a small hotel, a dormitory with 693 beds, 6 libraries and a health center.
S
S
S
S
(via Polimeks)
Yyldyz Hotel, a 351 ft (107 m) high, 19-story luxury hotel, built by the French company Bouygues between 2011 and 2013
S
S
S
(via Byme International and DN Tours)
A 5-mile track from Ashgabat to the hills named the Serdar Health Path
S
(via Photos of the Week)
Golden statues of the Türkmenbaşy
S
S
(via Martijn Munneke)
One of the world's tallest thermometers
S
(via Wikimedia Commons)
Distant views of the city and its residential complexes
S
S
S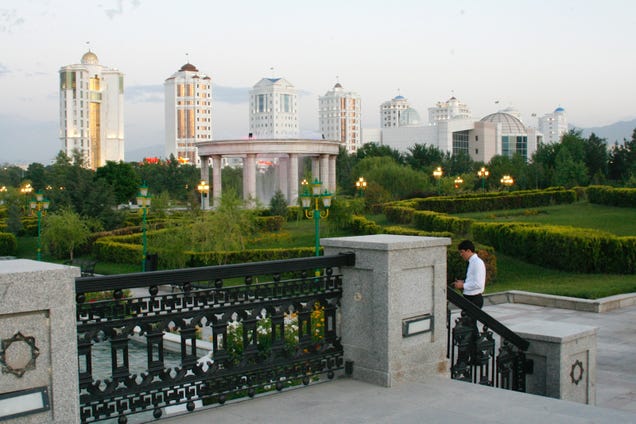 S
S
S
S
S
S
S
S
(via Polimeks, Nathan Groth, Ashgabat Turkmenistan and EnglishRussia)