The day of the friendly against France, Wambach sits in the lobby of the team hotel in Hartford. There is a restless energy about her, and not just because she is out with that minor knee injury. Something seems to have shifted in Wambach. She says it happened about a week earlier, on June 6, the beginning of the one-year countdown to the 2015 Women's World Cup. The bear isn't in hibernation anymore; she is peeking her head outside, getting a good look at the changing landscape. "I was like, 'OK, now I have to start to get really fit again,'" she says. "'I have to get really dedicated again.'"
Some players are like pseudo-therapists on the field, talking certain teammates through the rough patches. Not Wambach. She plays best when allowed to focus inward, on her own game, without worrying about the mental and emotional well-being of everyone else. It's as if she is pooling her internal reserves for the one key moment when she must become superhuman — such as in the 122nd minute against Brazil in the 2011 World Cup, when she launched herself into the air to head home a magnificent cross from midfielder Megan Rapinoe, scoring the equalizer in a game the U.S. would win on penalty kicks. In many ways, that play epitomizes Wambach: risking injury, willing to fail, prepared to win. It wasn't the kind of split-second performance a lesser player might pull off once or twice with a bit of luck. It was the accumulation of every other moment leading up to it, the thousands of practices and repetitions over the years, under the most mundane circumstances. Or, as former U.S. women's coach April Heinrichs says, "You don't score a goal like that just once in your lifetime."
Away from the field, Wambach is often the loudest person in the room, the one ready for anything — raw, open, unfiltered. She talks in a steady stream of thoughts and half-thoughts that she organizes only after they exist in the world. And it is this aspect of her personality that seems critical to understanding what makes her so good on the field.
Filters work both ways, processing the incoming as well as the outgoing. Too much analyzing on the field can be debilitating for athletes because the more energy they spend putting the game into a larger context, as it's happening, the more room they create for pressure. The ball is coming toward me and it's the ball that could change my life and millions are watching and this could be everything I've ever hoped for and lead to a sponsorship deal and don't screw this up.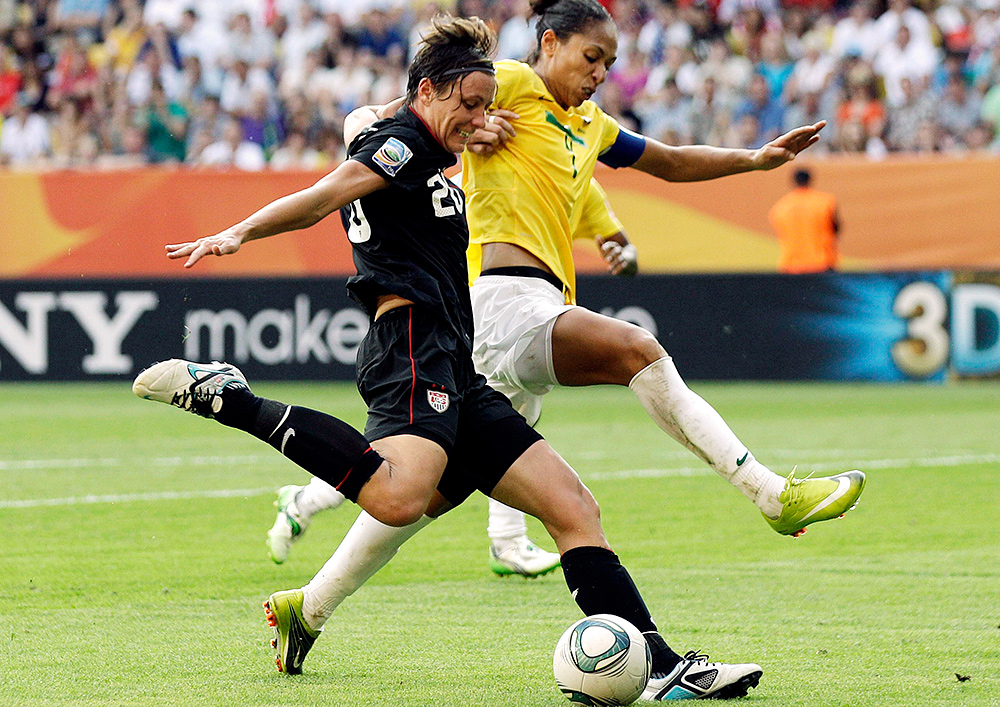 Although Wambach has become famous for using her head, she actually spends most of her time on the field "inside my own blood," as she puts it, in a perfect example of how she speaks — like an amateur poet. At first the phrase doesn't seem to mean anything, but as she keeps talking, its significance bubbles up as an abstract truth. Wambach doesn't live in the middle lane. She is either blazing past on the left or inching along on the right. Some of this is a necessity because the way she plays — like a driver redlining her car's engine — ensures she can't stay in that headspace (or blood-space) for too long. "She's all or nothing," Huffman says. "She's either going to wake up every morning for a year and work out and run, or she's going to relax, sit on the couch and not move."
Alex Morgan, another national team star, describes Wambach this way: "Sometimes she'll not do well for months at a time, and then here comes the first game of the World Cup, and she's beasting and scoring goals, and we're like, 'Whoa, where was that the last couple of months?' Abby is for sure an all-or-nothing person."
"I think Abby has an addictive personality, but it isn't a bad thing," U.S. teammate Carli Lloyd says. "She gets really, really serious a couple of months before the big event, and she goes with it. Obviously that has been working for her over the years."
This slingshot approach, the rapid collection of speed, has worked for Wambach as a soccer player. What remains to be seen is whether this inclination toward quick lane changes will feed her life after soccer in the same way.
Becky Burleigh has been the women's soccer coach at the University of Florida for 19 years. But she was a young upstart when she landed Wambach, one of the nation's top recruits, despite heavy competition from more successful programs such as UCLA and North Carolina. Wambach liked Gainesville; she didn't care that Florida hadn't won a national championship or that the program had been in existence for only a few years.
During Wambach's freshman season in 1998, the Gators reached the NCAA title game against North Carolina, which had won back-to-back championships and 14 of the previous 16. Burleigh was just 31 at the time, and, as she watched her team take a 1-0 lead late into the match, she began gearing herself up for the final TV timeout. As the players ran off the field and huddled around her, she knew this would be one of the defining moments of her career.
Then, just when Burleigh was about to speak, Wambach stepped into the middle of the huddle and yelled, "We are not f—ing losing to these bitches!"
It wasn't exactly the speech Burleigh had planned, but there was nothing else to say. "OK then," she told her players. "Let's go!" And with that, they ran back onto the field, hooting and hollering, and eventually winning the national title, the program's only one to date.
Wambach comes by this bold, outsized personality naturally.
She grew up the youngest of seven kids. There was little room for sensitivity to words, for being thin-skinned, because coddling wasn't on the daily itinerary. So she grew into an athlete who could handle the blunt truth. This characteristic made her a kindred spirit of sorts for Hamm, who took Wambach under her wing when they became teammates on the Washington Freedom of the upstart Women's United Soccer Association, the first in a string of failed women's soccer leagues. Hamm came from a big family, too — she was one of six kids — and she didn't mince words in giving Wambach constructive criticism. "She had heard that I was really unfit, which I was," Wambach recalls. "She would just tell me, straight up, to get it together. As soon as I started to realize that I could make a living playing professional soccer, I went to that place where I could torture myself because I knew it would make me better for the championship game."
---
SARAH HUFFMAN opens the door of the house she shares with Wambach and their two dogs: Kingston, a 5-year-old English bulldog, and Tex, an 11-year old pug with terrible breath. Wambach and Huffman were married last summer in Hawaii. Huffman planned the wedding, while Wambach oversaw the renovation and furnishing of their home in Portland. The couple bought the property sight unseen in 2012, sending a local real estate agent and some friends to check out the place. The verdict? Amazing views and good bones. With a gut renovation, the house could become their dream home.
Huffman is on a tight schedule this morning because it's opening day of the men's World Cup, June 12, and she needs to leave soon to watch the first match, Brazil vs. Croatia, with her Portland teammates. But first she pulls open her MacBook and launches the blog that chronicles the renovation process for the house, which now has an open layout and a mixture of modern decor with touches of hardwood that add warmth.
Wambach is fascinated by real estate. She would legitimately consider flipping properties after retirement. Impulsive by nature, she often turns her gaze to some new hobby for a short, albeit intense, period of time. She doesn't just dip her toe into the water; she makes a cannonball splash. Sitting at their industrial kitchen table, Huffman tries to explain her partner's temperament. "It's just …" Huffman pauses and puts her hands at opposite ends of the table, then places one of her palms in the space between. "She can't exist in here."
Huffman is the more even-keeled presence, keeping them both in balance. When Wambach is on the road with the national team, a daily itinerary is slipped under the players' hotel room doors each morning. Huffman sounds as if she's only half-kidding when she says, "I think Abby would like if I slipped a daily itinerary under the door even when she's at home."
One tangible example of this balancing act can be found in their living room. Wambach always wanted an Eames chair, but Huffman felt the cost was prohibitive. Then, just before they started remodeling their Portland home, Huffman found one on sale, 20 percent off, with no sales tax. "If you really want that chair, I found a deal on it," Huffman told Wambach. After the chair was delivered, it stayed in the box, waiting to be revealed once all the construction was finished.
The books on the shelves in the living room are organized by color, from white to orange to yellow to green, all the way to black. When asked who the mastermind was behind the arrangement, Wambach says, "Who do you think? That's all Sarah." Wambach does the cooking, Huffman the cleaning, a division of labor that makes sense on many levels, given Wambach's big personality. It is easy to picture her hosting fun parties, making everyone laugh — Huffman right there, too, making sure everything runs smoothly.
Huffman seems to hold Wambach steady without holding her still. Wambach has, at various times, become passionate about pursuits ranging from yoga to golf to new diets to motivational books, especially the spiritual teachings of Eckhart Tolle, who writes about inner transformation. One time, while visiting Wambach in Buffalo, Huffman noticed a remote-controlled helicopter on the coffee table and asked, "What the heck is this thing?" Wambach told her she wanted to learn how to fly.
Lloyd, who has played with Wambach for the better part of a decade, puts it like this: "She'll get a lesson for something, she'll practice, she'll do it, but then something else will fade in. I think on the field she has found more of a continual fulfillment."
Adds Heather O'Reilly, another national team veteran: "As friends, we're always trying to encourage Abby to dial down her extremes and live life somewhere in between because we think she could be most happy that way."