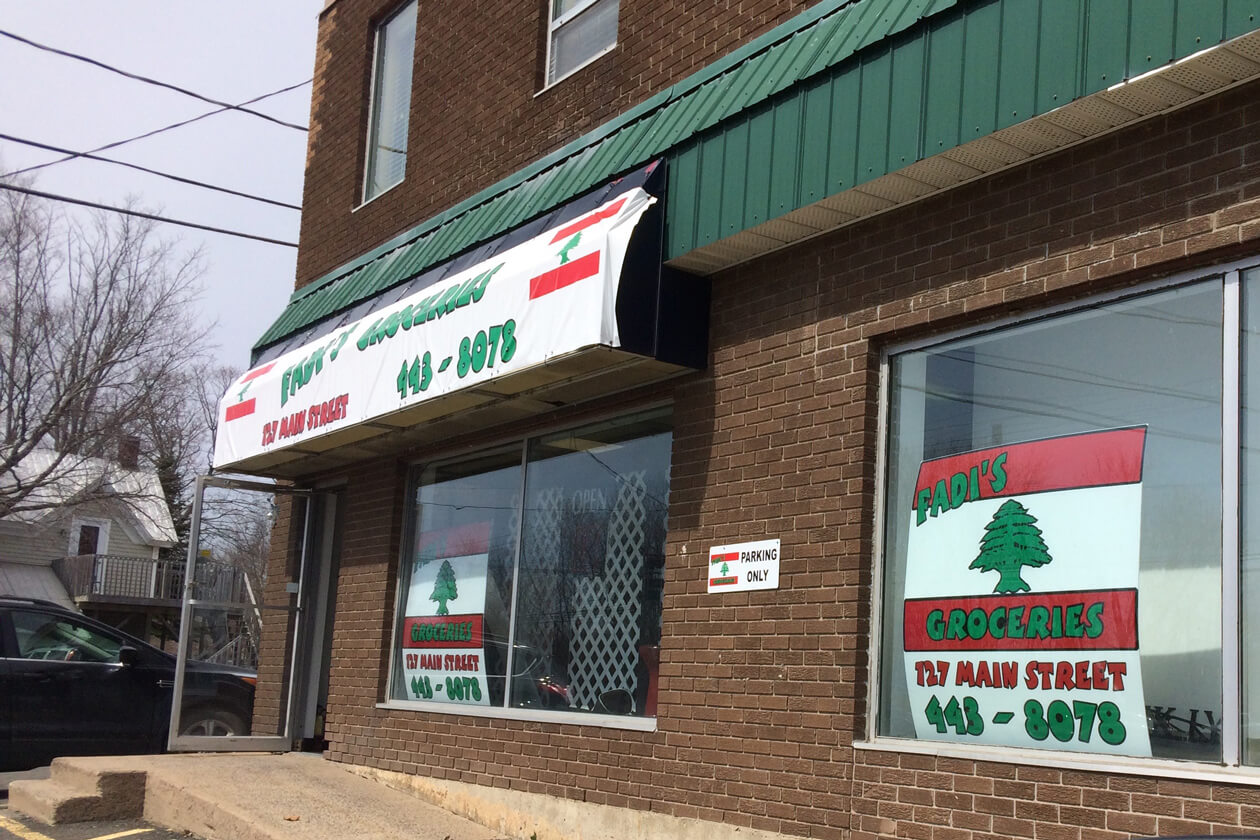 Fadi's Groceries in Fredericton, New Brunswick.
Fadi Estephan is behind the counter of his street-level store waiting for customers. It's a sunny spring afternoon on Main Street, a nondescript commercial strip in Fredericton, New Brunswick. He perks up when a car pulls into one of his reserved parking spots, but it's only a retired Portuguese friend looking to kill an afternoon. Estephan puts a small aluminum kettle on an electric hotplate for tea, walking past orderly rows of merchandise—coffee beans, olive oil, spices—labelled in Arabic script. This store, after all, is courting a very specific customer base: Syrian refugees.
Hundreds of refugees from the shattered country started arriving in Fredericton last December, greeted at the city's two-gate airport by knots of settlement workers and volunteers. Families settled into new apartments largely furnished with donated furniture, craving routines many Canadians take for granted: schools for their children, bus passes, grocery stores. Fadi's Groceries opened around the same time and word spread quickly: he sold the best twelve-inch pita in town.
One pita manufacturer gave free bread to New Brunswick's Syrian refugees for two months, but that ended months ago.
"In the beginning they were coming and buying my bread," he says. "I could even sell it cheap, because I know they're going to pick up a can of tahini, and I'm going to make money on that tahini."
Estephan came to Fredericton as a teenager from Lebanon in 1981. He didn't speak any English, and found the transition to this ethnically homogenous city challenging. As of the 2011 census, Arabic speakers only comprised 0.8 percent of the city's population. Since the recent wave of arrivals, he has acted as unofficial translator, delivery driver, and support worker for overwhelmed local families tasked with supporting these new Canadians.
"In Syria, the grocery store is in the bottom of the building. The wife sends a basket down. 'I need this! I need this!' and the basket goes back up," Estephan says. Canadian grocery stores are overwhelming in comparison, with fluorescent lights, gaudy signage, and fresh foods packed in plastic and cardboard. "It's easier for them to come here, because I can talk to them. Every customer comes in and asks for something," he says, pointing at a tiny bag of nigella seeds. "You see that bag at the bottom? Nobody has it in the city besides me." One Syrian refugee carried $60 worth of food to the till and tried to bargain. "He said he'd give me $40," Estephan says. "I said 'No, that's not how it works.'"
To stock his shelves, Estephan drove a cube van eight hours to Montreal, where he bought items hard to find in Fredericton: ruby sumac and piney mastic, jars of pickled eggplant and eggs, bulgur, and tins of beans. In no time he was doing brisk business in foods from Syria, Lebanon, and Egypt.
The tea is ready. He serves it very sweet, in delicate fluted glass cups with lavender and gold rims. There are now nearly 400 refugees in the city, he says, and many are already struggling. There are reports across the country of families turning to food banks, including here, where Fredericton's Community Food Centre has set aside Wednesdays for food pickup by Syrian families. Moncton pita manufacturer Fancy Pokket gave free bread to the province's Syrian refugees for two months to help ease the transition, but that ended months ago.
Around the same time, business at Fadi's slowed down, as many families tasked with helping refugees stopped driving them on grocery runs, and as other stores, including Walmart, got a taste of how briskly pita—with its high profit margins—was selling. Stopping midsentence, Fadi's attention is drawn by the opening door as two men walk in. Estephan greets one in English, and the other, a swarthy man wearing a bright red "Canada" T-shirt, in Arabic.
Mike McDonald, pastor of Hanwell Community Church, and Syrian refugee Aarfan Al-Darwich are on a grocery run. The church raised $20,000 to bring Al-Darwich, his wife, their two children, and his mother to Canada. The family was so traumatized—their car was blown up by an American missile right before they left their hometown of Douma, near Damascus—that they are trying to integrate as quickly as they can, says McDonald, who translates his conversations with the family through a phone app. He later shows me picture of a tent from their refugee camp in Lebanon; it's nearly buried in snow. "I told him there was one Muslim playing for the Leafs, so he says that's his team," McDonald says.
Since the Al-Darwich family arrived, the church has hosted fundraising meals to help with their expenses. But for the next big meal, the Syrians will be doing the cooking. Browsing the store shelves, Al-Darwich points at ingredients, peppering Estephan with questions. Like anyone operating in an unfamiliar language in an unfamiliar country, the absence of recognized brands and packaging makes it difficult to identify foods his family knows how to prepare. "It was the bacon that really threw him," says McDonald of one shopping trip. "He picked up a package and said, 'I see every Canadian walking around with this. What is it?' I said, 'This is pork,' and he said, 'I don't care, I want to try it.' He had it at the church that Sunday."
For government-sponsored refugees, support for minutiae of daily life can be piecemeal, often coming from informal support in the existing diaspora. According to Mary Jago, communications advisor at Immigration, Refugees and Citizenship Canada, pre-selected community organizations, including Fredericton's multicultural association, are expected to provide immediate and essential services to help integration. "In the early stages, these services focus on getting them to a state where they can live safely and independently in Canada," she writes in a provided statement. "This includes being shown where and how to buy food, including the role of store clerks, shopping bags, pricing, paying (including receipts), etc."
At the register, Al-Darwich buys a yoghurt-bean mix called kishk, sesame seeds, za-atar spice, and some falafel mix. It fills a single plastic bag. When the pair leaves, Estephan laments the small purchase; sales like that won't keep the store in the black.
"I'm becoming attached to those people," he says. Two months ago he gave a cardboard box full of cookies to one refugee family's kids and told them not to worry about paying him. "My wife tells me that's why I keep losing money." Knowing the struggles that lie ahead for refugees, he says he feels obligated to help. "Some of them they can't read and write, even in Arabic. You don't have to read and write in the army—they just send you to war."
Three weeks later, in a church basement in Hanwell, just south of Fredericton, Al-Darwich sets out food on cheerful yellow plastic tablecloths—brimming bowls of rice speckled with brown noodles, creamy yoghurt, chicken, platters of hand-formed kibbeh meatballs, falafel and spinach pies, vibrant green tabbouleh—while his wife, Salwa, seven months pregnant, rests heavily on a folding chair. She cooked all day. Their children, Mouhamad, ten, and Ghazal, seven, dart around the room, offering Styrofoam cups of Syrian coffee spiked with cardamom.
After a quick welcome and prayer from McDonald, the parishioners line up for the buffet. The Al-Darwichs are the only refugees there. "I haven't got a clue what any of this is," says a boisterous balding man in a checkered button-up. "What's this? Sausages?" asks another, pointing at the rice-stuffed grape leaves. "It's a Syrian eggroll," McDonald calls from the kitchen. "It's a spinach cigar?" offers another. Sitting at their table, church members smile widely and telling the family how good the food is. One woman wants to know if she can take cooking classes. Another is impressed with how everything is made from scratch. Through Google Translate, Al-Darwich says he ran a restaurant in Syria, but that was well before the war.
Soon after the family first arrived in Fredericton, McDonald took Al-Darwich through a Tim Horton's drive-through and bought him a double-double. "He tried to pay for it, and I said, 'No, one day when there's peace in Syria you and I will go visit and you can buy the coffee,'" McDonald says. When they returned to Al-Darwich's house, Salwa asked her husband if he had tried to buy the coffee. He repeated what McDonald said, and Salwa started to cry. "I'm never going back there again ever," she said.
A few weeks after the church meal, Estephan shut down Fadi's Groceries, selling most of the contents and giving up his lease. The building now sits empty. He's waiting until his wife and daughter come back from a family trip to Lebanon before deciding what to do next. He continues to get text messages from Syrian refugees in the city, mostly just saying hello. He still writes back.
Karen Pinchin (@karenpinchin) has written for the Globe and Mail, Modern Farmer, and Maclean's.
For more than forty years, he played behind the Wainwright family and the McGarrigle sisters. Now, the legendary sideman enters the spotlight
Canadians may think we're more tolerant than everybody else. But that's only because we've never really been tested