The largest family fortune on earth is run out of two floors of unmarked suites in Bentonville, Arkansas.
The building is a discreet nerve center for the Walton family's $152 billion hoard. There are plenty more overt signs of their success in the heart of the city.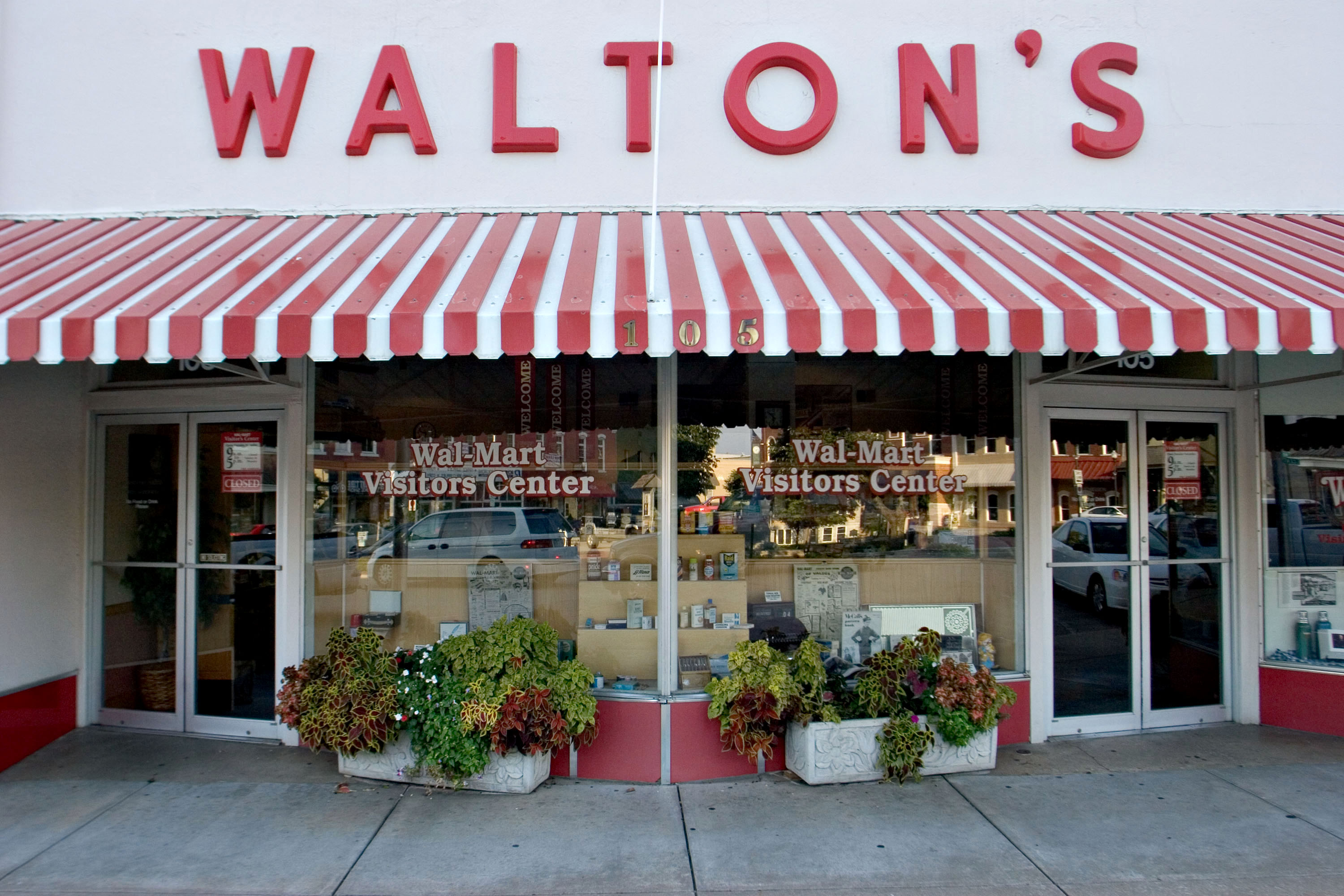 Walton's former five-and-dime store in Bentonville, Arkansas.
The town square features the former five-and-dime store — now a museum — that family patriarch Sam Walton opened in 1950, which was the launchpad for Walmart Inc. Across the square is a branch of Arvest Bank — also owned by the family — while a short walk south brings visitors to the grounds of Crystal Bridges, a $1.2 billion museum of American art built with Walton money on family-owned land in an Ozark forest.
Then there are the stores, warehouses and low-slung headquarters of Walmart that dot the landscape for miles around and underscore the size of the $500 billion sales behemoth that's the bedrock of the family fortune.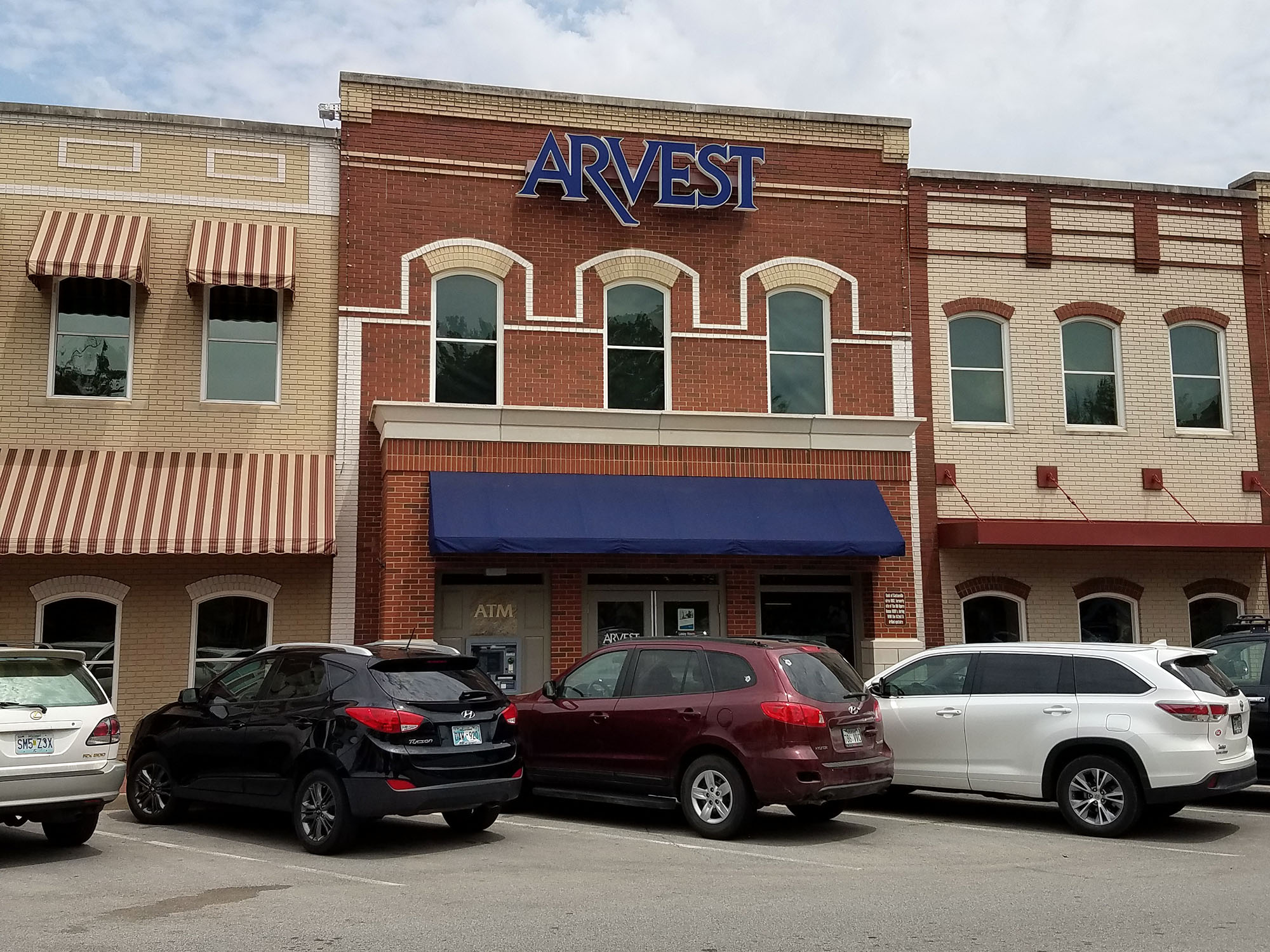 A branch of the family's Arvest Bank in Bentonville's town square.
"Outside of monarchies, this is one of the greatest fortunes ever amassed," said Andy Hart of Delegate Advisors, a multifamily office with locations in San Francisco and Chapel Hill, North Carolina. "Monarchies and kingdoms came by birthright. This was earned."
Founder's Prescience
Investment vehicle Walton Enterprises LLC owns 48 percent of Walmart, worth about $120 billion. Walton Family Holdings Trust owns an additional 2.5 percent. The combined stake threw off $3.2 billion of dividends in 2017, the same year the family sold about $4.1 billion of stock to fund philanthropy and other projects.
For more on the world's biggest family fortunes, click here.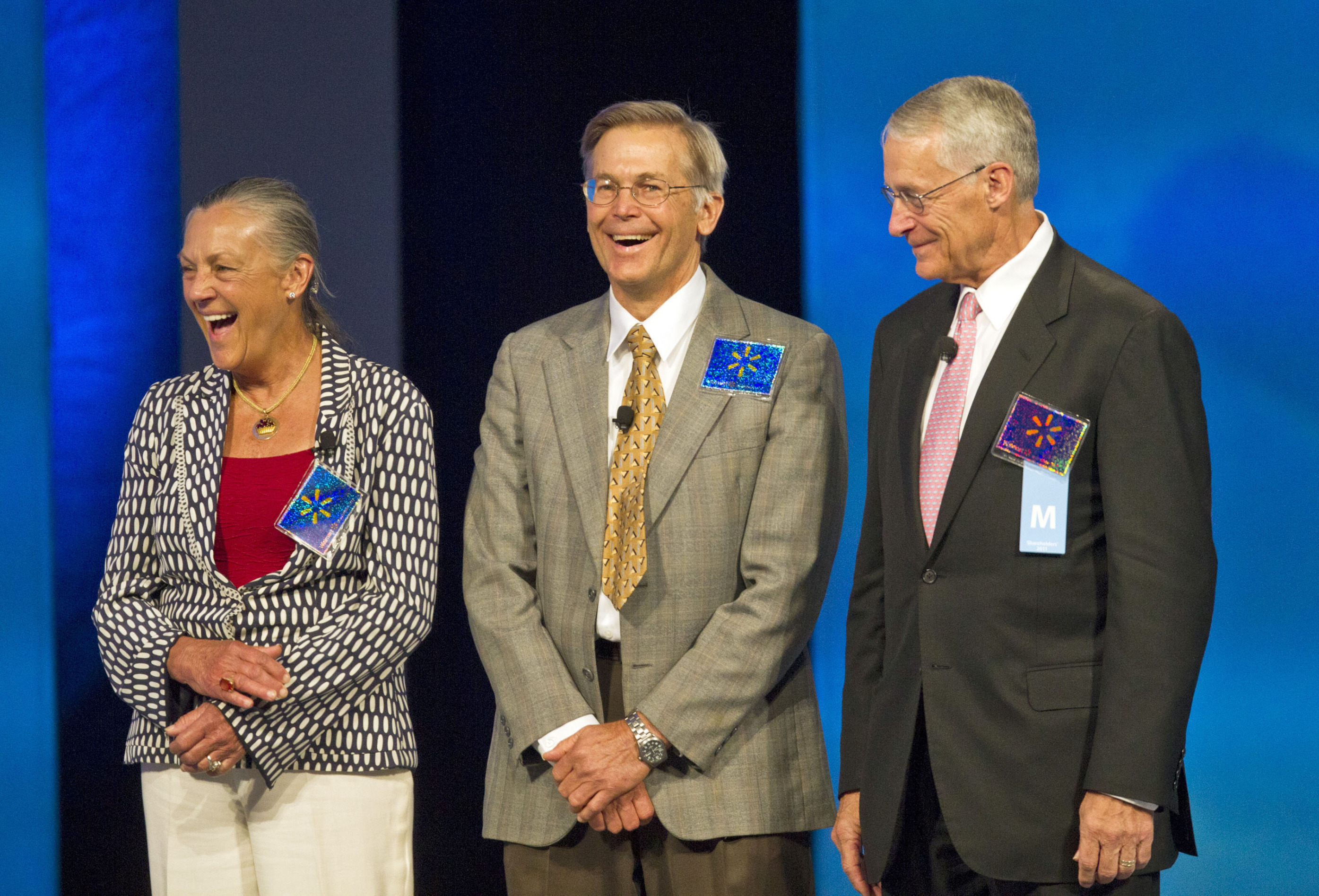 Alice, Jim and Rob Walton
Their continued control reflects unusual prescience on the part of Sam Walton, who started preparing for succession in 1953, when he passed 80 percent of the family business to his four children: Alice, Rob, Jim and John. That minimized estate taxes and helped the family retain control even as the company grew into the world's largest retailer.
Six decades later, there are increasing signs that the third generation is starting to hold greater sway. Steuart Walton, 37, replaced his father Jim on Walmart's board in 2016. Wyoming court documents show his cousin, Lukas, 31, has the right to vote the estate's general and limited partner units in Walton Enterprises. A spokeswoman for the family declined to comment for this story.
Bike Trails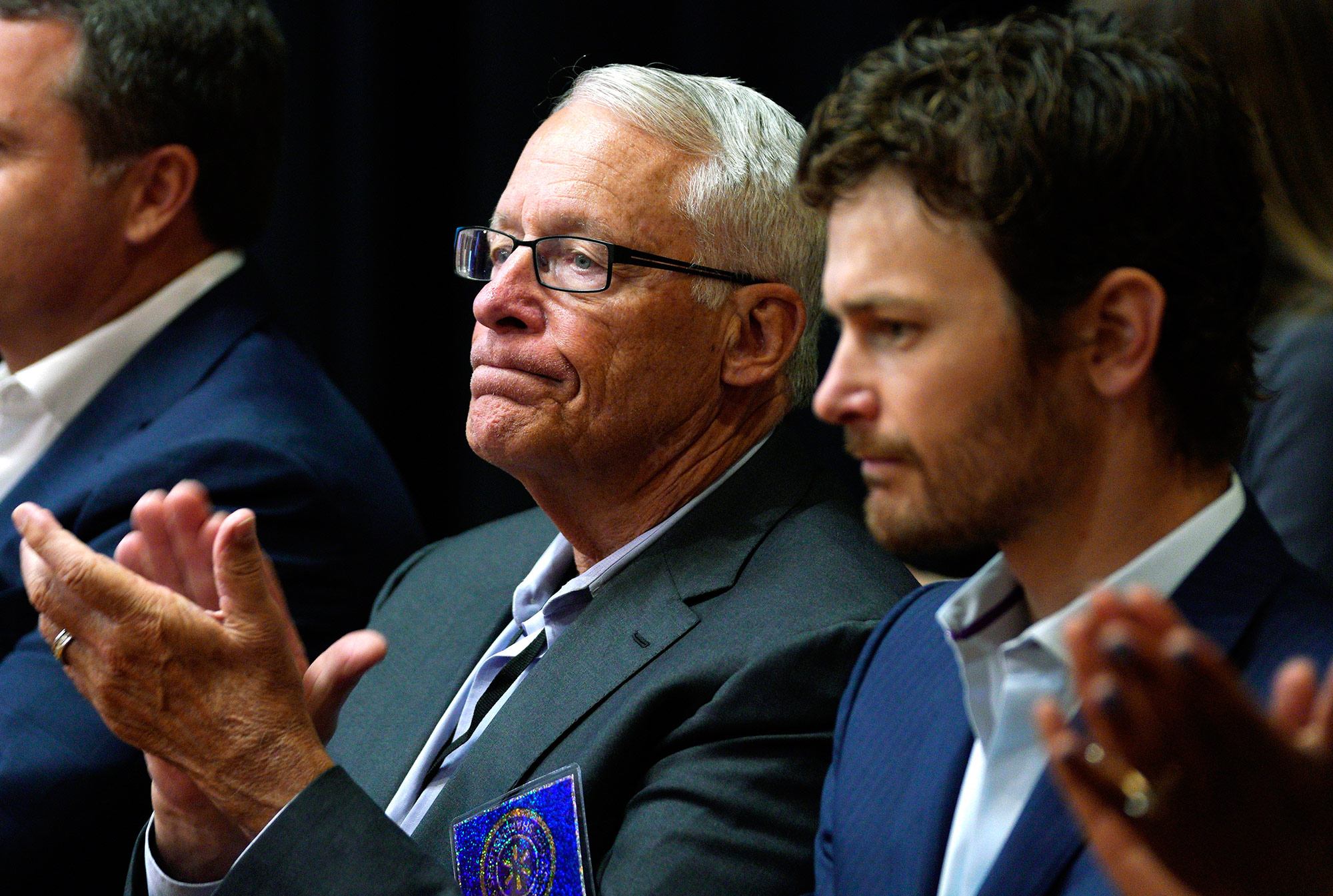 Steuart Walton, right, with Rob Walton
The younger generation's increasing influence is apparent in downtown Bentonville. An office and retail complex features an eatery backed by Steuart's 34-year-old brother, Tom, and, for a few weeks, hosted a temporary outpost of Rapha, a high-end British cycling brand that the pair bought for a reported $225 million in 2017. The siblings are also behind the bicycle trails that crisscross the town's outskirts and a new outpost of Crystal Bridges, slated to open in 2020.
"Recent growth is due to the Walton grandchildren," said local realtor Larry Horton, who says real estate prices have tripled in the past few years. "They've put a lot of effort into getting younger people here."
It seems to be working. The population is close to 50,000, up from 35,000 in the 2010 census. On a May weeknight, a steady stream of millennials threw back shots in a basement bar that's also part of Tom Walton's Ropeswing Hospitality Group.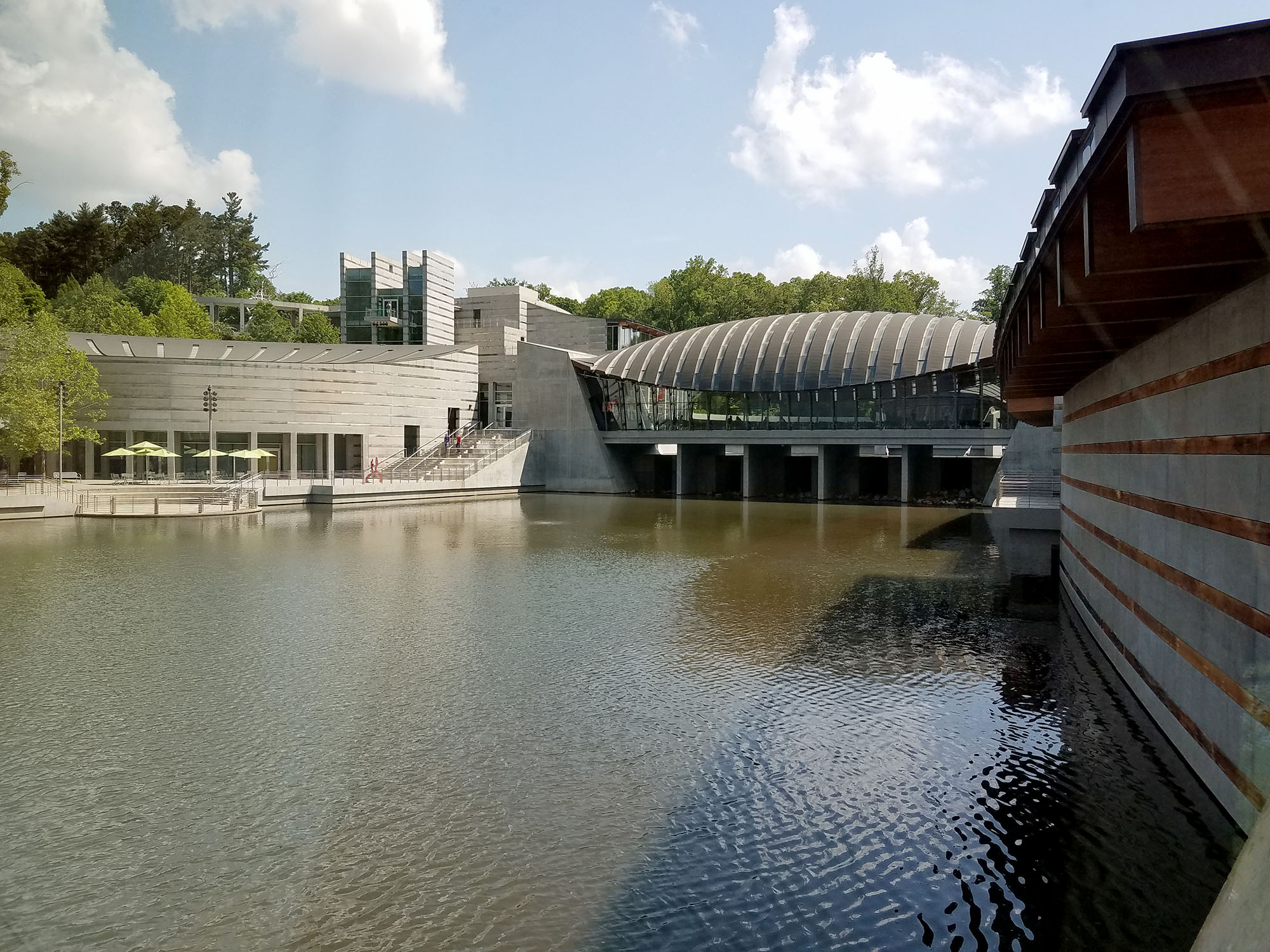 The Crystal Bridges Museum of American Art is set in a 120-acre park.
"A few years ago you could have fired a scattershot downtown and not hit anyone," said Don Overstreet, whose family jewelry store has been on Bentonville's town square since 1948. "Now look at it."
'Live Modestly'
Sam Walton would approve. "Operate globally, give back locally," was his mantra, according to the company museum.
As with other multi-generational fortunes, the family's challenge is ensuring its wealth doesn't dissipate between generations. It helps that many family members' lifestyles aren't lavish. The Waltons in the area "live modestly," according to Bentonville Mayor Bob McCaslin, who praised the family's influence in Northwest Arkansas. They "call no attention to themselves."
They're also implementing more complex tax strategies than in Sam Walton's day.
The Wyoming court filings obtained by Bloomberg in 2015 showed that the will of Sam Walton's youngest son John gave half of his then-$17 billion estimated fortune to charitable trusts. The trusts will make annual non-taxable payments under Internal Revenue Service guidelines to the Walton Family Foundation charitable arm until 2036. If investments outperform certain benchmarks, whatever is left at the end goes to Lukas without any tax bill.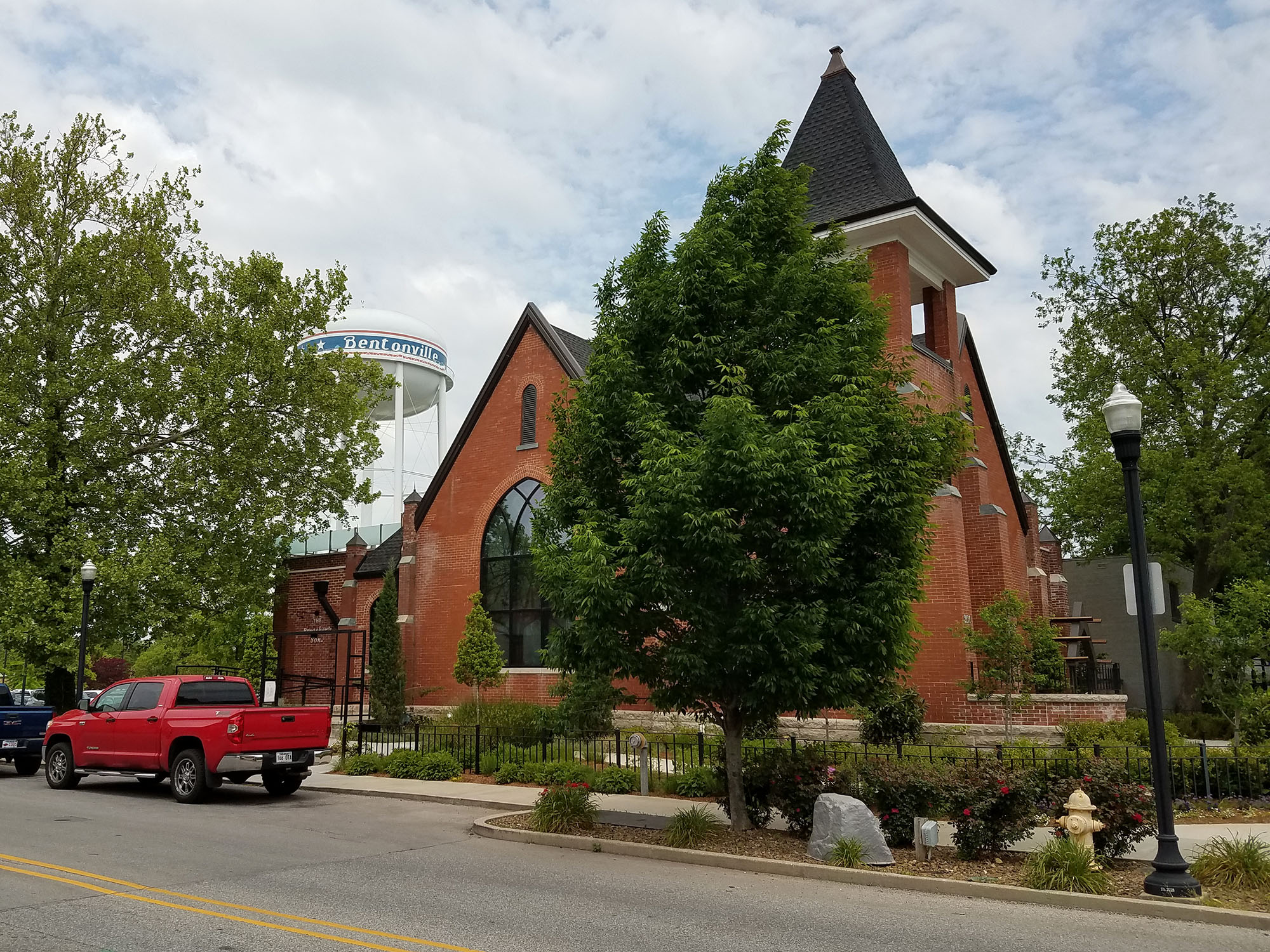 A restaurant backed by the Walton family is housed inside a restored church.
Such maneuvers — and the sheer size of their fortune — mean the Waltons are well positioned to remain the world's richest family for some time.
That's good news for Bentonville, which will continue to benefit from the clan's closeness to their hometown. About a mile south of the gleaming buildings of Crystal Bridges sits a largely empty tract of land. Not for long. Walmart said in September it's planning to build its new corporate campus there for an estimated $1 billion.