Rafael Marchante/Reuters
Several smaller U.S. cities are hosting their first Pride parades this year. For locals, it's a chance to assert that they don't need to leave their community to be gay.
By the end of June last year, Alabama resident Chad Peacock had traveled to LGBT Pride festivals in Huntsville, Montgomery, and Birmingham. He knew there were also parades in Tuscaloosa and Mobile. Soon he was wondering, why not have Pride at home in Auburn?
Within a year's time, he had set up a nonprofit group, built a volunteer structure, lobbied local politicians, and organized two days of events. And so, at the beginning of June this year, the sister cities of Auburn and Opelika hosted their first Pride weekend.
"It was amazing, absolutely amazing," says Peacock, 32, a banker with no previous activist experience. He recalled the response that he initially received in this Bible Belt state: "People said, 'Are you sure you want to go down that road here?' But if someone doesn't stand up to make a change, things will never get better," Peacock said. "It was important to me to have a festival and a parade. Because, to me, a festival celebrates Pride, but a parade celebrates community."
Eventually he got just that. The Pride on the Plains parade started at Opelika City Hall on Friday evening, June 1. Auburn hosted the festival in a park the next day. "There were so, so many people I'd never seen before. It's almost like, where did you all come from?" Peacock said. "It almost felt like we weren't sitting in a red state. And honestly, in Lee County, you can feel the atmosphere changing." (It's one of the counties that went for Trump in 2016, but swung to elect Democrat Doug Jones to the U.S. Senate over Republican Roy Moore last December.)
A sampling of cities and towns holding their first Pride celebrations this year shows that the first-time experience can still be raw and uncertain, even as the mega-Prides taking place in New York City and San Francisco this weekend have become polished and predictable. In many smaller cities and towns, holding that first parade is less about making the scene than finding out what the scene really is: seeing a fuller complement of who's in your tribe and where they come from. It's experiencing a walk down your streets in a new way, learning which individuals and politicians are supportive; which businesses and institutions are receptive. It's realizing that some familiar acquaintances are queer, too, or consider themselves allies. It's observing the attitude of police officers, and maybe being surprised. It's redrawing your mental map of the place where you live.
"It's the idea that I am on the street I regularly walk on, but I'm here as an openly gay person."
And in some ways, that's how it's always been. The first Pride marches took place at the end of June 1970, in Chicago, New York, Los Angeles, and San Francisco. They commemorated the Stonewall uprising—the birth of the modern gay rights movement—which occurred at a Greenwich Village gay bar on June 28, 1969. Between then and now, Pride events have spread to an incredible number of places across America and the world—and that number is still growing.
This June, for the first time, a gay Pride celebration came to the second-largest city in Illinois, the Chicago suburb of Aurora, on June 17. On June 9, the New York City suburb of Yonkers, itself the fourth-largest city in New York, held its first Pride festival. Much smaller Winchester, Virginia, population 27,000, will hold its first Pride on June 23rd, the same weekend as Sandusky, Ohio, a town on Lake Erie of about the same size. Meanwhile, Starkville, Mississippi, population 25,000, threw its inaugural Pride parade back in March, but not before drawing national attention for the city aldermen's initial vote of opposition.
Starkville, in fact, came up in Chad Peacock's negotiations with Opelika. When he discussed a holdup in the permitting process with the mayor, Peacock reminded him of all the negative media attention the Mississippi town had received. When that had no effect, Peacock simply went to the city council and obtained the necessary approval for a road closure. After all, he'd already faced down a group of ministers months before in order to get a Pride on the Plains float in the annual Christmas parade.
Participating in that parade "was probably one of the most powerful moments in my entire life," Peacock said. "It really sent a message that you could be gay and still celebrate Christmas."
The next most powerful moment, Peacock said, was at Pride on the Plains when he saw, for the first time, numerous families comprised of gay parents with children mingling together, he said. "It was something that had never happened here, and here it was right in front of you."
His husband had worried about being personally at risk. Timothy Peacock was the very first person to open the parade, in costume as his drag character Imberli Vontrell. He feared being shot. Yet all was calm and peaceful. "That baffled me, because I was ready for something to happen. You just can't do something like this in Alabama and not be ready for something to happen," Chad Peacock said.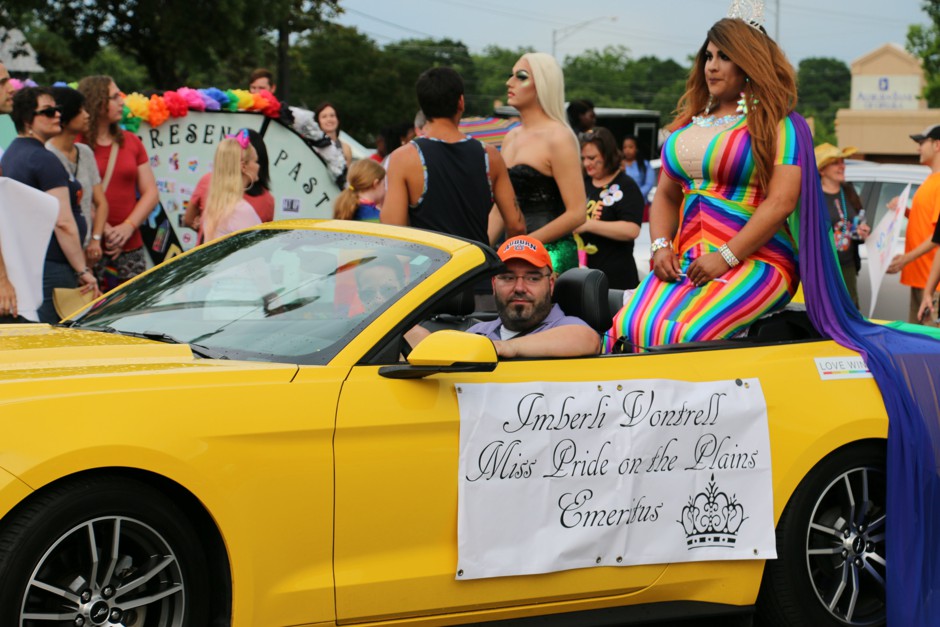 Imberli Vontrell rides in a convertible during Pride on the Plains. (Christiane Robinson)
It's despite local conditions—or because of them—that queer folks and their allies often begin celebrating Pride right at home, even when celebrations in bigger cities are just a short drive away. It's meaningful "that they can be there in this collective mass in these familiar places," says Katherine McFarland Bruce, author of the book Pride Parades: How A Parade Changed the World.
"It's the idea that I am on the street I regularly walk on, but I'm here as an openly gay person," said Bruce, citing the old slogan: "Out of the bars and into the streets." Residents are asserting that they don't need to leave their own community to be gay.
Her studies of Pride in cities as different as Los Angeles and Fargo, Salt Lake City and Burlington, reveal different meanings in each place and time. In the 1980s, gay Pride events included the urgent politics of AIDS; in the aughts, marriage rights played an increased role. Opponents' behaviors differ, too: Bruce found that in Western towns, folks tended not to protest a pride parade; in the South, they did.
Pride parades occupy a unique civic role, she says, because political "asks" are not their primary reason for being. In one Southern town she studied, Bruce said the message was: "We want cultural respect. We want to be part of this culture, and demand that the culture treat us better."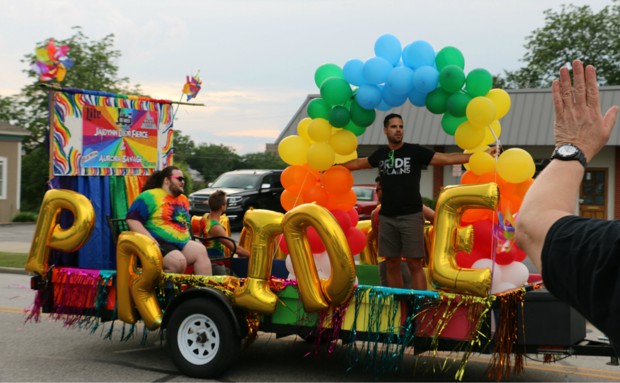 A float from the Pride on the Plains event (Christiane Robinson)
That's exactly why Alex Randall found himself at the first Pride parade ever held in the U.S. Virgin Islands on June 9. An American who has lived in the U.S. territory for more than 20 years, Randall attended the parade in Frederiksted, St. Croix, as a show of support for one of his children, a teenager who identifies as gender non-binary. The teenager went, too, as did an older sister.
"I wanted to support my child," Randall said, adding that the past school year presented one challenge after another. "It matters a lot to me that Lex know we stand with them. They know they can be whoever they want to be."
The event arrived amid threats of violence on social media. Randall said some protesters gathered in spots along the parade route, even trying to block it by piling up furniture. But police officers removed the furniture and the festivities took place amid high spirits and goodwill.
"I was amazed at the overwhelming support. My take is the community is very supportive," Randall said, adding that the small groups of protesters did not come off well, by comparison. "The paraders were awesome. I was like, these are the cool people here. This is who is on the right side."
The event reoriented his understanding of the hometown he loves. He learned that some acquaintances are gay, and that a number of businesses are owned or staffed by gay people. It also brought into relief the differences in attitude between the native majority of African descent, whose Christian beliefs often lead them to remain silent about or to oppose gay rights, versus the minority of newer white residents who tend toward liberal politics. Some Afro-Caribbean politicians participated, however, including U.S. Rep. Stacey Plaskett and candidate for governor Albert Bryan.
Randall anticipates that the Pride parade will become an annual affair—but before that comes St. Croix's premier annual celebration, the Christmas Festival (its answer to the pre-Lent Carnivals held elsewhere around the Caribbean). It looks like St. Croix is doing what Auburn did, in the reverse order.
"Come Festival in St. Croix, there will be a LGBT presence," he said. "That will be the next hurdle."